Featured Image: Loft
Best White Summer Pants
White pants for summer are the staple attire every woman should have in her wardrobe! They are like a blank canvas that looks ravishing when paired with the top of any color, texture, or design. As the temperatures rise, the need for comfortable, stretchable and breathable pants becomes more determined. Apart from being trendy and stylish, these pants can suit any body type. Well, how cool is that? You can also wear these to work, to a party, or just to a casual meetup with your ladies.
If you love this list of the best summer white pants for women, you might also want to check out our best wide legged pants you'll be sold over on their comfort and practicality! 
What are the Best Womens White Pants?
Whoever said that you cannot wear pants in the summer, must have surely never heard about these classic white bottoms that look daringly gorgeous and downright trendy! These pants provide comfort, look amazingly well, be paired with literally any top and still look stunning, assert a sense of class and mysticism, and go well for any occasion, be it formal or casual. 
Pair them with any prints or designs: floral, stripes, geometrical, solids, or any other boho flare design. You are ready to conquer the day! Our list of the best womens white pants includes some of the most classic yet enthralling options that will make you look fashionable and confident! Scroll down to know what reviewers are saying about them!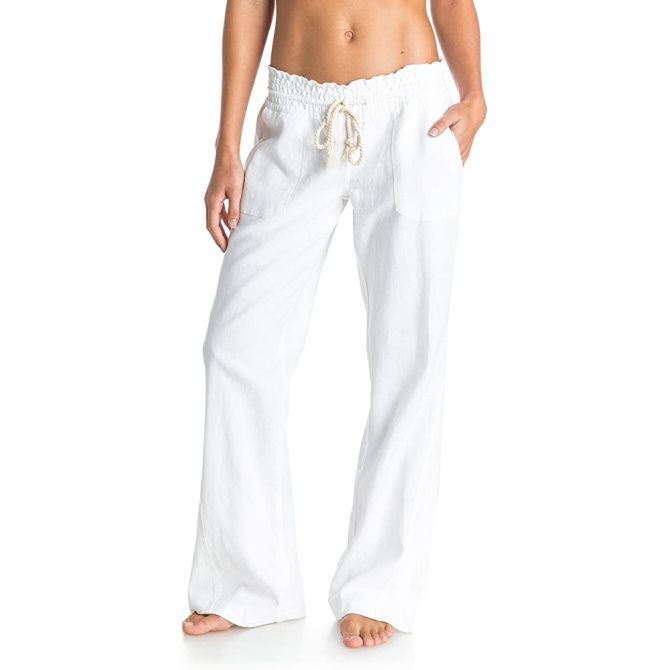 SHOP AT AMAZON
Ocean, Here I Come!
If you are heading to the beach or a lounge party, these pants will be your first pick as it asserts that relaxed, casual, and playful vibe. These are loose fitted linen-blend beach pants. The cottony material of this white linen pants womens wear make it a little see-through, so we suggest you wear light boxers underneath.
Known to be one of the best white pants for women, these can be a bit long so you can get them altered or hemmed to get the perfect fit. Ladies love how this feels super-comfortable and lightweight on their bodies. These pants come with cute pork chops pockets in the front.
• Loved for: ★★★★ | Drawstrings, cute pockets, available in different colors, loose fit
• User said: I love these pants. It's comfy and stylish!
WHERE TO BUY: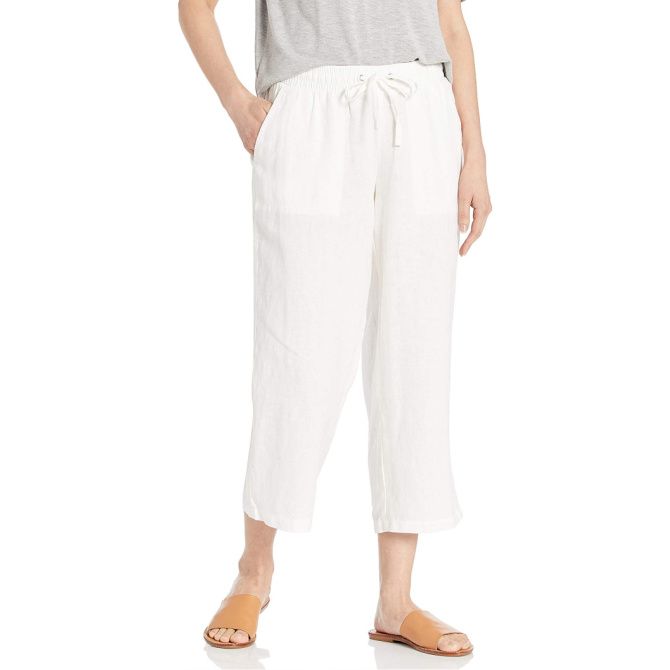 SHOP AT AMAZON
Hello Comfort!
Made of 100% linen, these casual white flowy pants are sure to catch every bit of attention when you wear them anywhere. The friendly vibe makes you look appealing and approachable. Since they are made of pure linen, expect them to wrinkle a bit when you wash them.
Comfortable, cozy, and lightweight, these white capri jeans are a top choice for women looking for such qualities. A reviewer said, "They felt super light, which is ideal for brutally hot summers!."
• Loved for: ★★★★ | Lightweight, breezy, drawstrings, available in different colors, 100% linen
• User said: If you want a loose-fitting white Capri, these are perfect!
WHERE TO BUY: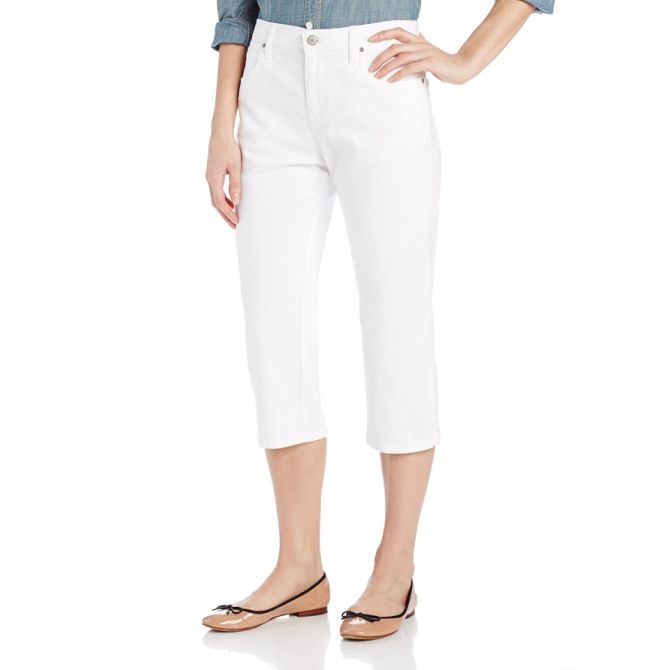 SHOP AT AMAZON
Glide into the Weekends!
The weekend perfect capris are a thing now, and this pant seconds that! From the house of Lee, comes these fit white capri jeans featuring unique five pockets styling and button closure. With these pants, you won't have to worry about your underwear showing or about the cloth being thick to trap sweat.
Slim and medium length, the brand always speaks for itself. The perfect blend of fit and stretchability of these white capri pants make them comfortable to wear. Casually sport them when you have errands to run or catch up with a cup of coffee with an old friend.
• Loved for: ★★★★ | Available in different colors, true to size, multiple pockets, snug and comfortable
• User said: Denim is a soft and lighter weight that suits me for the summer heat. Overall I'm pleased and will buy again!
WHERE TO BUY:
SHOP AT AMAZON
Classy Treat for the Summers!
If broad elastics on loosely fitting pants are your catch, these white wide leg pants are made for you! Most women love to flaunt these type of pants on a trip to the beach. 
They have wide ankles that create a unique look when you walk in them. As mentioned in the reviews, they flare out elegantly and have a swooping feel when walking. This light and breezy feel of the cloth is what will make you want to wear it everywhere!
• Loved for: ★★★★ | Available in 3 colors, 100% cotton, high-waist elastic, lightweight and comfortable
• User said: These white trousers womens fashion are semi-sheer, lightweight, and breezy. Perfect for summer and the beach!
WHERE TO BUY: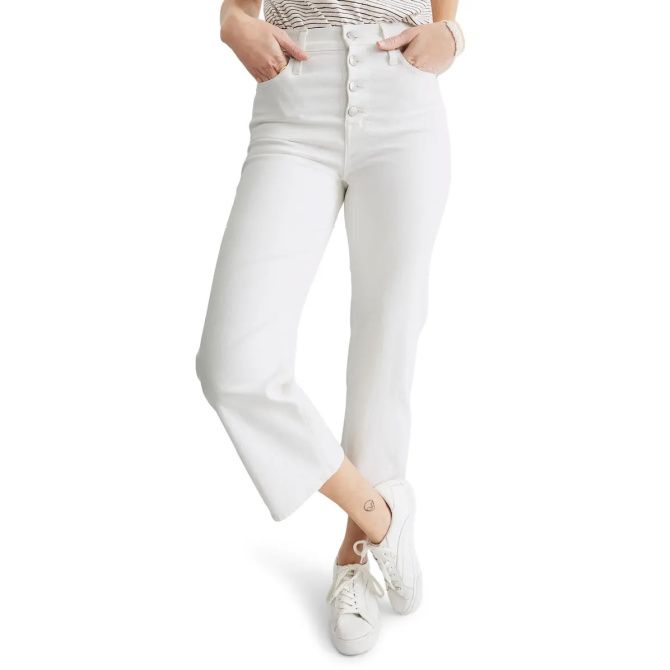 SHOP AT NORDSTROM
Your Style this Summer!
Jeans in summer? We know you would squint at this idea, but hear us out when we say that these high waisted white jeans would be your best purchase this summer! The perfect mixture of style, class, and comfort makes these button-front straight leg jeans for your casual style.
The ladies can swear by the style and comfort offered by these jeans. Made of 93% cotton, these high rise white jeans are not see-through yet light and breathable. The five-pocket style is sure to catch attention.
• Loved for: ★★★★★ | High rise, 5 pocket style, straight, high-rise, wide-leg 
• User said: I got these on sale but would pay full price. They are worth it!
WHERE TO BUY: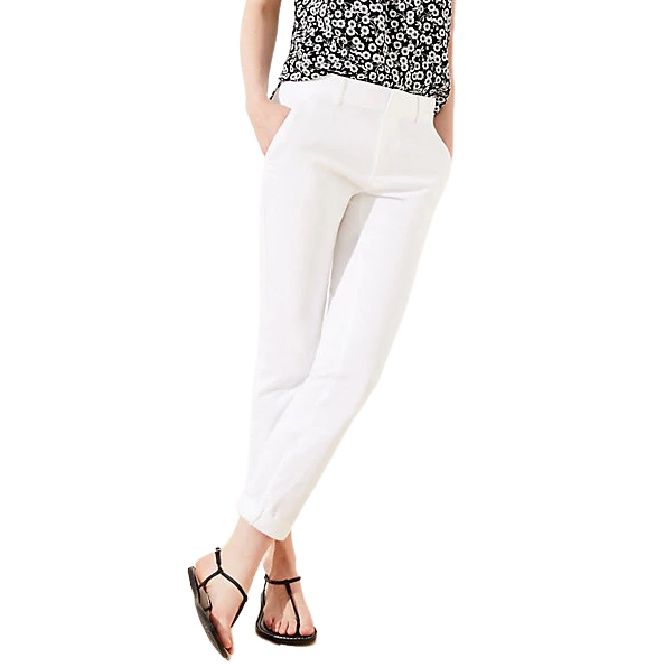 SHOP AT LOFT
Comfy in a Stylish Way!
With over a hundred reviews, women have been obsessing over this formal-looking white pant that clearly defines class and style. It is the perfect blend of slim and skinny, with a chino polish that makes it look elegant. Plus, these ankle-length ladies white pants are super stretchy and comfortable, being made from 97% cotton and 3% spandex.
The best part is that you can wear them to work and pair it with formals or casuals depending upon your mood. Accessories such as your favorite belt and flats will make this your signature fashion statement. These pants will fit like a dream!
• Loved for: ★★★★ | Casual & formal, super comfy, cute pockets, available in differenr colors
• User said: These are always an easy buy. I have them in most colors!
WHERE TO BUY: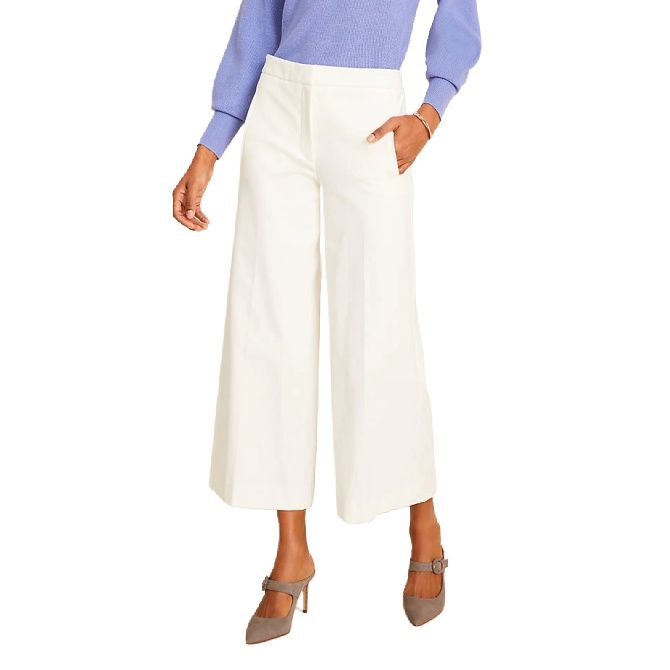 SHOP AT ANN TAYLOR
Makes the Other Pants Jealous!
Have you ever wanted to own a pair of the perfect white palazzo pants that you can wear anywhere? Here's the most stylish and classy palazzo pant that instantly demands attention. Many customers feel that the cut, fabric, and style is superb!"
These versatile wide-legged pants go perfectly well with both a sports shoe or a pointed toe heel. Furthermore, they look chic and stylish and feel light, breezy, and comfortable on the skin.
• Loved for: ★★★★ | Available in different colors, wide-leg, high-fit, comfy and classy, stretchable
• User said: These pants are so versatile. Dressed up or sporty!
WHERE TO BUY: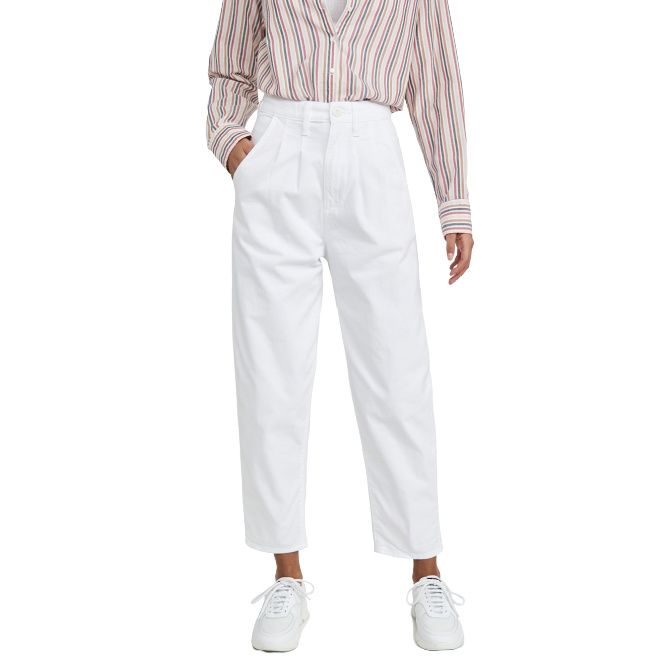 SHOP AT SHOPBOP
For All Your Moods!
The pleated balloon leg silhouette has been the latest fashion trend that you need to follow if you are a fashionista! They come from the trusted house of Levi's that are mid-weight and low-stretch weave. Its retro-inspired look is well conveyed with a dramatic curve at the ankle.
The material is 98% cotton and 2% elastane, providing you enough flexibility yet resisting any possibilities of seeing through. Welcome your summers in these pants that speak for their comfort, quality, and lightweight.
• Loved for: ★★★★★ | Great design, pleated pants, straight-cut style, front pockets, and back pockets
• User said: These are very comfy and not too see-through!
WHERE TO BUY:
SHOP AT NORDSTROM
Shine Your Way Through!
Looking for something fashionable and sexy yet comfortable for the summers? We have the perfect product for you! These white high waisted pants with slit flare are everything that a woman would definitely want to flaunt on the most special occasions. 
The pants are made of super comfortable material. One review mentioned that wearing them is like meditation…serene, calming, and light as a cloud. You'd also not have to worry about your undies showing because the material used is not see-through-able. It would be a shame not to have these white flare jeans in your collection!
• Loved for: ★★★★ | Knee-high slits, 97% cotton 3% elastane, comfortable, stretchable
• User said: These white flare pants fit great. I like the side slits which make them a bit more fun than a plain pair of white jeans!
WHERE TO BUY:
SHOP AT GAP
For the Sporty & Casual Look!
These wide-leg white crop pants would be just perfect for your butt! Take it out on a summer day for your outdoor adventures, but make sure you don't dirty them as whites are so vulnerable. Fits perfectly to every body shape and comfortable to carry around.
The high-rise and wide-leg design offer the best contrasting appeal to these pants. Additionally, the front pockets increase the charm of the white high waisted wide leg pants, and the stretch twill denim gives it a kind of textured look. A customer loved the fact that it needs "no pulling across the hip like other high waisted denim."
• Loved for: ★★★★ | High waisted white pants, wide-leg, slim through the hip, Button closure, five-pocket styling
• User said: They fit very well on my hips and waist and make my butt look great! 
WHERE TO BUY:
SHOP AT ATHLETA
Shine Baby Shine!
Come summers, and all the ladies throw the jeans and pants aside to pull out all the frocks, skirts, sundresses and shorts. But with these glorious white joggers womens wear, you won't be doing the same. These are super-comfortable and made of subtly textured linen, which feels light on the skin. 
It'll soon become your go-to pick for beach-day-outs, resort vacations, outdoor recreations, and casual outings. The zip pockets are an essential and unique feature of these womens white linen pants. Not only does that adds charm to the pants, but it also keeps your stuff secure, serving a dual purpose!
• Loved for: ★★★★ | Textured Linen, light, breezy, zip pockets, semi-fitted, available in different colors
• User said: This is comfortable and super easy to wear. Plus, it goes with everything!
WHERE TO BUY:
SHOP AT EVERLANE
Shoutout to All the Classy Ladies!
Have you always wanted to have that one pant that goes wonderfully well with everything? These cotton Carpenter pants have a unique and recognizable appeal that you can pair with anything, and you'd still shine! The straight leg design and slightly cropped fit make sure that the white ankle pants fit your waist perfectly, and your undies aren't showing.
Girls out there are loving the wide cargo pockets that can carry their mobile phones and their lipsticks and mini-wallets. One of the reviewers said, "I get so many compliments when I wear these", and why not?" There is nothing that can stop people from complimenting you when you look so comfortable, classy, and confident.
• Loved for: ★★★★ | Wide cargo pockets, available in different colors, 100% cotton, non-stretchable, high-rise, straight leg 
• User said: These are awesome! Perfect neutral staple to have in the closet.
WHERE TO BUY:
Best White Pants For Women Overview
Who doesn't want to wear casual cool, and comfy clothes in the summers? These pants are made of the perfect material that makes them breathable and stretchable, so you can play all day long! Feels like being dressed in the cloud! Comment down below if you have any recommendations for us! We'd love to hear from you!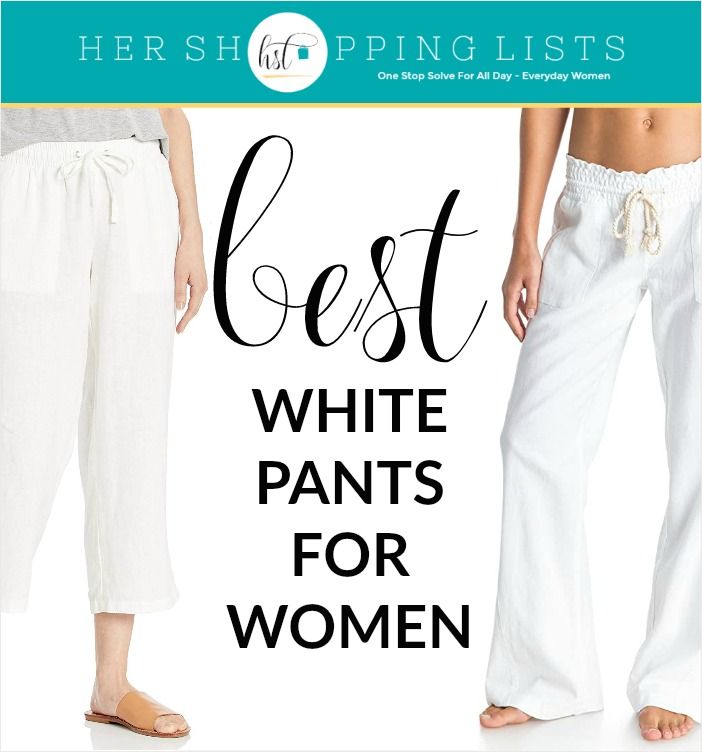 Have you got any suggestions of your own for the best white pants for women? Let us know in the comments!