Featured Image: Madewell
Best Utility Shorts for Women
When it comes to shopping for summers, we all love to go for something trendy, casual, classic, yet comfortable, and functional. Utility shorts are a women's best friend as they provide the best mixture of the qualities stated above. Throw these shorts on, and you will be ready to rock the day! Pick and purchase the one which you love and make it your summertime staple. 
Our list features some of the best utility shorts you can find on the internet!
If you love this list of the best utility shorts for women, you might also want to check out our best womens beach shorts to make the most of your summer! 
What are the Best Utility Shorts Womens Options?
Like a beautiful summer dress or a cool top, a utility short is a necessary fashion essential for a woman. The perfect pair of shorts can totally transform your look from a plain Jane to a sexy mama! Wear it on a casual day out with your girlfriends or a solo trip to the beach, these in vogue shorts enlisted below will make you feel fabulous on the inside and on the outside. 
Be prepared to introduce these amazing pair of stylish and functional shorts to your wardrobe that would certainly make all the other dresses feel inferior. The fact that these shorts go so well with all kinds of casual striped shirts, tank tops, and tees makes them all the more desirable and versatile. Scroll down to find some of the trendiest shorts that will be your go-to fashion statement this summer.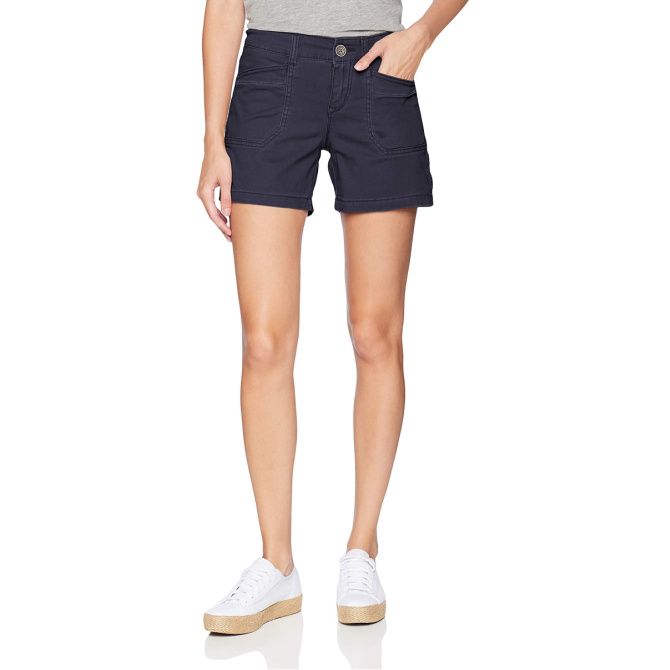 SHOP AT AMAZON
Your Multi-purpose Companion!
Women have been going gaga over this plain utility denim shorts that serve as a multi-purpose outfit. These will make you thank the designer for using fabric so smooth, soft, and comfortable. You can wear this one anywhere, and like a happy child, it will go along with you! 
A unique feature that you'll find in these shorts is deep pockets. Yes, you heard them right! Deep pockets in a woman's shorts! Goodbye, sling bags & purses!
• Loved for: ★★★★ | Stretchable, available in different colors, zipper closure, available in 3.5 inseam
• User said: These are perfect, not squishing anything and real pockets all around! 
WHERE TO BUY: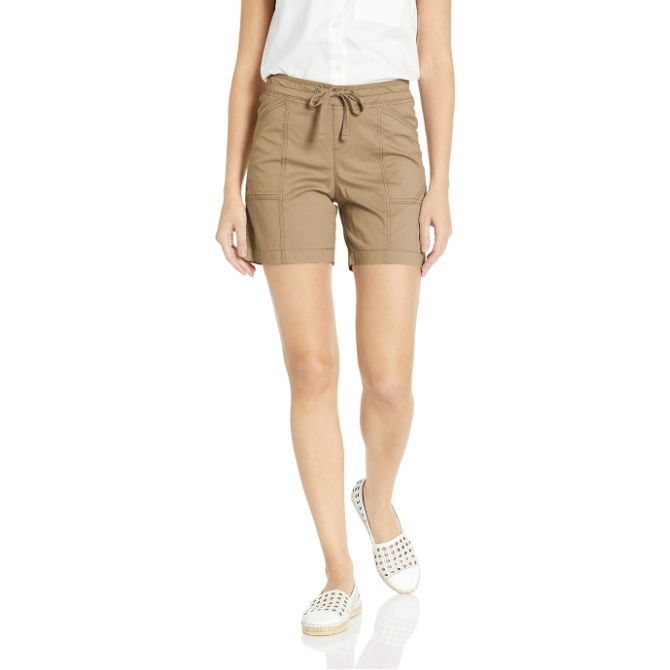 SHOP AT AMAZON
Cute and Comfy!
From the fashionista's favorite: house of Lee, comes this gorgeous women's shorts that look ravishingly well when paired with any light/dark colored top. Made of 98% cotton and 2% Spandex, the material of this cloth feels super light and comfortable on your skin. 
What's better is that you can even pair it with your office's formal white shirt and still rock it! The perfect option for ladies looking to purchase something they can move around easily during the summer months.
• Loved for: ★★★★ | Bestseller, available in different colors, pull on closure, flex comfort waistband
• User said: Love that they stretch!
WHERE TO BUY: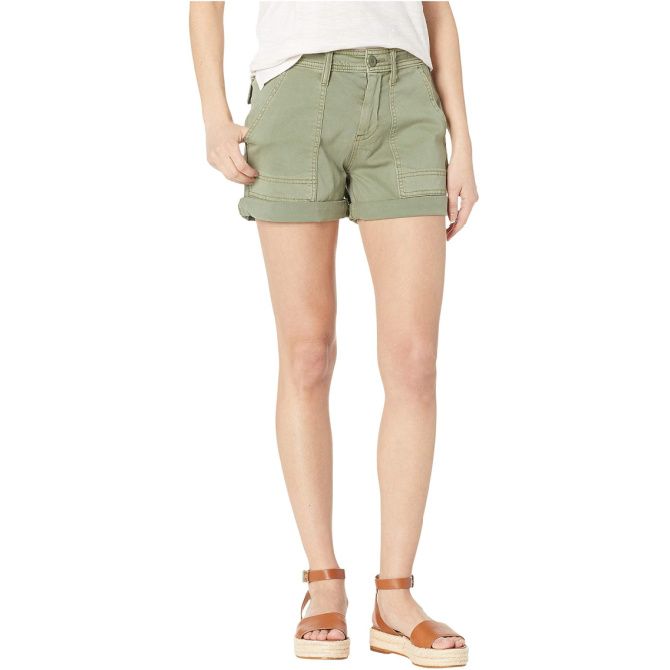 SHOP AT AMAZON
Chic and Classy!
The mid-rise utility shorts are perfect for women looking for a decent yet stylish short to wear everywhere during the summers. The fabric is made of 98% cotton and 2% elastane and reviewers cannot stop raving about the comfort it provides! These shorts are a mixture of everything pretty. 
The classy look of this short is gonna get you all the attention and praise, so brace yourself when you throw them on with the perfect accessories and head to a party!
• Loved for: ★★★★ | Available in 2 colors, zip fly with button closure, machine washable
• User said: The fit is excellent! I love the fabric and comfort. 
WHERE TO BUY:
SHOP AT AMAZON
Beat the Heat in Vogue!
This classic yet trendy shorts will come to your rescue when you have to attend the office and head straight to your best friend's birthday party! It will define your fashion statement. Made of 97% cotton and 3% elastane, these shorts are super comfortable, so you can smoothly perform any kind of outdoor activity in them as well. 
These shorts feature a tab roll cuff, have a zipper fly and belt loops if you want to glam it up a bit with your favorite belt—an ideal choice for women who love to stay 'on-the-go.
• Loved for: ★★★★ | Available in different colors, machine washable, zipper closure
• User said: These shorts are well made and wear well! They did not fade when washed.
WHERE TO BUY:
SHOP AT AMERICAN EAGLE
Funky and Stylish!
Women cannot stop talking about these high-waisted shorts that have seemed to capture the market owing to its appeal and comfort it guarantees. Pair it up with the correct set of accessories and trendy sandals, and you are ready to shine! When you put these shorts on, you will understand why women love wearing this during the humid summer months!
Flaunt your long legs with these trendy shorts made of 100% cotton and chic denim appeal. The pockets are a helpful addition to these shorts!
• Loved for: ★★★★ | Super-high waisted, cotton denim, frayed hem, 4 pockets
• User said: They fit perfectly! I received a lot of compliments that day.
WHERE TO BUY: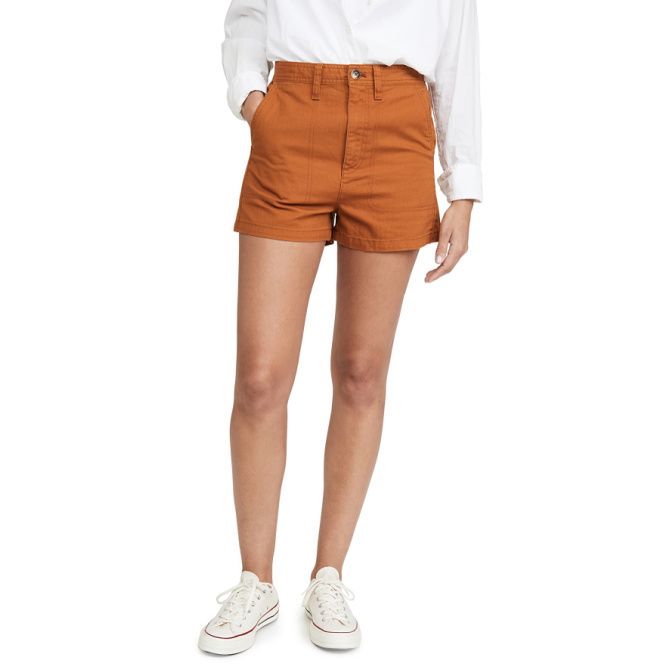 SHOP AT NORDSTROM
Your Summer's Sweet Child!
Look no further than these shorts when shopping for your summers essentials. This pair of white shorts say class and comfort like no other! Excellent quality and stretchy fabric. Well, what more can a woman ask for? 
Devolve the 40s era by flaunting this pair of classic short featuring stitched back pockets and zip fly with a button on top. These shorts will definitely be your go-to picks wherever you want to go this summer!
• Loved for: ★★★★ | Available in 3 colors, high-rise, back elastic waist, machine washable
• User said: This is the perfect summer short! It's not too short and not too long – it's just right.
WHERE TO BUY: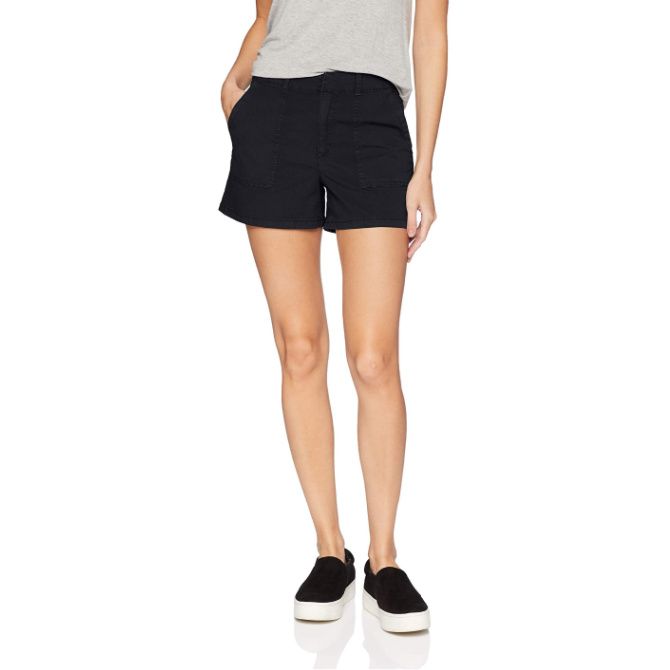 SHOP AT AMAZON
Cool and Composed!
The prefer summer shorts for all your outdoor as well as official endeavors. Investing in these shorts will be wise, thanks to the comfort and stretchability of the fabric. Feels just right for a summer day! 
Elevate your daily look by pairing these hippy shorts with the most stylish top you have in your wardrobe, and you are ready to create your own fashion statement! It's time to show the world that a diva needs not to follow the trend but vice versa!
• Loved for: ★★★★ | Available in 5 colors, 98% cotton 2% spandex, front and back pockets
• User said: Love love these shorts! They are super comfortable and lightweight. 
WHERE TO BUY: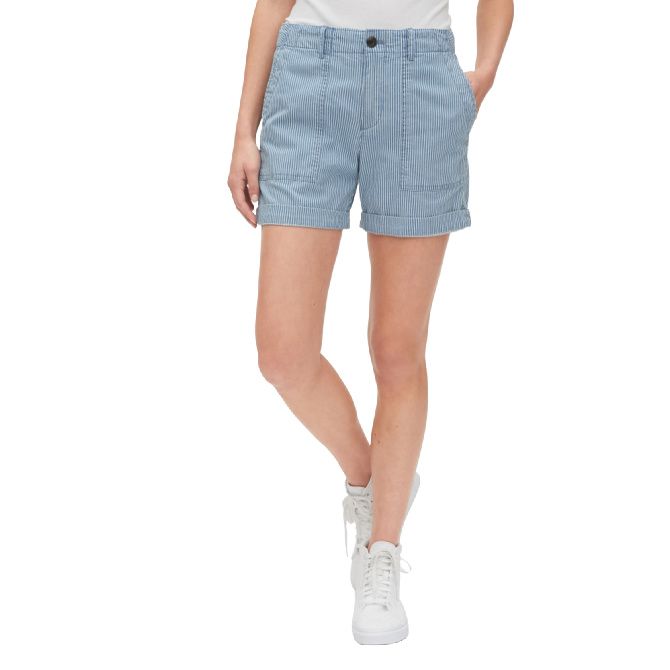 SHOP AT GAP
For Something Out of the Ordinary!
Got your wardrobe stuffed with those khaki-colored shorts and plain shorts that you have worn a thousand times on every single occasion in your life? It's time to revamp your look with this chic looking striped shorts that are sure to bag you a ton of praises and compliments. 
These shorts stretch and fit your waist like they are made specifically for you. So, what's stopping you? Get your hands on these shorts and slay the day!
• Loved for: ★★★★ | Smooth fabric, twill weave, stretchable, button closure, different styled pockets
• User said: These are very comfortable and wrinkle-free . Wash and go!
WHERE TO BUY: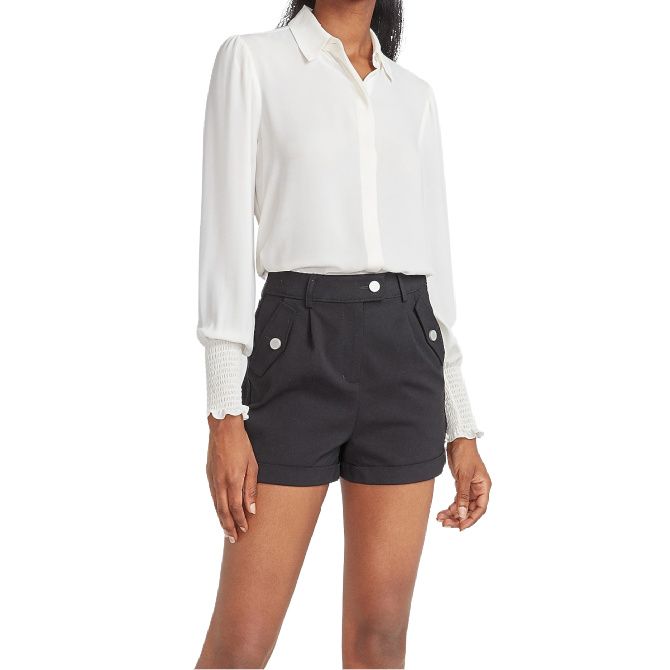 SHOP AT EXPRESS
Rule the day!
The rolled pocket hem shorts have been the talk of the town for all the right reasons. Ladies are going crazy about the sleek design and fabric material that is stretchable as well as strong. These shorts fit perfectly to the waist and are made of cotton, polyester, and spandex.
Your hunt for the perfect shorts this summer comes to an end with this chic looking shorts that will go perfectly well with casual and formal tops. These are high waisted and have pockets so you can carry your smartphones in them.
• Loved for: | Available in various sizes, high waisted, hem bottoms, pockets, pleated front
WHERE TO BUY: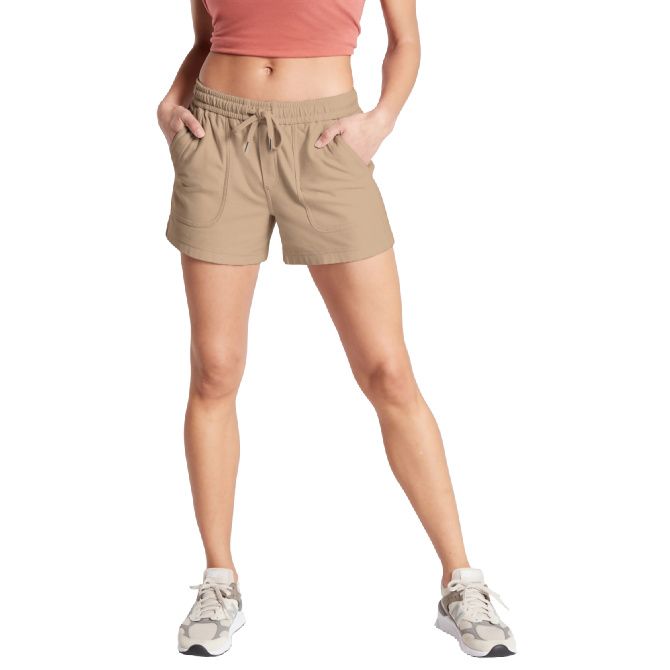 SHOP AT ATHLETA
Perfect Athleisure for Summers!
Heading for an outdoor adventure but want to look your best? Well, the Athleta shorts are just made for this purpose! These are semi-fitted but have a drawstring attached to it as one reviewer said, "perfect non-denim shorts that still make an outfit look pulled together".
Made of lightweight organic cotton, these shorts don't feel bulky or trap sweat while you are on the move. They are also quite stretchable, so you won't have to worry if you get a little hyperactive during your expeditions!
• Loved for: ★★★★ | Breathable, stretchable material, large pockets, drawstrings, available in 2 colors
• User said: Perfect fit and super comfy! A great addition to my summer wardrobe.
WHERE TO BUY:
SHOP AT AMAZON
Made for Active Ladies!
If quality appeals to you more than anything, then these shorts are a perfect match for you. The stretchable material of these shorts is going to make you love them even more. Made of 97% organic cotton, it is tough to ignore the aspects of comfort in this one.
You'll want to wear them to run your errands and to every casual trip or meeting with friends. Accessorize these with the best belt, and you are good to go! Plus, this product goes surprisingly well with tees, shirts, and casual tops of all kinds. 
• Loved for: ★★★★ | Elastic closure, available in different colors, organic cotton material, stretchable, front and back pockets
• User said: These shorts are wonderful! They are sturdy but also stretch with you.
WHERE TO BUY: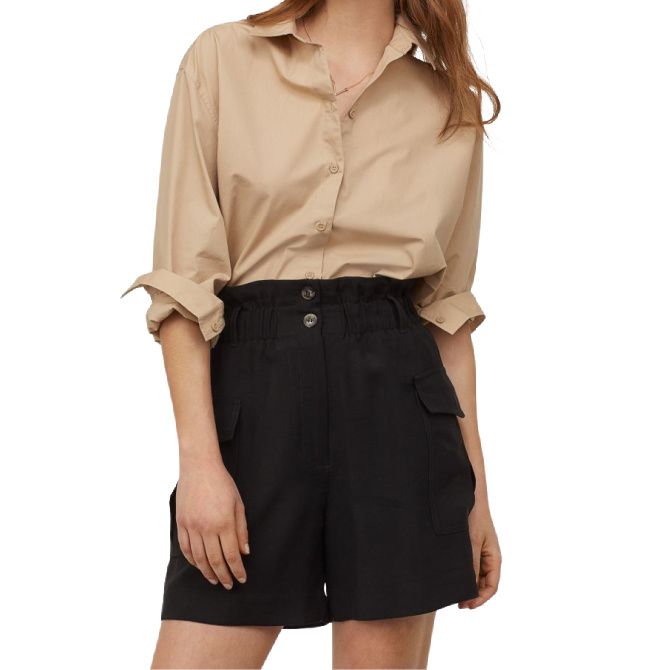 SHOP AT H&M
Up Your Shorts Game!
Definitely the trendiest and most fashionable shorts in this list, this will make you feel like an influencer! The high-waist has recently been in vogue, so when you dress up in this one, you are surely in for some quirky compliments.
The paper-bag designs go very well with loose-fitting shirts and leather belts. Pair them up with some loose sandals, and your outfit is complete. The cargo shorts are going to be your best purchase this summer!
• Loved for: ★★★★ | High-waist, paper cargo, leg pockets, available in different colors
• User said: Great fit. Makes my legs look long and lean! 
WHERE TO BUY:
Best Utility Shorts For Women Overview
Based on individual requirements, we have classified and enlisted the best utility shorts available in the market. We are sure that you found your 'the one' shorts that are perfect for you by now. We'd love to hear if you have any more suggestions for us! Happy shopping, queen!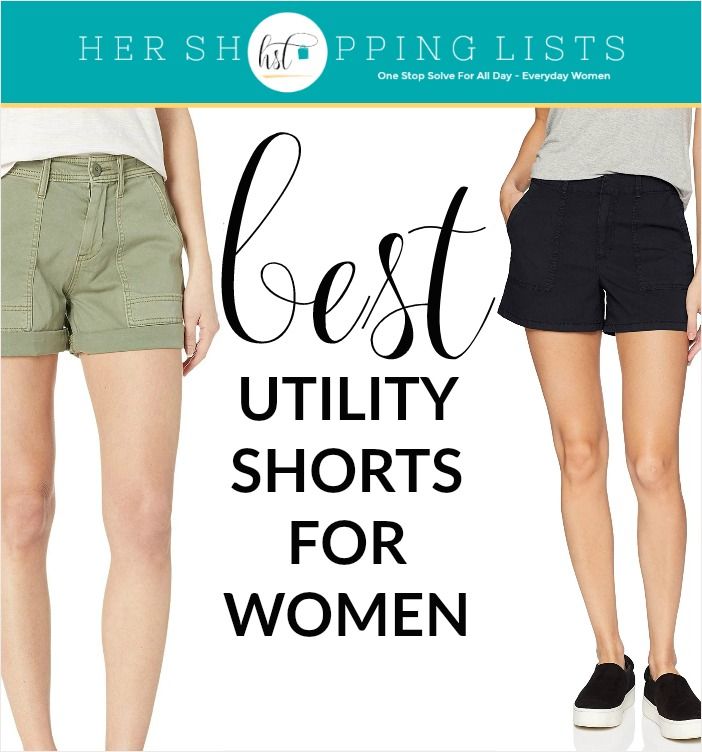 Have you got any suggestions of your own for the best utility shorts for women? Let us know in the comments!