Best Womens High Top Sneakers
High top sneakers are a genius invention! They fit slightly above the ankles for added ankle support. According to a study and several users' opinions combined, hightops may save you from unnecessary sprains and twists and are significantly better (apart from being insanely stylish, of course) than low tops with lack of ankle support. In a world where physical activity is a part of life, accidents are bound to happen. Though, we mustn't accept injuries as natural and start taking certain measures to reduce their risk because every person has the right to safety. 
For that, you have to ensure ankle-safety in the best possible way. This requires a lot of research. We've already done that for you and shared our list of best womens high top sneakers!
If you love this list of the best womens high top sneakers, you might also want to check out the best womens wedge booties that can work wonders for your closet! 
What Are The Best High Top Womens Sneakers?
High top sneakers are typically associated with sports. Still, times have changed, and brands have tweaked designs also to meet the casual and fashionable demands of the crowd. 
Similarly, our womens high top sneakers range from classics, casuals to everything in between. You can pop them on depending on the occasion and your style without looking like you're off to the gym!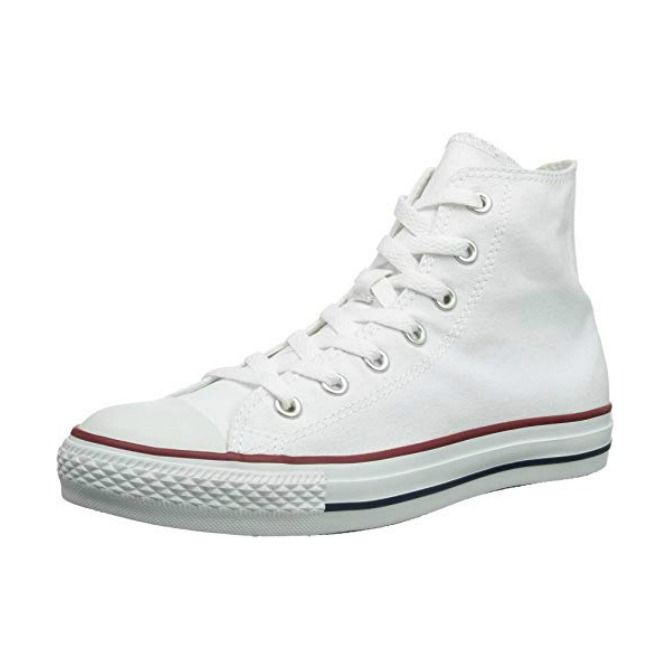 SHOP AT AMAZON
Iconic And Timeless!
Chuck Taylors have done what they do best; make sneakers! And these converse high tops womens sneakers are no exception. Complete with a sturdy canvas construction, rubber sole for long-lasting durability, and Ortholite cushioning inside for painless feet every step of the way, it blends simplicity with comfort! The ankle patch provides an excellent grip for all kinds of games and surfaces without exposing feet to injuries! This is a cult buy that never goes out of style!
• Loved for: ★★★★ | Canvas, available in different colors, rubber sole, medial eyelets, Ortholite insoles
• User said: Light, durable, and inexpensive. Just a great everyday shoe!
WHERE TO BUY:
SHOP AT AMAZON
The No.1 Bestseller
The cold season calls for vans women's high top sneakers like nothing else. And there's no better time to trade-in your daily shoes for SK8-Hi. This pair uses a durable suede upper with a breathable canvas body and a rubber sole for excellent traction. Not to mention, the padded ankle-length lets all the magic happen by offering ample support to wear the shoe anywhere, anytime! The design speaks for itself! It's gorgeous and waterproof. Score!
• Loved for: ★★★★ | Canvas, available in different colors, rubber sole, padded ankle
• User said: I love these kicks and find them to be more comfortable each time I wear them.
WHERE TO BUY: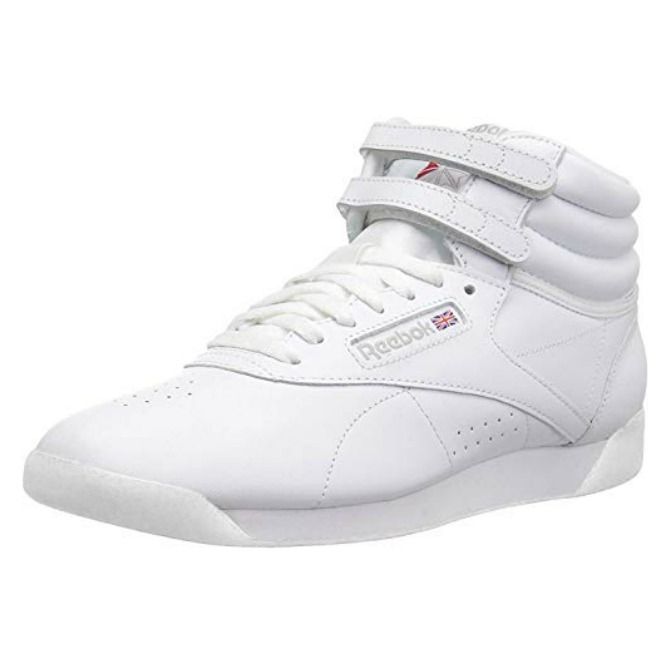 SHOP AT AMAZON
Customers-Approved
For workout sessions, reebok freestyle high tops are a must. The rubber sole, high top construction, and padded inside protect the foot during exercise. Made from leather, this won't only last a good while but looks way more premium than the canvas counterparts. The shoe works like a suspension for your feet. Lends comfort and shock-absorption! For daily wear or as part of your athletic gear, this old-school choice is not disappointing. 
• Loved for: ★★★★| Leather, available in different colors, rubber sole, padded collar, ankle-strap closure
• User said: I've used them daily and during workouts (aerobic activity, weight lifting, etc) and have been very pleased.
WHERE TO BUY: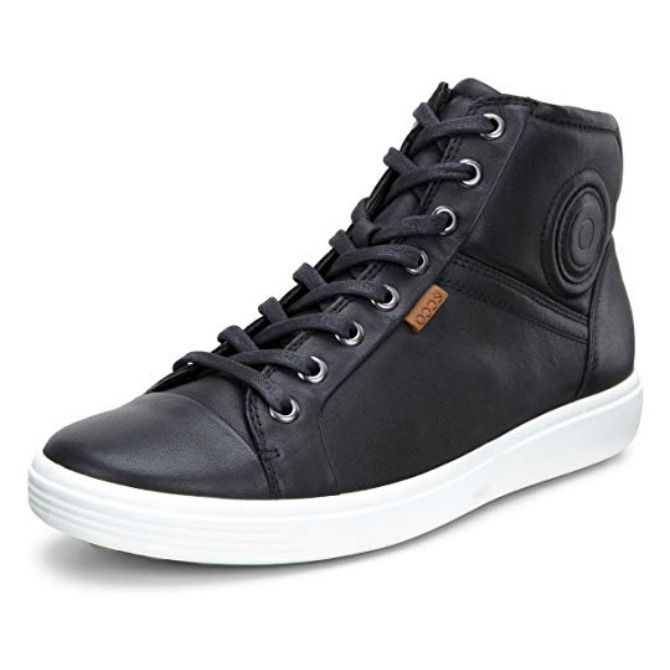 SHOP AT AMAZON
Classic With a Purpose!
Sporting a high-top silhouette all done in premium leather, Ecco's black high top sneakers are made to last. The high-quality leather exudes a high-quality finish but also features breathable lining to keep your feet dry and kicking. The bonus two extra layers rubber sole adds height and combines comfort in a flexible approach. You can run, you can walk, you can style these with black everything for extra oomph! 
• Loved for: ★★★★ | Leather, available in two colors, rubber sole, cap toe, removable insole
• User said: Crazy comfortable for long walking and travel!
WHERE TO BUY: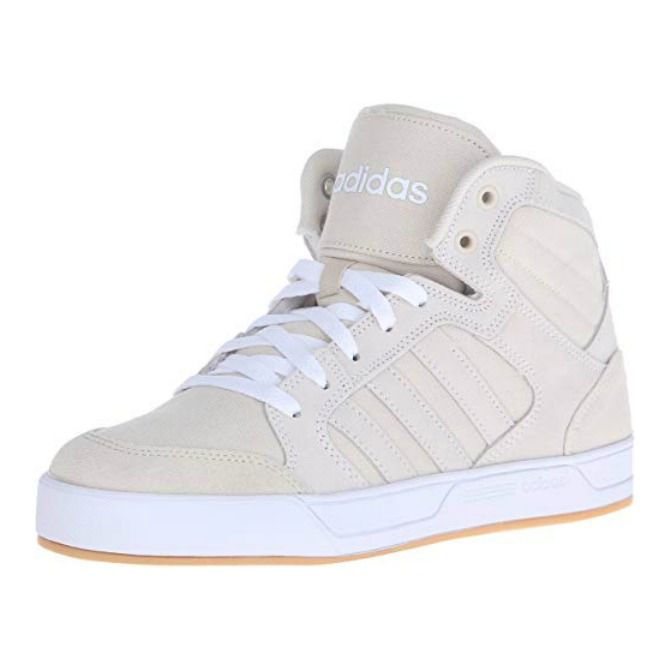 SHOP AT AMAZON
Basketball-Inspired Sneaks for The Daily
If you want to look extremely cool without the decorative details, the Adidas high tops sneakers womens shoes would see you through many outfits. Neo has a modern appearance with leather craftsmanship, a simple and durable rubber sole, with stylish patent details to match. Pair these with pants, jeans, trousers, shorts, and even dresses without the dread of ending up too girly. The all-famous logo is proof of its originality. 
• Loved for: ★★★★ | Leather, rubber sole, classic design
• User said: If you want to feel uncontrollably cool, get them and wear them!
WHERE TO BUY:
SHOP AT AMAZON
Worth the Bucks!
Keeping up with the leather recommendations, UGG's womens black high top sneakers are also created from leather for lifetime durability. These shoes are made edgy and comfortable with a white rubber sole, EVA footbed, full-grain leather upper, with both a lace-up and side zip entry for easy slip on and off. These sneakers look perfect with a variety of casual outfits. Tackle all sorts of surfaces. The customers highly approve of the comfort level of this pair!
• Loved for: ★★★★ | Leather, available in three colors, rubber sole, side zip
• User said: Everything about these sneakers says "quality." You totally get your money's worth.
WHERE TO BUY: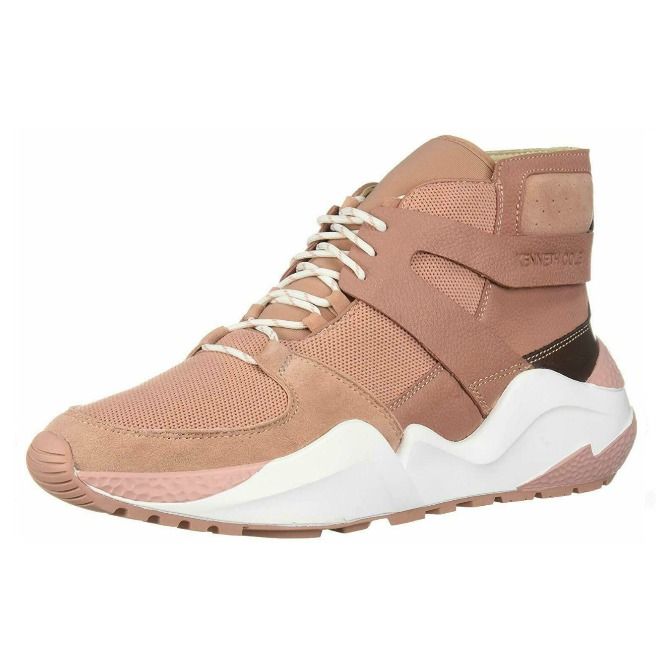 SHOP AT AMAZON
Perfect for Indoors Games!
Woah, the brutal strength is leaping out of the stylish Kenneth Cole leather high top sneakers. Can you feel it too? If you're looking for kicks less for outdoor sports and more for fashion purposes, this may be one of the best picks for you. The leather workmanship, coupled with a chunky sole, dial up a modern, robust vibe. If you want to be known by your choice of footwear, this might be up your alley. These have non-marking soles for maximum friction and smooth operation on wooden or tiled floors. 
• Loved for: ★★★★ | Leather, available in five colors, synthetic sole, non-marking outsole
• User said: Great purchase and exactly like the picture!
WHERE TO BUY:
SHOP AT AMAZON
Excellent Arch Support!
Both for work and play, Puma high tops womens sneakers mate strength and comfort into one. Rock this pair to the gym or wherever your mood takes you. The durable silhouette is enhanced with its signature midfoot strap. The mesh insert collar provides breathability when it gets hot during high-intensity activity. And the high arch at the back offers elevated ankle-support. Also, due to the high-back, the foot is prevented from slipping out. We have nothing but good things to say! Plus, it's such a looker!
• Loved for: ★★★★ | Available in different colors, rubber sole, mesh insert, signature midfoot strap
• User said: The shoelaces are easy-to-tie and comfortable Velcro flap secures your instep.
WHERE TO BUY:
SHOP AT NORDSTROM
Smooth Slidin' Yo!
If you're looking up a pair that could be dressed up and dressed down nicely, Jslides are one of the best high top shoes for women to have in your arsenal. Made from leather with the comfortable rubber sole and ever-helpful side zipper, it's a breeze to slip on and take off. The animal print brings out the charm of these kicks. On the bright side, the chunky soles would be a useful boost for women with short height!
• Loved for: ★★★★ | Leather, available in three colors, rubber sole, side zip closure
• User said: Fits true to size and are perfect for an everyday shoe!
WHERE TO BUY: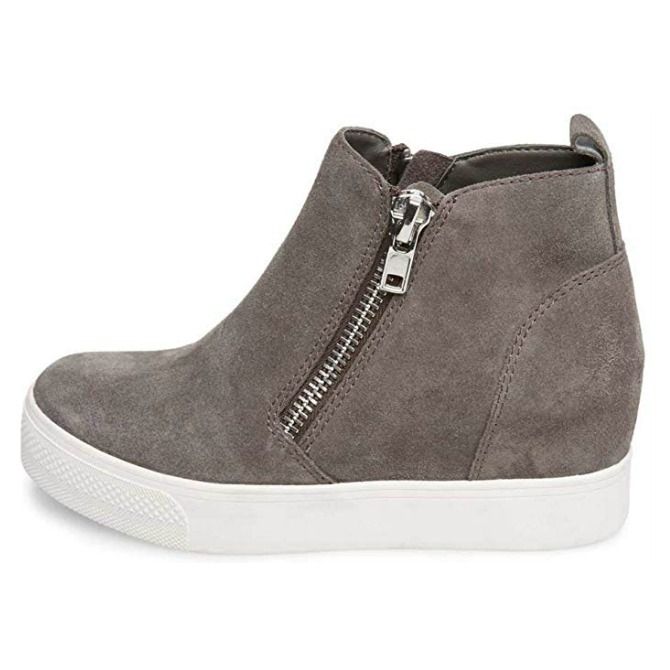 SHOP AT AMAZON
Universally Flattering!
These Steve Madden high top sneakers are the most' humble crumble' pick out of all the shoes we have featured in this post, and for a good reason! They are simple to look at but soft and sweet upon wearing. Crafted from suede, which is a work to maintain we must admit, but the beauty of this fabric screams luxe-taste and comfort. Also, they have rubber soles for long-lasting durability and soft cushioning inside to make your feet feel at home every time you pop on these side-zip beauties! 
• Loved for: ★★★★ | Suede, available in different colors, rubber sole, zipper closure
• User said: I have foot pain and these don't hurt my feet!
WHERE TO BUY: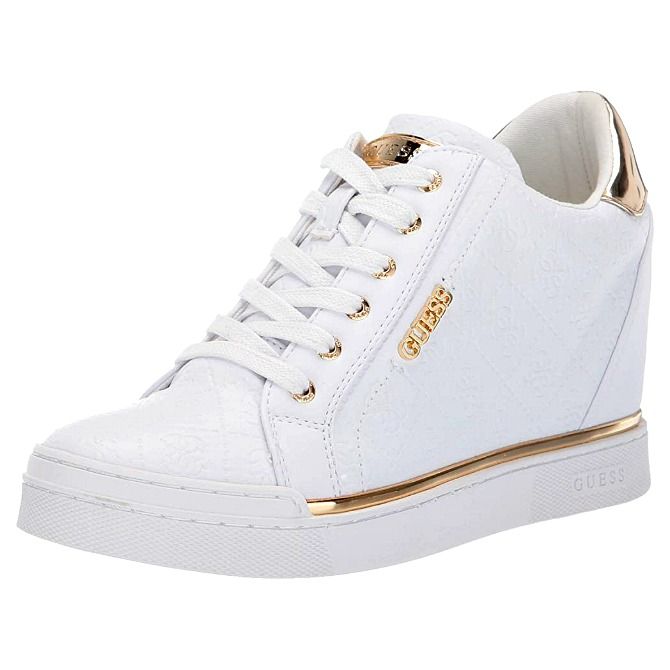 SHOP AT MACY'S
A Twist to the Classic
For classic white high tops womens sneakers with a little more flavor, Guess's version is such a hottie. The gold accents and the tall height of the design would add interest to any attire you style it with. The shoes combine feminine and vintage elements, with a three-inch wedge, which presents a beautiful change from heels. We can hear a whopping 'Yes' from both heel-haters and short-heighted women. They are comfortable from the get-go, no crazy break-ins, and are splendid for going casual-chic!
• Loved for: ★★★★ | Leather, available in different colors, man-made sole, hidden wedge
• User said: Great quality sneakers that will make your outfits a little more trendy!
WHERE TO BUY: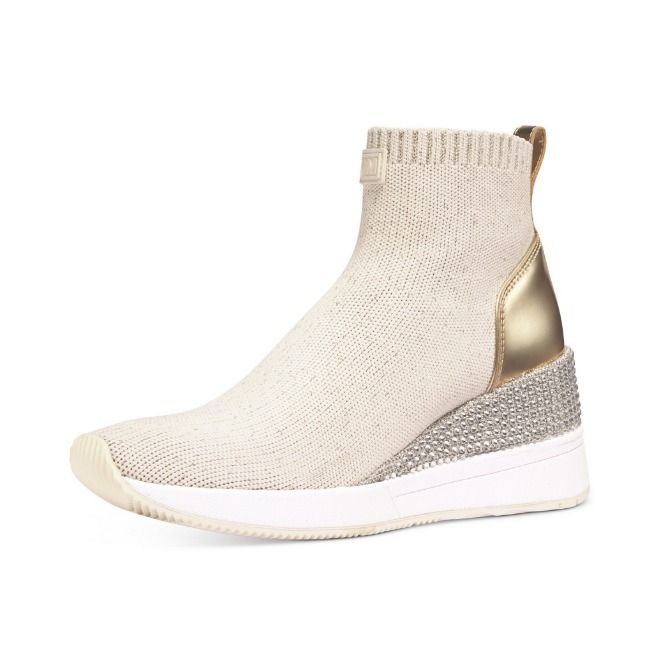 SHOP AT MACY'S
What More Could You Want?
Real women buy Michael kors high top sneakers. Seriously, the sock trend is raging, and it's not going anywhere, anytime soon. And you must make the most of it with these of-the-moment booties. They are designed with an athletic rubber sole that gives you grip and surety in this fashionable silhouette. Besides, providing a breather from those boring and bland gym shoes! Despite the bulky design, customers confirm they are lightweight and pleasantly breathable!
• Loved for: ★★★★ | Mesh fabric, available in different colors, rubber sole, slip-on
• User said: The thick mesh material adds to the lightweight and breathable fabric!
WHERE TO BUY:
Best High Top Sneakers Overview
How to Style Womens High Top Sneakers?
Some online articles covered on high top sneakers complain about the lack of versatility in high-tops, as compared to low-tops that work better with shorts and just about anything. We, on the other hand, disagree with this opinion because there are some special tricks you can use when styling with high-tops. 
Skirts With Dimension
Instead of denim cutoffs and shorts, go for short skirts in girly designs. Think of pleated, pastel, lacy, sheer, and floral versions for a combo that is a mix of feminine and high-street cool. Bare a bit of leg with high-tops, it works! Use it to your advantage! Complete the look with a denim jacket (if you will.)
Pants
High-tops naturally complement pants, but it's ideal to have one or two inches of gap between the pants and the top of the shoes when standing up. Opt for cropped jeans, skinnies, and even boyfriend jeans with rolled-up, hemmed, or cut-off ends in this case. Wide-leg pants and mom jeans look especially cute, and this is the easiest way to slay in high-tops. 
Gym Wear
That's no brainer! High tops are made to look fabulous with athleisure, and they always do. Be it a sports bra, coverup T-shirts, sweatpants, hoodies, and leggings or workout shorts, particularly all these in more current styles. 
How to Wear Womens High Top Sneakers?
• If you think high tops make you look shorter, go for a pair with larger soles and a hidden heel. 
• High tops look dope with bodycon, t-shirt dresses, and knit dresses. But not as much with seriously formal or very long dresses, we see all those Instagram influencers wearing. However, there are no limitations. If you prefer the former, go with it! In our opinion, high-tops look loads better with short dresses, almost sexy—if you get our drift. 
• To wear high tops to the office, get work-appropriate ones. Sock booties or styles with less athletic bulk and more aesthetic sense should do the trick. Choose turtlenecks, sweater dresses and knit dresses, and more structured outfits here with a few statement accessories in vintage shades. 
• Elevate the look further by adding playful socks to your high-tops. This combination looks particularly stunning when your legs are out on display. Prints, patterns, fishnets, and fun trims, all add a funky appeal to high top sneakers. 
• If you like the minimalist side of fashion, hi-tops should be minimal-looking too. With a dark palette of clothing, symmetrical designs, and a monochromatic approach, you can take your hi-tops to the next level and be a minimalist. 
Wearing womens high top sneakers is a sure-fire way to feel comfortable without giving up style. If you're still not satisfied, give one of these a try!
Have you got any suggestions of your own for the best high top sneakers women love? Let us know in the comments!