Featured Image: Birkenstock
Best Furry Slides
We all love fur! The softness, the coziness, the fluff. But wait, we don't want you sinking your dainty feet into just any flurry affair, do we? That's why we've compiled top ranking furry slippers women wear that will make walking in the clouds a walk in the park. 
Whether they're called furry sandals or slippers, there's one thing all top notch slides have going for them. And that's premium comfort. See, every other feature in a shoe is negotiable, but who negotiates comfort? Well, not us! Your feet work hard enough, don't make footwear another chore.
If you love this list of the best womens furry slides, you might also want to check out the best boot slippers for women whose feet are always cold!
What are the Best Women Fur Slippers Slides?
Getting yourself the best fur slide slippers or sandals should be easy, right? We're sorry to burst your bubble, it isn't! You could easily get carried away by the flurry works that you miss the essentials. These must-haves like good grip, comfortable footbed, and sole support are what these best slides offer. But that's not all. There's more as you read on.
SHOP AT AMAZON
Fuzzy Flurry
Oh, the feeling that comes with wearing real fur! The warmth, the caress, the comfort… Okay, we'll stop. The thing is, if it's not UGG, it can't be one. And almost 4000 reviewers can't be wrong. If the real deal is what you're after, then it doesn't get more real than this. It gets even better, these UGG fur slides are available in 22 colors! Don't you believe it? Feel free to check it out yourself!
• Loved for: ★★★★ | Real sheepskin fur, true to fit, molded rubber outsole, sheepskin-wrap midsole
• User said: These are so cute! It is exactly what you see in the picture. I couldn't be happier!
WHERE TO BUY: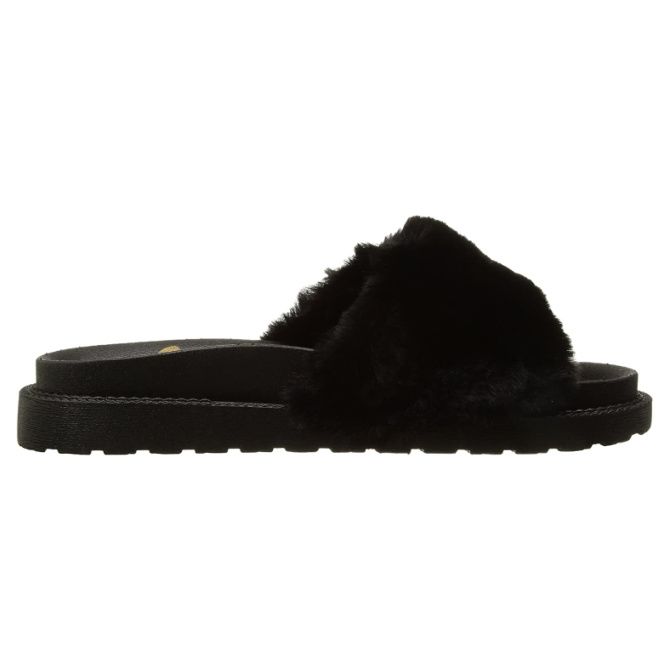 SHOP AT AMAZON
Hello Bedfellow!
Here's a little note of warning before you purchase this pair of black fur slides. If you're not ready to wear it to bed, don't buy it. It's so light and comfortable you'll forget you're wearing it. There's more! It's stylish, youthful, and affordable. Little wonder reviewers are in love with it!
• Loved for: ★★★★★ | Comfort, thick fur, true to size, stylish
• User said: I really love these! I ordered in three colors over two weeks because they are really comfortable and yet don't make my feet too warm.
WHERE TO BUY:
SHOP AT NORDSTROM
Love at First Slip
Luxury has few faces. And one of them is this pink faux fur slide for women. The pure opulence you experience when you slip your feet into these dreamy beauties is indescribable. It's one of those few products that look great and then feel much better. Whoopee!
• Loved for: ★★★★★ | Plush fur, comfort, easy to wash, non-skid sole
• User said: Love my new RP faux fur slippers! The fur is so soft and comfortable! I highly recommend it!
WHERE TO BUY:
SHOP AT AMAZON
Your Foot Care All Buckled 
You need only take one look at these furry sandals, and you'll know they were made with your comfort in mind. Or how else can you justify all this plushness? A foam and fur insole to pamper your feet. An EVA outsole. You can even adjust the buckles to fit. This goodness isn't banished to your house; it is also suitable for outdoors. Time to show off those well manicured toenails of yours.
• Loved for: ★★★★ | Comfortable faux fur top sole, faux fur straps and insole, adjustable buckles, stylish, multi-function
• User said: I have quite a wide foot and the fit of these cute fur slides is amazing! Plus, they don't come off your foot.
WHERE TO BUY:
SHOP AT NORDSTROM
Time to Cuddle up
When was the last time you had a good cuddle? Probably hours ago. Well, you're not the only one who needs that warm fuzzy feeling. Your feet do too. And with these furry slippers, your feet get all the cuddle they want. The icing on this cake is the crystal buttons. The bling is a thing!
• Loved for: ★★★★ | Plushness, crystal buttons, easy to clean, not too warm
• User said: I love these! They are so soft and comfortable.
WHERE TO BUY:
SHOP AT AMAZON
Cheers to Extra Miles!
Are you tired of flip flops and need some support for your arch? Listen up! This pair of UGG white fur slides solves that problem. With its suede back strap, it not only gives your arch the much needed support, but it also gives it cushioned support! Talk about the extra mile. Add to this the abundant fur and cool design, and you have yourself the perfect sandal for your cart.
• Loved for: ★★★★ | Original sheepskin fur, suede back strap, treadlite rubber outsole, unique design
• User said: I love these sandals 100%! I ordered one size up because I have wide feet and they are perfect. So cute!
WHERE TO BUY:
SHOP AT NORDSTROM
Comfy Beds Your Feet Would Love
There are probably a few things your feet would thank you for. And one of them has to be the gift of a pair of super comfy slippers with fur. Real fur. This lushness here also has a molded footbed with arch support that soothes your feet endlessly. If only feet could talk!
• Loved for: ★★★★ | Genuine fur, comfy molded footbed, stylish, easy to clean
• User said: Love these sandals! The fur is beautiful, and I absolutely love these shoes. Worth every penny!
WHERE TO BUY:
SHOP AT AMAZON
Indulgence 101
Your beautiful feet deserve the pampering only a pair of furry slippers or sandals can give. And this is exactly what this sandal does. The contrast straps give it a rare glam fit for a Diva. So whether you're indoor cooking or outdoor to get groceries, there's no better way to indulge your feet. 
• Loved for: ★★★★ | Cross contrast straps, easy slip-on slide, rubber outsole, cute design
• User said: Exactly as pictured! These are adorable sandals that seem sturdy.
WHERE TO BUY:
SHOP AT AMAZON
How Furry Do You Want It?
There should be an award for our feet, really. Or how else do we reward those delicate structures that carry us to and fro without complaining? In the absence of such recognition, show your appreciation to your feet by clothing them in this gorgeous furry beauty. The all round lushness is all the care your feet longs for. This faux fur slide has a flexible, lightweight midsole that absorbs shock in place of your feet. How caring!
• Loved for: ★★★★ | Plush faux-fur uppers and linings, adjustable hook-and-loop fastener, outsole with patterned tread, comfortable
• User said: I wear these fur lined slides every minute around the house. The Velcro is very strong and makes the slipper adjustable and comfortable.
WHERE TO BUY:
SHOP AT NORDSTROM
A Distinct Blend You Can't Ignore!
This beautiful fur slide is a rare fusion of leather and genuine shearling. The classic upgrade is the best gift you can give yourself this season. The adjustable straps with buckle closures are winners any day. And the footbed is contoured to provide your arch that ultimate support. If you value quality and comfort, then this has your name on it.
• Loved for: ★★★★ | Unique design, genuine fur, adjustable straps with buckle closures, contoured footbed
• User said: These are awesome! They are so comfy and easy that I can wear them everywhere in the fall and winter. Well worth it!
WHERE TO BUY: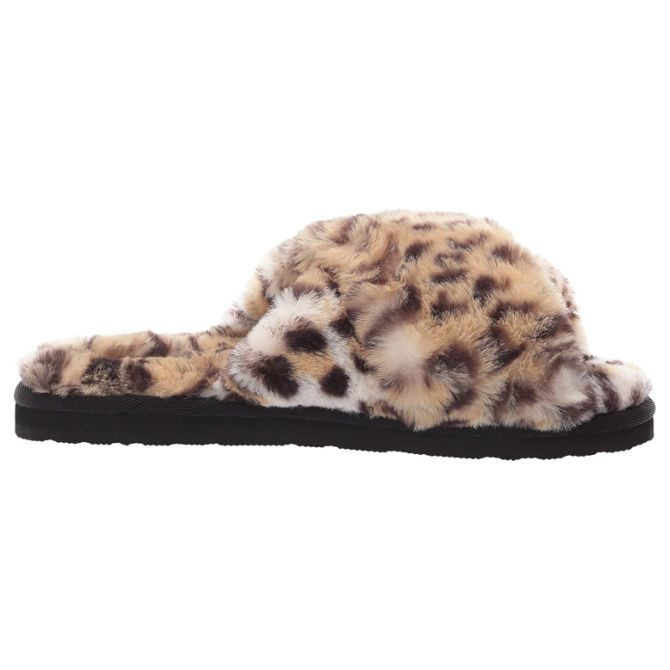 SHOP AT AMAZON
Float in bliss!
If there are any furry slide slippers you can practically live in, then this is it. Time to dump your old drab slippers and level up with this super cute and comfy sandal. The rubber outsole is so light, comfortable, and flexible you don't feel you're walking. It feels more like you're floating. And that's how good fur footwear should make you feel.
• Loved for: ★★★★ | All round fur, good grip, comfy footbed, cheetah pattern, lightweight outsole
• User said: Great slippers! I usually worry that they won't stay on my foot (I have a slightly narrow foot), but the tightness was perfect.
WHERE TO BUY:
Best Fur Slides for Women Overview
See? There's more to womens fur slides than just the fur. Many other features are to be put into consideration when purchasing comfortable and lasting slippers.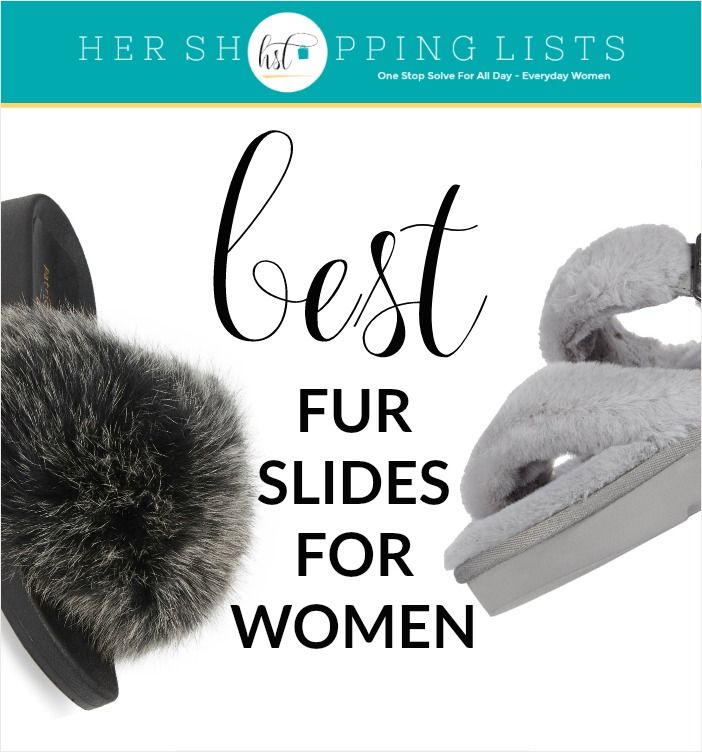 Have you got any suggestions of your own for the best fur slides for women? Let us know in the comments!