Featured Image: Born
Best Driving Shoes for Women
A useful tool improves the way you work, and the user is nothing without the right tools. You may have experienced in real life how having the right equipment can potentially increase the productivity level and quickens finishing a task. Similar to that concept, driving shoes behave like the right tool for the right job. With a driving pair on, you become better in charge of your vehicle and even get to experience your own true driving potential. Investing in one is worth it. It assists in battling fatigued feet, especially when you're off to a long journey. 
That's why we've created the list of best driving shoes for women. Whether you're an occasional driver or a regular one, enthusiastic, or simply a driver by chance, we're confident that all our picks cater to every type of driver out there. We've also shared our views on some common questions the general public asks, so you can rest assured you'll leave this post with all the basics of driving footwear!
If you love this list of the best womens shoes for driving, you might also want to check out our list of the best comfortable office shoes for women ! 
What are the Best Womens Driving Shoes?
A lot of factors go into buying the best driving shoes for women. But the priority is set to comfort. If comfort is not there, then everything else goes down the drain. The best would not have a traditional closure system; instead, there should be an easy-to-wear slip on design. The fit must also be perfect, close to the foot to get in closer contact with your vehicle. Moreover, the shoes must be lightweight because of the weightier they are, the slower your movements, and the harder it gets to drive a car. 
Lastly, make sure you're looking for a sole of medium-thickness. Something too thin won't let you exert the right amount of pressure on the pedal and can even be terribly uneasy for the feet. Plus, knowing a few trusties and popular brands comes in handy. But if you don't know where to start looking for one, our list of the best womens driving shoes are made for people just like you; who need the best in the first try!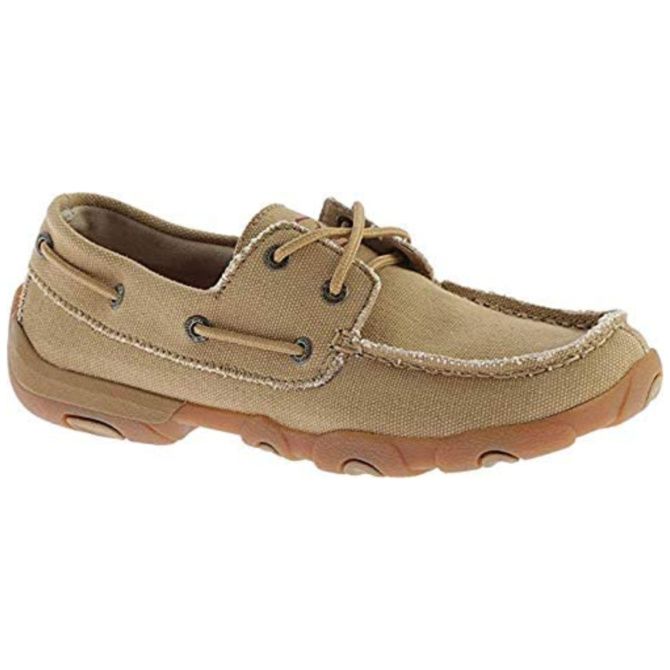 SHOP AT AMAZON
Do the Environment a Favor!
Comfort, cuteness, and ease of wear are the trademark of Twisted X shoes womens footwear. Combining a synthetic body; great for those avoiding leather and suede for ethical reasons, it looks and feels high-quality. Textile-lined and using ecoTWS fabric, which uses plastic bottles for fabric on the upper-side, this is a fantastic option for those who wish to reap the benefits remaining within the limits of eco-friendliness. The lining supports airflow, and the rubber outsole assists with better traction. to give you superior control of your vehicle! 
• Loved for: ★★★★ | Canvas, available in different colors, rubber sole, removable and machine washable foot insert
• User said: They came with a removable insert that I can wash and reuse which I also thought was fantastic! 
WHERE TO BUY: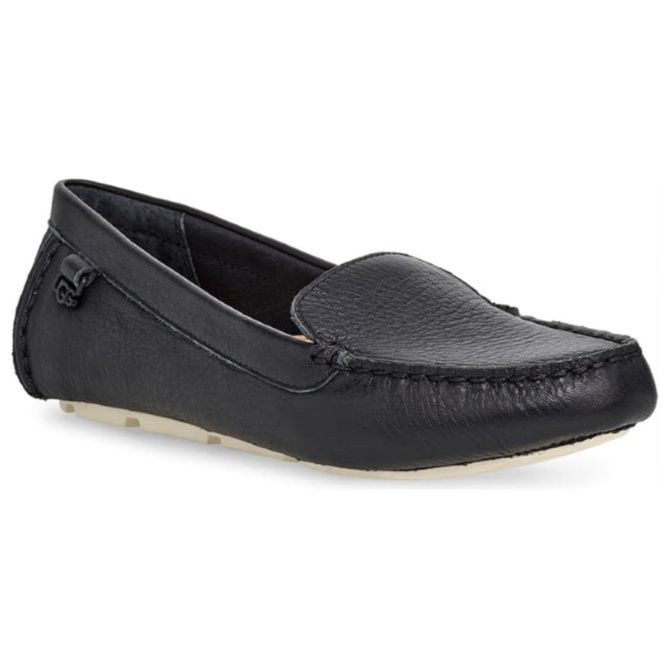 SHOP AT NORDSTROM
Give Her the Right Shoes and She'll Conquer the World!
When it comes to simple wardrobe basics, nothing beats the Ugg driving shoes. The main reason these spark attention is the burnished, minimalist design, but beyond that, the pair bears some kickass features. From the polished leather craftsmanship to the breathable lining, cushioned insoles to ever-so-help arch support, it ticks all the boxes of comfort and offers greater car control. The textured soles provide grip and smoother handling of your car, reducing the risk of accidentally touching the wrong pedal. And the narrow design helps with precise movements, too!
• Loved for: ★★★★ | Leather, available in four colors, rubber sole, arch support, cushioned insole
• User said: I love the look and feel of these shoes! 
WHERE TO BUY: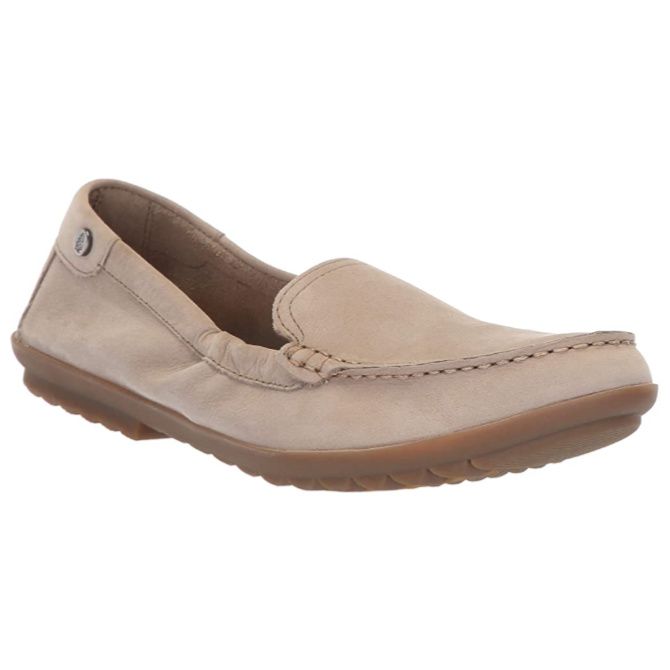 SHOP AT AMAZON
Just What We Recommend for a Long Day!
For an enthusiast driver, good driving shoes are a must. Not only in terms of getting anything that takes to achieve perfection, but getting something that does the job without sacrificing on style. Just like the Hush Puppies driving moccasins truly meet our statement above and are terrific with a capital T! Made from leather with a textured rubber sole, the body is supple enough to provide enough flex to work the pedals. The sole has an excellent grip to have a grippy control! The cushioned insoles are stress-relieving and moisture-wicking. 
• Loved for: ★★★★ | Leather, available in four colors, rubber sole, soft memory foam
• User said: Nice, soft, and flexible; just the look I wanted! 
WHERE TO BUY: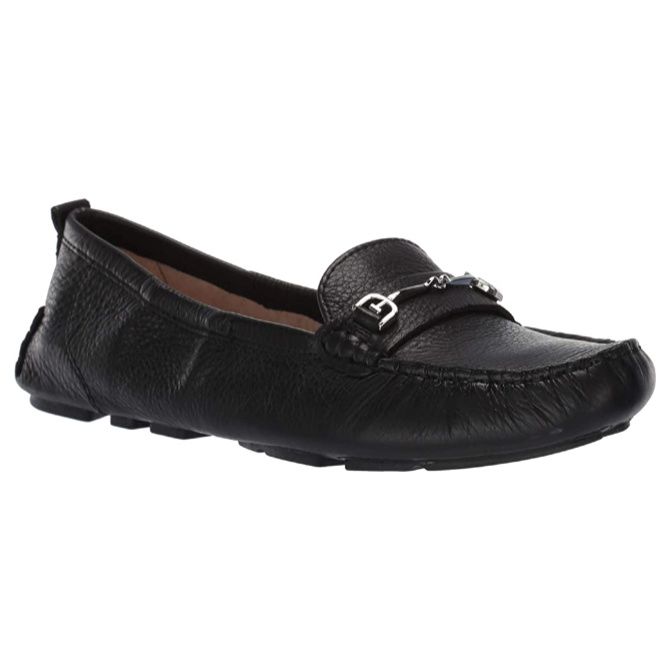 SHOP AT AMAZON
This is What Good-Quality Looks Like!
Made from rich-looking suede and very comfortable to wear, Sam Edelman's offering sits well with happy consumers. These car driving shoes have soles with texture to improve your vehicle-driving experience and even work best when walking, running, and doing chores around the town. The rounded exterior and high back are made to give precision and power to expertly deal with your car. Not to mention, the soles are non-slip and remove the fear of unfortunate slips and slides. Slipping them on and taking them off is a breeze, an advantage when in a rush to get out the door. 
• Loved for: ★★★★ | Leather, available in four colors, synthetic sole, breathable leather lining, 
• User said: The leather is so soft, and the bottom grip surfaces well! 
WHERE TO BUY:
SHOP AT AMAZON
Modern and Trendy!
A womens driving loafer is the best thing that can ever happen to you. Not only it saves you precious time but works with almost anything in any situation. Thanks to their adaptable designs and flat body, which helps form to your feet for a game-changing driving experience. Aerosoles loafer is enlightening because when the padded inside comes in contact with your feet, you truly regret not buying them earlier. Durable and high-quality, the body is all leather and buttery-soft, something you've always missed when driving from home to work to back again. 
• Loved for: ★★★★ | Leather, available in different colors, synthetic sole, comfort foam footbed
• User said: Feels like I'm walking on clouds. Stylish and comfortable! 
WHERE TO BUY: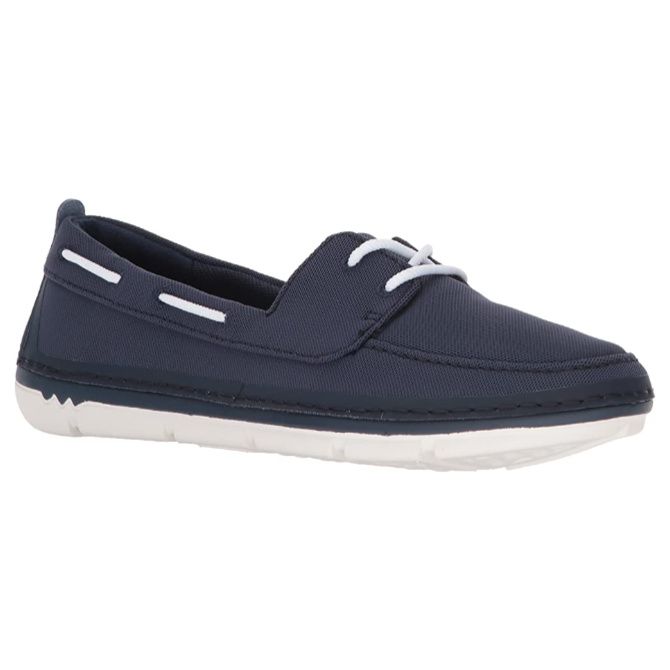 SHOP AT AMAZON
Planning Done Ahead!
Think of all the summer outfits you can pair with Clarks driving shoes; they're so versatile! Made from synthetic textile and featuring Ortholite footbed, it's ideal for the hot and humid weather. This ensures breathability, and the non-slip rubber sole assures a cool, firm grip on the pedal. Due to the foot-contouring design, it conforms to the feet and helps you get a better feel of the pedal room, so you can know what to do in the blink of an eye. There's no room for mistakes in driving, and Clarks sees to that well!
• Loved for: ★★★★ | 100% Textile, available in five colors, rubber sole, removable Ortholite footbed
• User said: I have challenged feet and legs, and these shoes are a dream! 
WHERE TO BUY: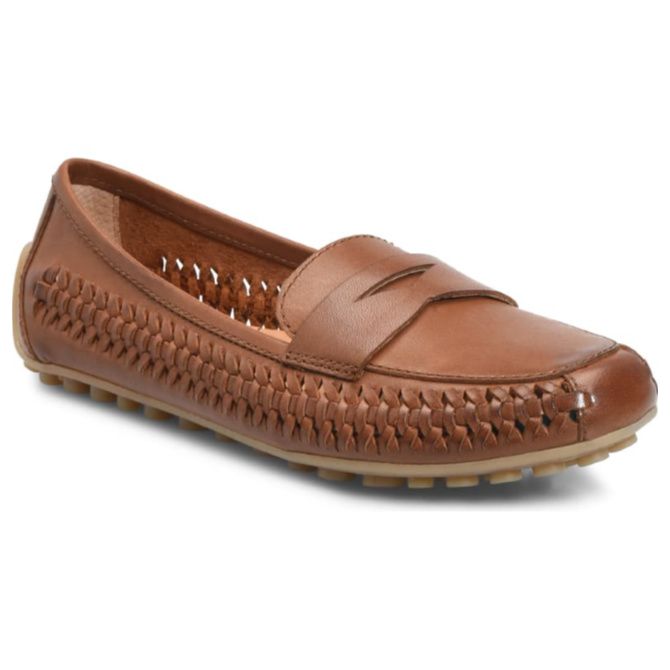 SHOP AT AMAZON
A Simple But Pretty Distraction!
Talk about shoes you can pair with both slacks and jeans. Born women driving mocs are clean-looking, aesthetic, and hit the fashionable mark right in the head. The braided sidewalls add a nice twist to the classic look and send off a preppy vibe that works in favor of both casual and business-casual events. Leather-made, cushioned inside, and flexible rubber sole are some of the features of this impressive shoe. The customers love the attractive penny slot and find this footwear not boring at all! 
• Loved for: ★★★★ | Leather, available in different colors, rubber sole, cushioned footbed
• User said: Everything about the shoe is perfect; comfort, size, color, and the fit!
WHERE TO BUY: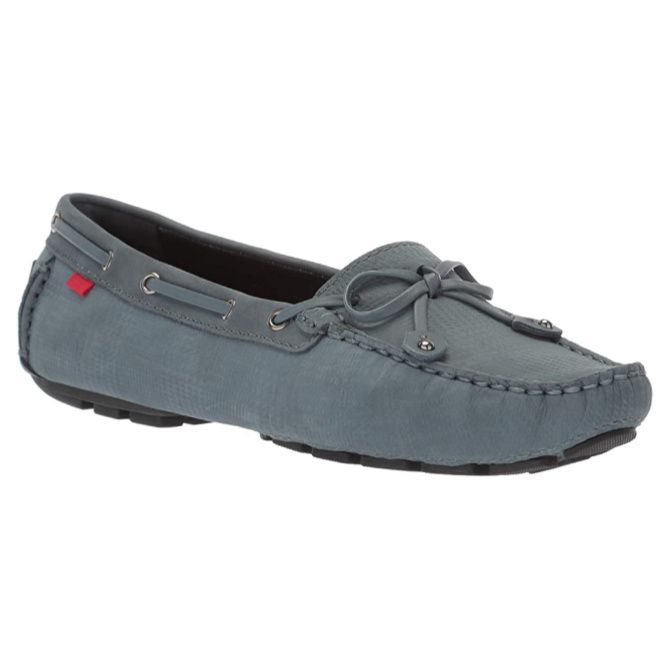 SHOP AT AMAZON
Scream Summer in a Luxurious Shoe!
Designed in New York and handcrafted in Brazil, it's the goodness of two worlds that turn this into a practical, high-quality pair. Marc Joseph's leather driving shoes promise longevity for a lifetime. More than that, one cannot help but be impressed with the luxe-looking exterior and ever-so-simple to put on design. Yes, the wonders of an effortless slip-on and take-off design can be felt by millions. If that means a lot to you, then you'll love this loafer. The flexible sole and padded insole molds to your feet and make a great grab for a walk in the park!
• Loved for: ★★★★ | Leather, available in different colors, rubber sole, fully-padded footbed
• User said: My first pair of comfortable loafers that I can wear with pants or capris!
WHERE TO BUY:
SHOP AT AMAZON
Your Trusty!
Driving loafers womens shoes that looks like it's worth twice its actual price, Ariat offers a mix of style and comfort on a silver platter. Yes, the sporty take on the shoes keep feet comfy throughout driving. It has side stretch panels, EVA midsole, and complete leather construction to make sure your feet aren't weighed down by the pressure of driving a car. The body is comfortable and easy to put on and take off. Plus, the sturdy, flexible design helps you get the perfect, individualized fit. 
• Loved for: ★★★★ | Leather, available in one color, rubber sole, side stretch elastic panels, shock-absorption mid-sole
• User said: They fit just like they were supposed to!
WHERE TO BUY:
SHOP AT AMAZON
Can't Get Enough of It!
If chic and contemporary bear a love child, Coach driving shoes would be it. Elegant to the very core cutouts of the design, we have developed an obsession with Crosby. Not only is it tastefully feminine, but also something females would love to wear on weekends away. It's made from leather, has moc-toe, leather lining, and a padded footbed to give both comfort and grip. Well-made, high-quality, and versatile, everything is predictable, yet all of it sounds pleasantly surprising. Also, they're easy to slide on and take off!
• Loved for: ★★★★ | Leather, available in five colors, rubber outsole, soft leather lining, floral cutout design
• User said: Love the arch support in these shoes!
WHERE TO BUY:
Best Driving Shoes for Women Overview
What are Womens Driving Shoes
As their name suggests, womens driving shoes are made with the purpose of driving in mind. What exactly can help make your driving better? Of course, it's footwear with a complying sole, a comfortable interior, a sturdy exterior, and an overall shape that forms to your foot. These features can help in exerting the right amount of pressure at the right time. Exactly what driving shoes do with their cleverly adept designs, low-profile silhouettes, medium-thick, and grippy, flexible soles. 
How to Choose the Best Driving Shoes?
The best driving shoes ask for four main features; comfort, wearability, durability, and weight. 
Comfort
Starting with comfort, you may think you already know this part, or it's a no-brainer, but with driving shoes, support's a tad bit different. Because you want comfort for the entire day, you need to feel the energy in your feet to drive properly, and if the shoes aren't doing that for you, it's not worth buying. Comfort begins with weighing up almost all the features of the shoes together. 
Check soles for medium-thickness to get a better feel of the pedals and for good pressure. Check the fit, which must be perfect. Your feet shouldn't move around in the shoe due to extra space since that won't only cost you hours of discomfort but also a very unhappy struggling drive. 
Check design. Yes, slip on designs are simple as abc to slide on and take off. This is especially so when you want to change into another pair of shoes for an event or occasion in the car. Lookout for breathable lining; sweaty, slippery feet are a no-go and odor, too. Ew!
Cushioned insoles, arch support, and flexible soles are your best bets. These qualities fight fatigued feet and provide optimal comfort for flexibility. That comes in handy when you're changing positions behind the wheel and don't want your shoes to restrict you in any sort of way. 
Weight
Lightweight shoes are your best friends for quickly accessing the pedals and handling other areas of the car. You need quick reflexes, and if a heavy shoe is taking that away, we can't explain how troubling it can get. You need to have your wits about you when driving, and lightweight footwear assists in this case. 
Wearability 
Now, driving shoes does not mean they should look the way they sound; all boring and too professional, right? They must be wearable and versatile for everything, no matter how you style them and where you wear them. Driving shoes should work anywhere! Be careful about the design, your preferences, and in this situation, a quintessential style would be your best bet! 
Durability
Fortunately, driving shoes are available in suede, leather, and even in synthetic materials. Now, making a synthetic choice is good if you're trying to avoid animal products. Keep in mind there's no competition between natural materials and synthetic ones in regards to durability because natural fabrics are far superior and higher-quality. But you can get a fair deal at a fraction of a cost with synthetic shoes. And that's entirely up to you, we're just sending a heads up your way. 
Also, part of durability comes from the care you partake for the product. So, keep your driving shoes away from harsh climates and rugged areas because they're not inclined to strenuous activities.
Be Secure
This is something we cannot stress enough when online shopping. Guarantees, refund, and return policies help make sure you're covered in the occurrence of an inferior quality product. Always do your personal research and read customer reviews before making a final decision. 
The reality is not far from what you can achieve with the best womens driving shoes at your disposal. Plus, we're glad to announce they also make a complete no-fuss daily wear footwear. If you have better recommendations of your own, hit us up in the comments section below.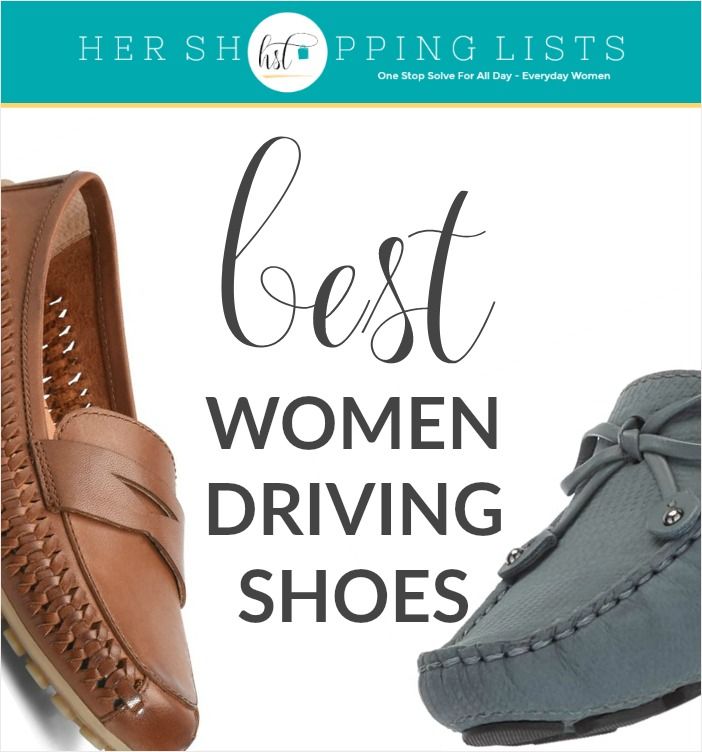 Have you got any suggestions of your own for the best driving shoes for women? Let us know in the comments!