Featured Image: Topshop
Best Jean Skirts for Women
Denim, undeniably, is the topmost core part of almost every woman's wardrobe because of its permissive and extremely flattering nature, which works in any given situation, anytime. And denim skirts make the next best choice for those looking for denim jean alternatives. Now, you all must have your struggles with denim, specifically skirts. But we've got your back, both in terms of research and the issues in question. 
We have created a list of the best womens denim skirts that are having a moment, and the good news is these choices are here to stay. From high waisted pencil silhouettes to vintage short slit options, women of all ages are buying them, trying them and raving about them like nobody's business. You gotta see them for yourselves!
If you love this list of the best womens denim skirts, you might also want to check out our list of the best womens denim dress to rack up your outfit compliments! 
What are the Best Denim Skirts for Women?
Denim and summer belong in the same sentence. As temperatures rise and expectations soar, denim serves to be the perfect companion to fulfill all your summer fashion penchants within seconds. Like our previous statement, denim skirts are no exception, and you never know what attractive combinations you might encounter when styling them. Denim skirts are distinct and infinitely chic, with so many styles at your disposal, it would be nearly impossible not to chance upon something you'd love to go by every day. 
Our list of the best womens denim skirts is ideal for those who've had enough of their favorite jeans. This presents you with the perfect excuse to do your seasonal wardrobe a favor by getting your hands on skirts that will stay loyal by your side all year round!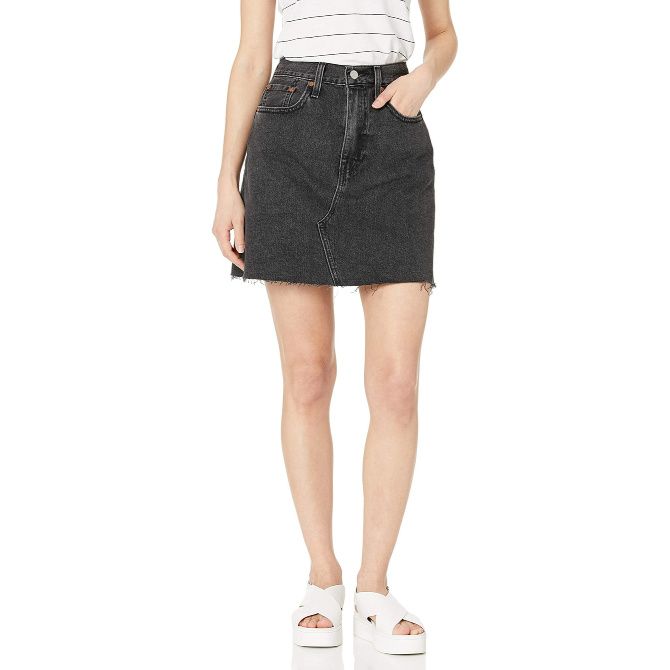 SHOP AT AMAZON
Looks Bomb Paired With White!
Jean skirts bring in the "eek" factor of your high school era no more. Thankfully, they've had a makeover and now look smart as ever. Levi's and denim belong in the same category. It isn't a surprise that levi\'s black denim skirt is favored by many consumers. Made from 100 percent cotton, the fabric feels high-quality, but also offers breathability. The high rise sits well for a tummy tuck-in, and black itself is versatile for going casual and going to the office. 
• Loved for: ★★★★ | 100% Cotton, available in three colors, zipper closure, relaxed fit through hip, machine washable
• User said: I have long legs, but it's flattering and has enough fabric!
WHERE TO BUY:
SHOP AT AMAZON
The Extra Oomph Pink Provides!
Wearing skirts in summer is something that doubles as winter wear if combined with lacy knit sweaters, tights, or long knee boots. Lee's pink denim skirt undoubtedly presents a unique touch. It is feminine enough to make way for a well-rounded wardrobe. Made from cotton and spandex, ventilation and a good stretch is part of it to make you feel comfortable and move with free will. The boxy silhouette drapes well around the butt area, and just so you know, you won't have to face a diaper butt thanks to the straight cut. 
• Loved for: ★★★★ | Cotton/Spandex, available in different colors, zipper with button closure, 4 pockets, machine washable
• User said: It was comfortable and stylish. The material is of good quality!
WHERE TO BUY:
SHOP AT NORDSTROM
We Don't Mince our Words!
Coming at ya with our Editor's pick, it's not too long, not too short, just the 'happy medium' everyone's summer wardrobes can benefit from. A typical blue pair of a line denim skirt is versatile and opens your eyes to a whole host of ideas you can style it for; brunch with friends, barbeque at night or running a casual errand-day. You can go edgy or polished, chic or sexy, retro, or vintage with this one. Organic cotton is used in the making of this number, it feels incredibly soft and durable.
• Loved for: ★★★★ | Organic Cotton, available in one color, zip fly with button closure, five pocket style, machine washable
• User said: This skirt looks trendy and versatile!
WHERE TO BUY: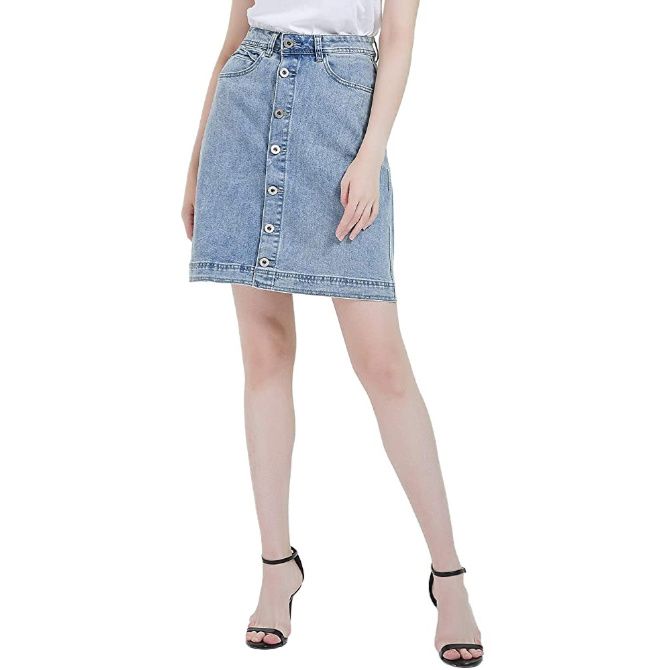 SHOP AT AMAZON
Give it a Whirl, Girl!
Those who lead the aesthetic side of life won't be disappointed with Anna Kaci's a line skirt denim with stretch. The faded wash suits different kinds of tops, blouses, and shirts. We love how summer-ready it looks and can be used to achieve denim on denim look, or a fun semblance with printed shirts. Made from real denim, this includes stretch to make it easier to move in and supports a flared cut for a more flattering fit. Consumers report it washes well owing to the extremely well-made fabric. 
• Loved for: ★★★★ | Denim, available in four colors, silver button closure, side pockets, machine washable
• User said: Nice length for the "over 50" clan without being too old-fashioned!
WHERE TO BUY: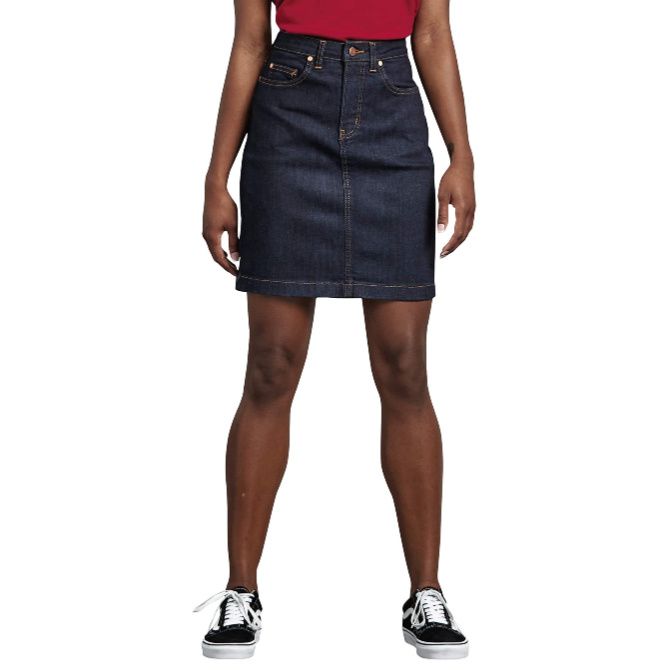 SHOP AT AMAZON
The Secret's Out!
When you're in a denim rut, this high waisted denim skirt is sure to keep your head in the right direction. Lightweight and utterly breathable, it is composed of a cotton blend and features a stretch to enable you to freely move in and around. The dark wash could be styled to play up various colorful tops and looks best with muted neutrals for a minimal look. This includes a flex tummy panel to prevent muffin top and provide shaping and trimming for a lean outlook. 
• Loved for: ★★★★ | Cotton Blend, available in two colors, button closure, flex tummy panel, machine washable
• User said: Perfect high waisted skirt. Great for every day!
WHERE TO BUY:
SHOP AT AMAZON
Class at its Best!
As its name suggests, you'll be lucky to own a white jean skirt because white is right, especially in summer. Be careful of any spills and stains, though. Moisture-wicking and soft to the skin, the 100 percent cotton fabric does magic to keep you feeling comfortable all along in summer and winter. It's the ideal pick-me-up for adding minimal basics to recreate a chic 90s look. Further adding to the convenience is the diversity of this piece. Yes, you only need to own a single one of these for working out, going out, and attending events. 
• Loved for: ★★★★ | 100% Cotton, available in one color, zip fly with button closure, machine washable
• User said: Super cute and comfortable. The skirt sits on the waist and It gives some upper leg coverage!
WHERE TO BUY: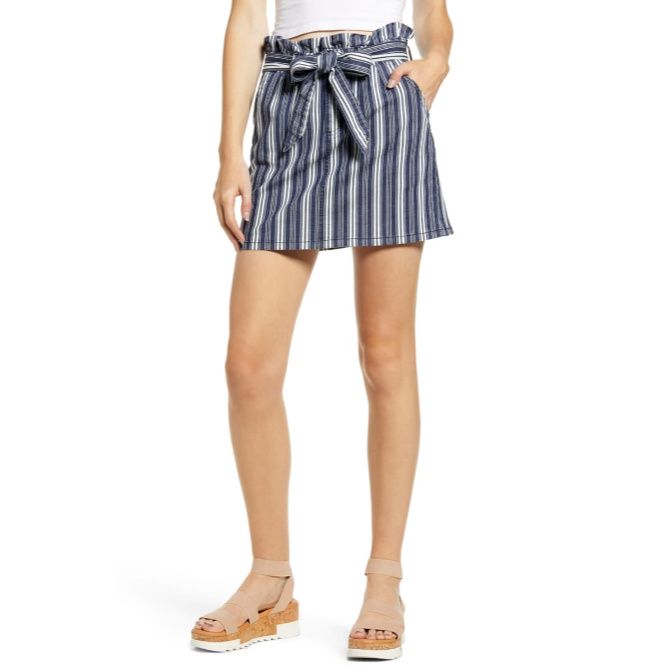 SHOP AT NORDSTROM
Rock it to a Summer Festival!
If solids no longer cut the mustard, take a different approach with one of these Prosperity's short denim skirts. Printed in stripes and fabulous to wear with cute tops or slim-fitting tank tops for laid-back summer vibes. Crafted from 100% cotton, you can be rest assured it feels comfortable and cool on the skin, which sounds like a blessing on a hot, sweaty day. The frilly details and belted waist add to the charm of this baby. Not only that, but it also comes with pockets to keep your little essentials at hand. 
• Loved for: ★★★★ | 100% Cotton, available in one color, removable waist belt, zip fly, machine washable
• User said: Not stiff and not like thick jean material. Great material!
WHERE TO BUY: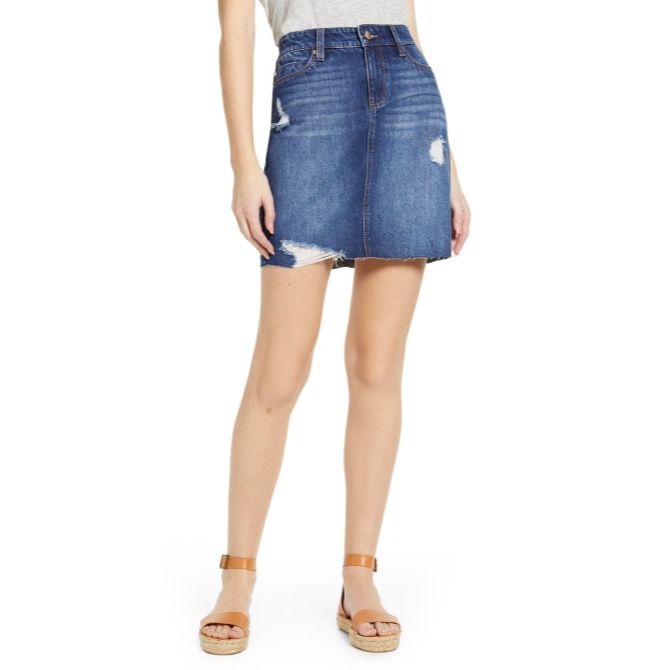 SHOP AT NORDSTROM
A Nice Twist on Your Go-To Basic!
We like it frayed if you wish to be sexy. Liverpool's ripped denim skirt allows you to keep your cool when the weather gets steamy. The beautifully designed skirt doesn't bunch and fits like a glove, but with airflow at your disposal. It's fun, offers style and can be dressed up or dressed down, no matter how you like it. Also, it contains five-pocket styling for more accessible storage with a zip fly and button closure. The frayed and distressed details add more interest to this pair than the average choices available. 
• Loved for: ★★★★ | 100% Cotton, available in one color, five-pocket style, zip fly with button closure, machine washable
• User said: Awesome denim skirt with fun distressed details. Perfect length and great fit!
WHERE TO BUY:
SHOP AT NORDSTROM
Being Modest Has Options, Too!
Talk about a jack-of-all-trades pair of a single plus size denim skirt. It provides you the best of both worlds by offering modesty and dreamy comfort at the same time. We love that it doesn't detract from the kind of denim appearance you're going for. It looks beautiful coupled with a range of tops and shoes and looks so cute that you'll want to wear it anywhere come rain or come shine and day or night. But let's be honest, it's better suited for tall people than a short person unless you're wearing heels. 
• Loved for: ★★★★ | 100% Tencel® lyocell, available in one color, side pockets, front button closure, machine washable
• User said: It fits well and is lightweight. A great skirt!
WHERE TO BUY:
SHOP AT GAP
We Need All the Exposure!
The leggy appeal of this number is a direct threat to miniskirts, and our post wouldn't be justified without calling on Gap's knee length denim skirt. And what a fascinating sight it is with the seductive slit that provides enough legroom to move in without regrets. Perfect to dress up for a night at the club, and dress down to a friends meetup, it's cool and comfy. Made from stretch denim with five pocket styling and zip fly, you get the ease of wear and tons of style. The fact it can look superb with a tee makes us smile bright!
• Loved for: ★★★★ | Cotton/Lycra, available in one color, slit at front, zip fly with button closure, machine washable
• User said: True to size and love the quality of the fabric! 
WHERE TO BUY:
Best Denim Skirts For Women Overview
What Can I Wear with a Denim Skirt?
I think a better question would be what not to wear with a denim skirt? Since it's a perennial item and goes with almost anything in any situation. The overall look boils down to your dressing sense, but saying "it goes with everything" doesn't imply you should pull a Britney on us because even with denim's versatility, there are a few styling pointers to bear in mind. 
Denim on Denim Look
While denim on denim does look good in certain places, don't pull this look with worn-out or washed out denim. Make sure the wash you choose for this look is dark, looks fresh, and not shabby. 
Tops
Printed and solid, loose and slim-fitting, puffy or cropped, sleeveless or off-the-shoulder, all sorts of shirts look fabulous with denim skirts. A simple basic white tee with a skirt never goes out of style. And the contrast of black and blue or white and black is always in fashion, so keep it basic to keep it fail-safe. 
Footwear
You can be as flexible in the footwear department as possible. Still, we do not recommend long boots with long skirts, especially if you're short-heightened since it can make you look stumpy. Instead, go for ankle heel boots with long skirts. And go for flats with short skirts. Avoid open high heels with short shirts; it doesn't really make for an appealing sight. Go for wedges or sneakers instead, and choose footwear according to your height and the style of the skirt.  
Belts
Yass! Belts look fantastic with skirts, no matter the skirt's length. Go for a belt to pull off a cool look, and it helps with finishing touches as well. 
How Can I Style Denim Skirts for Winters?
You can be really creative with denim skirts in winter. Styling it becomes a real fun part of the entire denim skirt puzzle. 
Scarfs
Scarfs look great with anything, especially so in winter. Opt for thick, long bright colored or printed or woven versions on top of simple shirts and denim skirts for a statement look. 
Sweaters
Chunky sweaters help fine-tune denim skirts. You can tuck them halfway or leave them with both long and short skirts; there are no restrictions. Similarly, ribbed body-hugging sweaters let you take a model-esque approach with all types of denim skirts and look sexy as hell. 
Long Cardigans
Long cardigans as outerwears for a typical denim-and-plain-top approach are fantastic. And you can add boots to sweeten what you've achieved even more. 
Jackets & Turtlenecks
Yes, when styling denim skirts in winter, don't forget bomber jackets and turtlenecks. They're perfect for creating a casual-to-chic appearance, and with a pair of high-top sneakers or closed toe shoes, you are complete. 
Tights
Tights take a central part of our winter wardrobe, wear them with denim skirts to protect your legs from the cold and appear more stylish. With black tights, dark blue skirt, and black turtleneck followed by black boots, you can be sleek and simple for many occasions. 
Anyone who wants to test the best womens denim skirts can find everything here that makes the grade for you. We have dug out options after several days of research to end up with these fruitful picks! If you have recommendations of your own, comment below!
Have you got any suggestions of your own for the best denim skirts for women? Let us know in the comments!