Featured Image: Madewell
Best Boyfriend Shirt
Boyfriend shirts have been the talk of the town lately and for all the right reasons. Trust us when we say that you have to try them if you haven't purchased one yet. They have been highly underrated. It's time we appreciate them for all the comfort, easiness, and relaxation they give to us ladies. Apart from that, they will definitely charm up your personality and add a touch of fashion to your regular appeal. Perfect for a casual day, when you have to run some errands or for a meetup with your girl-gang, any of these top picks will make you look chic and trendy at once!
If you love this list of the best boyfriend womens shirts, you might also want to check out our best boyfriend jeans for women to take your denim game to the next level!
What are the Best Womens Boyfriend Shirts?
Bored of the same old t-shirts and shirts and want to try something refreshing, iconic and unusual? Say hello to boyfriend shirts that are perfect for ladies who wish to revamp their look without compromising on the quality, comfort, and style. 
Wondering what the best options there are in the market? We have compiled a list for you to save you hours on the internet looking for the trendiest and choicest ones. Keep scrolling to find out some of our favorite picks!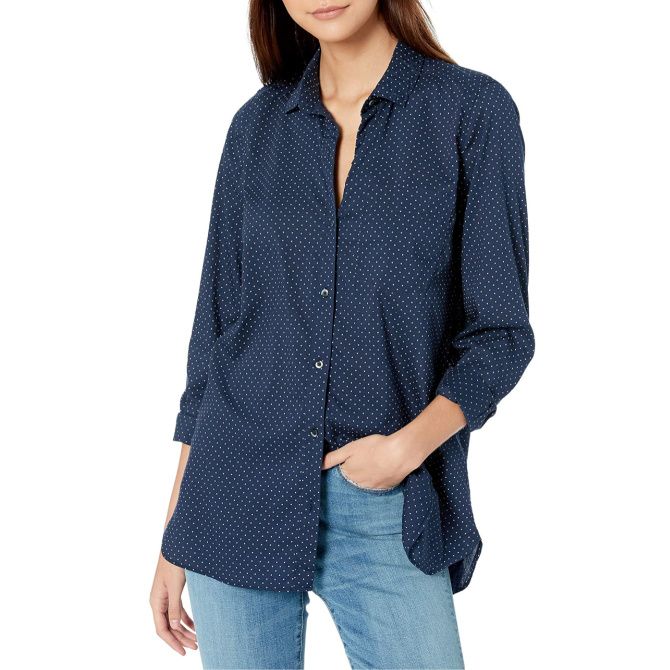 SHOP AT AMAZON
Keepin' It Casual and Classy!
A perfect pick for a sassy day, this long-sleeved, polka dot designed, tunic shirt will become one of your wardrobe's most featured outfits this summer! Designed to slay, this amazing boyfriend shirt in navy color is a real catch for women who love darker hues but subtle clothes. Throw on anything with this tunic, a regular pant, some shorts, or denim. It will go proportionately well with everything and flaunt your tomboyish look to no end.
• Loved for: ★★★★ | Available in different colors, rounded hem, lightweight fabric, machine washable
• User said: This tunic is versatile and lightweight. Suitable for layering in cold weather!
WHERE TO BUY:
SHOP AT NORDSTROM
This One's a Keeper!
You certainly won't want to let go of this fashionable, unique and charming piece of oversized boyfriend shirt after you get your hands on it. The summer stripes are just perfect, and the crisp-linen blend makes it even more attractive and kind of formal, so you can wear it to your office as well. Versatile and comfortable, the cloth is made of 55% rayon and has long sleeves and front button closure. 
• Loved for: ★★★★★ | Stripes design, spread collar, chest patch pocket, machine washable
• User said: The shirt is beautiful and the fabric is wonderful!
WHERE TO BUY:
SHOP AT NORDSTROM
The Diva in Denim!
A classic choice for women who are obsessed with denim clothes, this girlfriend and boyfriend shirts have literally set fire to the apparel market with their versatility, style, and comfort. You can even wear it as an open jacket with a plain white tank top inside and rock the look. The comfort and ease of movement offered by this piece are unmatched, and you will reach for this shirt again and again!
• Loved for: ★★★★ | Lightweight, breezy, spread collar, full sleeves, front button closure, available in petite and regular sizes
• User said: Every wardrobe should have one! It's perfect for chilly Spring days.
WHERE TO BUY: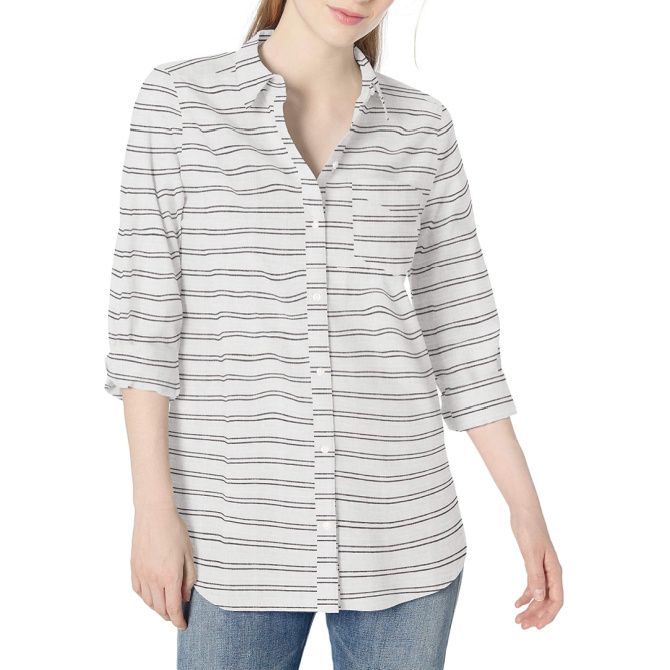 SHOP AT AMAZON
Break All Norms!
Perfect for the spring or summer season, this casual everyday wear boyfriend shirt white and black stripes should be your staple attire for its comfort, appeal, and quality. Simple yet beautiful, it will go a long way in dictating your fashion statement. You can wear this coveted tunic with leggings, jeans, shorts, or even layer it with some cool matching outfits, and you are ready to slay the day!
• Loved for: ★★★★ | Available in different colors, 100% cotton, machine washable, comfortable, relaxed fit
• User said: I am quite pleased with this shirt. The style is classic, and that is what I was looking for!
WHERE TO BUY: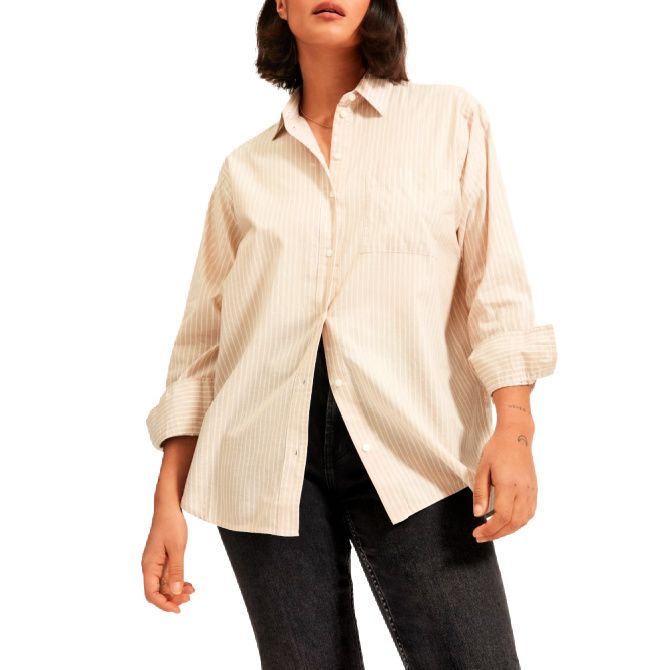 SHOP AT EVERLANE
You are What You Wear!
Oversized shirts are generally known for being comfortable and chic. Still, this one's known for being sassy and badass. And if this is the impression you are aiming for, you should definitely check this one out. Ladies who have this oversized boyfriend shirt in their wardrobe love how this "makes them feel serious without looking stuffy." The stripes add a unique appeal to the look, and the cotton material feels light and breezy to the skin, perfect pick for summers!
• Loved for: ★★★★| Available in different colors, 100% cotton, machine washable
• User said:It has a beautiful material and perfect oversized fit. Definitely a keeper!
WHERE TO BUY:
SHOP AT ANN TAYLOR
A Complete Stunner!
These prints on this shirt will definitely persuade you to add it to your shopping cart. Perfect for every season, this is one of the best boyfriend shirts for ladies you will find out there that can dictate your sense of style and go with the trend. This timeless beauty will go perfectly well with dress pants, jeans, shorts, or even layered clothing.
• Loved for: ★★★★ | 100% polyester, long sleeves, shirt-tail hem, slim fit, machine washable, available in petite and regular sizes
• User said: It's a perfect shirt for a new "business casual" atmosphere—super comfy and excellent quality!
WHERE TO BUY: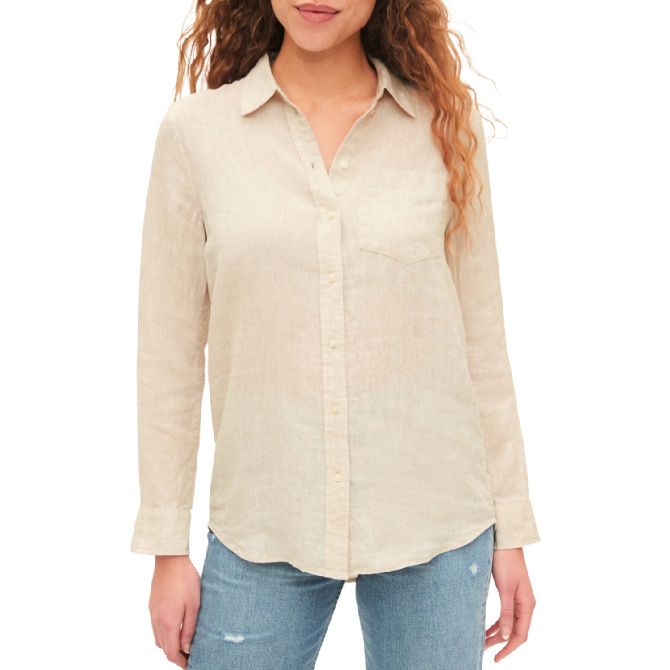 SHOP AT GAP
Timeless Beauty!
From GAP's house comes this classic, formal, and stylish linen boyfriend shirt that is perfect for office days or casual parties with your mates. When the sun's out and about, and you are in the mood to wear something that would create an impression yet be comfortable, this will be the first thing to enter your mind. Pair it well with jeans or shorts, and you are ready for the day!
• Loved for: ★★★★ | Available in different colors, 100% smooth linen weave, patch pocket, machine washable, available in tall, petite and regular sizes
• User said: It's comfortable and light. Perfect for a nice work shirt in the summer or just wearing on a breezy day!
WHERE TO BUY: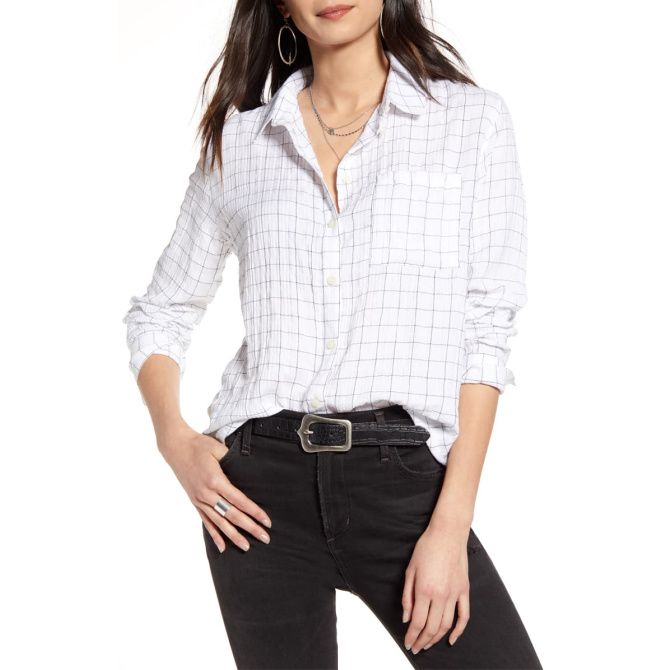 SHOP AT NORDSTROM
Check This Out!
We certainly have a winner here, as with this check-print black and white boyfriend shirts, the other clothes in your wardrobe won't stand a chance this summer! This breezy button-down is the perfect pick for any casual or formal meetup or parties. The reviewers rave about how it is "just an easy and comfy shirt to throw on – great for summer chilling."
• Loved for: ★★★★| Black and white checks, chest patch pocket, lightweight, machine washable
• User said: I'm in love! Plus, you absolutely can't beat the price
WHERE TO BUY: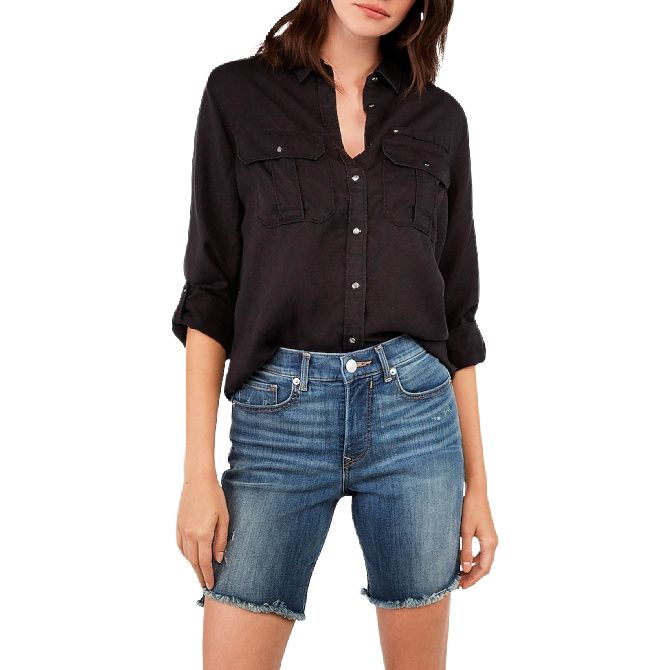 SHOP AT EXPRESS
Behold the Black Beauty!
As gorgeous and enticing this piece looks in the picture, the bold and beautiful Express boyfriend shirt helps create an everlasting impression on whoever takes a look at you! It is a complete stunner, stylish yet comfortable, and the quality of the material is lightweight and breezy. Plus, you can either pair it with a tank top or wear it alone and still look ravishing in it!
• Loved for: ★★★★ | Military style, shoulder epaulets, flap chest pockets, shirt-tail hem, machine washable
• User said: The perfect black boyfriend shirt for a casual day! It is so comfy and made with soft material
WHERE TO BUY:
SHOP AT MADEWELL
Bold and Beautiful!
Another oversized denim shirt to trap the onlookers and keep them wondering about your apparel shopping destinations, this shirt is surely going to be your favorite this season! You can rock the tomboyish look with utility shorts or skinny jeans and finish off with white sneakers. Also, use it to layer with other light-colored clothes, and it will look equally fascinating on you!
• Loved for: ★★★★ | Cotton fabric, rounded hem, full-sleeves, front closure check pockets
• User said: I love this Madewell boyfriend shirt. It's totally an excellent quality, stylish, essential wardrobe staple! 
WHERE TO BUY:
SHOP AT ATHLETA
For the Active Woman in You!
Simple yet fascinating, when pair with the perfect bottoms, this plain black oversized boyfriend shirt will create quite an appeal that will be difficult to ignore or overlook. It is ideal for work, commuting, or vacations as it feels light and breezy on the body. The fabric has a wicking feature that helps absorb sweat from the body so you can stay comfortable all day long, even in the harsh summer.
• Loved for: ★★★★★ | Full sleeves, UPF 50+, wicking, stretchable, comfortable, machine washable
• User said: This black boyfriend shirt is perfect in so many ways. I must buy more!
WHERE TO BUY:
SHOP AT J CREW
Vouch for Them Plaids!
This plaided boyfriend shirt outfit is everything a woman needs to flaunt a casual, chic yet classy look with minimal effort. The popping colors make it highly attractive. Plus, the cotton/silk material of the fabric allows swift movement and overall comfort. Perfect for the hot weather, it is so lightweight and silky, making it a go-to summer outfit from your wardrobe.
• Loved for: ★★★★★ | Cotton/Silk, plaid design, full sleeves, one front patch pocket, true to size
• User said: It is one of the lightest and silkiest women\'s plaid boyfriend shirts. Roll up the sleeves and enjoy all summer!
WHERE TO BUY:
Best Boyfriend Shirt For Women Overview
We all crave for some light, comfortable, breezy clothes during summer that can define our style statements. These cute boyfriend shirts for women are the best picks during such seasons and should be staples in every woman's wardrobe. We hope you found the perfect one for yourself. If you have suggestions for us, you can drop them in the comments below, and we'd be happy to check them out.
Have you got any suggestions of your own for the best boyfriend shirt for women? Let us know in the comments!