Featured Image: Sorel
Best Womens Black Flat Sandals
Summer takes a toll on your feet, so it's time to pick out some womens black flat sandals to complete your shoe collection for the hot weather season. Whether you are into a casual or more fashion-forward style, you will find a fit for you below. When choosing your shoe, think about the events you plan to attend, the outfits you plan on wearing, and what are the needs, if any, of your particular feet. Will you be going to a wedding, spending a lot of time on the beach, trailblazing, or having a cosmopolitan adventure? We have compiled an inspiring list for you of women's black flats. Check them out!
If you love this list of the best black flat sandals for women, you might also want to check out the best boho sandals to embrace your inner hippie babe this summer!
What Are the Best Black Sandals Flat Heel for Women?
Sandals come in all shapes and sizes. While some buckle high on the ankle, some have no buckles and are made of pure-stretch material. Other ones have a slight shimmer or sparkling sheen to differentiate them from a more classic emanation. For those who are on their feet a lot, our options include cute flat black sandals with orthopedic certified and yoga-mat footbeds. We hope you find the perfect match for your feet because even your feet deserve to fall in love this summer!
SHOP AT AMAZON
The Queen's Choice
If the queen were to decree everyone wear sandals, these black strap flat sandals would be her choice! "Rock Crown" detailing refers to the chic and shiny black markings that make this item an excellent choice for wearing either casually or for a night out on the town.
Yoga foam construction means they are oh-so-comfortable on foot for extended wearing periods. Flexible sole gives foot ample room for movement, so you can wear these walking on sand without aches. Playful, non-slip, and high performing, the Skechers company has been around since 1992. Their Cali Meditation Sandals are a great option, so what are you waiting for: flaunt your royal lineage!
• Loved for: ★★★★ | Royal details, flexible sole, yoga foam, made by trusted company, true to size, and great for long wear
•User said: These don't get sticky in Arizona heat. Buy one size up and you will wear until bedtime!
WHERE TO BUY: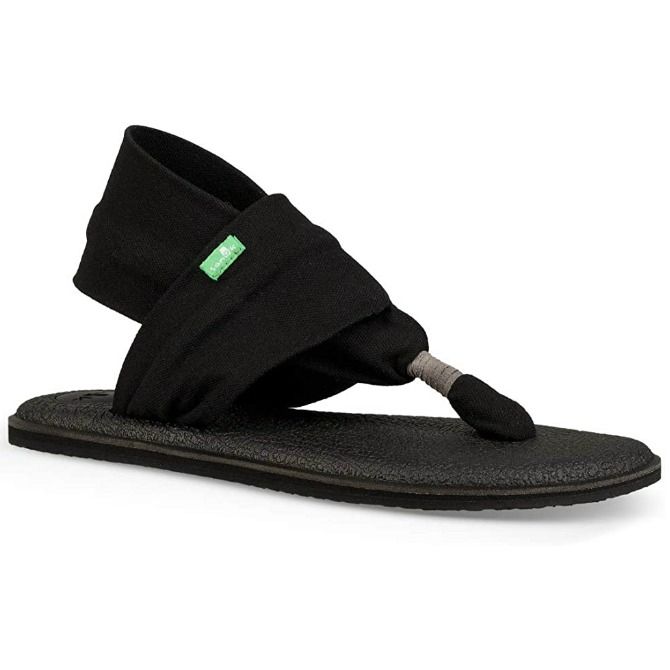 SHOP AT AMAZON
A Hug for Your Feet!
Rubber soled with a yoga-mat feel and sealed edge, these flat black sandals are a bed for your steppers! Lightweight construction means they are easy for you to carry as backup and won't weigh you down on walks. Recommended for anyone with foot injuries, they are also dressy and can be matched to a summery outfit.
Actually made from recycled yoga mats (recycled Eva and natural straw material), these shoes are durable even over rocky terrain. Thick, billowy fabric saves your foot from markings sometimes left by a narrower or harder material. Squishy and restorative, these shoes are a dream to walk in!
• Loved for: ★★★★ | Lightweight construction of recycled yoga mats, durable, gentle on injured feet
•User said: These shoes get my tootsies singing. I'm overweight and these don't make my feet swell!
WHERE TO BUY: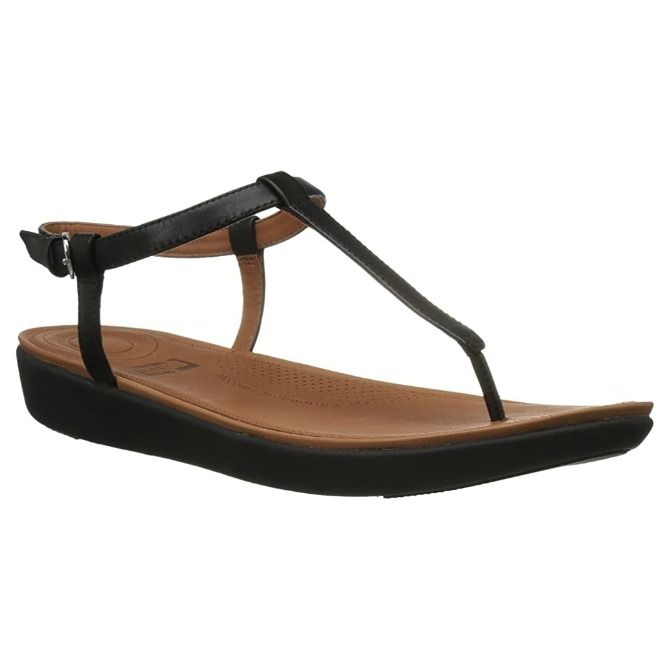 SHOP AT AMAZON
Auntie's Buckle-Ups
Tia Toe-Thong black flatform sandals for women have a cute name, but cute isn't all there is to them! Biomechanically engineered for super comfort, the leather uppers offer all-day pillowy relaxation for feet. Two layers and fully adjustable via a buckled heel strap give breathability, which is a hot weather necessity!
Rubber soles and slight platforms provide an elegant shape to the leg without being real heels. Science and style work together in this shoe. Anatomical contouring and slip-resistant pads make for a fantastic feel. At the same time, leather design elements say, add me to make any outfit complete!
• Loved for: ★★★★ | Sleek, relaxing 24-hour wear, superfine straps, gentle arches, feminine, thick soled
•User said: Great for when you need to be dressy but don't want to hobble. These black t strap flat sandals make such a difference!
WHERE TO BUY: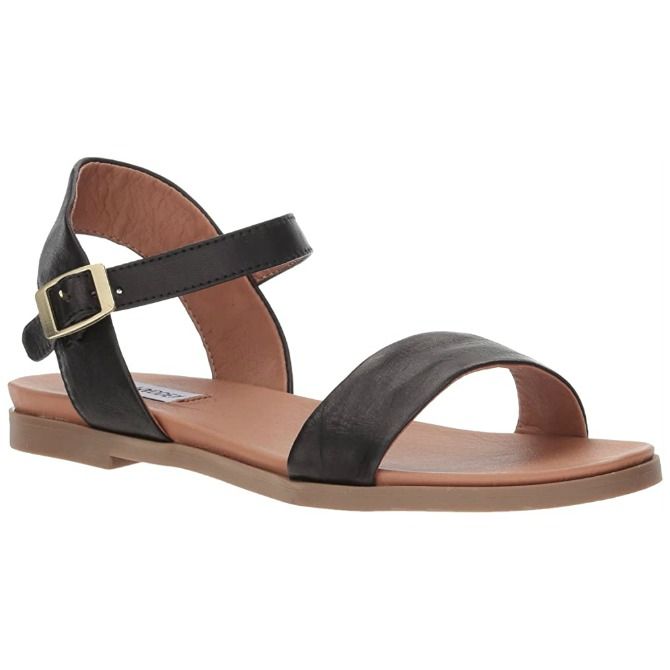 SHOP AT AMAZON
The Never-Out-Of-Style Sandal for the Ages
Made of one hundred percent black leather, check out these Steve Madden black flat sandals! Flat with an adjustable buckle over the ankle, Dina has a classic look that puts your toes on display. With modern lines, this design has persisted through the ages.
At the same time, the barely perceptible rise of the heel and gold buckle gives your legs a slenderizing effect. An on-point staple for any summer wardrobe, the wide shapes press evenly on the toes and foot. You could pair these with a wide legged pant, skirt, or shorts but perhaps not pajamas!
• Loved for: ★★★★ | Modern look, leather construction, gold buckling element, ever-so-slight heel, soft double band, adjustable buckle
•User said:  Great for a wedding on the beach! It is gorgeous but runs a tad small.
WHERE TO BUY: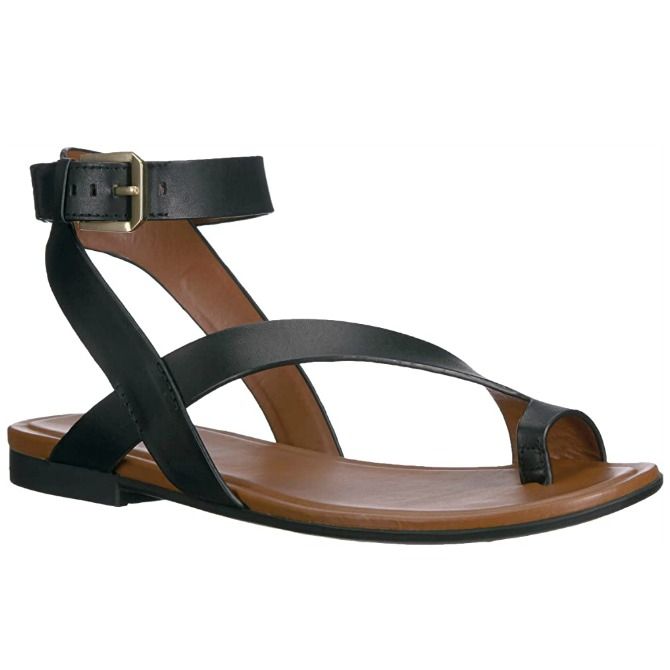 SHOP AT AMAZON
Your Film-Noir Look!
Add one to the tally for Women's Tally Naturalizers! Find striking, diagonal linework on these black leather flat sandals. With a round toe and toe loop, these shoes utilize anatomical contouring plus distinct fitting technology for better, natural comfort.
An evolution of the classic Dr. Scholl's style sandal, it still showcases a gold buckle, but the black cross makes it flirtier. With a film-noir appeal, no doubt this shoe will look good with your evening wear, but it also gives oomph to your jeans and a t-shirt! Crafted by denizens and available in a wide range of sizes and widths, you can't go wrong in terms of cushioning and loveliness.
• Loved for: ★★★★ | Open-cell cushioning, breakthrough contouring, anatomical sculpting, elegant design work
•User said: I love these sandals. Got so many compliments!
WHERE TO BUY: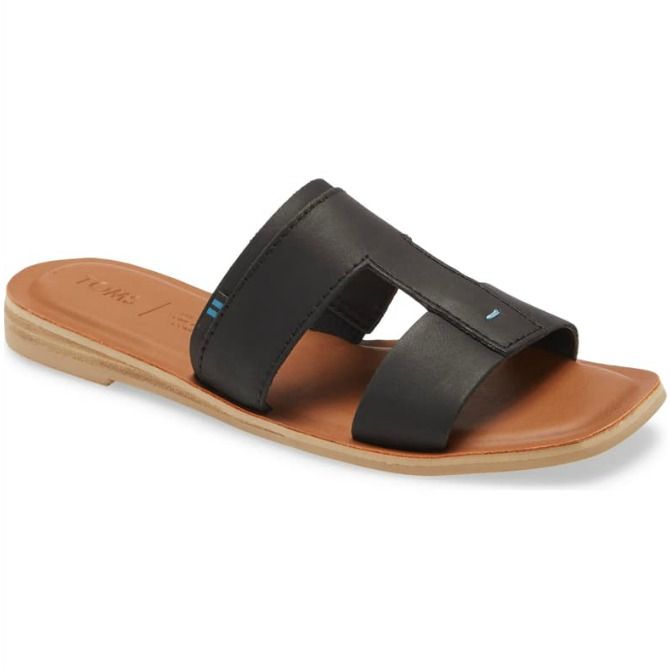 SHOP AT NORDSTROM
Take Your Feet Sailing
Made by the tried and true brand TOMS, your feet will feel like they are sailing the ocean in these black flat slide sandals. Black leather in wide banding looks durable from all angles, and it is! Tiny light blue stitching ups the hipness level, and the strong "T" shape gives these the boldness of an Aztec textile.
At the same time, don't worry about your tootsies overheating: Ortholite flexibility makes your steps breezy even in humid tropical weather. Great for pairing with a slip dress, bodycon, jeans, or even more casual attire, the Seacliff Slides is a slide you'll want to go down, for sure.
• Loved for: ★★★★★ | Durable quality, trusted brand, true to size, square toe, weather-resistant  
•User said: A very comfortable shoe for summer and super cute!
WHERE TO BUY:
SHOP AT NORDSTROM
No-Buckle Modern Espadrille
A take on French espadrilles, these black flat strappy sandals are height-of-Euro-fashion all the way! Instead of the delicate rope-like fabric of the traditional model, Ella is made from leather in full-grain. All-elastic straps mean you can get ready in a hurry. If you're busy and on the go, the last thing you want to do is a hassle with buckles as you're out the door.
Soles are made of rubber molded to suit the female foot for sustained wearing like dancing or prolonged standing. Wide ankle straps make the shoe a firm fit so it won't wiggle around. A dream come true, the ridged underside and tan lining even flirt with the floor as you walk!
• Loved for: ★★★★ | Full grain leather, sporty, elastic straps, no buckles, all-season, molded rubber soles
•User said: These black flat gladiator sandals go with everything for summer. The padded footbed is comfortable!
WHERE TO BUY: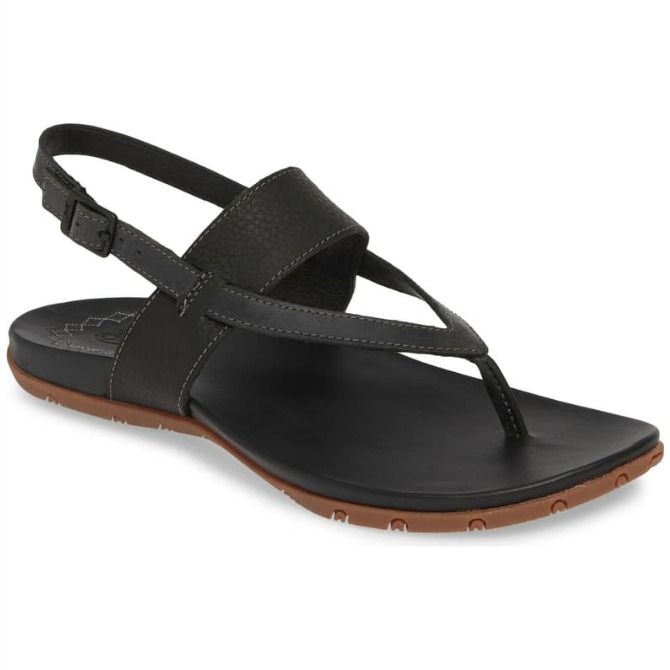 SHOP AT NORDSTROM
Make a Splash!
Finally, a pair of black thong sandals flat heels you can wear in the water! The Maya II by Chaco is both sporty, sleek, and aerodynamic. Made by a certified podiatrist brand, you will not be slipping in these, so feel free to wear them while perfecting your Vogue walk.
If you are looking for comfort as well as style, the Chaco is it for you. Sassy and casual, if you want them to be, they are the Gemini of shoes in terms of versatility. While other sandals skimp on arch support, these do not. True in size, you can play these up or down with other accessories like retro sunglasses or a statement necklace. Maya is the perfect frame for your freshly painted toes!
• Loved for: ★★★★ | Excellent arch support, waterproof, versatile style possibilities, certified for comfort, non-slip, ankle buckle
•User said: This is like a dream come true! Just lovely and comfortable walking shoes with great arch support.
WHERE TO BUY: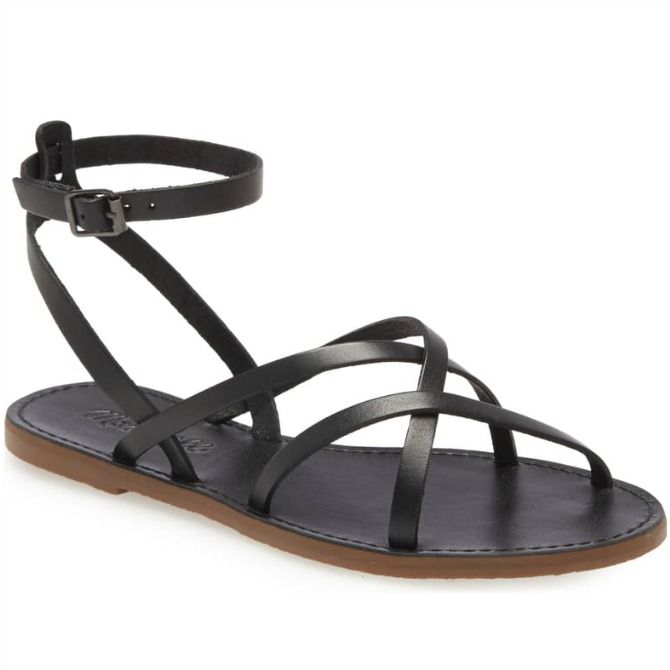 SHOP AT NORDSTROM
Fierce and Feminine
Skinny, fierce yet dainty lines on The Boardwalk flat black strappy sandals send an "I've got things figured out" message! The asymmetrical design of raw leather is smooth on the feet because of the gentle bending of fabric. A high buckle means you don't have to bend down quite so far when putting these on or taking off, and heaven sometimes knows a gift like that is all you need at the end of a long day!
Totally pairable with either fancy occasion wear or summery shorts or rompers, these genuinely are "made well" and beautiful, too. This item could be just the accessory your outfit needs!
• Loved for: ★★★★ | Raw leather, skinny straps, high buckle, asymmetrical design, versatile pairing options
•User said: These black strap flat sandals look super cute with a dress or ankle jeans. They're a perfect super casual summer sandal!
WHERE TO BUY:
SHOP AT NORDSTROM
Shimmery and Exquisite!
While some sandals sport the ankle cuff almost as an afterthought, these black lace up flat sandals takes it to the next level! Shimmering black at the toe, the ankle cuff utilizes a boot-style shoelace with a repeated triad of white line details. Beyond being comfortable at all footpoints, it is a total fashion-forward invention verging on sneaker territory without being a pedestrian.
Combined leather and suede material make these glide right onto your foot and are the perfect stage to your fresh summer pedi. The Ella is a spectacular high-fashion choice and unique enough to make you stand out from the crowd!
• Loved for: ★★★★| High-fashion ankle-cuff, thick boot shoe laces, shimmery black leather, secure non-slip wear
•User said: I love this sandal. It's well made, comfortable, and beautiful!
WHERE TO BUY:
Best Black Flat Sandals For Women Overview
How to Choose Black Sandals for Women?
Ask Questions
How unique are your feet? When buying womens sandals black flat heel, there are a few important yet different elements to consider. First off, what is the fit you are looking for: is your foot wide, narrow, or highly arched? Additionally, do you have any injuries that require you to find a shoe made from material offering high comfort? Will you be wearing these shoes around water (aka, are you a beach bum?) and require waterproof construction?
Outfit Pairing
Will you choose the black flat sandals with ankle strap or ones that slip right on? That all depends on what you plan on wearing with them and whether or not you are open to buying multiple pairs. While some look great with anything from a fancy dress to pajamas, others would look awkward with elegant fabrics. If you wear a lot of black, choosing a pair with shiny black might mean you won't end up with mismatched black and could be the right decision for you.
The Reviews: Find Your Match
Your feet really do deserve love this summer, learn a few tips on using our reviews above to help you find your casual or dressy black flat sandals. Make sure you pay attention to the sizing notes. Some fit a ½ too small. And think about the area next to your big toe. Do you often get red lines there? If so, a wide-strapped version or one that lays flat over the whole foot may increase wearability for you. Finally, keep this in mind: your feet may desire more than one partner, and we support it!
From dressy black flat sandals to casual but elegant flip-flops, I hope we've covered your summer footwear needs! Which pair will you wear to put your best toe forward? We'd love to hear in the comments.
Have you got any suggestions of your own for the best black flat sandals for women? Let us know in the comments!