Featured Image: Billabong
 
Best Beach Shorts for Women
Shorts are not made for men alone, neither do they only look good on them. Beach shorts make the perfect summer staples for women, be it a vacation, a lazy stay-at-home, or enjoying summer to the fullest beside the pool. Board shorts will always cut it for you, whether you're at the beach for a good dose of Vitamin D, like to surf, or to keep busy in an intense game of volleyball. They are made exactly for the places where the warm weather waves lie. 
You can also show off your curves and bring attention to your cute bum. But if that's not something you're blessed in or too bold to flaunt, fret not! Shorts balance out the awkward bits and be worn over your bikini for a fun appearance! Our round-up of best womens beach shorts have been carefully selected based on real reviews and top ratings. There's no room for disappointment!
If you love this list of the best beach shorts for women, you might also want to check out the best boho sandals to embrace your inner hippie babe this summer!
What are the Best Womens Beach Shorts?
Most decisions rely on your personal preferences. You need to determine why you're wearing shorts to the pool and the beach since performance-related board shorts come with quick-drying, easy-wear abilities. Whereas, there are those with cool prints to just look cute on the seaside. Since women have to cover their upper body, unlike men, they also have to choose shorts depending on the style and the overall look they're aiming for. 
All things considered, shorts that fit you and suit you are the best. Plus, have a looser fit around the legs to move around freely and enjoy yourself without any restrictions. With that said, we have created a list of the best womens beach shorts that specifically cater to each one of you. Women in their 20's, 30's, 40's and above; all are welcome!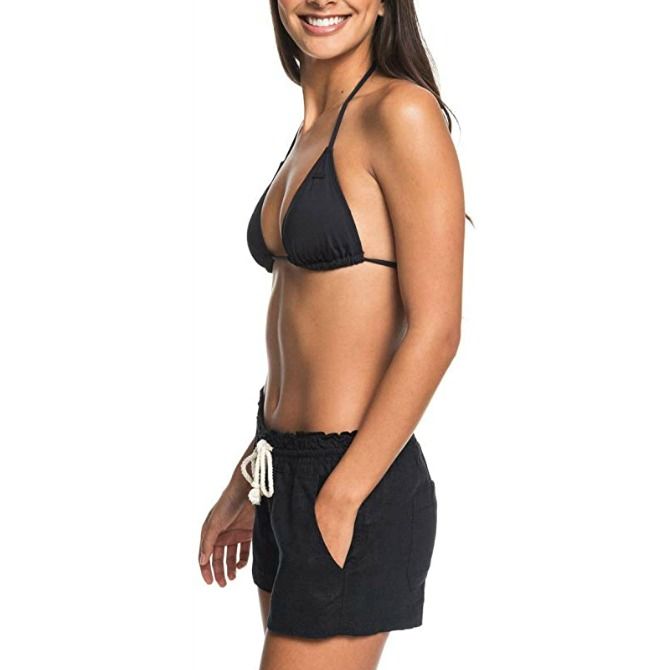 SHOP AT AMAZON
That's What Reality Should Feel Like!
Extremely popular and an Amazon bestseller, Roxy's womens beach shorts deliver exactly what's expected of them. The linen and viscose are soft to the skin; expect no rashes in return. These are flexible enough to be worn around the house. Consumers gush over the lightweight fabric that bids no feeling of irritation, struggle, or leaves any marks, part thanks to the drawstring closure for such a relief as well. They're ideal for the beach and vacation, and you can even dress them up with a cute top and wedge for a casual dinner. 
• Loved for: ★★★★ | No.1 Bestseller, Linen/Viscose, available in different colors, pull on closure, machine washable
• User said: Perfect for a casual outing, at the beach, or even dress it up with a lovely tunic for dinner seaside!
WHERE TO BUY: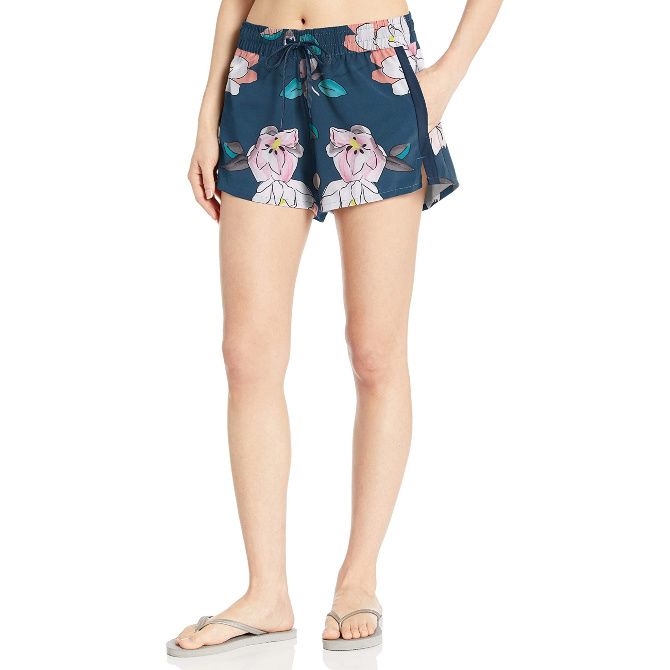 SHOP AT AMAZON
Easy Come and Easy Go!
Available in four different prints and solids, you can choose a style that suits your fancy. Made from polyester and spandex, it's stretchy and soft for better movement in the water and comes with rash guards, too. Thanks to the quick-dry technology, you'll no longer be faced with water dripping from your swim cover up shorts upon exiting the pool. Darren is made for all water-related activities and more. Seeing as there are even pockets to make storage possible, which is great to keep essentials at hand. 
• Loved for: ★★★★ | Polyester/Spandex, available in different colors, pull on closure, quick-dry technology, machine washable
• User said: Comfortable and have the perfect rise. I love how they are longer in the back to cover the booty!
WHERE TO BUY: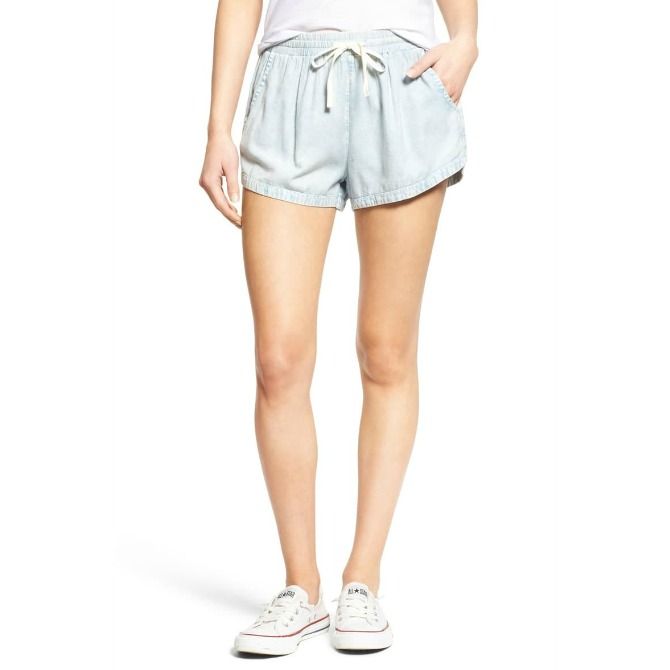 SHOP AT NORDSTROM
Just What You Want!
Only if other things in the world were as good as Billabong's womens boardshorts, we'd be truly grateful! While searching for the ideal bottoms for the pool; considering most don't come with what we have in mind. Thankfully, these hit the sweet spot between comfortable and secure. The drawstring cord is easy to work with and won't come undone in and out of the pool. The 100% polyester fabric is lightweight, breezy, and skin-friendly, impeccable for moving around in. Plus, this bears an elasticized waist for personalized comfort at best!
• Loved for: ★★★★ | 100% Polyester, available in five colors, drawstring closure, elasticized waistband, machine washable
• User said: My daughter and I each got a pair. She says these are as cute as jean shorts but way comfier!
WHERE TO BUY: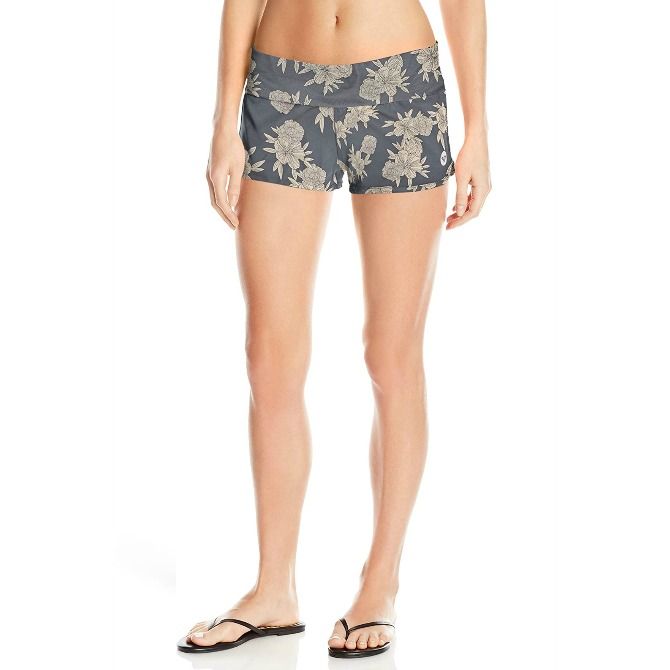 SHOP AT AMAZON
Stretch On!
Roxy lives up to its name and its customers' standards by throwing another bestseller in their way. Endless summer women board shorts are crafted from polyester and contain 10 percent elastane for smooth movement and 100 percent comfort. Packed in a body-flattering style, it's perfect for women who need something short and pretty. Available in a bevy of wonderful design, you won't fall short on choices that cater to various pool activities and times of the day! Four-way stretch, fold-over lycra waistband, and a back welt pocket add extra points!
• Loved for: ★★★★ | No.1 Bestseller, available in different colors, drawstring closure, four-way stretch, back welt pocket
• User said: If you are looking for lightweight stretchy active swim shorts, these are for you!
WHERE TO BUY: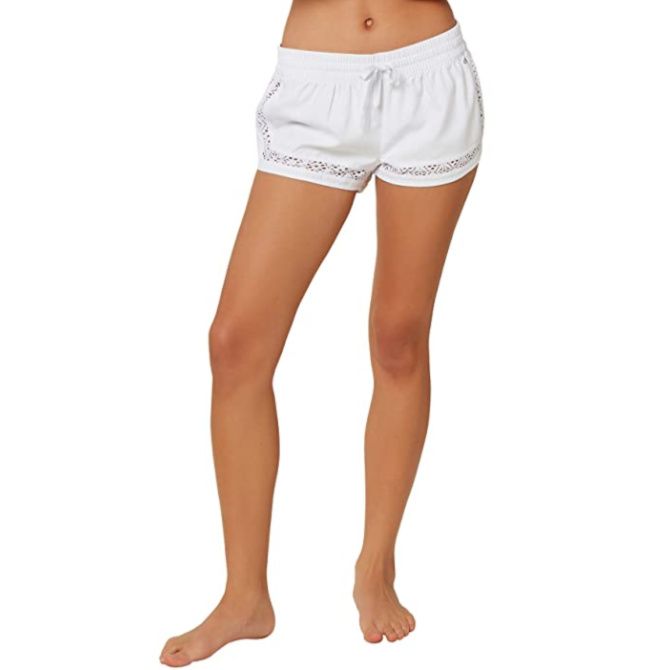 SHOP AT AMAZON
Can Always Count On!
O'Neill's women surfing shorts are the new cool to avoid looking like a fool at the pool. A dip in the pool or a proper swim, water-resistant fabric and quick-drying formula work wonders to prevent you from becoming a drippy mess. Drawcord closure is ideal for on-the-go and getting a personalized fit. You have abundant shades to choose from, and the trims at the ends make it worth wearing for extra cuteness. Classic but handy as a cover-up or with a top to match, you get a back pocket, too!
• Loved for: ★★★★ | Available in different colors, drawcord closure, back velcro pocket
• User said: The fit is excellent. It sits on my hips right where I like it. Looser fit around butt and thighs!
WHERE TO BUY: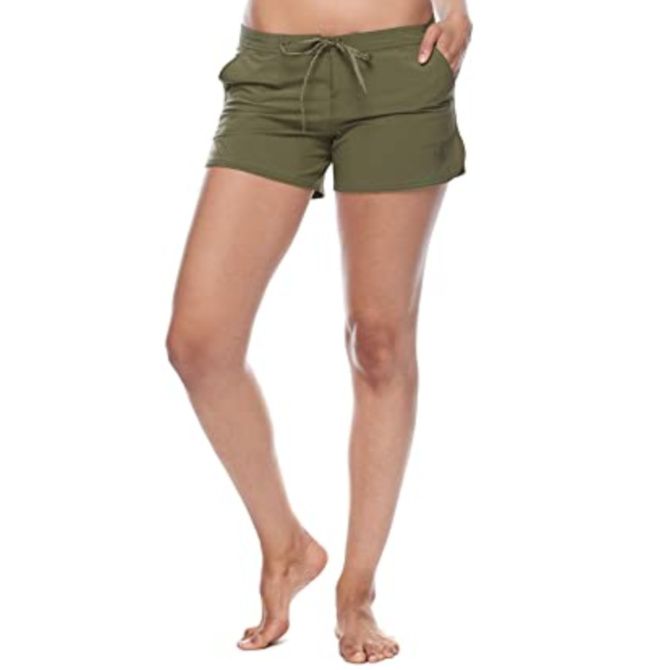 SHOP AT AMAZON
Sees to Your Needs!
The Body Glove beach shorts womens smoothies are well-thought-out and meet the needs as one would expect. Delivers quick-dry technology and is water-repellent; no more soaking wet out of the water. It's the perfect go-getter for the summer holidays, and you can play these up with a nice top and wedges for getaways with your gals. On the more, you get a 360 surf-tie waist and four-way stretch for freedom of movement. This provides comfort without confining you to anything. No falling down either!
• Loved for: ★★★★ | Polyester/Spandex, available in two colors, drawstring closure, water repellant, 360 waistband
• User said: Great for float trips and perfect for swimming!
WHERE TO BUY: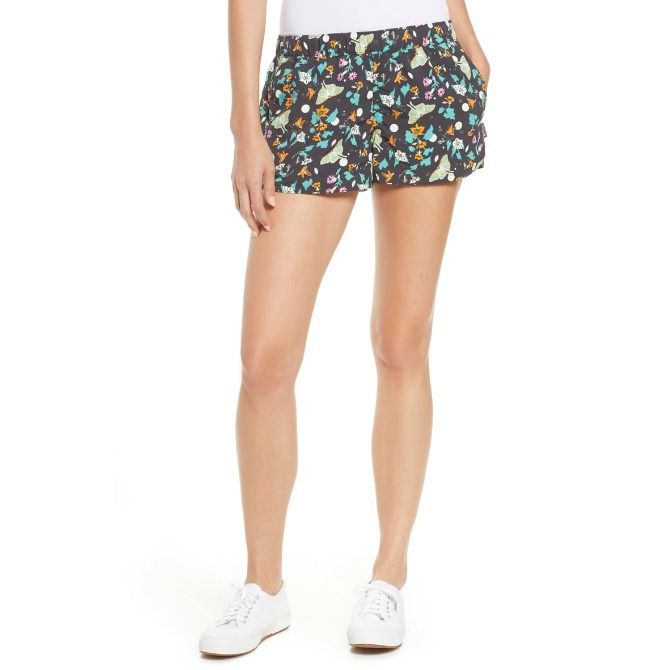 SHOP AT NORDSTROM
They Thought of Everything!
Women who dislike the styles of bikini bottoms and desire a slightly more loose style would love Patagonia's flowy beach shorts. Prettily printed and made ready for any beach affair, you'd adore the barely-there feel and high rise perfect for a tummy tuck. Made from recycled nylon, the fabric is comfortable, stands the abuse, has stretch, and guess what? It's water-repellent to keep you dry and pretty. Elastic waist renders it simple to wear and take off. The drawstring is wonderful for a personalized fit, and there are side-seam pockets with mesh bags, too!
• Loved for: ★★★★ | Recycled Nylon, available in two colors, side-seam pockets with mesh bags, water repellant, machine washable
• User said: Cute shorts and food to put on over a swimsuit. Washed well!
WHERE TO BUY:
SHOP AT AMAZON
The Fine Line!
We owe to the moisture-wicking abilities of Vuori board shorts women would face no problem indulging in sweat-inducing activities with this product. When you combine an elastic waist and four-way stretch, getting in and out of this thing is no trouble or moving in it. It's like you put this on and forget it exists. Only seven users have bought this, and all of them have left five stars agreeing on its comfortable material more than anything. Yes, the fabric keeps you cool to allow you to do anything you feel like doing at the beach. 
• Loved for: ★★★★ | Polyester/Elastane, available in one color, elastic drawstring waist, moisture-wicking, machine washable
• User said: I had a baby recently. So the elastic waistband is ideal while my weight is changing and doesn't dig into my stomach!
WHERE TO BUY:
SHOP AT AMAZON
The Cuteness Wins Us Over!
They're classic, but these do the job! We love the elastic waist of the Rip womens surf shorts. They let you feel at ease and stay in peace since it does everything for you. There's no need for adjustments! Made out of 100 percent cotton, the fabric is breathable. It lets you enjoy the warm weather without becoming prey to heat or sweat. Customers find them incredibly cute. We'll recommend pairing this with an equally cute top for a casual beachside dinner with flats to match!
• Loved for: ★★★★ | 100% Cotton, available in different colors, adjustable closure, twill drawcord, machine washable
• User said: These are really comfortable summer shorts and very cute!
WHERE TO BUY: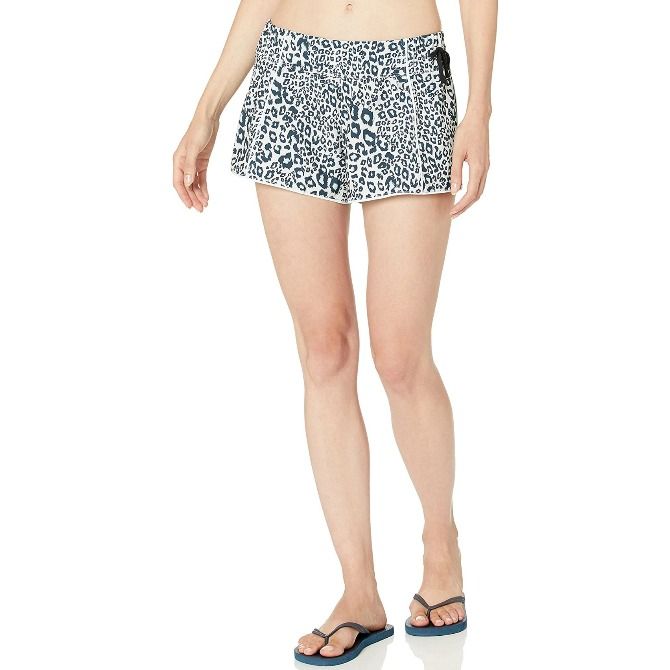 SHOP AT AMAZON
Armed With Your Wishes!
Recycling is always a good move, and Hurley's beach shorts women \'s swimwear is evidence of that. Made from recycled polyester and spandex, it hits the sweet spot between comfort and stretch. Elastic closure makes this simple to put on and take off. Plus, the side drawstring is less of a bother and more of a cute look. A back zipper pocket is made available to store your important bits and bobs. Whether you're in the pool or out, it'll let you do anything beach-related unencumbered!
• Loved for: ★★★★ | Recycled Polyester/Spandex, available in two colors, elastic closure, side tie drawcord, machine washable
• User said: Great shorts and perfect fit!
WHERE TO BUY:
Best Beach Shorts for Women Overview
We hope you found our list of the best women beach shorts helpful. All of the mentioned choices help you level up your confidence and slay the pool game. If you have better recommendations of your own, let us know in the comments. 
Have you got any suggestions of your own for the best beach shorts for women? Let us know in the comments!