Featured image: Amazon
Best Women Kimono Robes
Nothing beats the comfort and luxury of a beautiful kimono robe when it comes to self-care. From your morning routine to post-shower and to your nightly skincare routine, this is the perfect loungewear staple you must own to get through the day with style and ease. Honestly speaking, this is the only piece we mostly have on our body in the house, why not glam up the scenario with an attractive option? You don't necessarily have to look like a potato while staying and working at home. The nicer you'll look at home, the better you'll feel, and the more productive you will be!
For an easier selection, we've rounded up the best womens kimono robes. They're the real deal for Netflix and chill, quick zoom calls with your clients, or relaxing full-on spa mode! 
If you love this list of the best kimono robes for women, you might also want to check out the best fleece joggers for women to stay snug & lounge-ready!
What Are the Best Kimono Womens Robes?
If you cannot fathom roaming around the house naked, but also cannot bear the thought of wearing clothes, the next best thing to having nothing on is a silk kimono robe. The silky texture combined with the 'barely-there' feeling cannot compare with actually being naked. Trust us, the former feels way more amazing on the body and appropriate for spending the day in, even if you're not planning to do anything. They're nostalgic and transport you to vintage vibes and old Hollywood glam (in imagination, at least.) 
If you love feeling special from time to time, our best kimono womens robes can help you with that. Silk is only one side of the post. We have combed the internet for all sorts of comfortable and breathable robes that keep you cozy and keep you cool, depending on the circumstances.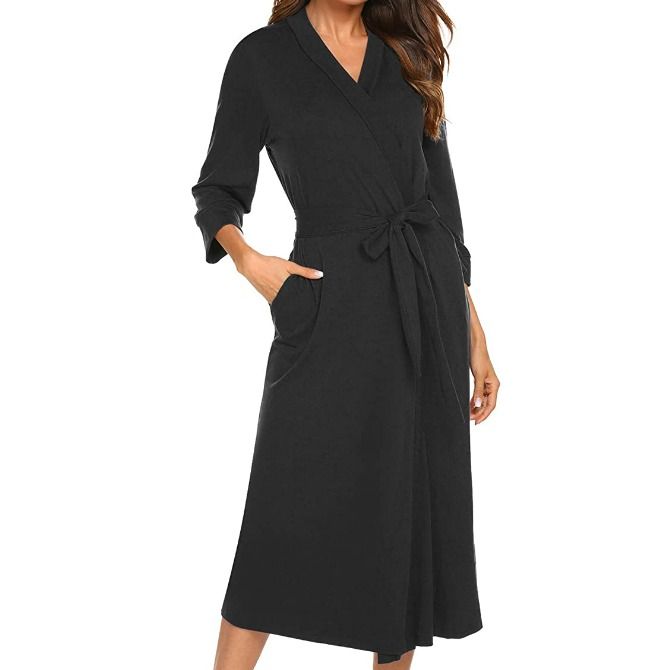 SHOP AT AMAZON
Like a Good Robe!
You need something soft and extremely functional for a girls-night together? The Maxmoda makes the grade for each one of you. Made up of cotton, the fabric feels soft on the skin and lightweight. This cotton kimono robe isn't fuzzy or fluffy in any form. It's meant to flatter the body and give you maximum comfort with a beautiful fall to it. 
The side pockets add to the convenience of this long kimono robe. Plus, the back belt is easy to locate and belt up for an adjustable fit. This is the perfect pick-me-up for a cozy day in and makes all those home chores that are part of your daily life seem less fussy.
• Loved for: ★★★★ | Soft Cotton, available in different colors, drawstring closure, side pockets
• User said: I like my new robe! The color and size were perfect!
WHERE TO BUY: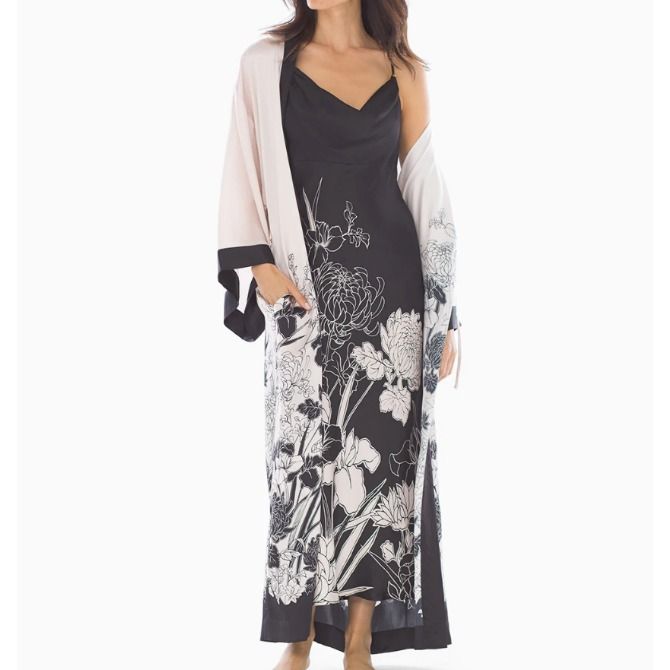 SHOP AT SOMA
Unlike Anything, You've Ever Owned
If you want a piece that's timeless and doesn't get old, even if you do, the beautiful Soma silk kimono robe long sized version fits the bill. The beautiful design, combined with the lovely texture of the silk, can't be beaten. If you're feeling particularly luxe, it's worth a grab, and every activity in this feels like such an indulgence!
It features full kimono sleeves, a long silhouette, and an open front with a tie waist belt, which is ever so helpful for adjusting the robe to your frame. Airy, chic, and utterly sexy, consumers are completely sold on this gorgeous kimono silk robe!
• Loved for: ★★★★ | Pure Silk, available in one color, detachable belt, long length, long kimono sleeves
• User said: This is the most gorgeous piece I've ever seen! I love it so much!
WHERE TO BUY:
SHOP AT AMAZON
True To The Picture!
Talk about a kimono robe long sized and with a look that rivals the more expensive options in the market. This is the ideal number to have on hand when you want to enjoy your 'me-time' at home or to dress up for a casual hangout with your pals. With a rating of 4.7 out of 5, the buyers are completely smitten. 
Made out of a Polyester Charmeuse fabric, it's lightweight and nicely drapes over the body. Whether you want to play up casual jeans or a dress, this is the way to go. One of the prettiest kimono robes you can find. That too, in such a palatable price!
• Loved for: ★★★★ | Polyester Charmeuse, available in four colors, removable waist tie closure, french seam finish, machine washable
• User said: I heard the angels sing when I first laid eyes on this beautiful robe. It's perfect!
WHERE TO BUY:
SHOP AT AMAZON
Cloud-Like Comfort!
Fret not plus-sized beauties! We've got you covered with the Sioro plus size kimono robe. Made from one hundred percent cotton, it regulates body heat and gives the best of feels whenever you put this on. It dries you up quickly after a shower and is breathable on the skin. 
With a rating of 4.5 out of 5, many faithful customers commend this kimono style robe for the self-tie functionality that's both removable and adjustable. Be it a vacation, pajama party, or a stay-at-home, Sioro works wonders in every situation. The fabric is machine-washable and proves to be the nicest of cover-ups for everything!
• Loved for: ★★★★ | 100% Cotton, available in different colors, self-tie closure, side pockets, machine washable
• User said: I've found just the right soft cotton robe that doesn't cost an arm and a leg!
WHERE TO BUY:
SHOP AT AMAZON
What More Could You Want?
Putting effort into your look, even if you're just staying-at-home could uplift your mood in so many ways. If you're planning to do exactly what we suggest, nothing's better than Babeyond's floral kimono robe to do so. This is what dreams are made of, including an enchanting design and silky soft material. 
When you've had a long day or feeling out of sorts, this eye-catching piece will renew your strength and confidence. It could also be used as one of those bridesmaids kimono robes because of the luxurious outlook. This feels lightweight and slippery, and serves as a sexy cover-up!
• Loved for: ★★★★ | 100% Polyester, available in different colors, luxurious print, side pockets, long style
• User said: This robe exceeded my expectations. And it has pockets!
WHERE TO BUY:
SHOP AT AMAZON
So Precious!
Over 900 users are falling head over heels in love with Alexander Del Rossa's satin kimono robe. We totally get why! It's chic, sexy, and effortless, plus the floral print adds more polish to the ensemble than we can possibly imagine. To make matters more exciting, the satin fabric offers comfort like none other and keeps you cozy like a blanket!
If you haven't tasted luxury, try one of these Rossa's womens kimono robes. It's not only pretty but practical with the tie belt for a personalized fit. Besides, this would make a wonderful gift for a special someone in your life. 
• Loved for: ★★★★ | Silky Satin, available in different colors, risk-free guarantee, inner and outer ties, machine washable
• User said: Nice robe, very pretty, fits well, and washed well!
WHERE TO BUY: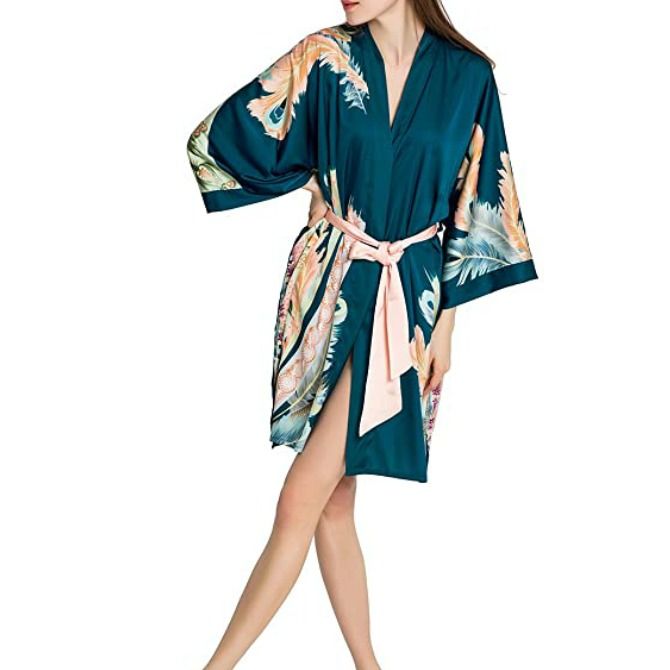 SHOP AT AMAZON
Woven With Love & Hard Work!
76 percent of people are talking about this short kimono robe and, believe us, they're talking good! Made from delicate charmeuse, the fabric feels lavish and cozy enough for lounging and sleeping. It's delicate but machine-washable. Not to mention, the charming design is what hooks all of us in. We adore the color, and even more the short, little silhouette. 
The tie belt adds to the versatility of this women\'s kimono robe. Not only can this be worn both open and closed like a dressing gown. It can also be worn at any time of the day. This holds artisanal value in many consumers' eyes owing to the handcrafted design.
• Loved for: ★★★★ | Delicate Charmeuse, available in different colors, side slits at the hem, french seam finish, machine washable
• User said: Wore this over a lovely dress and got many compliments on the Kimono!
WHERE TO BUY: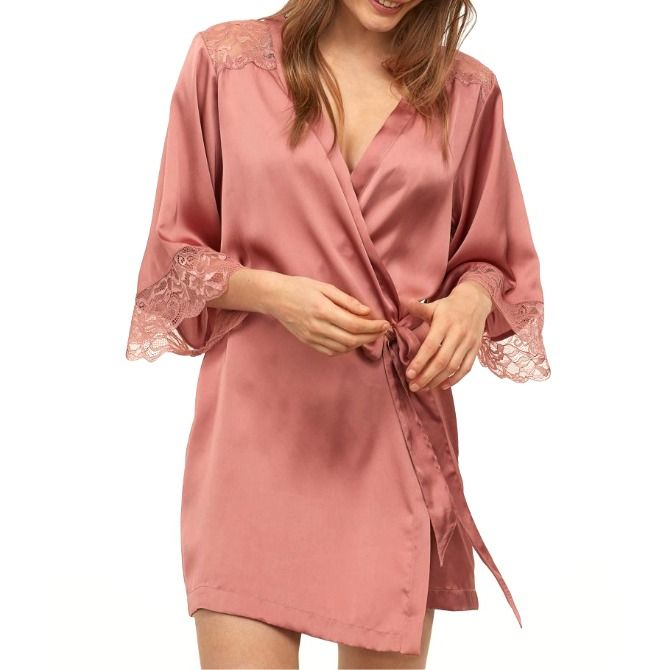 SHOP AT H&M
For A Heart To Heart!
The majority of the things from H&M are easy-wear and practical, so is their lace kimono robe. Who wouldn't love themselves a pink robe? The rating of 4.8 out of 5 is proof enough of our above statement. Featuring a very personal lace detailing, this is a girly and sexy number for every day, an intimate date night, or must we say for a pampering session?
The pink kimono robe displays a concealed tie belt, a wrap front and ¾ sleeves with scalloped lace ends. It's stylish, sophisticated yet very sexy. On the bonus, it carries a vibe that works for everyone. 
• Loved for: ★★★★ | Satin Lace, available in two colors, ¾ length sleeves, scalloped trim, machine washable
• User said: Like this a lot! It looks expensive and feels good on my skin!
WHERE TO BUY:
SHOP AT NORDSTROM
So Soft, So Comfy!
No one needs comfort and relaxation more than a pregnant woman, and that's completely understandable. Ingrid & Isabel offers a maternity black kimono robe that's superb as a hospital cover-up or for spending your entire pregnancy days in. The fabric feels warm and cozy while just being so refreshing to wear. 
It could be worn open or closed and is functional for late-night feedings. The users find this super-comfy for nursing; basically, everything that has to do with pregnancy! It's machine-washable and made from a polyester blend. Certainly, one of the best cheap kimono robes you can find. 
• Loved for: ★★★★ | Polyester blend, available in three colors, long sleeves, ties at waist, machine washable
• User said: This nightgown is perfect for my hospital stay and for nursing!
WHERE TO BUY:
SHOP AT NORDSTROM
Playful & Realistic! 
Now, this is one sexy kimono robe and the design? We love it so much! Comprising three-quarter sleeves with lace details, tie belt, and polyester fabric that feels soft and comfortable, it makes you look polished and ready to take on your day instantly. 
The lace adds a unique element to the design, so much so that lazing around in this feels fancy! Don't you believe us? It takes one to try before jumping to any conclusions, right? The fabric is good quality, and the well-made craftsmanship shows through this pretty vintage kimono robe. 
• Loved for: ★★★★ | 100% Polyester, removable tie belt, three-quarter sleeves with lace trims
• User said: The lace at the sleeves is gorgeous! It's beautifully light and good quality!
WHERE TO BUY:
Best Women Kimono Robes Overview
When comfort meets style, the best kimono robe for women is born. Whether you desire pockets more than style or comfort more than a pretty design, we've got you! If you have even better recommendations, let us know in the comments below. 
Have you got any suggestions of your own for the best womens kimono robe? Let us know in the comments!