Featured Image: Ann Taylor
 
Best Wide Legged Pants
Who's onboard to have wide leg pants women are currently digging for summer? They make the perfect warm weather staple to have in your clothing rotation, thanks to their airier feel and ever-so-adaptable silhouette. Nobody can stand the sucked in feeling skinny jeans often get blamed for delivering all the time, particularly at this time of the year. 
So to loosen up the mood and body, these best wide legged pants are worth a whirl and come in various styles and sizes to assist you from day to night without issues. Our picks have been whittled out from the most customer-trusted options, try them, and we bet you'll become a believer! 
If you love this list of the best womens wide leg pants, you might also want to check out our list of the best black work pants for women to gear up for the office!
What are the Best Wide Leg Pants for Women? 
Wide legged pants are best popular for short-legged women to those owning curvier hips. These pants slim down and lengthen to make an asset out of your most concerning body features. And seriously, there's nothing embarrassing about that; instead, it poses to be an effective solution to make the best of what you are blessed with, whether you appreciate it or not: that's another issue. Another bonus to owning one of these pants is the added versatility. Prepping up for travel, dressing down for casual brunch with friends, or dressing up for a formal evening event is no longer a bother, making dressing up for anything a cinch! 
Our best-of lists serve the perfect solution when you have little time to waste and even little patience. You will get to spot your favorites or almost "potential" favorites in less than a minute and get the decision made on the ideal piece! It's all wide, it's all good, and it's all fair in our list of the best wide legged pants made available for women of all body types and sizes.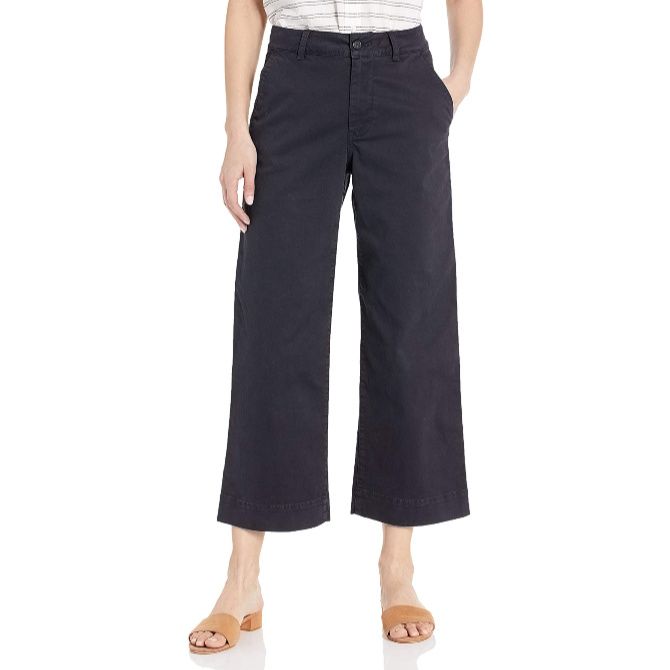 SHOP AT AMAZON
Flattering!
Those hunting for a solid pair of dark navy wide leg cropped pants that feel and look high-quality, but with a more affordable price tag, you're looking at the right product. Made with 98 percent cotton and two percent elastane, the fabric is breathable and has a nice stretch. These sit right to the waist and can be worn in summer without feeling hot as some customers happily report this fact. Pockets are available to store what you need for the day, and the fabric is machine-washable for your benefit. 
• Loved for: ★★★★ | Cotton/Elastane, available in five colors, back welt pockets, machine washable
• User said: Literally the most comfortable pants I've bought in years. 100% Heaven!
WHERE TO BUY: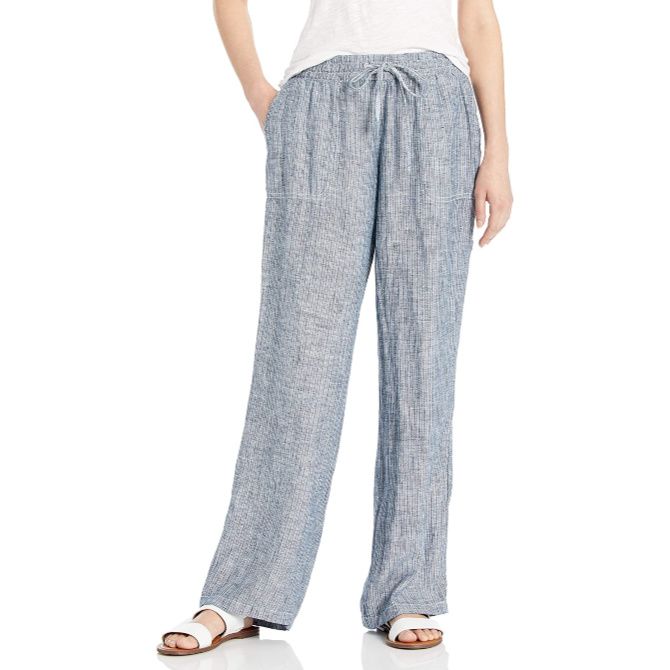 SHOP AT AMAZON
Highly Impressive!
To enjoy summer while lounging or if you wish to feel particularly relaxed on an errand-day, Amazon Essential's wide leg linen pants are exactly what you need. Thin but not cheap, light but not poorly stitched, it'll keep you feeling breezy in the sweltering heat. Thanks to the very comfortable linen fabric. Drawstring waist and pockets turn this into an even more convenient buy since you have space to store small items and an adjustable closure system. This is a must-grab for a pick-me-up and takes laid-back cool to new heights. Don't forget to pair with a cute top!
• Loved for: ★★★★ | 100% Linen, available in different colors, drawstring closure, elastic waist, machine washable
• User said: Cute and comfy and can be dressed up or down!
WHERE TO BUY:
SHOP AT NORDSTROM
Fresh Pick for a Summer Kick!
Sanctuary white wide leg pants are an impeccable pick for those with long legs. Yes, these won't make you look short and funny, instead it will perfectly complement your limbs. The white is thick enough to stay opaque and non-transparent, whereas the raw hems bring in retro vibes to advantage and let you show off your ankles in style. Pair the pants with a sleeveless top or with a floral top tucked-in for a flattering look. Made from self-stretch cotton would keep you cool on a hot day. 
• Loved for: ★★★★ | Cotton/Spandex, available in three colors, zip fly with button closure, front and back pockets, machine washable
• User said: Comfortable crops that didn't look too wide!
WHERE TO BUY:
SHOP AT NORDSTROM
Insanely Summer-y!
The cool paperbag waist on these wide leg khaki pants is game-changing because such styles help hide a muffin top, accentuate your waist and create an hourglass figure. Pair this with a fitted top to balance out the flowiness of the hems. It would look smart and appealing. Linen is used as the base and promotes airflow, rendering these faultless for the sweaty summer season. Along with that, putting on espadrilles or wedges can tie in those summer vibes. The elastic waist is an effortless pull-on, and slant pockets are super-handy. 
• Loved for: ★★★★ | 100% Cotton, available in one color, back elastic waist, attached waist tie, machine washable
• User said: Price and quality wise, they are perfect!
WHERE TO BUY:
SHOP AT NORDSTROM
The People-Pleaser!
Halogen's black high waisted wide leg pants scream good news for not only different body lengths and sizes but also for your wallet. The trousers are made to suit several women, be it petite, short or tall; no problem! The high waist blesses with a tummy tuck, and who doesn't appreciate that? Along with it gives you legs for the day, no matter your dimensions. It's wicked flattering and looks best with cropped tops and high heels to make the perfect transition from day to night. Pockets are only for show, but everything else is for real!
• Loved for: ★★★★ | Polyester Blend, available in one color, zip fly with hook and bar closure, machine washable
• User said: Practical pants that I can wear to work and also out. A useful workhorse in my closet!
WHERE TO BUY:
SHOP AT NORDSTROM
A Nod To The Casually Formal!
These navy wide leg trousers women reviewers find absolutely enticing are a fail-safe option for pregnant women who regularly juggle between work and play. The waist is high enough to carefully trim down your belly and make a chic look out of it. The fall of the fabric is beautiful and made from rayon and spandex for the perfect stretch. You can easily move in these and get more wear out of them than you can possibly imagine! The best way to go about them is by choosing slim-fitting blouses and closed-toe shoe styles for an ultra-stylish appearance. 
• Loved for: ★★★★ | Rayon/Spandex, available in one color, pull on style, machine washable
• User said: The most comfortable maternity pants I've had so far. I bought two!
WHERE TO BUY: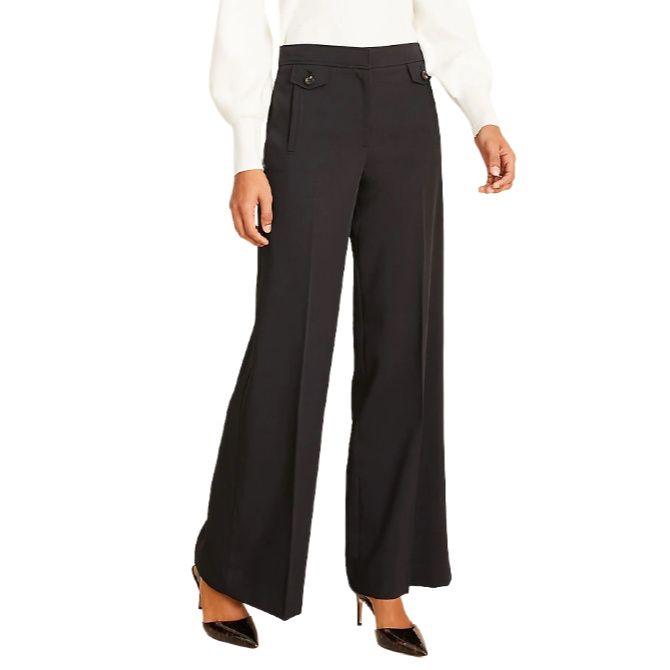 SHOP AT ANN TAYLOR
Achieve Balanced Proportions with This One!
We recommend the Ann Taylor black wide leg pants for a trusted pair that makes a trusted combo with your favorite tops. Their smart appearance is hugely reliant on wearing to the office and surviving formal occasions with added class. Just don't forget to wear heels and some fabulous minimal jewelry. The leg-skimming take looks tremendously fashionable and has a leg-lengthening effect. It's too good of icing on the cake to turn down. Bearing polyester, rayon, and spandex, the fabric is machine-washable and easy breezy on the skin. 
• Loved for: ★★★★ | Polyester Blend, available in two colors, full length, leg-skimming style, machine washable
• User said: They have a slimming effect with the wide legs!
WHERE TO BUY: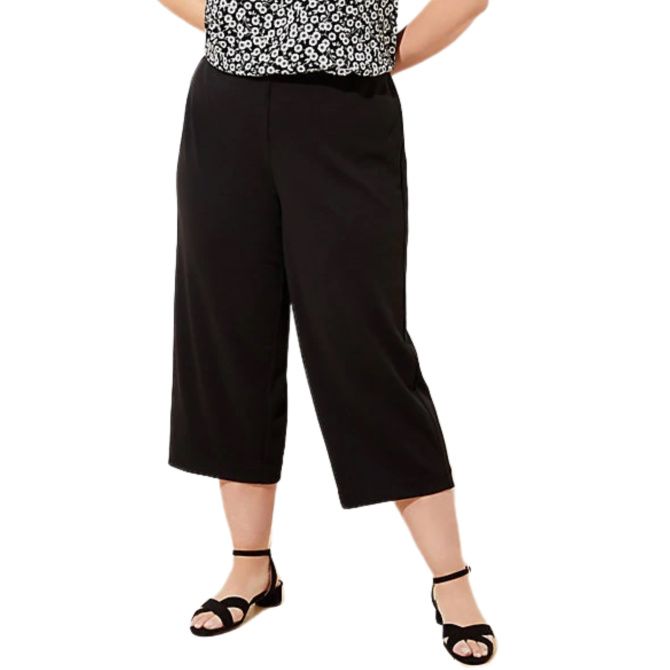 SHOP AT LOFT
Pull On And Set Off!
Sporting a romantic wide silhouette, Loft's plus size wide leg pants are easy-going and extremely cute for our cute followers. The pull-on style is simple to put on and take off, whereas the flattering polyester and spandex fabric help your bum with a smooth fit! The breathable, loose design is essential for cruising through summer and has a laid-back charm every woman loves to keep comfortable the entire day. It's playful, can be partnered with fun sleeveless tops, and looks great with loafers and sandals. After that, you're pretty much ready to go!
• Loved for: ★★★★ | Polyester/Spandex, available in two colors, high waisted, pull-on style, machine washable
• User said: I am in love with how comfortable this is. Buying another pair!
WHERE TO BUY: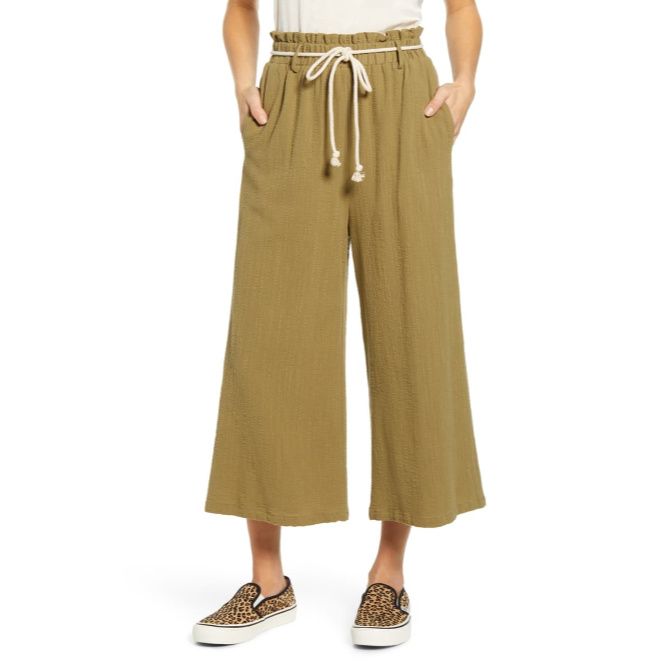 SHOP AT NORDSTROM
Sounds Like a Deal!
The softness of the fabric sends a stomach-dropping satisfaction your way. When apparently one cannot stand itchy clothes in summer, All In Favor cream wide leg pants work in your favor. The removable waist tie is adjustable and defines your waist. The loose silhouette is best paired with full-sleeves body-hugging blouses (take inspiration from the model). And put on some block heels to match. Rayon fabric, fully-lined and with side pockets, this is practically made for living in both in summer and winter. 
• Loved for: ★★★★ | 100% Rayon, available in one color, side pockets, removable waist tie, lined
• User said: Pants have a double lining, so it is not see-through which I appreciate!
WHERE TO BUY: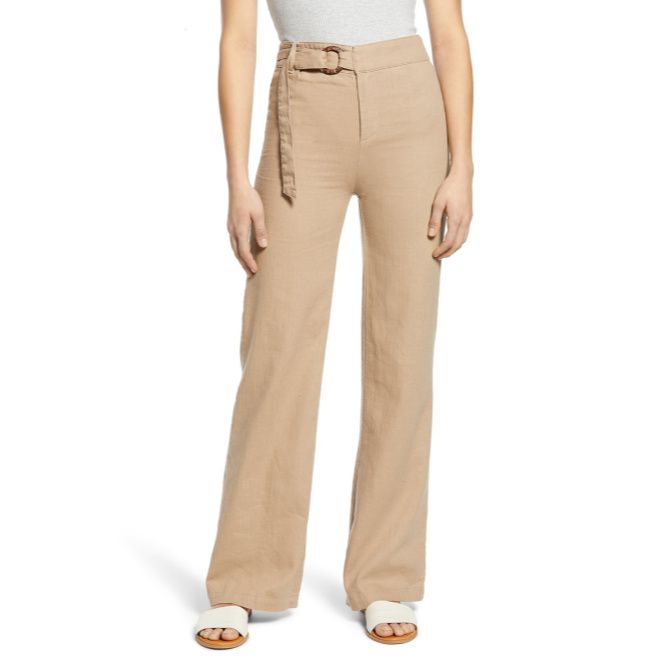 SHOP AT NORDSTROM
Holy-Grail Alert!
If we had to choose one pair of wide leg pants out of this entire list, we'd go for PTCL's high waisted wide leg trousers blindly! If sexy had a new name, this would be it! Uber-stylish and utterly chic, the belt trims the waist and makes you look lean and fabulous. We can personally vouch for their aesthetic thrill. Imagine pairing these with slim-fitting long sleeve shirts in summer, ribbed tops in winter, and leather accessories to set the new cool right away! Made from cotton and linen, this is what ultimate comfort goals feel like, and there are pockets made available as well!
• Loved for: ★★★★ | Cotton/Linen, available in one color, attached ring belt, back patch pockets, machine washable
• User said: Nice quality and has a mid-weight fabric, so not see-through or too thick!
WHERE TO BUY: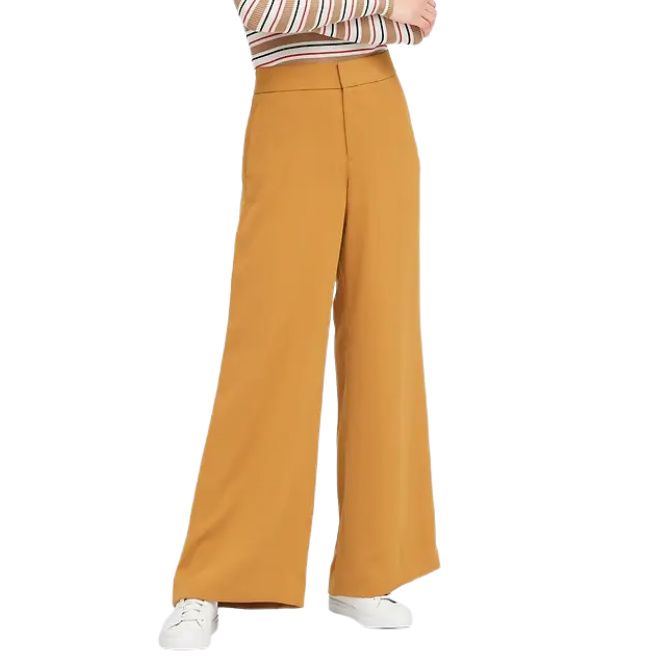 SHOP AT BANANA REPUBLIC
Super Comfy!
Gap's wide leg high rise pants are a true classic wide. Boasting 100 percent polyester and a high-rise silhouette, it sits over the tummy for a smooth appearance. It is exactly the solution for a belly pouch. On the other hand, it imparts a leg-lengthening effect. With similar colored shoes, you can take the leg-lengthening to even better results. We love the yellow shade that could be dressed up to create a statement or a monotone look for a stunning outcome. And provides ample breathing room you'll thank us for later in the day!
• Loved for: ★★★★ | 100% Polyester, available in three colors, zip fly with hook and bar closure, back and front pockets, machine washable
• User said: These pants have a high waist that makes my size look smaller!
WHERE TO BUY: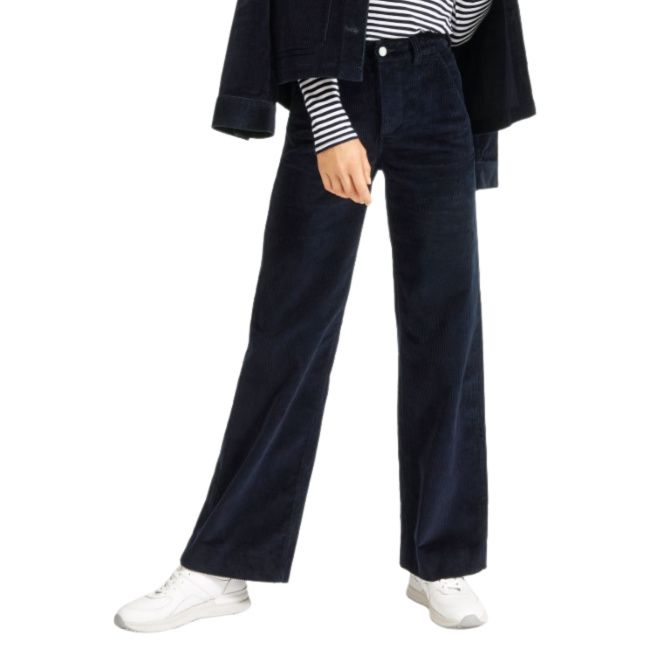 SHOP AT EVERLANE
Smooth Transitioning!
Coming from the popular brand Everlane, you can expect some good-quality. These highly touted high waisted wide leg dress pants are fan favorites. The corduroy fabric complements your body in ways you should only see for yourself in real life. It's a must for formal occasions and moderate temperatures, but it targets ventilation and keeps you light and thriving. This really makes you feel fancy and adorned. With a pair of slim-fitting blouses and pointed toe shoe styles, you can produce a refreshing look that literally switches from day to night effortlessly. 
• Loved for: ★★★★ | Cotton/Spandex, available in golden brown, zip fly with button closure, back and front pockets, machine washable
• User said: They are soft, comfortable, and long enough for tall ladies to still wear!
WHERE TO BUY:
Best Wide Legged Pants Overview
How to Style Wide Legged Pants?
Wide legged pants are self-made, and on their own, they're outfit-makers. So we wouldn't recommend you to go crazy with the styling. There are certain tips and tricks to going about them. Keep on reading to nail it!
Go Monotone!
Instead of creating monochrome, befriend the top and pants in the color range. Yes, you heard us right, Having the same colored top and pants pulls that ulterior stylish touch, where even creating a contrast wouldn't stand a chance. Finish the look with neutral accessories for a lasting impression!
Tuck-in
To bring full attention to wide legged pants and not look shabby, tuck-in your shirts for an enhanced waistline and a slimming effect. Tucking in your tops actually helps neaten up your entire look to stand out more from the rest. This works great both in casual and professional settings. Also, in this case, pair figure-hugging tops to be on the safer side. 
Go For A Belt
Either buy wide legged pants with a belted waist or add one for a striking appearance. Belts look cool and trim down your waistline and stomach at the same time. 
Go For Prints 
Instead opting for solid colored wide legged pants, go for floral or pants with printed stripes and combine them with a simple top. It leads to an extremely eye-catching look and is a nice twist from how an average person wears wide leg trousers. This could be done the other way round as well. 
Outerwear
Blazers are incredibly dashing to go with wide leg bottoms and set off a unique semblance. Again, this could be done in unison with the monotone idea with a matching look. Or with a blazer in contrast!
Don't Be Afraid Of Heels
You should be aware of wearing flats with these pants rather than high heels. Because these are one of the best garments to pair and slay with high heels or wedges!
When to Wear Wide Leg Pants?
There are no hard and fast rules on when to wear wide leg pants. It all depends on the materials and styles you choose. Denim materials are certainly not suitable for a professional setting, but wide leg pants done in flowing fabrics can be your best bets for wearing almost anywhere. It just comes down to your styling and dressing sense. 
If you're indecisive on taking the plunge or really into this trend, there's everything for every type of person in our list of best wide legged pants. Besides, editorials and consumers alike recommend them for a reason! If you have something better to add to our post, hit us up in the comments section!
Have you got any suggestions of your own for the best wide legged pants for women? Let us know in the comments!