White Sneakers Fashion
"I'm a sneaker head. You'll find more sneakers than heels in my closet." – Rutina Wesley
White is a color you can definitely mix with any other colors without suffering from being awkward. Most definitely, white in fashion can be a perfect match to anything you want to wear at any occasion. Just as how white can easily be mixed with other colors, a good pair of sneakers can be paired with just any casual wear you want.
I myself is a fan of the white-sneakers fashion because of it's comfort and versatility; and yes it surpasses any generation gaps.
---
Posts not found
---
So here are some of the white sneakers that I have in my collection and maybe some tips can convince you to try a pair yourself.
White Sneakers: Converse Chuck Taylor
Available at Amazon.com
First on my list is the Converse Chuck Taylor Shoreline Slip sneakers. This pair was my go-to shoes as it basically felt right on days where I just feel like not thinking of exactly what pair of shoes to put on. This pair is a loyal one and I had them for three years before I finally had to say goodbye.
---
Tip: Go-to shoes can always be perfect with your go-to outfit. Something as simple as a shirt, blouse or cardigan can be perfectly paired with these type of sneakers. A pair of leggings can also be a good one.
---
White Sneakers: Adidas Originals Superstar
 Available at Amazon.com   Let's "up" our game with a high pair of sneakers; shall we. A set of high cuts can never be less cool than any pair there is. What I have on my shoe array is the Adidas Originals  Superstar Fashion Sneaker. This pair gives off that swag and cool vibe to anything I pair with it.   
---
Tip: Give off a little opposite balance to your dresses and pair them with these high cut sneakers. This combination most definitely would give you that cool street fashion you just want to pull off all these years.
---
White Sneakers: Aldo Mirane

Available at Aldoshoes.com
Another of my favorite cool and casual pair of white sneakers is a pair of Aldo Mirane N. Like my Adidas pair, it also goes perfect with your dresses. What makes itself different though is that it gives you another type of image and feel; this time it's chic and kind of funky. I love to refer it as the "spring white sneaker"; makes it more fitting for spring time.
---
Tip: Neutralize the girly feels of your dresses and give it a chic and strong arrive instead. Wearing this pair of white sneakers definitely does the trick.
---
White Sneakers: Adidas Gazelle Sneakers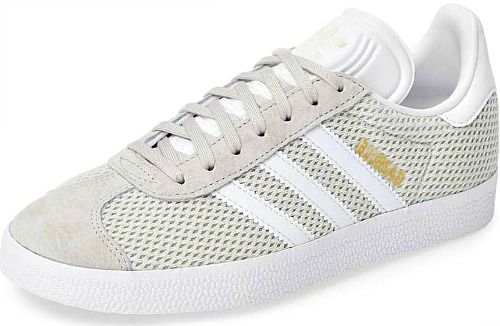 Available at Nordstrom.com
This is my recent addition to my white sneaker arsenal,  the Adidas Gazelle Sneakers. What I like most about this sneakers is it's style. I love the canvas material that goes perfect with the white base. This is the type of shoes I would definitely not think twice on wearing on my comfortable days. I just hope that this pair will replace my converse as my go-to shoes. I guess we'll find out.
---
Tip: Look all comfortable and simple yet with a kick with this pair of sneakers. Match it up with skinny jeans and your favorite shirt or blouse top.
---

---
Posts not found
---
Do you have a collection of white sneakers?  What is your favorite? Please share your thoughts below!
**Disclosure: Actions you take from the hyperlinks within this blog post may bring in commissions for this site. All products are used not for recommendation but for inspiration only.
Pssst! If you found this post useful, please share! And if you want to read more of what I have to say follow me on Facebook, Twitter and Pinterest or sign up below and  get  updated each time. Thanks for dropping by!