Featured Image: Everlane
Best Sustainable Womens Underwear
You may not be aware, but fashion is the second most polluting industry in the world. With issues like water pollution, textile waste, and carbon emissions on the verge of scary, it's time to switch to a more conscious lifestyle. This helps minimize the accumulation of cheap garments that barely last more than a month. 
Several sustainable underwear brands have created an organic product line to ensure your clothing needs are met without the fear of causing environmental damage. Investing in these brands causes less waste and ensures social responsibility. Plus, you get to have high-quality garments that are made for years to come. Whether you're making the switch to a drawer full of sustainable undies, need to gift someone, or looking to buy undergarments on a budget, our list of best sustainable underwear for women is ethical and eco-friendly!
If you love this list of the best womens sustainable underwear, you might also want to check out our list of the best bras for small sizes breasts that are the most sensible ones you'll ever find!
What are the Best Sustainable Underwear?
Underwear is intimate, a very personal thing, to say the least. It shouldn't come at the cost of environmental damage and be made from chemicals not suitable for that sensitive region. From starting today to learning tomorrow about how our actions are potentially endangering the entire ecosystem, each small step could bring a meaningful change. And everyone needs to start taking charge! Organic underwear is one step ahead, if not more, to make a change, which benefits your body and Mother Earth. 
The ones we've included in our category of best womens sustainable underwear manufacture their products in light of ethical rights and quality fabrics. From minimalist designs to casually-chic undergarments, you'll find yourself crazy in love. Plus, we'll explain exactly how each of these brands is making the world a better place.
SHOP AT AMAZON
A Modern Basic!
Made out of sustainably sourced bamboo, Boody's eco wear bamboo underwear is manufactured without the use of toxic chemicals in its production. Thanks to the natural material, the underwear feels cloud-soft and premium. Non-transparent, high-waisted, and durable, it's an excellent choice for everyone, including sensitive skins, with different shades and sizes. Aside from being an eco-certified company, it favors eco-friendly acts and adheres to strict labor rules, including infringement and child labor rights. This ensures their products are created in a safe and fair environment. 
• Loved for: ★★★★ | Ethically Sourced Bamboo Viscose, available in six colors, full coverage, flat ribbed waistband, machine washable
• User said: My doctor suggested getting underwear with wicking and antibacterial properties, and these definitely do the job!
WHERE TO BUY: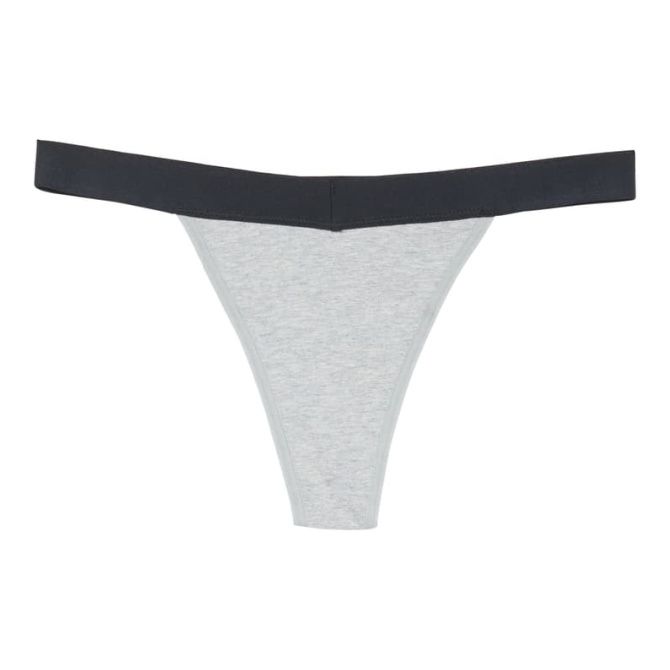 SHOP AT NORDSTROM
Easy-Wash!
Thinx understands that women have struggled with underwear that's not leak-resistant and odor-trapping at some point in their lives. It's common and enormously disturbing, right? Answering to your prayers, these panties serve as a great substitute for a tampon or pad in light bleeding, and as a backup in heavy flow. Trapping unpleasant smell, stain-resistant and providing maximum absorption, it keeps you dry and comfortable. No more leaking from the sides or getting them damp. Organic cotton underwear features four-layer technology that not only meets your demands but exceeds them. 
• Loved for: ★★★★ | Female Owned Business, Organic Cotton, available in two colors, replaces period products, machine washable
• User said: This Thinx underwear really does keep you dry and fresh!
WHERE TO BUY: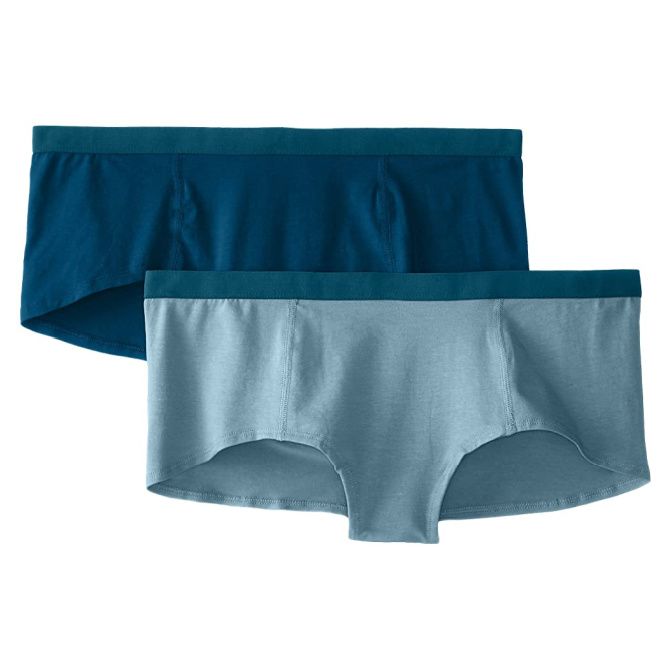 SHOP AT AMAZON
No Pinch & Tagless!
Comfort is skin-deep, and nothing relates better than this pact underwear. GOTS certified and committed to Fair Trade policies, the brand uses organic cotton without pesticides, fertilizers, or anything artificial in the process. Also, they make sure that farmers receive a fair estimation of the organic cotton they sell for manufacturing. This pack of two is a good buy for keeping backup and offers maximum softness to the wearer. It's sturdy and easy to wash, plus can hold many washes without turning into waste.
• Loved for: ★★★★ | Female Owned Business, Organic Cotton, available in three colors, no pinch tagless design, machine washable
• User said: Super soft, cute style, and best of all, the company is fair trade all across the board. The best I've tried!
WHERE TO BUY: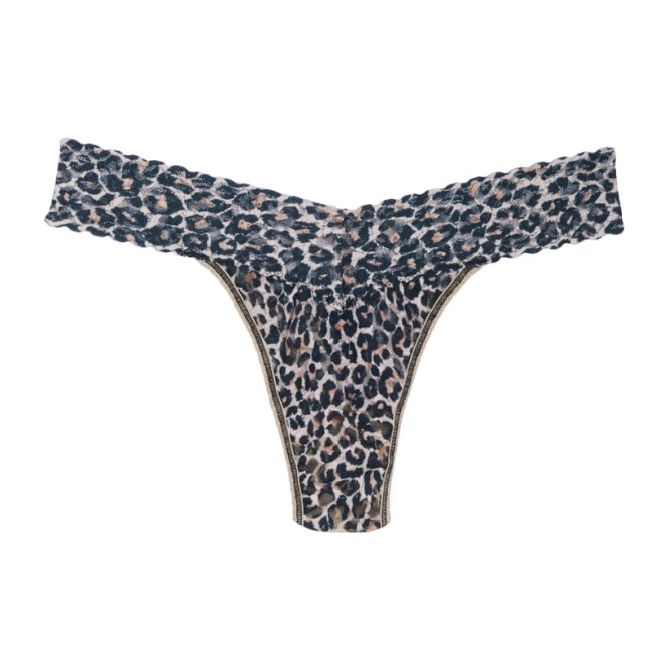 SHOP AT NORDSTROM
Comfort & Style!
Lined with luxurious 100 percent Supima organic cotton and made from nylon, Hanky Panky ethical underwear, just like its name doesn't stir any hanky panky. It feels heavenly on the skin and gives you a boost of confidence. The leopard print is beautiful, and it wears beautifully without coming loose, creating a pooch or pricking the skin. Sizes range from 2-12, and it can be worn for lounging. Plus, it has a gorgeous stretch to stay in sync with your body. 
• Loved for: ★★★★ | Organic Supima Cotton, disappears under clothing
• User said: Hanky Panky is my favorite underwear brand, and I absolutely love this pattern!
WHERE TO BUY: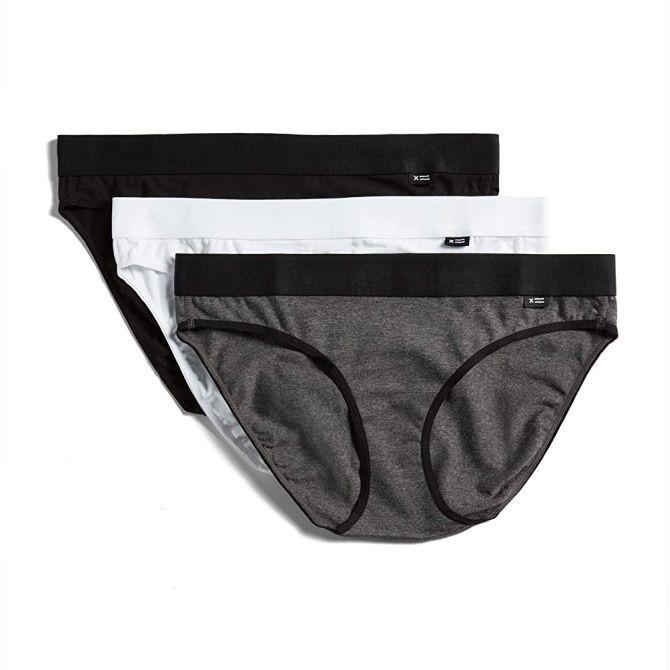 SHOP AT AMAZON
A Fine Unisex Choice!
TombodyX aims to let you be "unapologetically Yourself" by creating a gender-neutral eco friendly underwear. Crafted from OEKO-TEX-certified cotton and spandex, it moves with the body. It feels comfortable against the skin while promoting airflow and preventing any odor. The fabric is sturdy and anti-bacterial, plus the pack has made switching to a sustainable underwear drawer so easy. You can always keep one on standby and others as backup. It's ideal for lounging, wearing under the clothes, while being human-friendly, meaning the employees are paid a living wage, and no sweatshops have been used. 
• Loved for: ★★★★ | OEKO-TEX-Certified Cotton, available in three colors, reinforced seams, human-friendly, stay-put waistband
• User said: The cotton breathes well and is super comfy!
WHERE TO BUY:
SHOP AT AMAZON
Sexy & Sophisticated!
Lingerie is an essential luxury, it defines a woman's strength and her beauty. Something Cosabella closely references in their thong. One of the good underwear brands include Cosabella, their products are made in Italy and exude high-quality. Processed from polyamide and elastane, the thong is lined with cotton for optimal comfort and allows the body to breathe. The no-budge lace is an empowering symbol of every lady's routine and causes no irritation or leave marks. Neither does this roll up the whole day. Utterly sexy, it makes a wonderful gift and a date night choice. 
• Loved for: ★★★★ | Polyamide/Elastane, available in different colors, cotton-lined gusset, no-budge lace, no closure
• User said: They are a perfect fit and are very high quality!
WHERE TO BUY:
SHOP AT AMAZON
Clean & Contemporary!
Calvin Klein is also making a difference in ethical underwear brands. It uses modal, a fabric made out of a beech tree pulp, which turns into an eco-friendly material. It's mixed with cotton and elastane in the case of this bikini for added strength and durability. This is very basic underwear made to flatter clothing and your body. It's strictly available in a minimalist range of colors. The sizes drift from extra small to extra large, catering to pretty much everybody.
• Loved for: ★★★★ | Cotton/Modal, available in different colors, logo elastic waistband, no closure, machine washable
• User said: The leg openings don't chafe or ride up. Highly recommended!
WHERE TO BUY: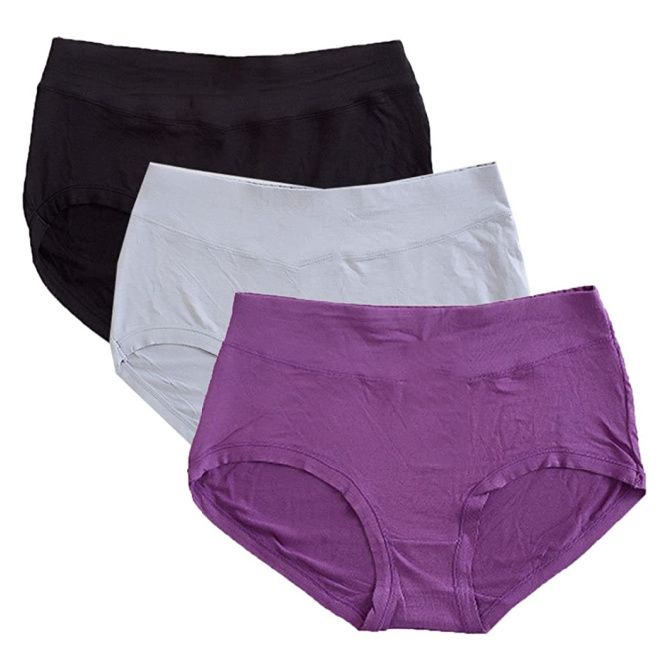 SHOP AT AMAZON
Choose in a Shade You Love!
Underwear is a daily need and the most overlooked of garments. To make sure your underwear drawer is kept updated, bulk buying is your best bet. Warm Sun's underwear bamboo viscose pack brings up the perfect opportunity to hoard, but only the good stuff. Bamboo is moisture-wicking and quick-dry, the undies are comfortable and very easy to wear. They don't move under the clothing and offer full front and back coverage. The panties are superb for lounging, periods, and for smoothing a few podgy bits in. 
• Loved for: ★★★★ | Bamboo Viscose, available in different colors, full front and back coverage, pull-on closure, machine washable
• User said: These are incredibly soft and not binding, which is excellent. Highly recommended!
WHERE TO BUY: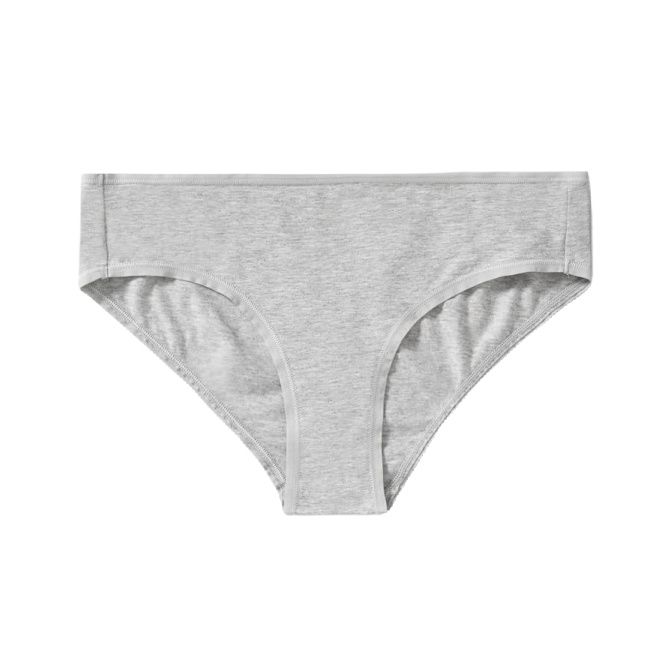 SHOP AT EVERLANE
No-Nonsense Design Speaks Volumes!
Underwear is the building block of your closet, and Everlane scored big with their Hipster. Made from the softest Supima cotton, which we think is the best material for underwear. This is "for real," feels insanely comfortable, and stays flat with a nice stretch to make sure each piece moves with your body. There's no bunching or rolling, neither pricking nor slipping. In fact, you forget you have underwear on, it's absolutely seamless. Price-wise, it's a steal, even the pack version isn't heavy on the wallet and from XXS to XL, this serves diverse bodies. 
• Loved for: ★★★★ | Supima Cotton, available in three colors, back coverage, machine washable
• User said: They are very comfortable and hardly feel like you're wearing anything. So soft, I love them!
WHERE TO BUY:
SHOP AT H&M
Buy with a Smile!
H&M's 4-pack 100 organic cotton underwear has perfected the marriage of simplicity and style. The construction screams minimalism. The lace adds a touch of femininity, something that provides a whoosh of confidence every day. Forgettable under clothing and breathable are these barely-there briefs that own subtle compression to flex with your movements. Making the switch to a more conscious underwear drawer has never been easier with these packs. Plus, the spares can always be reserved for emergencies. The colors available are muted but beautiful and make customers feel sexy. 
• Loved for: ★★★★ | Organic Cotton Jersey, available in five colors, cutaway back coverage, lined gusset
• User said: Very comfortable, cute, and holds up really well. These are the best hipster style underwear I have ever purchased!
WHERE TO BUY:
SHOP AT AMAZON
Inclusive & Individual for Only Your Body!
The panty looks functional and no-frills. We adore the delicate cotton knit at the ends, and the smooth fabric offers ease of wear and use. Supplying full rear coverage, it is pretty much opaque. Though for consistent coverage, a solid thong is recommended. The product is made in Peru, and any fellow citizens who want to support their economy could fulfill their wishes. Seemingly, this organic cotton underwear made in the USA stands out among the customers for this very reason. Contains no harmful chemicals, so you won't fall culprit to any toxic material.
• Loved for: ★★★★ | 100% Supima Cotton, available in five colors, narrow elastic waistline, lays flat under clothing, Made in Peru
• User said: I love Only Hearts, and most of their items are made in the USA, extremely rare and worth the extra cost. Great panties!
WHERE TO BUY: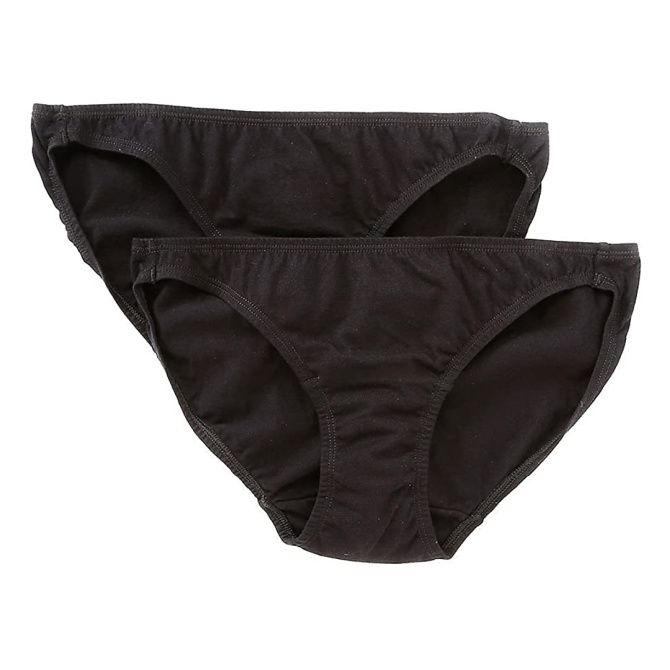 SHOP AT AMAZON
Meets the Purpose!
The underwear is manufactured from 100 percent organic cotton, which is the best fabric for women/s underwear. It's completely chemical-free; no latex, no synthetics, no spandex, and 100% hypoallergenic. Due to this reason, the brief is heat-regulating and bacteria-fighting, implying fewer washes and more time spent wearing it. The high cut leg opening and the low-rise waist sit beautifully against the area without slips or any irritation whatsoever. Customers happily report that it can be layered under all sorts of bottoms. It doesn't roll or show, especially when you bend down. 
• Loved for: ★★★★ | 100% Organic Cotton, available in four colors, hypoallergenic, no harsh elastics, double panel crotch liner
• User said: if you have a big butt, these are for you. Pretty flattering, soft, and a true bikini!
WHERE TO BUY:
Best Sustainable Underwear For Women Overview
Organic products are rewarding and open your eyes to your actions. Welcome the best sustainable underwear for women to become a wise participant in this ethical move. If you have recommendations of your own, our comments box is open!
Have you got any suggestions of your own for the best sustainable underwear for women? Let us know in the comments!