Featured Image: Skechers
Best Platform Sneakers for Women
Let's be honest, people have a love-hate relationship with thick sole sneakers. Not everyone dotes on the chunky design, and want sneakers to be left alone as they are. Despite what the public thinks, there is a department of trendy women that love the comeback of this somewhat hip, nostalgic, and cute shoe. We are one of them because we believe trends are fun and such kicks add an exciting element to an otherwise plain outfit. 
For short girls, this is a dream come true, because such sneaks add height without the bite of a heel, so you definitely gain something without the pain, thankfully! However, many brands are out with their own spin on this trend, and not everything is reliable. Like always, we've come to your rescue, with the list of best platform sneakers for women! You get arch support, cushioned comfort, and a few inches to your fit. 
If you love this list of the best womens platform sneakers, you might also want to check out the best womens high top sneakers that are more than just shoes!
What Are The Best Platform Sneakers Women Can Comfortably Walk In?
A platform sneaker has a lot to offer! If you look stumpy with an obvious heel, most versions come with hidden heels to add height without anybody noticing. Then, there are those folks with tiny feet that look out of proportion with the rest of their frame. If this is the case with you, such sneakers will solve your problem, owing to their chunkier and longer design. We created a list of the best platform sneakers for women to make it easier for you to shop this hot trend with zero disappointment.
Convenient for every day, beautiful enough to step up your athleisure game, and the perfect kicks for the spring/summer wardrobe. You are missing out big time if you haven't got at least one pair in your shoe closet!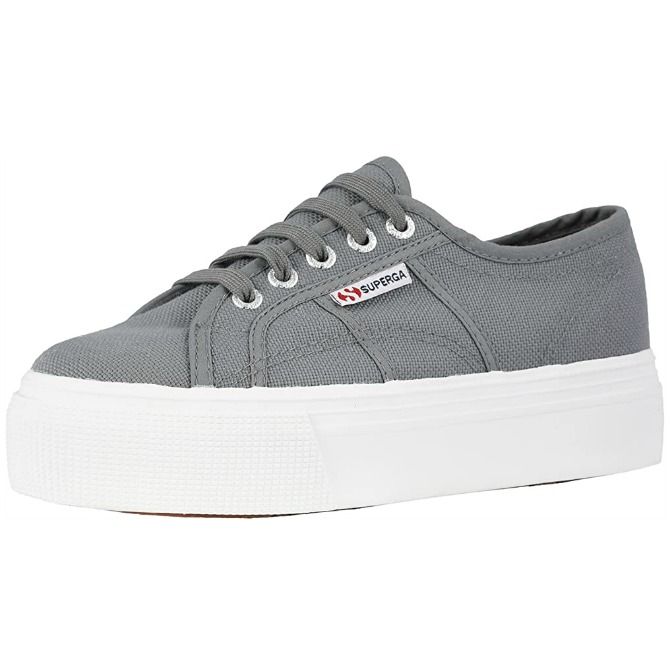 SHOP AT AMAZON
Perfect for a Minimalist!
Like a pair of comfortable jeans you want to live in the entire day, white platform trainers by Superga feel exactly that after you've broken them in. The upper is made from cotton, which provides breathability and an airier feel for stink-free feet. On the other hand, this comes with a rubber sole to provide ease of walking, good traction, and a pressure-free stance. This makes going out, doing chores, walking in the park, and heading to the gym no longer feels like a burden. 
• Loved for: ★★★★ | Cotton, available in different colors, natural rubber outsole, rubber platform heel
• User said: These shoes will perfectly conform to your foot like a great pair of jeans, and you'll never want to take them off!
WHERE TO BUY: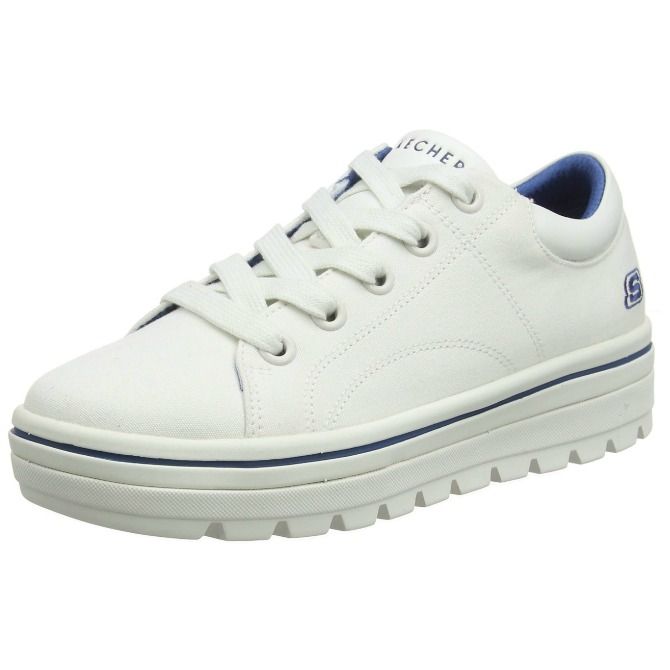 SHOP AT AMAZON
Guilt-free Buy!
Skechers' platform sole is ideal for adding some extra height to your frame. These Skechers platform sneakers offer arch support and cooled memory foam for breathable, odor-free wear. The contrast stitch adds a unique touch to this footwear and the flexible sole is made to walk on rough and slippery surfaces without a problem. The round toe box is perfect for wide feet and is very comfortable, especially if you don't like your toes rubbing in the sides or top of the shoes. 
• Loved for: ★★★★ | Available in different colors, synthetic flexible sole, arch support, air cooled memory foam
• User said: I wore these shoes right out of the box and they were very comfortable!
WHERE TO BUY: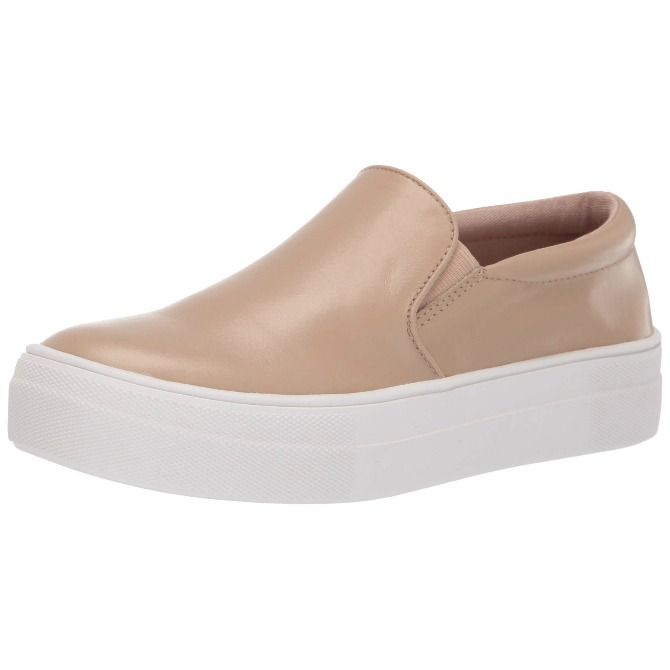 SHOP AT AMAZON
Cuts the Mustard!
If you're on the hunt for stylish sneakers, you can pair with all your casual day to night looks, this should make the grade. These sneaker platforms feature a fantastic suede upper with a white rubber sole for the perfect contrast. The sole is thick and provides a firm grip and a confident walking experience. Also, this has removable insole so you can add your own for extra comfort. Simply slip this on without the hassles of bending to tie up laces or pull up any zipper. 
• Loved for: ★★★★ | Suede, available in different colors, arch support, rubber sole, removable insole
• User said: These platform slip ons are simple, easy to wear, and so comfortable now!
WHERE TO BUY: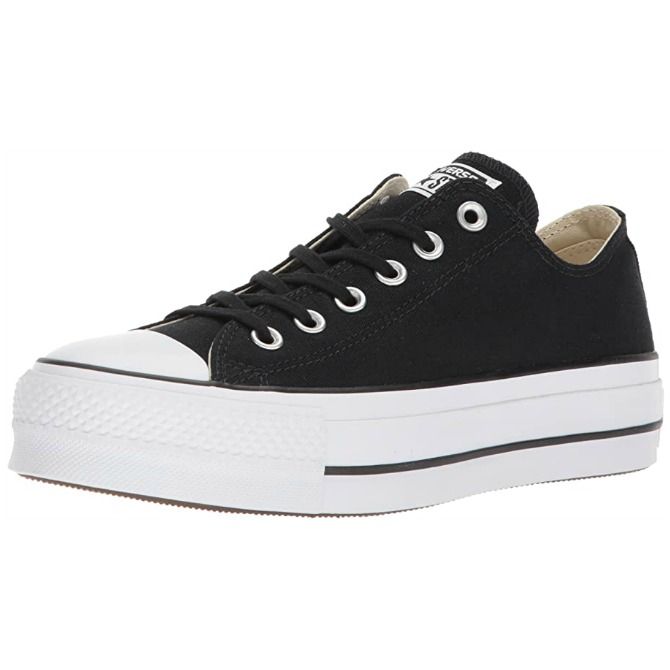 SHOP AT AMAZON
Never Back Down!
There's always something new in the sneaker world, and Chuck Taylor's are still the part of it. Enter platform black sneakers with a low top design and lace up closure. The double-stacked sole is made to handle all kinds of pressure. It assists in shock-absorption while also maintaining the comfort of your feet. If you want to add an edge to your daily outfits, this requires a solid spot in your shoe arsenal. It's stylish, funky, and has Ortholite cushioning which makes it ultra-lightweight.
• Loved for: ★★★★ |Available in different colors, double-stacked rubber sole, arch support, Ortholite insole
• User said: They look adorable on my feet and help complete whatever outfit I'm wearing!
WHERE TO BUY:
SHOP AT AMAZON
They're Everything!
The platform Puma sneakers are espadrille-inspired, besides so beautiful, that it thrills us to no end. Made from suede, this is the most popular Puma design and sells like hotcakes. There's the authentic rope tooling, blanket stitching, and plush rubber sole, which bids pillow-like feels. They're very snug, cute, and absolutely comfortable, especially if you find the correct fit for your feet. Perfect for all-day wear and go with pretty much anything in your wardrobe!
• Loved for: ★★★★ | Leather/Suede, available in two colors, espadrille-inspired, arch support, rubber sole
• User said: It is very soft suede and has excellent arch support!
WHERE TO BUY: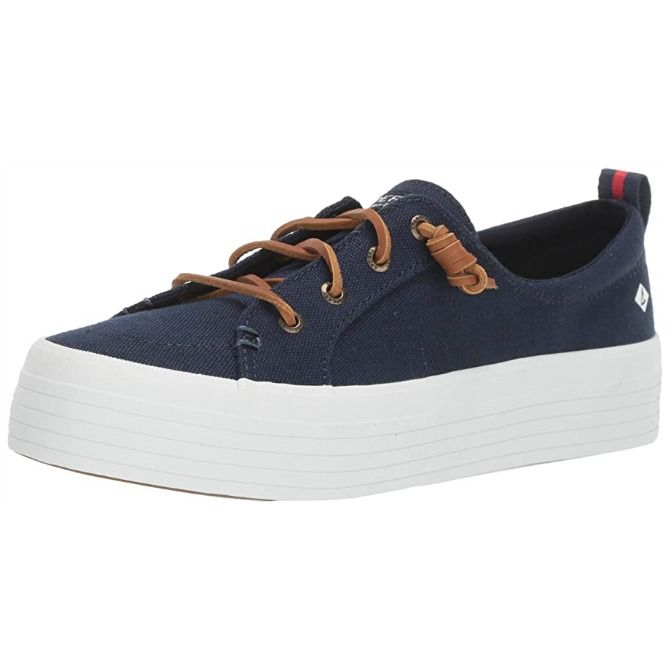 SHOP AT AMAZON
Style-Forward
Sperry's thick sole sneakers have all the comfort elements for this to be a part of your daily wear. The rubber sole is very comfortable for walking on hard pavements, and the thick sole provides a lift: extra beneficial if you're on the shorter side. These are non-marking shoes with wave-siping sole for slippery surfaces. Also, the breathable canvas upper keeps the feet airy and stink-free. Great traction and easy on/off makes this a convenient buy!
• Loved for: ★★★★ | Available in five colors, memory foam insole, arch support, rubber sole, no-slip traction
• User said: I've gotten them quite dirty with wear, but they are easy to clean!
WHERE TO BUY: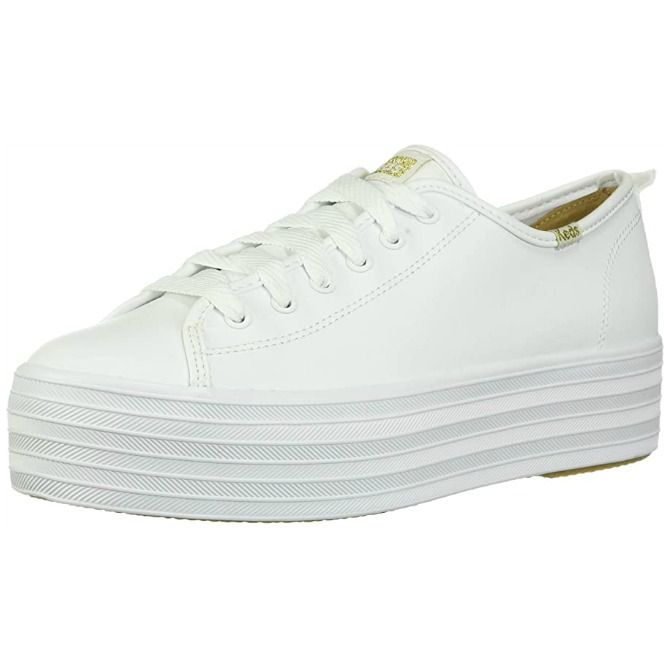 SHOP AT AMAZON
Good Value!
Your next trip to the town just got a whole lot comfortable thanks to Keds platform trainers white sneakers. The rubber sole gives height and makes you look exceptionally cool. This is made out of leather and houses dream foam footbed to keep your feet feeling soft and relaxed throughout. The cool and cute design stands out, and when you have no time to waste on uncomfortable shoes, this is the way to go!
• Loved for: ★★★★ | Leather, available in one color, rubber sole, breathable canvas lining, dream foam footbed
• User said: Love the clean white look with gold embellishments!
WHERE TO BUY: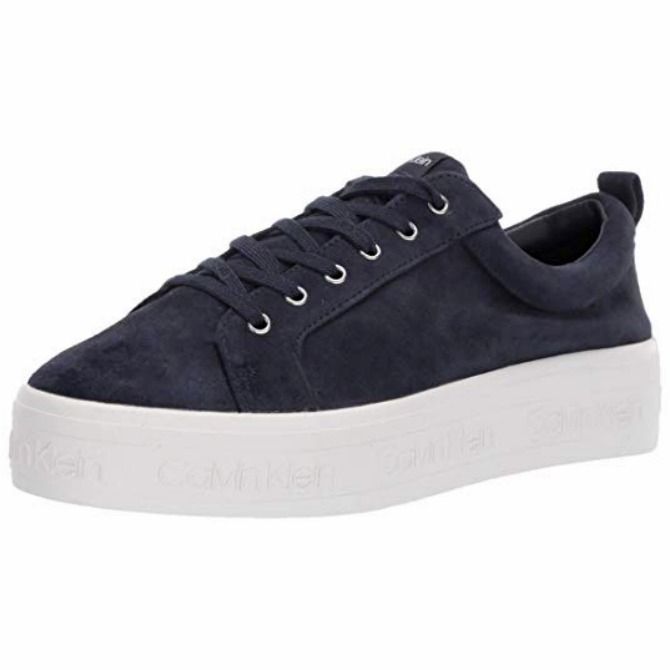 SHOP AT AMAZON
Snug!
If you want adorable white leather platform sneakers that go with jeans as much as leggings and trousers, Calvin Klein's the answer. Jaelee is made from high-quality leather and sports a thick sole with the brand's logo running through it. The clean-looking silhouette is best for sporty activities. Arch support and lightly cushioned footbed to provide your feet the ease to walk all day long. It has the function and form to meet your daily needs, from chores to weekend outings. 
• Loved for: ★★★★ | Leather, available in three colors, synthetic sole, arch support, lightly padded footbed
• User said: Great buy! The shoes last very nicely!
WHERE TO BUY: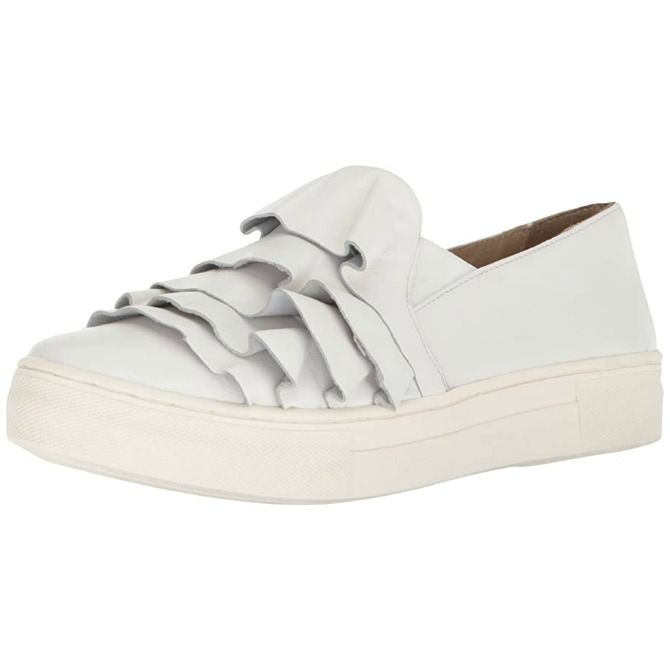 SHOP AT AMAZON
Have No Fear!
Ruffles add a nice twist to these simple sneakers. The Quake is made from suede for a rich-looking exterior. It is followed by a flexible rubber sole, which is ideal for adding a few inches to your height. If you're looking for womens white platform sneakers, without this number, your shoe wardrobe is incomplete. The aesthetic design blends beautifully in all surroundings, whether you are doing errands, or at the office. It's easy to wear and conforms to your feet. Besides, they have arch support!
• Loved for: ★★★★ | Suede, available in different colors, arch support, ruffle detail, rubber sole
• User said: They feel good on and have a nice thick foam insole like walking on a sturdy marshmallow!
WHERE TO BUY: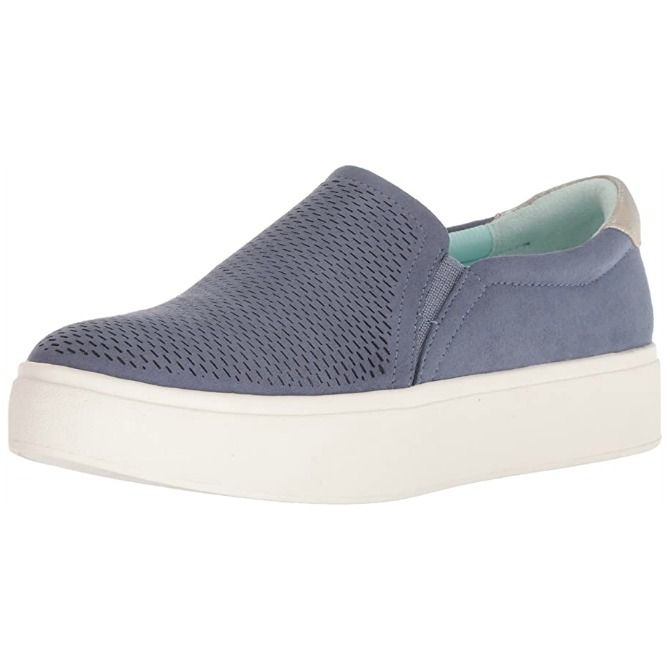 SHOP AT AMAZON
After-Work Cool!
Chunky and all pumped up, Dr. Scholl's sneaks feature free energy technology insoles in three distinct locations with memory foam for maximum comfort. These platform slip on sneakers come with a durable rubber outsole which not only makes you look taller, but is slip-resistant at the same time. This practical pair could be worn with zero hassle, thanks to the simple design. If you stay on your feet pretty much all the time, this one's for you! 
• Loved for: ★★★★ | Available in five colors, arch support, be free energy technology, memory foam cushioning
• User said: I have a very big bunion and shoes, even some wide ones always hurt. These shoes are a dream!
WHERE TO BUY: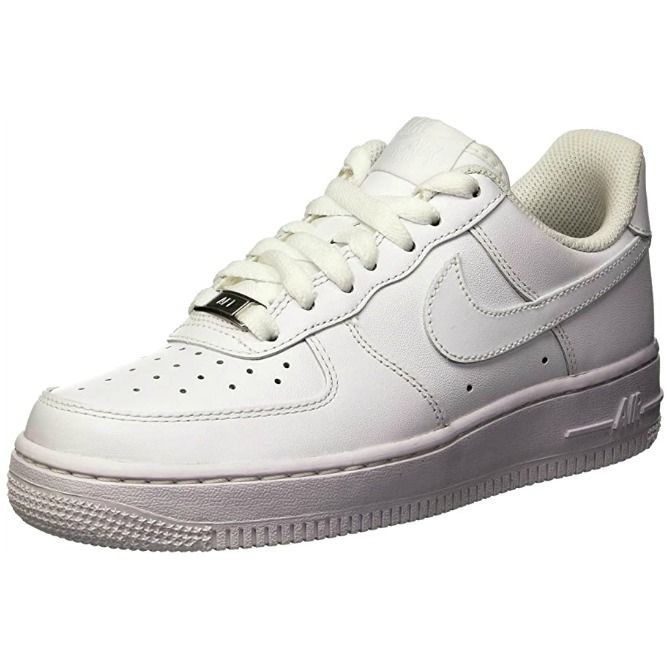 SHOP AT AMAZON
More Comfort, More Better!
Women who are on their feet most of the day buy Nike's Air Force! Why are these converse platform sneakers exactly worth it? First things first, your comfort is this pair's first priority. Which we can tell by the design that is made from longlasting leather with breathable mesh for an airier, lightweight wear. Then, the foam additions are all there to ensure foot comfort during any sort of activity. Besides, the seamless construction would last you a long time and offers a value for money!
• Loved for: ★★★★ | Best Seller, available in different colors, classic design
• User said: They fit great and are very comfy!
WHERE TO BUY: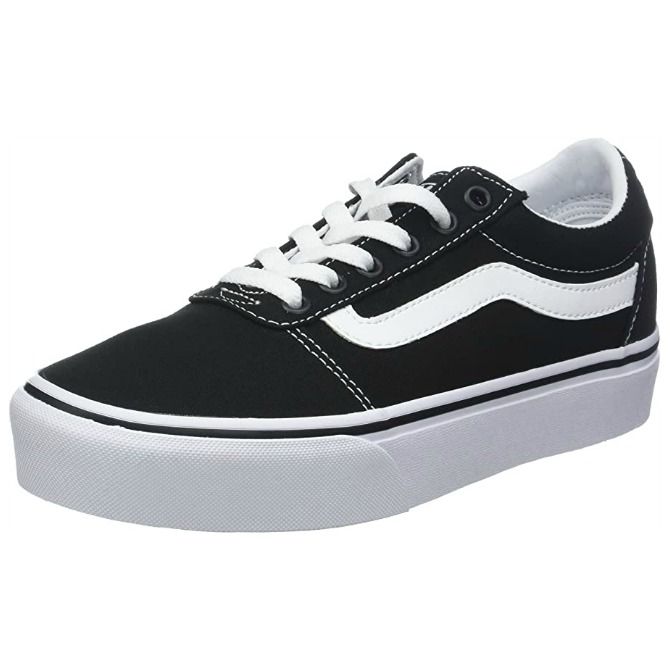 SHOP AT AMAZON
Pared-Back Hipness!
From faded jeans to jumpsuits, and frilly dresses, vans platform sneakers suit and make up a stylish attire. Made from sturdy canvas upper, this is a breathable pair to avoid stinky and sweaty feet. The contrast stitching and laces are responsible for the good looks of this number. Also, we have a lightly padded collar and tongue to support the feet when you're busy moving. And the rubber sole offers great traction and tread. 
• Loved for: ★★★★ | Available in two colors, breathable canvas lining, rubber sole, foam padded footbed, ankle support
• User said: I love these sneakers! They're well-made, great-looking, sturdy, and supportive!
WHERE TO BUY:
Best Platform Sneakers For Women Overview
How Can I Style Platform Sneakers?
The best part about chunky platform trainers is how easy and fun they are to style. Personally, you may not be their biggest fan. Still, upon styling and creating a look, you'll understand how trendy and of-the-moment these look. We've put together some superb tips down there for you to nail a look with these kicks before you head out!
Leggings Out
Women's platform sneakers look effortless with skin-tight leggings, especially the ripped version. With a pair of black leggings, a loose shirt, and these sneakers, you can really bring out your cool. White shoes go fabulously with black leggings for contrast, and black sneaks look great with beige-colored leggings! Do your matching and mixing right!
A Long Coat
You want to add a smart-chic touch to your sneakers? Well, a camel coat over trousers and platform shoes sneakers does the trick. The coat invites a formal vibe! Something that'll make you slay in the streets as much as at the office, if there are no strict dress codes, that is! This also makes a super-eyecatching airport look!
Maxis
Bring your maxis to some use! A long maxi, preferably in a pastel hue or floral print, works beautifully with these sneakers. This is not only a stunning take on embracing Spring but makes a beautiful outfit for the everyday. With a day filled with casual meetups and shopping with friends, maxis and sneakers bring your A-game forward!
Suit Up
Who stops you from suiting up with sneakers platform styles shoes? No one! An all white ensemble with white sneakers would be so eye-grabbing, seriously! And all-black three-piece suit with black sneakers wouldn't be anything less to be missed! If you want all eyes on you on a casual business day, this is it! You can give this a whirl on casual events as well! 
Skirts
Skirts with frills and ruffles look uber-cute with these shoes? If you haven't tried this out on a casual Friday or during brunches with friends, what are you waiting for? Pull this on and take off anywhere! This could further be styled with blazers, jackets, pretty blouses, and so much more to do justice to your precious pair of platforms!
Are Platform Sneakers Comfortable to Walk In?
A very popular question but quite a good one! Let us tell you something. There are the goods and bads of everything, not to mention good-quality and bad-quality. When it comes to platform shoes sneakers, they're not only bought for the added height they provide, especially if you're on the shorter side of life. But also for their trendy appearance. 
There are all sorts of versions of such chunky sneakers available on the market. Either that falls into the category of comfortable and uncomfortable! Though, don't forget it all boils down to personal choice as well. However, there are things to determine whether your pair is comfortable to walk in or not. We suggest you look into such features for maximum comfort when buying these sneakers!
Don't Buy Cheap Platform Sneakers
The cheaper the price, the lesser the comfort. And that's common sense! Buy high-quality shoes that utilize modern-day technology to ease foot pain and provide all-day wear comfort. Such features could be padded footbed, rubber sole, deep heel cushioning, a flexible insole, and even slip-resistance! 
Each specification and feature matters! Make sure you know what each feature means before you make the purchase. Even the design of the shoe could be a comfort factor for you. Such as simple slip-ons are easy to wear without the annoyance of dealing with laces, zippers, and pulling the shoes on yourself. So comfort could mean anything to anyone, make sure you know what you want!
Read Customer Reviews
Always read customer reviews before buying the shoes, especially helpful for fitting advice and more. If you experience any foot issues, such as bunions or Plantar fasciitis, see if the shoes have helped people with such conditions. Determine what your potential buy can and cannot do! Only buy shoes with a return policy or some sort of helpful customer service. 
Removable Insoles
If you're not happy with the comfort level of your sneakers, look for those with removable insoles. That way, you can insert your own insoles that might be better for the health of your foot as well as comfort! 
The trickiest part of platform sneakers for women is actually finding the best ones. That's why we've rounded up this list for easy sort! We aim to be your quickest source! 
Have you got any suggestions of your own for the best platform sneakers for women? Let us know in the comments!