Best Pencil Black Skirts
Do you want a skirt that doesn't show too much skin? But still makes you look elegant and poised, no matter the occasion? A black pencil skirt is your best friend, for that reason! It possesses the power of not only looking overly sexy but also go a long way to achieve an equally professional appearance. A must-have if you work in an office and need something office-friendly!
The pencil skirts are surprisingly flattering on all body types; make you look lean and elongate your legs in the process! But with a finite number of options present on the market, it is confusing to make the right choice. 
To take the load off you, we have compiled a list of the best pencil black skirts! These picks are off-the-moment. They are suitable for every occasion and comfortable in all seasons! 
If you love this list of the best black pencil skirts, you might also want to check out the best black work pants for women to gear up for the office!
What Are the Best Black Pencil Skirt Choices?
A black pencil skirt should accentuate the lower part of your body. Not inappropriately or tightly, but enough to outline the shape of the body. Length shouldn't be too short, below the knees would be the right way to put it. Because slightly clinging long lengths always work and provide a polished appeal for offices with both strict and flexible dress codes. On another note, comfort and style shouldn't be comprised when making your pick!
Our best pencil black skirts are versatile with a multitude of tops and pleasantly adaptable to a wide range of occasions. We have compiled this list with the most highly-reviewed, popular, and top-rated choices bought and appreciated by buyers just as keen and curious as you! 
SHOP AT AMAZON
The No-Fuss Number
Made from viscose, nylon, and spandex, Urban Coco's black stretch skirt is touted as extremely comfortable and non-pinching. It settles with ease onto the waist and hips without clinging and awkwardly defining the back. The unlined and stretchy fabric expands to meet the needs of your body shape. The fall is beautiful, below-the-knee, and the cheap price makes it a bonus! Great for people with bony knees, really! Command attention with a white shirt tucked in and smart black heels to dress to impress for important client meetings!
• Loved For: ★★★★ | No.1 Bestseller, available in different colors, elastic waist, pull on closure, machine washable
• User said: The material is thick enough that it looks a lot more expensive than it is.
WHERE TO BUY:
SHOP AT NORDSTROM
Best for Pear and Hourglass Shapes Too!
This is a black pencil skirt plus size women should add to their work wardrobe! It's made for curvy women, and with the right fit, it'll quickly become your choice of office wear. Owing to the stretch knit fabric, it expands for ease of wear without losing its shape or opacity. Due to its fantastic compression, this holds in a bit of tum and counteracts the thick areas. Yes, even with saddle-bag thighs and a big bum, this balances out the body shape. 
• Loved For: ★★★★ | Stretch Knit, available in three colors, elastic waist, pull on styling, machine washable
• User said: Hugs my curves without feeling overly restricting and without losing shape.
WHERE TO BUY:
SHOP AT AMAZON
Easy Come, Easy Go!
Women with all sorts of heights would love Vince Camuto's Ponte skirt. The length reaches below the knees and is modest yet a very sleek option. The fabric contributes to the right amount of stretch that shapes the body and conforms to all the right places. This is the ideal basic skirt to add to your work-wear arsenal. With a crop top and casual slides, you can be as smart-casual as you want. With a pair of a white button-down shirt and mary janes, you can look the part in a professional setting as well!
• Loved For: ★★★★ | Ponte Knit, available in three colors, pull on closure, high waisted, machine washable
• User said: Well-made and office ready!
WHERE TO BUY:
SHOP AT AMAZON
Made for All Seasons!
With morning sickness and a growing belly, moms-to-be need something stretchy, breathable, soft, washable, and not to forget, stylish! Thanks to My Bump's black high waisted pencil skirt, it's all that and covers the tum without compromising on comfort. Cute-looking, smart, and lightweight, the design's perfect for a day out running errands or meeting up with friends. The pull-on styling makes it a breeze to wear, and the expandable band ensures the right fit without a skin-biting feel. This is an actual, long-lasting investment!
• Loved For: ★★★★ | Bestseller, available in different colors, tummy control, high waisted, 
• User said: You can dress this skirt up or down. It looks super cute!
WHERE TO BUY:
SHOP AT AMAZON
Great Starter!
Office women and ladies with love handles would love black pencil skirt knee length by Calvin Klein. It allows you to tuck in blouses nicely, and the wide waistband makes them look less puffy. This is a fantastic choice for a professional setting when you have to appear smarter and sharper. Made from rayon, nylon, and spandex, there's a little stretch to the fabric, which makes wearing it easier and comfier. Goes with a multitude of shirts. It comes in extra small to extra large sizes!
• Loved For: ★★★★| Rayon, knee length, wide waist, high waisted 
• User said: Mix it up daily, and nobody will know you wore the same skirt!
WHERE TO BUY: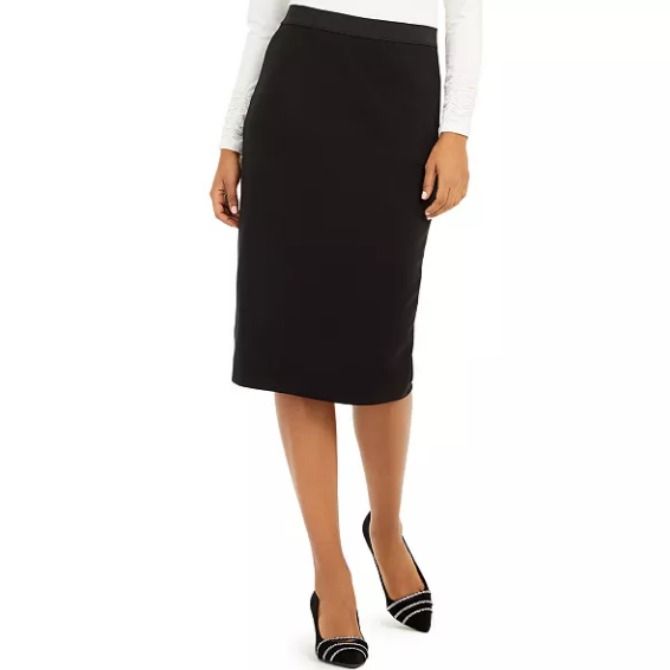 SHOP AT MACY'S
Sexy and Chic!
Unlined and with a hidden elastic waist, Alfani's black work skirt feels comfortable and non-irritating that you wouldn't even know you have it on. Even though this comes with a back zipper, it could be pulled up easily. It's comfortable to sit in without worrying about it traveling up or pulling the skirt down from time to time. It's fantastic to show off your curves without needing to show your skin. This isn't tight and is machine washable!
• Loved For: ★★★★ | Polyester, available in different colors, hidden elastic waistband, exposed back zipper closure, machine washable
• User said: The material is lovely, soft, and stretchy!
WHERE TO BUY:
SHOP AT MACY'S
Dress It up and Dress It Down!
DKNY's black midi pencil skirt is the perfect, minimal addition to any business wardrobe. This goes on smooth without feeling constricting, and with it, your body wouldn't lose its shape in the fabric. Instead, it makes you look elegant! If you're fond of statement skirts, this will make the ultimate of statements. The structured, basic vibe of this should take you from work to evening. The fabric is high-quality, soft, and durable. And would with a great many tops and shoe options! 
• Loved For: ★★★★| Polyester, available in one color, midi length, back zipper closure, 
• User said: It gives a beautiful shape without being tight!
WHERE TO BUY:
SHOP AT MACY'S
Office or Date Night – You've Got This!
Created from a Scuba-inspired fabric, Thalia Sodi offers a wonderful midi black pencil skirt. It's unlined with pull-on styling that makes it a five-finger exercise to put it on and take it off. The pencil silhouette is exceptionally versatile as it could be dressed up for a night out and dressed modestly for work. It shows off your curves but isn't annoyingly skin-tight. Great for travel and walking due to no-wrinkles as confirmed by the consumers! This is lightweight and makes a breathable option for summer!
• Loved For: ★★★★ | Scuba fabric, available in different colors, pull-on styling, back center slit, machine washable
• User said: Very comfortable pull on skirt with a wide waistband!
WHERE TO BUY: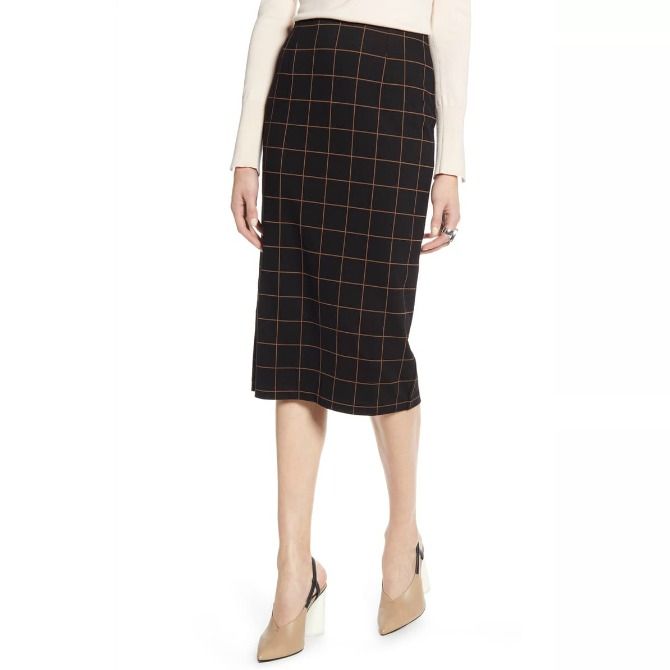 SHOP AT NORDSTROM
Just Peachy!
Look at this dreamy number by Halogen. Available from regular to petite sizes, this long black pencil skirt is an attractive option for normal to curvy-sized women. Prints are the rage this season, and this selection would make a hit out of every one of your blouses. Dress it up for date night, dinner or important client meetings, or go casual for brunch, chores, and so on. The windowpane design offers an instant perk up to boring officewear, and consumers agree this provides a beautiful drape!
• Loved For: ★★★★ | Ponte knit, windowpane checks, hidden back zip closure, back slit
• User said: The skirt makes me look long and lean. Great staple!
WHERE TO BUY:
SHOP AT BANANA REPUBLIC
Great All-rounder
The side slit infuses the right amount of sexiness to this plain yet gorgeous offering by the Banana Republic. This would make a stylish pencil black skirt outfit both for the corporate world and night out! The luxurious softness of the merino wool combined with extra stretch wouldn't go unnoticed when you put this on. Targeted to both regular and petite ladies, you'd really be your best self in these bottoms. A classic staple that never disappoints and suits almost anything!
• Loved For: ★★★★ | Merino wool, available in two colors, side slit, high waisted, machine washable
• User said: Classic skirt that's perfect for work or a night out! Great all-around!
WHERE TO BUY:
Best Black Pencil Skirt Overview
How To Wear Pencil Black Skirt To Work?
Tucking in a white blouse and sporting heels is the most traditional way of wearing pencil black skirts. Still, you can pull up a cardigan or blazer to jazz it up even further. There are endless ways to style them for office, and you can get more use out of them than you can possibly fathom. 
Prints
If you're lost on ideas to wear a pencil black skirt, trust us, going for patterns and printed blouses is your best bet! Instead of a classic white shirt, choose a white shirt or a black with contrasting stripes or even polka dots. Cream and grey shirts with checks look beautiful with black bottoms. Consider animal prints as well! To zhuzh it up, tan-colored accessories and stripey heels or black booties would complete the appeal. Even blush tone accessories look beautiful with black!
Brights
Bright-colored shirts make outfits with black pencil skirts look really interesting, not to mention add a nice punch of color. You can pair lemon yellow, sky blue, pink, purple, green, red, and cover it up with a black blazer. Even black bottoms with a black shirt and a white blazer would set a chic monochrome effect. You'll really stand out with these color schemes! For shoes, black peep-toes or beige heels would do!
Belt It
To make your black pencil skirt outfits look like dresses, a belt would do the trick. Metallic belts are really trendy nowadays and would suit a business attire. A simple leopard belt across a full black shirt and skirt should add a pretty subtle edge to your appearance. 
Turtlenecks
Seriously, when it comes to office-wear, it's all about the structure and details. Even the tiniest of details could really create an attractive look. Slim and body-hugging turtlenecks look sexy and sophisticated as hell. You can tuck them into your black pencil skirt and look effortless. Ribbed and textured turtlenecks and even a long turtleneck that goes over your skirt would look bomb with a pair of black heeled booties! 
How to Wear Black Skirt Pencil Casually?
Pencil black skirts are the best to transition from day to night. Grab one and tuck in a denim shirt for that cool downtown vibes. Or pair a white t-shirt with a denim jacket to steal the show! 
Jumpers
A black pencil skirt looks fabulous with a jumper. Be it of any color, it would instantly make you look pulled-together and so much fun. Sneakers or sock booties could tie in your look. Adding finishing touches with minimal gold jewelry could set you up nicely for a casual day out. 
Graphic Shirts 
Seriously, what's more cool and correct than throwing on graphic tees? Either half-tucked into your skirt or not tucked at all. Pair with a statement bag in black, throw on your funky shades, and slip-on slides, mules, or strappy heels. You'll be the rightful queen of the street style!
Crop Tops And Hollow Out Shirts
For a slight skin show, skin-hugging crop tops or hollow out shirts work wonders. They not only make you look glam paired with a pencil black skirt, but keep it airy and breathable, especially in summer. This look is perfect for a day at the beach or meeting up with friends for drinks! Combine sandals or loafers and fun acrylic jewelry for an even more laid-back approach! 
Show off what you've got with these best pencil black skirts available in all styles and sizes imaginable! If you cannot find your favorite here, let us know in the comments section!
Have you got any suggestions of your own for the best pencil black skirt for women? Let us know in the comments!