Featured Image: Topshop
Best Paperbag Pants
When summer rolls around, one is at a loss on style. When all you get is outdated fashion inspiration and owning the same old stuff, you may wish to create classic summer looks to be relatable. That can be tough! Fortunately, paper bag pants are freshly back again in the fashion business. They pose to be exactly what we want for summer: clean lines, structure, and a slight fun silhouette. 
These pants are loose fit and high waisted; not only do they seem super-cute with crop tops, but they also make the waist area appear slimmer. Which makes them all the more exciting to use! With a flattering fit and a comfortable design, you'd be sure to make the most of your summer, be it at the home, office, or night out. Our list of the best paper bag pants will recharge your fashion sense with a purpose. 
If you love this list of the best womens paperbag pants, you might also want to check out our best womens white pants for summer to beat the heat in style!
What are the Best Paper Bag Pants?
Paper bag pants are voluminous with extra fabric found in the waist region, either in the shape of a belt or a sash. These pants come in baggy styles like those with more tapered ends. The stream of styles are catered to various individuals, so make a choice according to your body type. 
Though, taking out time to determine the thousands of options is not accomplishable by everyone: it's time-taking and strenuous work. For that reason, we have done the portion of your research for you to simplify decision-making. We've selected the best paper bag pants for both lean frames and those heavy in the butt.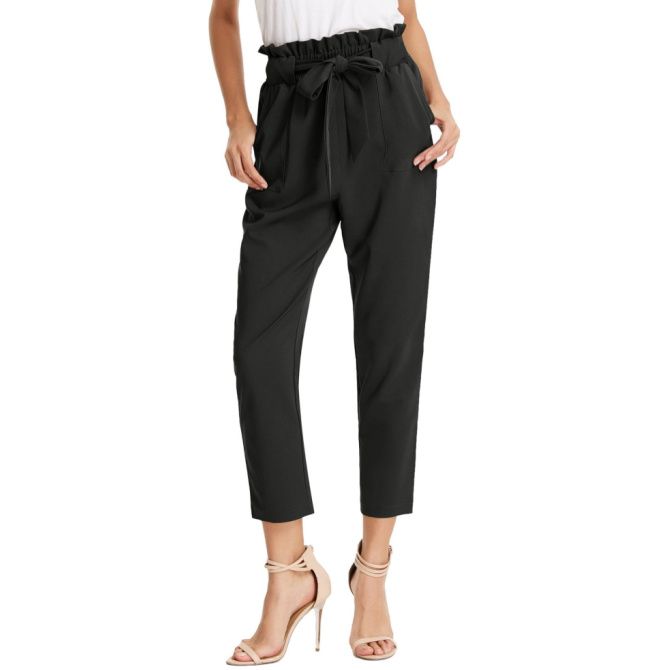 SHOP AT AMAZON
A Simple and Faultless Find
Available in a band of ridiculously pretty colors, the sizes move from extra small to three times extra large. You can rest assured that your perfect pair will be there somewhere. Fashioned with a removable belt, you can utilize it for a custom fit or take off for a plain elasticized appearance. The cropped paperbag pants are wonderful outfitting with cropped tops, dress shirts, or minimal long shorts. Polyester and spandex feel light and airy on the skin. The customers are fans because they don't highlight their butt cracks and drape well on heavy thighs and bottoms. 
• Loved for: ★★★★ | Polyester/Spandex, available in different colors, tie closure, functional side pockets, elasticized waist
• User said: Waistband is elastic with a removable belt. Didn't flatten my booty as I feared, and the pockets are deep!
WHERE TO BUY:
SHOP AT AMAZON
Work-Appropriate!
Perfect for hippy and petite women, these ASTR wide leg paperbag pants look cool with a shirt tucked in or in a body-hugging fit. Flattering as it is, it carries two pockets, front zipper, and a belted tie at the waist. The pockets come handy for storing little essentials, and the tie casts a smart appearance. Donned with pumps, heels, or wedges can tart up your look even further. Made from linen and cotton, this could be worn in summer and in fall without debates. Sits at the belly button to create an illusion of a trim waist. 
• Loved for: ★★★★ | Linen/Cotton, available in different colors, zipper closure, belt tie at waist, two side pockets
• User said: Was looking for pants on the baggy side as I am a hippy! The material is very nice and cool. Love the pants!
WHERE TO BUY: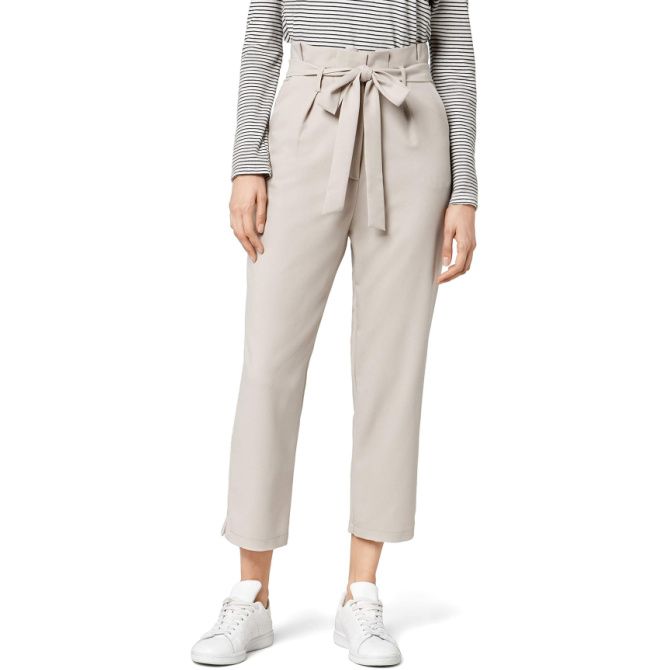 SHOP AT AMAZON
You Will Be a Convert!
Most consumers agree that a woman with the right figure would hit off with these high waisted paperbag pants. Mainly, women blessed with long legs and a lean figure. The pants use a tie belt for style, and sizes range from extra small to four times extra large. With a bodysuit and slides, you can make for a cute casual summer get-up. These feel light and crisp on, thanks to the breathable polyester blend. Dressed up with heels and a cute blouse is also fantastic for an evening out. 
• Loved for: ★★★★ | Polyester Blend, available in different colors, button closure, paper bag style waist, machine washable
• User said: I paired this with a bodysuit and birks, and it made for a super cute outfit!
WHERE TO BUY:
SHOP AT NORDSTROM
Deliciously Comfy!
Women who move a lot, this is a must-grab for you. Made out of cotton and viscose, it lends breathable comfort and engages with the body when you move, walk, and run. The relaxed fit eases on, putting you right at rest. You can pull off a weekend with this on, or style with T-shirts to settle into your groove. These paper bag waist pants suit anyone who wants to spend a casual day. Slash front pockets and back pockets are also there. 
• Loved for: ★★★★ | Cotton/Viscose, available in different colors, tapered leg, paper bag waistline, pockets
• User said: They fit so well and are incredibly comfortable. I really wish I had ordered two pairs because I know I'm going to wear these often!
WHERE TO BUY: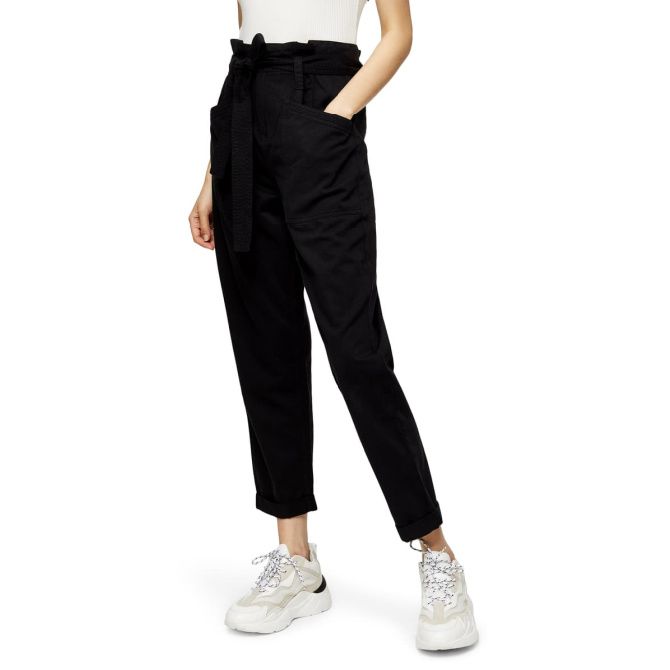 SHOP AT NORDSTROM
Wardrobe-Workhorse!
This trouser is perfect for a slender frame. The waistline features a tucked design with two pockets made for a thin appeal. Viscose and cotton are used in the making of these paperbag cropped pants. Sizeable pockets are great to slip in hands and small essentials. Whereas, the sash creates a smart appearance. Which is removable! Also, it features a zip fly closure. And machine washability for your ease. Customers find these classy enough to wear out with appropriate styling and casual enough for the indoors. 
• Loved for: ★★★★ | Viscose/Cotton, zip fly with button closure, removable belt, machine washable
• User said: I roll up the cuffs a little higher than shown on the model. And they are super cute!
WHERE TO BUY:
SHOP AT NORDSTROM
Laid-Back Vibes!
Made from lyocell, the fabric promotes airflow and is an eco-friendly wrinkle-resistant material. Machine washability adds to the convenience. Removable belt goes on to cinch the waist when put on and has enough length to be pulled in for a cute knot at the waist. Front and back both come with useful pockets. It's a fantastic must-have for work both inside and outside. The neutral shade is universally-flattering and goes with many different colored tops. Consumers state these petite paperbag pants are the perfect solution for clothing indecisions. 
• Loved for: ★★★★ | 100% Lyocell, available in one color, zip fly, front and back pockets, machine washable
• User said: This is very comfortable, and the material is so soft and beautiful. The belt detail is cute, it is detachable too!
WHERE TO BUY: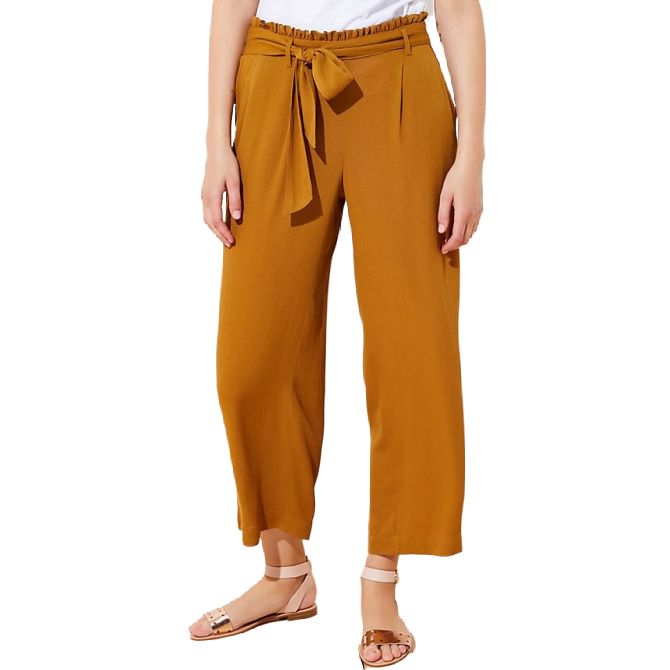 SHOP AT LOFT
Beachy Glam!
Loft's sweeping wide leg paperbag waist pants flow with you as you walk. The waist tie belt cinches at the waist, which is a serious point of interest. Front slash pockets are made available for keeping a few necessities. The customers commend the high comfort level of these bottoms: flowy and lightweight for the body. Made from 100 percent rayon, these are perfect for the hot weather. Wear it out for running errands, at the beach, or catch up with your friends without a problem. 
• Loved for: ★★★★ | 100% Rayon, available in two colors, softly fitted, machine washable
• User said: Love that they are a bit high waisted. Perfect with a bandeau bikini top. Contemplating a second pair as my backup!
WHERE TO BUY: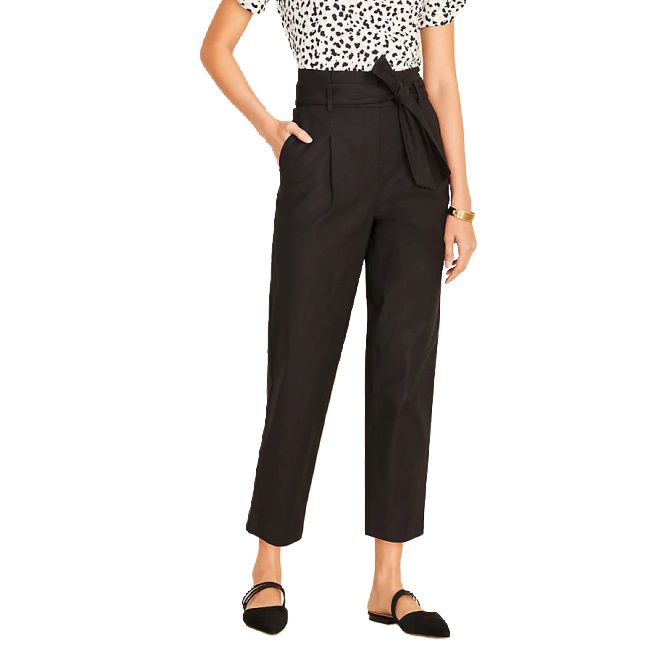 SHOP AT ANN TAYLOR
Best Paired with Heels!
There's never a wrong time to invest in a paperbag pants outfit. Similarly, Ann Taylor's offering has a slim waist without any bagginess. That's ideal to appear super-smart, and it flatters almost all body shapes. Made from cotton, modal, and spandex, these bottoms contain stretch for ease and are a sustainable product. Pockets, front, and back are available, and there is a self-tie belt for getting perfect proportions. Consumers appreciate the high-quality and well-made style that's wearable by almost anyone, anytime. 
• Loved for: ★★★★ | Cotton Blend, available in three colors, high rise, regular fit, machine washable
• User said: Should fit most people well and they are very nice high-quality pants that are comfortable and versatile!
WHERE TO BUY:
SHOP AT BANANA REPUBLIC
Luxuriously Soft!
These paperbag pants petite sized women can easily wear is an excellent start to a day when you're just too done with tracksuit bottoms. Made from eco-friendly Tencel, it bids breathability and feels lightweight on the skin. The slightly tapered ends lend long and lean-looking legs. Along with that, it's available in five basic colors that are worth a try. It goes great with colorful and printed tops. The happy customers confirm that these provide an excellent shape to the legs. 
• Loved for: ★★★★ | 100% Tencel Lyocell, available in four colors, elastic waistband with drawstring, rear and front pockets, machine washable
• User said: The fabric, the fit, everything about it is amazing!
WHERE TO BUY:
SHOP AT H&M
Great for Expanding your Closet
H&M's paperbag pants striped bottoms are a nod to the current trouser trends. This is a summer and fall weather find, given the immense versatility it provides. The high waisted silhouette sits nice and carries a tie belt for extra convenience. Being 100 percent cotton makes them effortless to wear at home and out. You can wear this for lounging or for some serious style kick required for meeting with friends. The tapered legs eliminate a baggy appearance: instead offer a smooth and slim transition.
• Loved for: ★★★★ | 100% Cotton, high paper bag waist, mock fly with decorative buttons, machine washable
• User said: I was a little worried about how these would fit, but they were perfect. Love these pants!
WHERE TO BUY: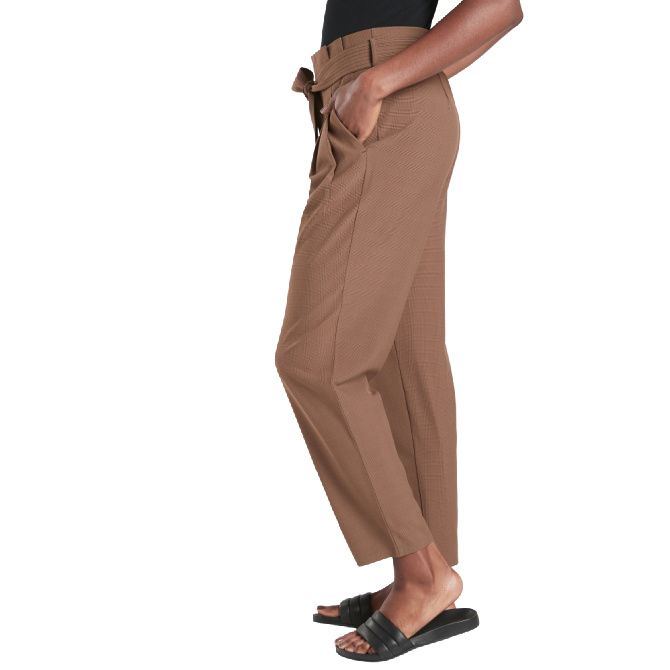 SHOP AT ATHLETA
For Commute, Work, & Travel! 
The white shades make these tall paperbag pants a subtly stunning pair of trousers. It looks particularly remarkable, paired with bright-colored tops to add a fun element to your outfit. Lean appeal throws uniqueness in its way: it looks good both with wedges, sneakers, and closed-toe iterations. Made available in regular, petite, and tall sizes, these are semi-fitted with a waist that sits high. It uses recycled polyester, a sustainable move, and is quick-drying while being wrinkle-resistant. 
• Loved for: ★★★★ | Recycled Polyester, available in different colors, wrinkle-resistant, ultra high-rise waistband, quick-drying
• User said: These are great pants for traveling. They are roomy and comfortable but also have a stylish high-waisted look!
WHERE TO BUY: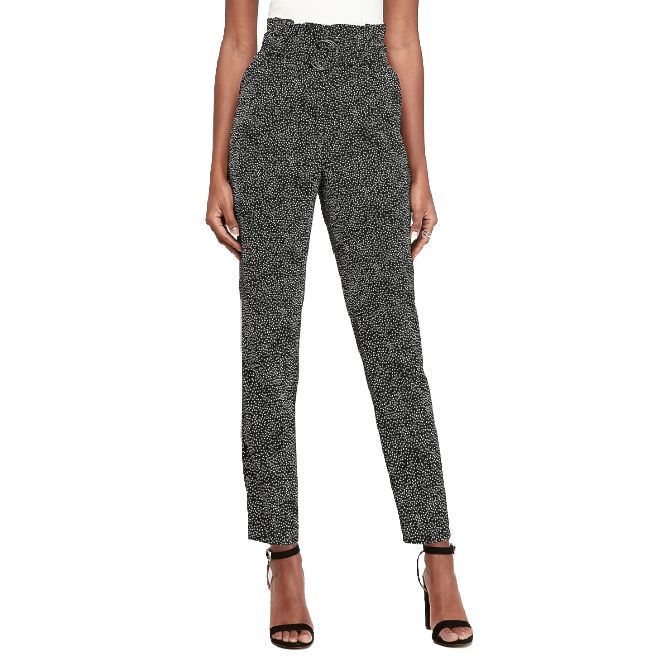 SHOP AT EXPRESS
A Cool Spotted Print
For elaborate spruce up, Express paper bag pants pattern trousers feature ring-like spots. Those look good paired with white for contrast, or a matching black shirt to work in a striking semblance. Crafted from polyester, the fabric is well-made and machine washable. It caters to all body types, certainly petite women. The belt is removable, and the fabric is plenty adaptive. It looks sexy as hell! The elastic waistband drapes firm around the waist for a sleek look. Consumers think these are impeccable for dressing up and dressing down. 
• Loved for: ★★★★ | Polyester, high waisted, front and back pockets, machine washable
• User said: They are perfect for work and easy to dress down for a casual drink. These pants make me feel gorgeous!
WHERE TO BUY:
Best Paper Bag Pants Overview
How to Wear Paper Bag Pants?
You may think not every fashion is for everyone. This is partly true but mostly depends on how you style it, and, simultaneously, everything falls into the puzzle. Paper bag pants are one such fashion, it needs a bit of working to ensure you are getting the look you want. The baggy silhouette and waistline could be a tricky option for those thick in the middle. Though, surprisingly it grants an elongating effect to your legs if you explore more of the tapered styles. 
Make Sure Your Body Gets The Cream
Now what we mean to say is that go for a style better suited to your body. It isn't really a big matter for the thin types, it's more of an issue for those with heavier bottoms. You should look into tapered ends and tucked-in waists or pleated ones that lie flat against the waist and don't create a pooch. 
Dress Up Carefully
Slim figured women can easily match loose tops with baggy pants to create a stylish and casual look. But those with big booties ought to avoid loose shirts. Instead, opt for fitted tops that enhance the look of the pants and balance out the overall baggy effect, if any! You want to show the waist, so a body-hugging blouse is your best bet. Otherwise, with loose tops, you could end up looking flabby and as if you've put on extra weight. 
Finishing Touches Matter
For finishing, putting on a long jacket might be an obvious choice for you. It is a good option for the lean ones, harmonizing the look of a loose shirt with a long jacket. But if you're wearing a tight top, you want to make sure the focus stays on the pants and the waistline. So go for a cropped jacket or short length outerwear in this situation. 
Don't Put on Shoes Blindly
Lastly, don't wear just any shoes. Give it some forethought because these are what makes or breaks an appearance. Baggy styles look great with slim shoes that come with slender heels and soles. Whereas tapered leg-fitting styles go best with thick footwear, such as wedges, sneakers, thick-soled pumps and heels. 
Accessories
With removable belt options, you can always put on belts you'd like to further elevate the look. For instance, a rope belt! A scarf in the belt loops or around the waist for a fun touch. 
All the best paper bag pants suggestions are chosen for their basic perspective on clothing. These are staples meant for long-term wear. If you have recommendations of your own, leave them in the comments box. 
Have you got any suggestions of your own for the best white pants for women? Let us know in the comments!