Featured Image: Amazon
Best Curly Hair Mousse
If you have been on a journey to find the right products for your hair, you've come to the right place. There's nothing more satisfying than dispensing a hefty dollop of lightweight foam into your palm and scrunching it in for a flawless finish. Are you looking for hair curling mousse for a secure hold, more bounce, shine, or conditioning? 
Some choices plump fine hair, and others work more on fighting frizz. We have wrangled up the best products so you can flaunt your 'do, no regrets. So what are you waiting for, let's see which products made it onto our list below!
If you love this list of the best curly hair mousse, you might also want to check out the best frizzy hair products celebrity stylists swear by!
What is Best Mousse for Curly Hair?
When choosing your product, first determine your hair type. If you have thick, voluminous coils, you may be focused more on frizz fighting than defining. Heavier products won't weigh you down. On the other hand, if you have a fine, sensitive mane that goes lifeless after a night on the wrong pillow, you may want to be more careful in avoiding chemical additives. 
For wavy hair, decide if you want a surfer or a more ringleted appearance. With products today, you can play around with your look and change it up until you find something that suits you. Have a look at our list of the best mousse for curls below!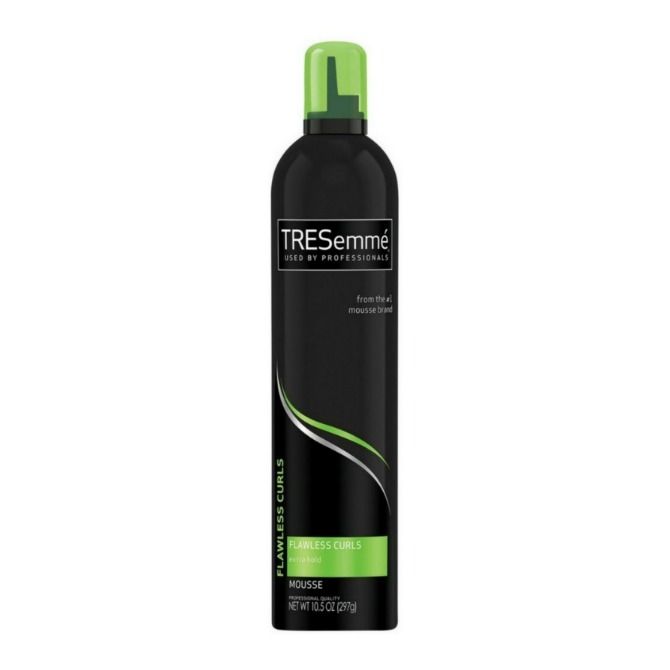 SHOP AT AMAZON 
Never Let Me Go Ringlets!
Comes in a pack of two, this Tresemme curl mousse whips your hair into shape no matter the weather. A hydrating tonic, it conditions while it holds with added keratin for shine and natural wave enhancement. Lucky you: it doesn't clump! Fights your frizz even in tropical humidity.
• Loved for: ★★★★ | Frizz fighting, keratin for shine, hardcore hold
• User said: The best curling mousse! The curls I have after using this product look tighter and shiny. I love it!
WHERE TO BUY: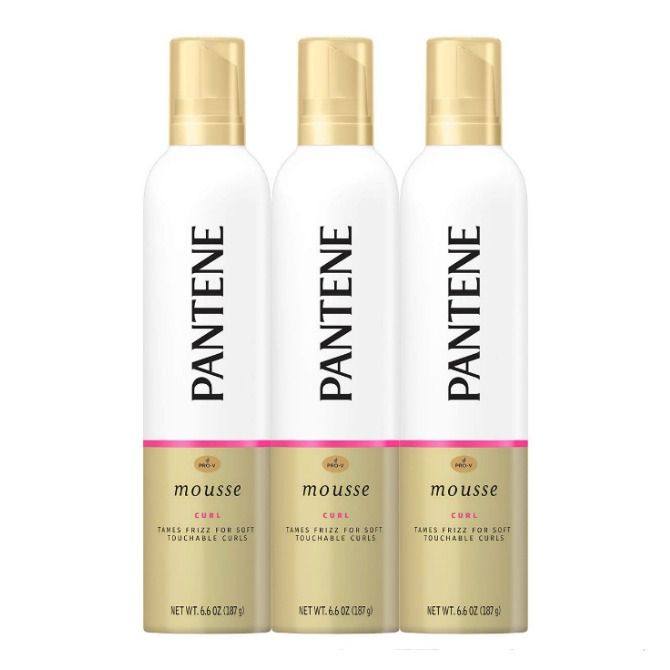 SHOP AT AMAZON 
Your Frizz Free Holy Grail
If you hate crunchy and crave luscious, soft hair, Pantene is for you. Boosting your spiral shape, this product combats frizz without going rigid. Nutrient infused, it's like vitamins for your hair! Super lightweight, so if your hair is fine it won't weigh you down. Just plop and scrunch when damp post shower, then flip to dry for more volume.
• Loved for: ★★★★ | Lightweight, affordable, great scent
• User said: This mousse keeps my hair from frizzing. I've been looking for this product my whole life!
WHERE TO BUY: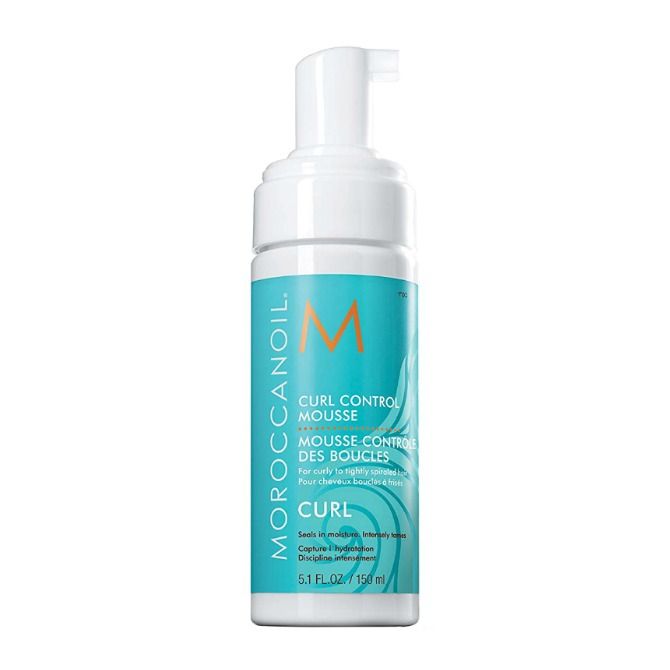 SHOP AT AMAZON 
Exotic Amber Hair Intoxicant
If you are in search of a curly girl approved mousse, you're welcome. Ingredients are clean and sustainable. Plus, the aroma profile is intoxicating and delectable with exotic spicy notes of amber and underplayed florals. It won't leave a sticky residue. Great for taming frizz and total hydration, it suits any hair type whether you need more definition or shine.
• Loved for: ★★★★ | Lightweight, defining, moisture sealant, medium hold
• User said: A little use of this product goes a long way. I also like the scent!
WHERE TO BUY: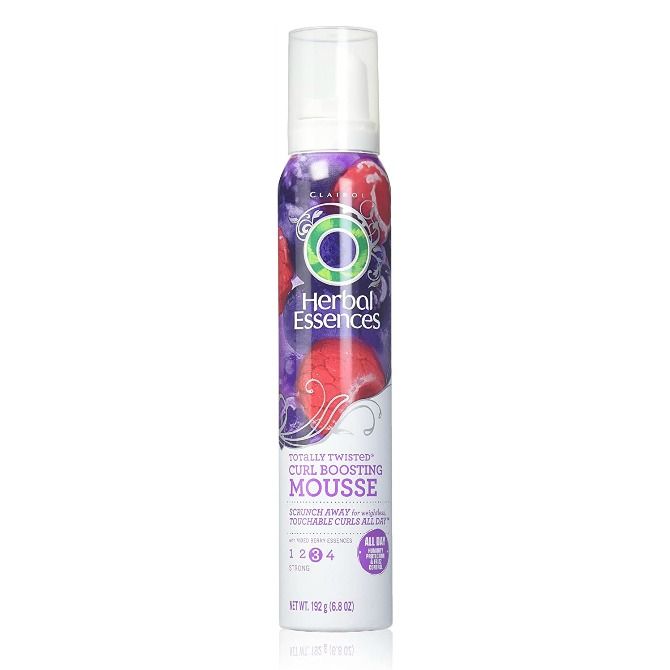 SHOP AT AMAZON 
Potent Bounce Maker!
This Herbal Essences curl mousse is a classic for boosting definition and fighting flyways at the same time! With that great smell you always think of when it comes to this brand, you get potent, bouncy waves that last all day. No stiffness when you scrunch in, just a soft, shiny bounciness for your hair.
• Loved for: ★★★★ | Fights humidity, controls frizz, strong hold
• User said: I enjoy the way it makes my hair feel and the look I get after. You guys have to try it!
WHERE TO BUY: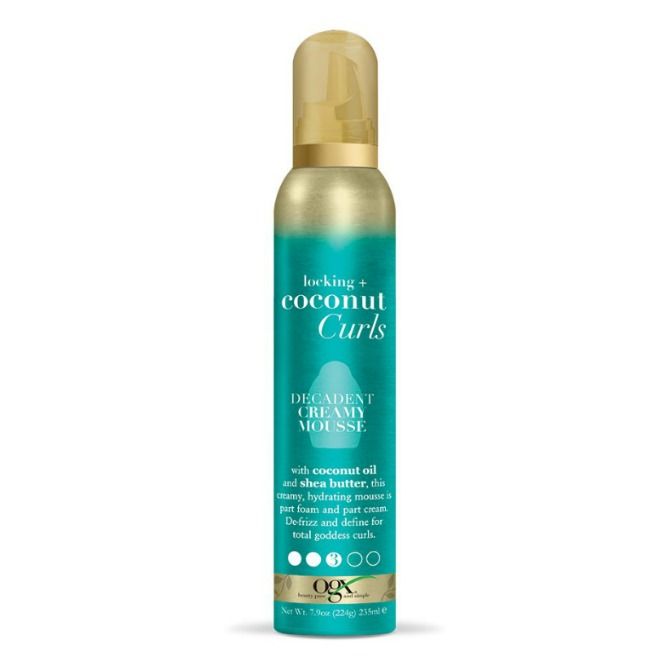 SHOP AT AMAZON 
Goddess Elixir For Your Hair
OGX coconut curls mousse is your choice for creaminess and uber hydration! A foam and cream combo, this is great on hair that needs repair. If your curls have a tendency to get lost, this will tighten them right up. A gorgeous bouquet of jasmine, shea butter, and coconut oil work together to smooth your frizz. 
• Loved for: ★★★★ | Combined action of foam plus cream, made with enriching oils
• User said: The mousse is very creamy, and the residue on my hands was not sticky. It holds my curls softly but with control!
WHERE TO BUY: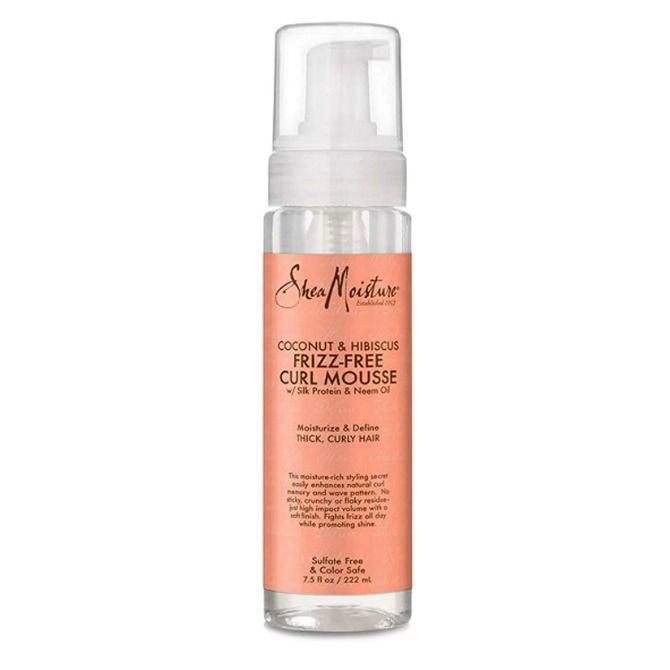 SHOP AT AMAZON 
Poof Taming, Naturally!
Shea Moisture Curl Mousse is more than fair on your hair, and it's fair trade produced! This guilt and paraben-free product has no sulfates or phthalates either, so count your hair safe and protected with this one. So how does it work? Coconut reduces your breakage while neem oil combats frizz, and silk protein means "oh hello, smooth city" for your hair.
• Loved for: ★★★★★ | Fair trade product, neem oil, frizz-fighting, silkiness
• User said: My hair was straight as a pin and very thin. Now it's curly and thick!
WHERE TO BUY: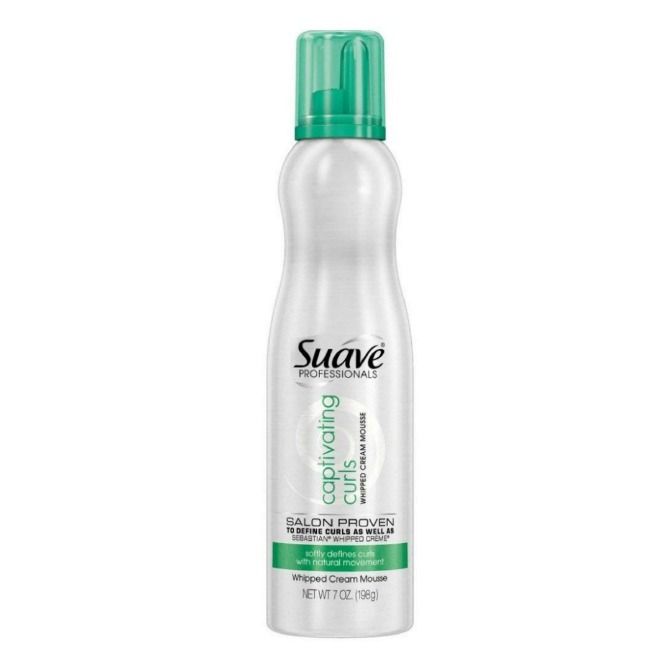 SHOP AT AMAZON 
Dessert For Your Tresses
Get a salon-quality professional and captivating look from Suave's curl defining mousse! The whipped concoction is fluffy on your head for a definition that still allows for natural movement (so let's see that hair toss!). Conditioning as it holds, this is for touchable strands that won't get crunchy. 
• Loved for: ★★★★ | Conditioning, whipped for lightness, natural-looking
• User said: This is the only one that works exceptionally well on my hair without leaving it sticky or dull. I recommend it 1120%!
WHERE TO BUY: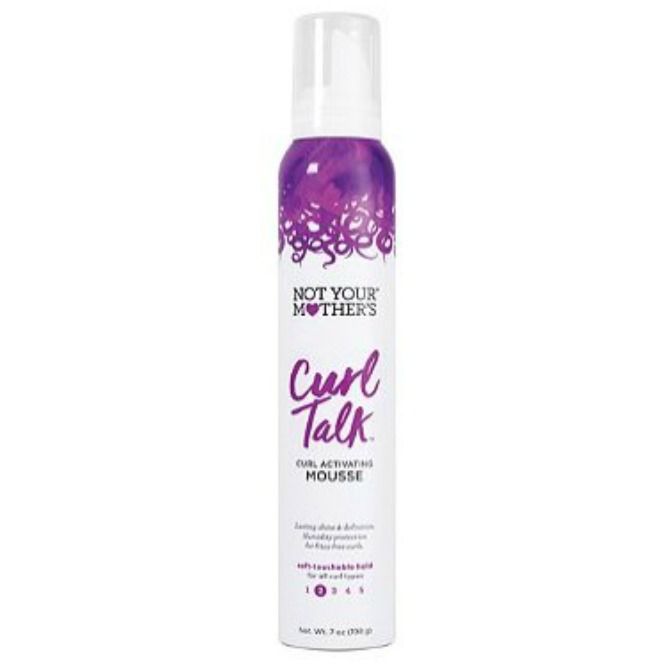 SHOP AT AMAZON 
Curl Popping Magic
This curl enhancing mousse revs up your bounce like nobody's business. Don't worry about what the weatherman is saying because the humidity is no rival for your head when you use this product. Added moisturizing ingredients mean protection and shine with a soft, alcohol-free hold.
• Loved for: ★★★★ | Paraben and phthalate free, no dyes, added hydration
• User said: I love this product for my wavy hair. It really keeps the style for days!
WHERE TO BUY: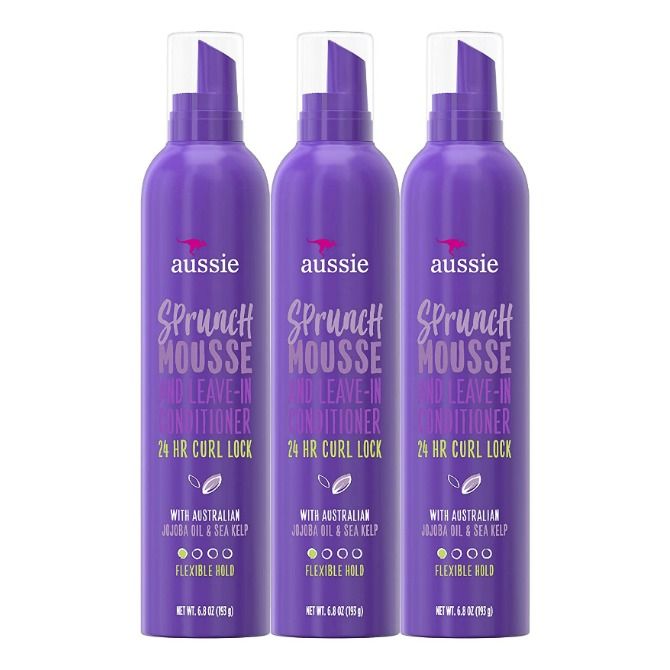 SHOP AT AMAZON 
Sprunching Goodness
Every curly hair mousse makes promises, but this product actually delivers! Specially crafted with sea kelp plus Australian derived Jojoba oil, this mousse also functions as a leave-in conditioner. Locks moisture into your tresses and gives you a twenty-four hour hold. Musky but floral, it has a serious but playful smell that is to die for. 
• Loved for: ★★★★ | Sea kelp, jojoba oil, cruelty-free, leave-in conditioner for hydration
• User said: I got it. I used it. I love it. This is the best combo I've used thus far!
WHERE TO BUY: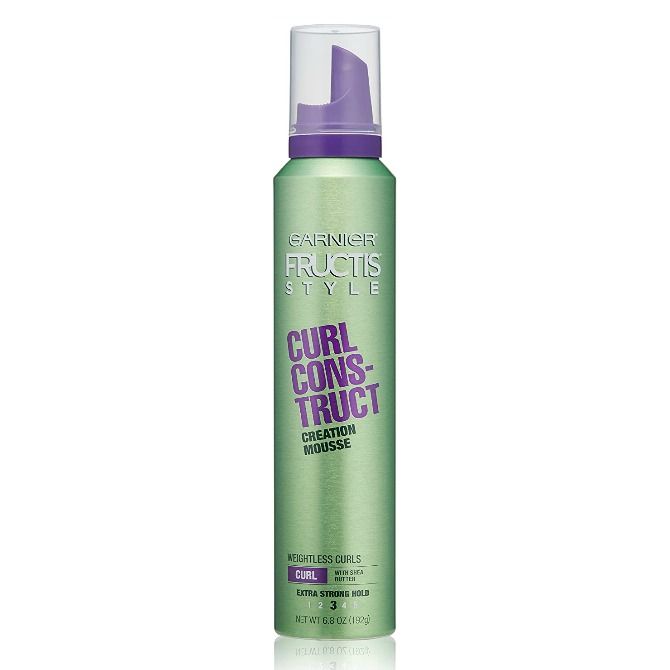 SHOP AT AMAZON 
Crisp-Free Glam And Goodness
If you are looking for mousse curly hair friend, this formulation in a green bottle sums it all up. Made with powerful technology for a long hold and out-of-this-world shine, shea butter adds lasting silkiness. Weightless, it's an excellent pick for fine hair but scrunches into thick coils without stickiness and offers great frizz control!
• Loved for: ★★★★| Powerful hold technology, frizz fighting, shea butter formulation
• User said: Worked great to transform my ugly hair into pretty wavy curls! I even sleep on my hair and keep it going for two days!
WHERE TO BUY:
Best Mousse For Curly Hair

Overview
What Does Mousse Do for Curly Hair?
A good mousse for curly hair works by locking moisture into the follicle for shine and de-frizzing your tresses. It can also add bounce, shape, and definition to your lackluster mane. Humid weather can drum up flyaways, so the product acts as a protective layer to keep your style in place throughout the day. 
How to Use Mousse for Curly Hair?
Hair mousse for curly hair is simple to use. After a shower, pump a dollop into your palm for application on towel-dried hair. For an all-over, even distribution and extra volume, flip over your head then pull through from roots to ends and scrunch up toward the scalp. Diffusing gives you even more "wow"!
We hope you found the right product to wake up your natural, vivacious curls! Get your bounce on, and if you find a product that works, shout out your tip in the comments!
Have you got any suggestions of your own for the 
best mousse for curly hair
? Let us know in the comments!