Featured Image: Amazon
Best Maternity Jean Shorts
Being pregnant in summer doesn't mean you are willing to endure discomfit the entire time. An array of comfortable maternity clothes that provide both style and comfort for the rising temperature gets complex. Still, there's a solution, which lies in maternity denim shorts! Easy to throw on and pair up with lighter tops, shorts keep you cool and mentally sane through the tough times of pregnancy. You may opt for loose sundresses as such, but shorts provide far better coverage. That's particularly convenient if you don't want to give the audience an embarrassing view of your undergarments when you're bending down. 
Though, looking for the best maternity denim shorts which aren't awkward-looking and fit right, especially when you're not a sample size, can be a struggle. That's where we come in! We have created a list to cater to all your wardrobe needs and everything you might be looking for in jorts!  
If you love this list of the best denim shorts for pregnancy, you might also want to check out our list of the best maternity jeans for expectant mothers of all shapes & sizes!
What are the Best Maternity Denim Shorts?
Maternity denim shorts are those gems that keep you lightheaded and feeling good about yourself when everything else seems like falling apart. Take the boiling weather and your growing body, for instance. While there's absolutely no shame in being pregnant, instead, there's a happy gain that doesn't mean you should give up on your comfort just for the sake of this phase. Luckily, jorts fit the bill. Apart from the convenience, these look stylish enough to wear with anything, anywhere without anyone judging you because they're that cool!
With that context in mind, everybody hops out in favor of shorts that fit them, don't feel baggy in areas, and look fantastic on. But wait! There's hell a lot of options out there, and not all are made equal. To keep the trash out, we've listed the 10 best maternity denim shorts so you can make a fail-safe purchase!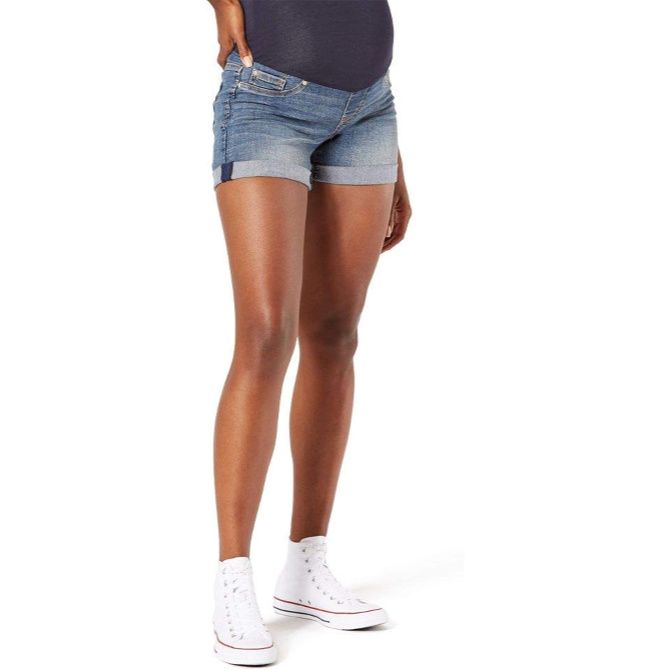 SHOP AT AMAZON
They Know What They're Doing!
Levi's, an immensely popular brand loved by the masses, has introduced maternity denim shorts, which is exceptional in what it does. It features an elasticized belly band, which is the key secret to holding your belly in without having to hoist the band up again and again. This is made of cotton and elastane. The fabric is breathable and contains an ample amount of stretch to offer you all-day comfort! Pregnant consumers commend, no matter how much of a cow you personally feel like, Levi's works wonders and looks smart during the maternity phase!
• Loved for: ★★★★ | Cotton/Elastane, available in three colors, zipper closure, stretchy belly panel, machine washable
• User said: I didn't want the shorts to be baggy and unflattering, but these fit me great!
WHERE TO BUY: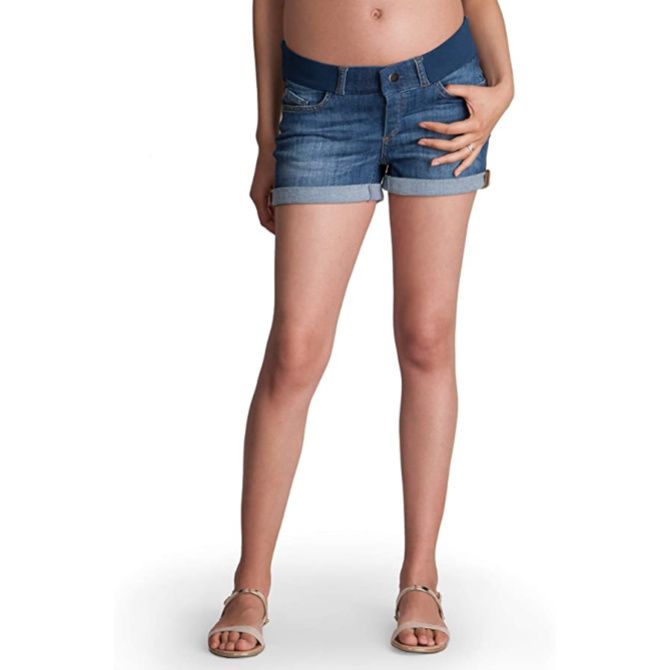 SHOP AT AMAZON
Seraphine Gets You!
If you're pregnant in summer, we salute you because we know how hot that feels, and the bulk you carry doesn't do it any better either. However, Seraphine's denim maternity shorts are the best thing that can happen to you around this time. Nope, we aren't just making assumptions, the features seem so. There's the ever-so-comfortable bump band that doesn't ride up nor down. The front and back pockets provide enough space for keeping small essentials. Then it's made from buttery soft denim for you to breathe in and enjoy yourself the way you are!
• Loved for: ★★★★ | Stretch Denim, available in one color, belt loops, button closure, comfy under bump band
• User said: They are super comfortable and easy to wear. I love these shorts!
WHERE TO BUY: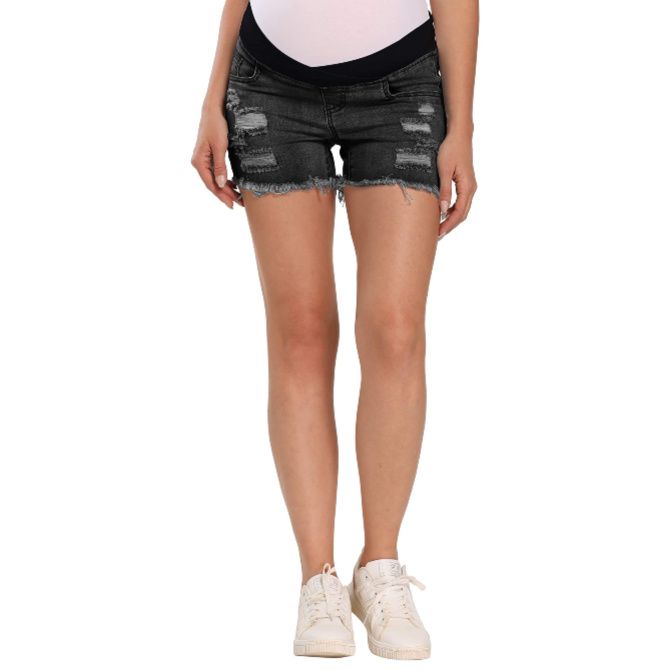 SHOP AT AMAZON
A Solid Pair!
One of the essentials for surviving the summer heat starts with maternity denim shorts. And the Kegiani ones are no exception. Made from a polyester blend to keep you cool, there's an elastic band to assist your preggo belly. Lies smoothly over your buttocks and belly, forms to your shape and doesn't look baggy in any way. It can easily translate from a chore day to a happy cocktail hour with your pals. Users highly appreciate the perfect fit, and there's no cheek exposure, even with thunder thighs. 
• Loved for: ★★★★ | Polyester Blend, available in different colors, wide elastic waistband, elastic closure, machine washable
• User said: They fit well and didn't slide down like a lot of high belly maternity bottoms do!
WHERE TO BUY: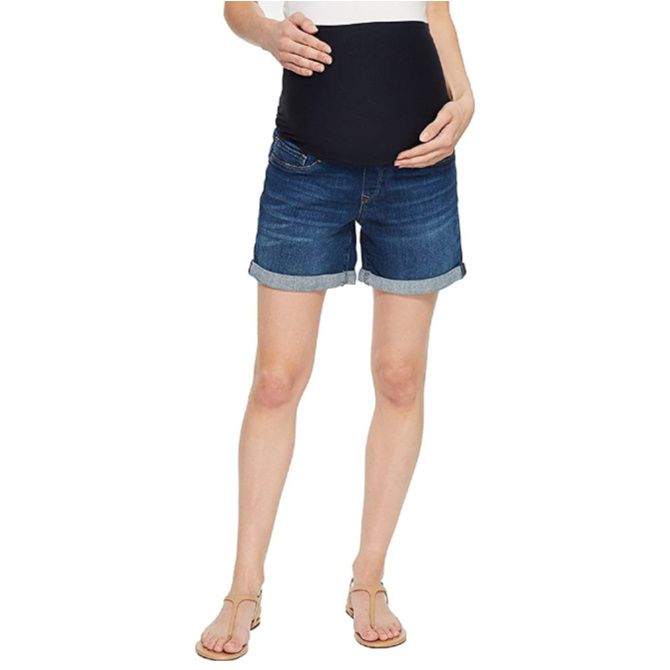 SHOP AT AMAZON
Pure Comfort for the Hottest Months!
Sliding Mavi's denim shorts maternity jort on and off takes zero effort thanks to the pull-on style. It utilizes cotton, denim, elastane, and polyester to bid breathable comfort the entire day. Yes, it's moisture-wicking, which comes at an advantage for those who get sweaty and smelly quickly. The tummy-control panel is our favorite part of this product. As it does a great job of smoothing out almost all types of bellies and stays in place without digging in. Reviewers praise the not too long not too short length, it's a happy medium!
• Loved for: ★★★★ | Cotton Blend, available in one color, elastic panel, pull on style, machine washable
• User said: Great quality fabric and they're not too short. I'm happy with the purchase!
WHERE TO BUY:
SHOP AT AMAZON
No Adjusting Needed!
If being a mom makes you think that you can no longer rock shorts, you're thinking wrong. There's no time like the present! The present offers you motherhood maternity shorts denim to relive your fashionable days again. It's made for moms like you, who are insecure and afraid to show off the skin because nothing beats the smart appearance this number bids. Pair this up with casual shirts, and you'll look adorable. The cotton and spandex fabric is flexible and doesn't restrict from anything in the least!
• Loved for: ★★★★ | Cotton/Spandex, available in two colors, side panels, pull on closure, machine washable
• User said: These are flattering and not scandalous without being momish!
WHERE TO BUY:
SHOP AT AMAZON
No Diaper Butt!
With Three Seasons maternity jean shorts, chafing isn't a concern. The cotton blend material feels gentle on the skin, feels breathable, and the right amount of elastane adds the much needed elasticity to move with freedom. The faux fly front and five pockets add that real denim touch. The belly band is really impressive in terms of support. Yes, it offers support without settling into any pudgie, nor does it ask for repositioning. And the butt looks cute in this one!
• Loved for: ★★★★ | Cotton Blend, available in one color, contrast stitching, pull on closure, machine washable
• User said: Belly is stretchy and comfy. The length of the shorts is great for me. Not too short!
WHERE TO BUY: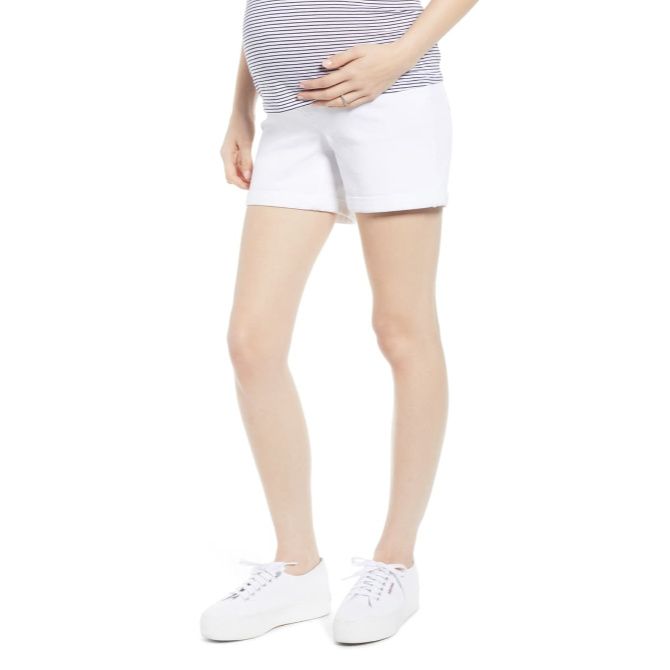 SHOP AT NORDSTROM
No See-Through!
Nothing screams summer better than white denim maternity shorts! They mark a true casual warm-weather vibe, and if you're up for that anytime, the 1822 denim shorts are your best friend. Crafted from cotton and spandex, it supports airflow to keep you sweat-free. It has plenty of stretch to allow effortless movement. Pull-on style makes this simple to pull on and take off; no struggling whatsoever. There's the bump-cradling band to hold your stomach in. Plus, with the rolled hems, you can go longer or shorter, the way you like!
• Loved for: ★★★★ | Cotton/Spandex, available in one color, bump-cradling belly band, pull on style, machine washable
• User said: It's been hard to find good maternity white shorts for the summer, but these tick most of my criteria!
WHERE TO BUY:
SHOP AT NORDSTROM
Perfect for Grabbing Drinks or Chilling!
If you're conscious about showing too much legs or thighs, Kimi and Kai maternity denim overall shorts cut the mustard. The long length fits like a glove without sucking you in or feeling constricted. Stylish and practical, the belly band performs a beautiful job of concealing your belly and keeping it firm under a multitude of tops. Five-pocket styling is excellent to store your little essentials and keeps them at hand. Also, we adore the easy wearability delivered by the pull-on design. 
• Loved for: ★★★★ | Cotton Blend, available in two colors, elastic waistband, flattering rolled hem, machine washable
• User said: I love these shorts, the band is comfortable, and fits perfectly. Worth the price!
WHERE TO BUY: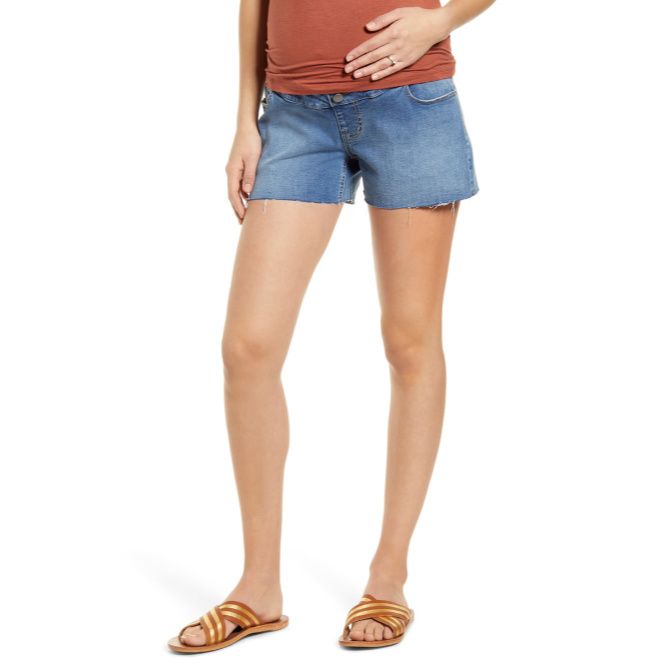 SHOP AT NORDSTROM
Helps You Loosen Up!
Denim shorts are the next best thing in summer, and we can assure; the moment summer arrives, women get in a frenzy to hop out in shorts. We don't blame them since shorts make for a pretty good attire that keeps you light on your toes and ready in no time. The Angel maternity jean shorts are a godsend for moms-to-be! With cotton blend fabric, high-waist belly panels that can be folded in or hidden. And those distressed ends give those laid-back vibes; you really get what you pay for! Plus, it doesn't settle into your unfortunate bits. 
• Loved for: ★★★★ | Cotton Blend, available in one color, stretchy high waist, five pocket style, machine washable
• User said: These are very cute and comfy!
WHERE TO BUY: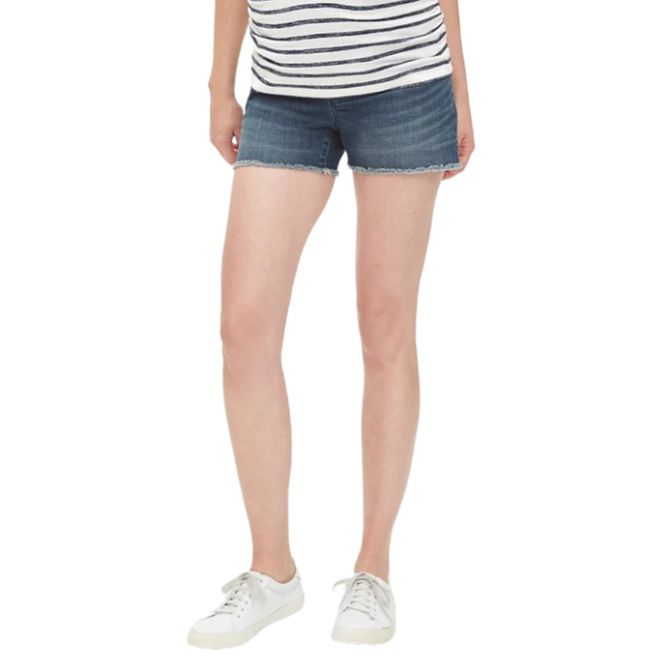 SHOP AT GAP
True to Size
Gap tends to be the perfect solution when you have no qualms about going really short in summer. The maternity shorts denim with full panel allows it to sit over your belly without getting into your bulges. The waistband doesn't ride up or down and is non-restrictive, even while walking, bending, or even a little bit of running. The dark wash looks super-flattering, and the five pockets pose extreme usefulness to fit keys, phone, and other small items. This is a product made from cotton and spandex to give you room to feel free and liberated!
• Loved for: ★★★★ | Cotton/Spandex, available in one color, comfortable full panel, raw frayed hem, five pocket styling
• User said: They are of good quality and length. They are not too short, but also not "mom shorts!"
WHERE TO BUY:
Best Maternity Denim Shorts Overview
Time to round up this post! We hope you enjoyed our take on the best maternity denim shorts. Get them while they're hot for this hot weather! You get it, right? If you have better recommendations of your own, let us know your thoughts in the comments below. 
Have you got any suggestions of your own for the best maternity denim shorts? Let us know in the comments!