Featured Image: Amazon
Best Jeggings for Women
Jeggings, they're the perfect 'happy medium' between leggings and jeans. More like skinny jeans, but better and fantastically stretchier. They are available in a variety of rises and lengths. Plus, so easy to dress up, in fact, if you want a dressier look, simply dress them up the way you dress up jeans; no biggie. A basic must-have in any wardrobe, jeggings even complement those who think they can never pull off anything body-hugging. There are tons of modern cuts and styles made to fit petite, proportionally-perfect to plus sizes like nobody's business. Which makes them easier to hoard and go on for days, even for work.
If you're new to this fashion or already a part of it but don't know where to look for your next favorite pair, you've landed at the right place. Sticking to the most convincing options housed with top ratings, we've curated a list of the best jeggings for women you can wear for work and play, and we bet our bottom dollar you'd be hooked!
If you love this list of the best womens jeggings, you might also want to check out the best tummy control leggings that you'll actually want to wear!
What are the Best Jeggings Womens Picks?
The best jeggings work in all seasons and situations. Business-casual, clubbing, brunching, or everyday casual; they tick the boxes in so many ways. They're the perfect blend of style and comfort. And guess what? They give denim a run for their money because common knowledge has it that jeans are not comfy, neither meant to be. 
Whereas, jeggings offer a denim-like appearance with utmost comfort thanks to the ample amount of stretch to them. Such a win-win. Yes, you heard us! Considering the spandex content is one factor to determine how best your pick is. The options are seemingly endless, then most rests on your personal choice. 
For example, a more realistic jean-like appearance can be achieved through designs with usable pockets and belt loops. Cotton is your go-to fabric for added breathability and fit is very important; 'the waist area' specifically. We are no stranger to our customers' concerns. All those have been addressed in the best jeggings for women list.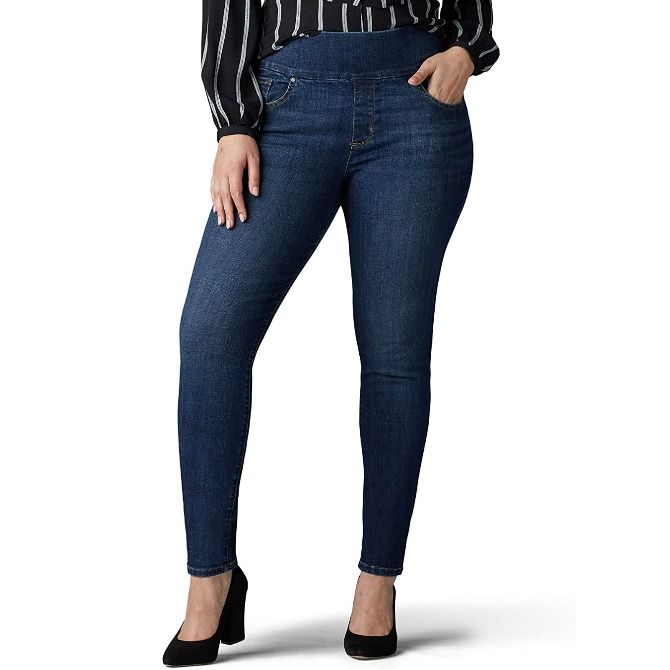 SHOP AT AMAZON
Love Yourself!
Made from a cotton blend with spandex, Lee's plus size jeggings are breathable and have less structure to allow moving in them easier. In no way, by sight, you can tell these apart from jeans, thanks to the tremendously real denim appearance. The pull-on draws up perfectly for women with a rounder booty and larger waist and can be taken off without effort. No riding down or ripping. This molds to the body well and is machine-washable!
• Loved for: ★★★★ | Cotton blend, available in six colors, pull on closure, elastic waistband, machine washable
• User said: I was worried about them possibly sagging after a while as you might expect with an elastic waist. But, that is not the case!
WHERE TO BUY: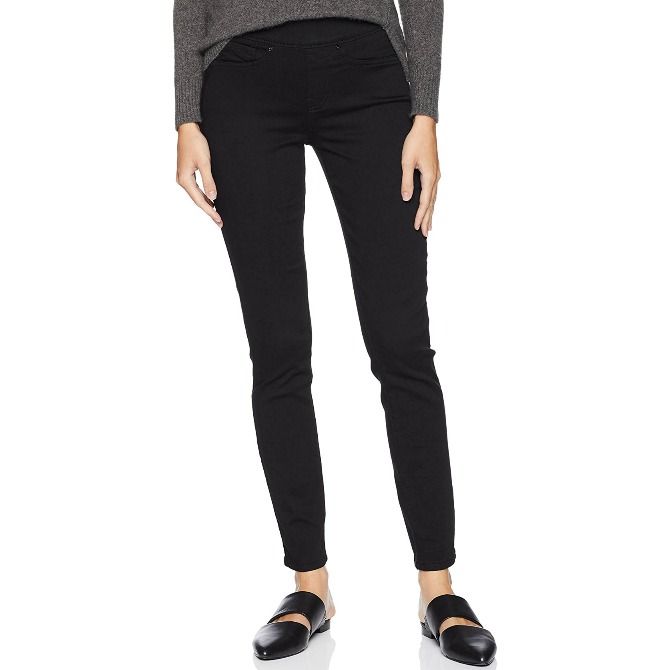 SHOP AT AMAZON
Practically for Living In!
Levi's black jeggings are extremely popular. Over 13'000 people are going crazy over them, not to mention those beyond the Amazon portal. Crafted from a mix of materials, the nice amount of elastane makes them plenty comfortable to wear. Pull-on makes this easy-wear, and the tummy-slimming panel for support helps hide an unattractive pouch. We love the classic vibe and body-shaping fit, perfect for home and outside! This gem settles in all the right places!
• Loved for: ★★★★ | Cotton/Polyester, available in four colors, pull on closure, tummy slimming panel, machine washable
• User said: No muffin top and no falling down. The legs are snug but very comfy!
WHERE TO BUY: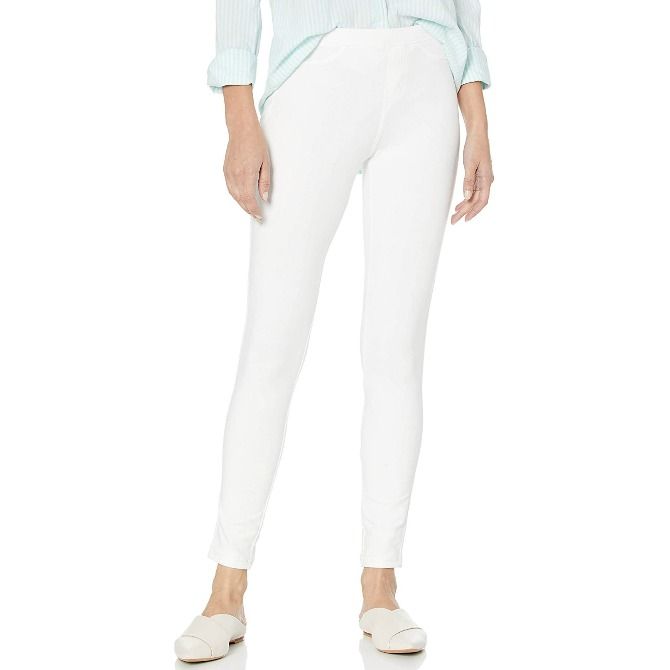 SHOP AT AMAZON
Style Meets Comfort!
Unlike white options that may bring your lady parts in focus, No-nonsense white jeggings, true to their name, offer fantastic coverage to avoid any funny business. Crafted from cotton, spandex, and a few other durable materials, cotton bids breathable comfort while spandex gets it stretchy, but not as much as losing shape. Bearing real back pockets and faux ones on the front, these pants are super-stylish for both indoors and outdoors. Pairing a long top would help make the denim look even more genuine!
• Loved for: ★★★★ | Amazon's Choice, available in three colors, faux front pockets, real back pockets, machine washable
• User said: They sit right at my belly button, which is good enough for covering the belly. I just like that extra security!
WHERE TO BUY:
SHOP AT AMAZON
Cruise Mode on With a Booty Lift!
Democracy ripped jeggings are lifesaving, and the zipper with a button closure does a great job of making them seem jean-like. You might want to throw on a pretty shirt and some cute heels to polish them up further. Combining a cotton blend, the tightness doesn't knock the air out of you, and coupled with spandex, moving in them is no effort. Coming at ya with a slimming panel, hidden elastic waistband and sweetheart yolk, it sure will enhance and elevate your look. Users agree these are a must for curvier women who kick ass!
• Loved for: ★★★★ | Cotton blend, available in different colors, zipper closure, mesh panels, machine washable
• User said: I go with a slight boot cut for a proportional effect, but I don't feel anything but amazing in these. That is saying a lot!
WHERE TO BUY: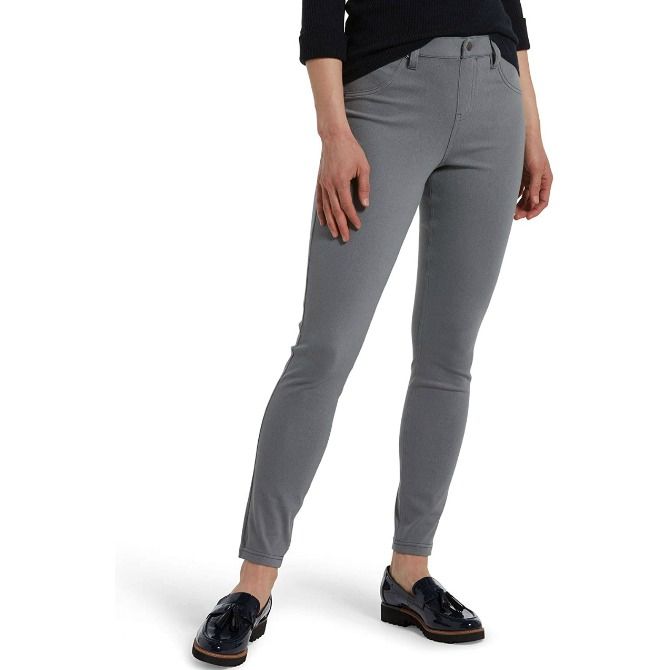 SHOP AT AMAZON
We Dig This!
The last thing you need at the office or even working at home is ill-fitting and uncomfortable pants. Using a mix of fabrics including cotton, polyester, and spandex, Hue's high waisted jeggings are equal parts soft and comfortable. Cotton helps against feeling sucked in, and the stretchiness limits struggling with your clothes. High waisted, pull on and machine-washable, all the features for easy-wear and easy-maintenance. It looks more like a pair of colored jeans owing to the handy back pockets, belt loop, and faux button details!
• Loved for: ★★★★ | Cotton blend, available in different colors, elastic waistband belt loops, pull on closure, machine washable
• User said: They look more like jeans than leggings, but they are as comfortable as leggings!
WHERE TO BUY: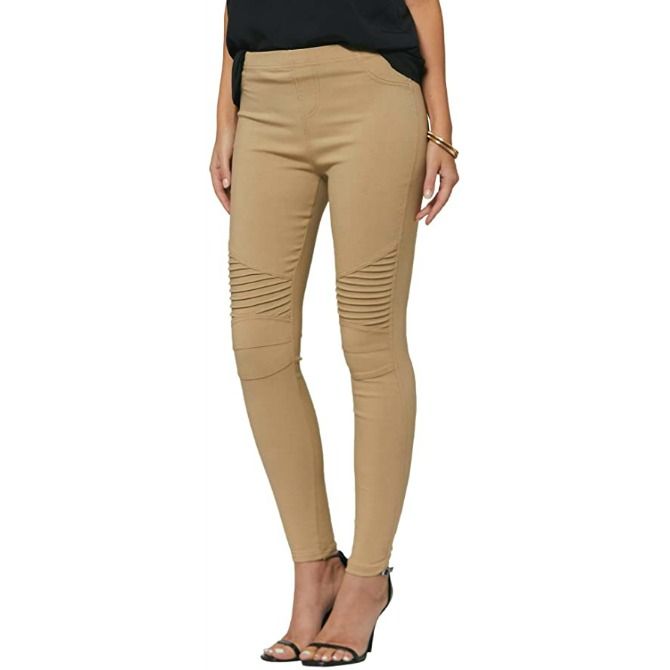 SHOP AT AMAZON
Befitting!
Neutrals never go out of fashion nor go wrong! The same is the case with moto colored jeggings. Crafted from cotton, nylon, and spandex, this is a brilliant pick for every woman. The fully-functional back pockets and high-quality stitching all contribute to its veritable jean appearance but with so much comfort! This molds and shapes to your body from the waist down, and sits fabulously on the skin without developing wrinkles. Available in a range of colors, you can choose what best suits your style!
• Loved for: ★★★★ | Cotton blend, available in different colors, fully functional back pockets, shape contour, fully refundable
• User said: It's a thicker material, so I'm not worried about things showing through, and the high waist helps suck in any bits!
WHERE TO BUY:
SHOP AT NORDSTROM
Spice up the Cuteness!
Capri jeggings can be such a relief when you want to spend a casual day and have fun hanging out with friends. Looks like true jeans, but the use of cotton, lycra and some other fabric doubles the comfort. Effortlessly sexy, these make the perfect grab for fine-tuning the most laid-back of tops. Available with faux front pockets and real back pockets, you can dress up the capris as much you dress them down; no trouble!
• Loved for: ★★★★ | Cotton blend, available in one color, elasticized waist, pull on style, machine washable
• User said: These are so comfortable, and the material is so soft. Nobody will ever know they're really leggings and not traditional jeans!
WHERE TO BUY:
SHOP AT OLD NAVY
Does The Job!
We love a good pair of bottoms that happen to be available in a bevy of rises and fit different but all sorts of women. Meet the Old navy jeggings perfectly catering to every female out there, and the dark wash helps make it look realistic but conceals your stuff below the waist better, even those mortifying panty lines. For ages, women have tried everything for a trim waist and a crowd-stopping booty. If that's high on your priority list, get these rockstar pants! 
• Loved for: ★★★★ | Cotton blend, available in one color, elasticized slimming-effect waistband, pull on, machine washable
• User said: Most comfortable jeans I own. I'm buying more immediately!
WHERE TO BUY: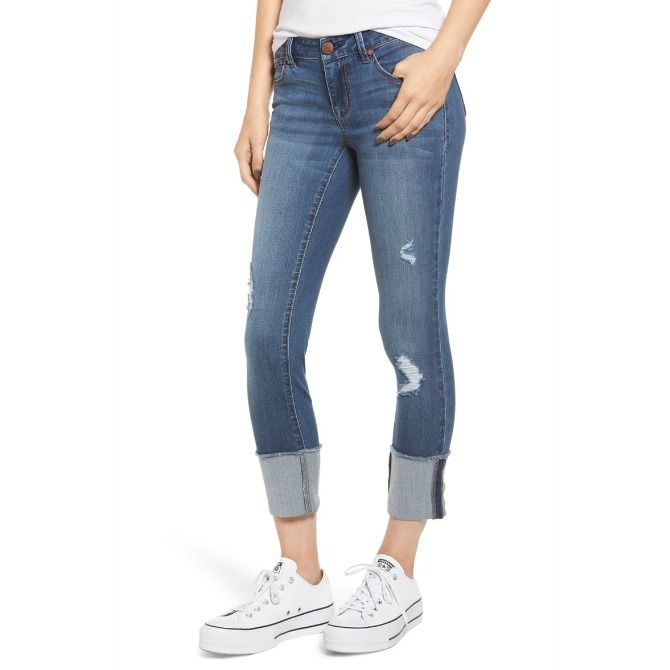 SHOP AT NORDSTROM
Sophistication in Jean Form!
Not everyone appreciates pants that feel like a second skin, trust us on this. Though people do want something that fits like a glove. Enter 1822 distressed jeggings that live up to all your expectations. Carrying cuffed hems with ripped details, the vintage appeal is too sexy to turn down. So, complete the look with a mutually sexy blouse or long top to match. All the raw details of these bottoms would make anybody take a double-take because of the incredible jean-like appeal! 
• Loved for: ★★★★ | Cotton blend, available in one color, zip fly with button closure, five-pocket style, machine washable
• User said: I love the style of these jeans, and they are pretty comfortable because of the stretchy material!
WHERE TO BUY: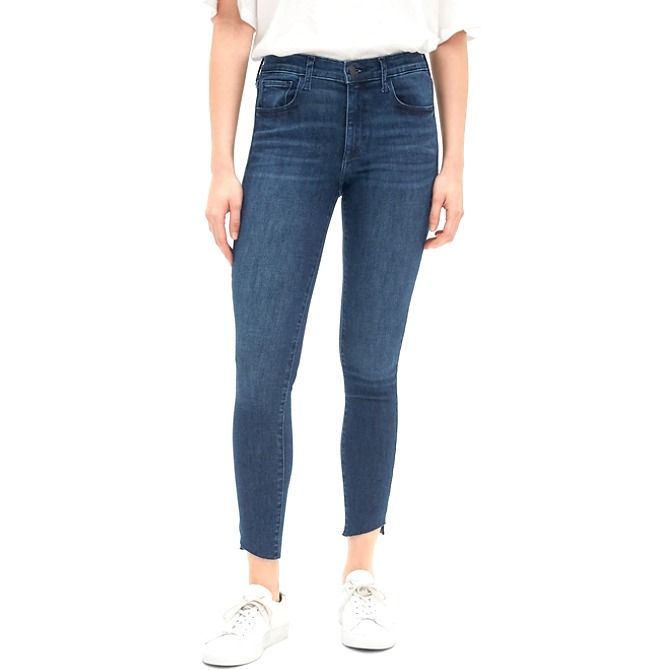 SHOP AT GAP
Fail-Safe!
Just like short people buy platform sneakers for concealed taller height, people who want comfort in the disguise of jeans buy jeggings. Women who seek high-quality fashions are not unknown to these Gap jeggings. Utterly stylish and on-trend, these give an incredible boost to your morale. How? Well, let's just admit it, shall we? The fit is spot-on, and the stretch conforms with the body, Gurl! It's what you've been missing! Can't take our word for it? The customers have all been raving about it! 
• Loved for: ★★★★ | Cotton blend, available in one color, zip fly with button closure, slits at sides, machine washable
• User said: Love the raw hem and the wash. True to size and super comfy with the stretch!
WHERE TO BUY:
Best Jeggings For Women Overview
What Are Jeggings?
Jeggings fit like leggings but are made to look like jeans. They're available in various waist styles; mid, high, etc. They're stretchy, thanks to the spandex content in them, and have good coverage. Like jeans, they come with zipping, pockets, belt loops, and all, but that vary from brand to brand. 
How Can I Style Jeggings More Attractively?
When it comes to jeggings, you should know how to make them work for you. And we'll help with that with our rules of wearing them attractively. 
Trust Long Tops & Tunics
Not many people can get away with wearing short tops with jeggings, except those supermodels in a specific shoot. Either your jeggings ought to be thick and should have some weight to it for you to pull them off with a shorter shirt. But if that's not the case, go with long tops that reach till your bum and avoid puffy blouses; they'll make you look like a mushroom. If you do pair them with unstructured tops, throw on a jacket or a boyfriend blazer for balance. 
Dress Up & Dress Down
Wear a belt to make them more jean-like and don't wear sneakers with jeggings; that looks plain weird. Opt for ballet flats or loafers instead, much more sophisticated. Whereas for dressier situations, high heels help tone up the look and give you legs for days. If the jeggings are longer than you'd like, either have them hemmed or pair with ankle boots for instant style!
Use Common Sense
Don't buy jeggings that simply look cheap and tacky. Get a pair that gives a reason for styling and looks good when you choose to style it. Options that are thin settle into your bits and bobs, plus shamelessly give away your private parts, are not worth the money or styling, for that matter! 
Wearing jewelry and makeup helps pull-together any type of clothing. So don't forget to use that to your advantage when trying to work your way through jeggings. Black jeggings are a much safer choice for work and other occasions than compared to different washes, and they're slimming!
Make a dash for these best jeggings for women, and thank us later for introducing you to these gems. They're anything but disappointing! If you think you've got better recommendations, why wait? Hit us in the comments section!
Have you got any suggestions of your own for the best jeggings for women? Let us know in the comments!