Featured Image: Amazon
 
Best Gua Sha Facial Tool
If you are looking for a beauty tool that will do more than take up coveted toiletry space, this item could be just the one for you! Gua Sha scraping is an ancient Chinese practice to naturally tighten skin, break apart tissue knots, and relax. Think of it like a mini at-home myofascial massage. Often made from jade, rose quartz, or bone, today you can find some made from ceramic or stainless steel.
Often compared to jade rolling, the ridged shaping means facial relief and contouring effect you can achieve on your own time. Gentle and soothing, a gua sha stone gives more noticeable contouring and firming results than a roller. It can also be used on other body parts and increases blood circulation. And check this out: some use it for an immune boost or period pain relief!
If you love this list of the best gua sha facial tool, you might also want to check out the best derma rollers for an effortlessly glowing skin! 
What is Gua Sha?
A beauty secret from ancient Chinese medicine, this tool is used to enhance circulation. It brings gua sha benefits to the skin like improving elasticity and anti-aging. Use it to massage and relax as well as contour and angle your face. Angle into pressure points for acupressure relief after a long day and to break-up stubborn tissue. Use regularly, and you will be looking on point in no time!
How to Use Gua Sha Tool?
Get out your oil and facial mist, because before starting, you will want to make sure your face is moist. You can use oil, mist, or even a heavy lotion or cream. 
When using the tool, apply a gentle, scraping motion from the area of your face, you are working on then outward toward your hairline. When you reach the hairline, give a gentle massage or jiggle. This stimulates blood flow and plumps up your skin.
What is the Best Gua Sha Tool for Face?
Are you ready to follow suit with ancient Chinese wisdom and start your new beauty routine? Whether you choose ionized stone, ceramic or stainless steel, here are some options to instantly plump and contour your face and enliven your spirit!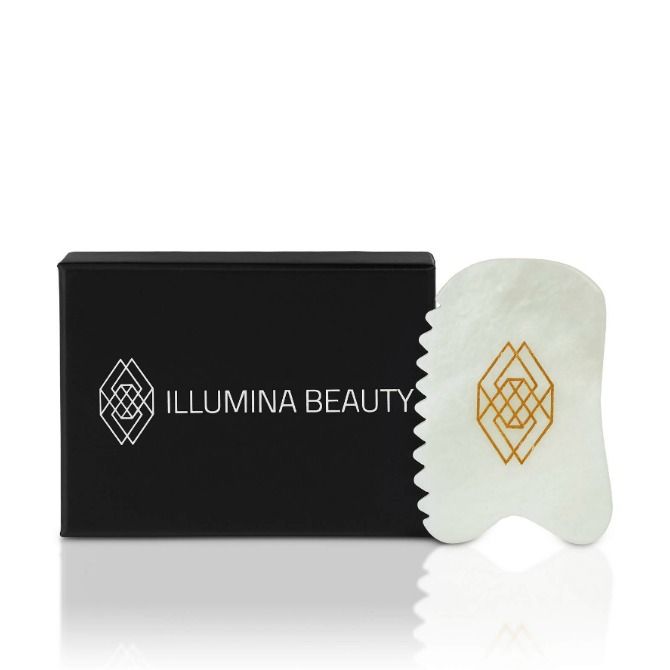 SHOP AT AMAZON 
Your Pick for a Mineral-Rich Face Renewal!
Say hello to this mineral and ion rich handcrafted massager! Made of durable, true jade, it's a powerful weapon against puffiness and under-eye bags. Four shaped edges can be used variously to boost cell renewal, rework scar tissue, and depuff through the draining of bloated lymphatics. Plus, a cute gold logo at the front gives the product a sleek and contemporary look.
• Loved for: ★★★★ | Four edges, pure jade, ion enhanced, great for TMJ
• User said: This tool is sturdy and stylish and comes in a beautiful box, which also makes it a great gift.
WHERE TO BUY:
SHOP AT AMAZON 
Yours for Cute Full Body Relief
This cute wide-tooth jade gua sha tool is designed to boost your energy flow and decrease stress! One-hundred percent jade material is friendly on your skin and visibly works against aging. A soft cotton bag comes with the product, so you can tuck it away after each use. 
• Loved for: ★★★★ | Drains lymph, releases tension, great for arm or foot, durable
• User said: Nice massage tool. Enjoy using it to enhance circulation and move lymph on scalp, face, and neck!
WHERE TO BUY:
SHOP AT AMAZON 
Your Choice for That Spiritual Glow! 
This rose quartz gua sha has a five out five-star rating and is designed to highlight your authentic beauty! Revitalizing and restorative, it heightens energy balance for microcirculation and kicks up metabolism. Use weekly for a glowing, radiant look and to improve and detoxify skin that's breakout prone.
• Loved for: ★★★★★ | Rose quartz crystal releases bad juju, works against breakouts, reduces inflammation, also great for migraines
• User said: For my skin, I see a huge difference in my under eye area, and overall my skin appears more radiant.
WHERE TO BUY: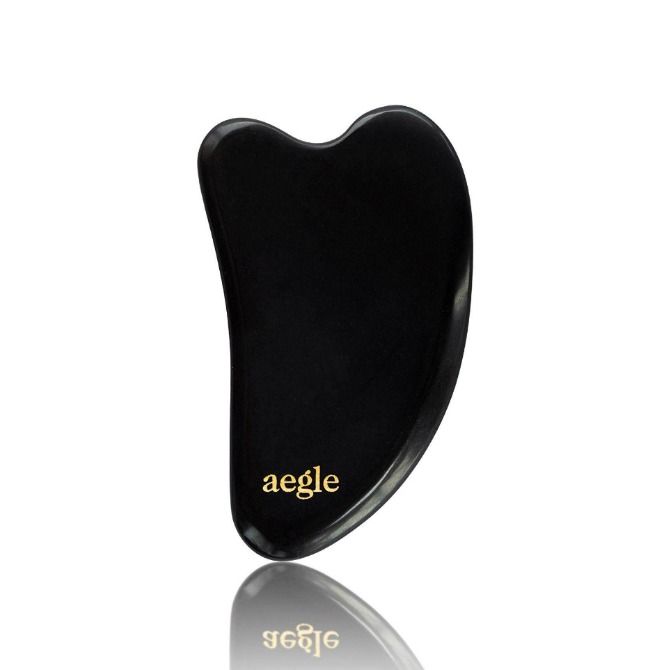 SHOP AT AMAZON 
Your Ultrasonic Wrinkle Eliminator!
Did you know that natural bian stone is full of rare, active minerals that heal your face with ultrasonic waves? By penetrating your skin, this gua sha cellulite fighter awakens your cells and for a great addition to your self-care routine. It comes with a guide book plus positive affirmations for a full-body glow!
• Loved for: ★★★★ | Made of natural bion stone, chic black look, uncoated for ultimate smoothing, depuffs and fights facial sagging
• User said: This tool is bringing life back into my lackluster skin, and the results are immediate.
WHERE TO BUY:
SHOP AT AMAZON 
Your Good Vibrations Skin Plumper!
Made of blue sodalite, this item is your choice for slimming and enlivening your face! A real wrinkle smoother, the smooth blue sodalite is known for its positive vibrational effects. It enhances inner harmony and peacefulness. Emotionally grounding, it comes with an informational brochure on how to use it on eyes, forehead, jawline, and cheekbones!
• Loved for: ★★★★ | Made of blue sodalite, vegan-friendly, cruelty-free, positive vibrations for inner and outer balance and beauty
• User said: This gua sha for face slimming is smooth and easy to use with great instructions!"
WHERE TO BUY: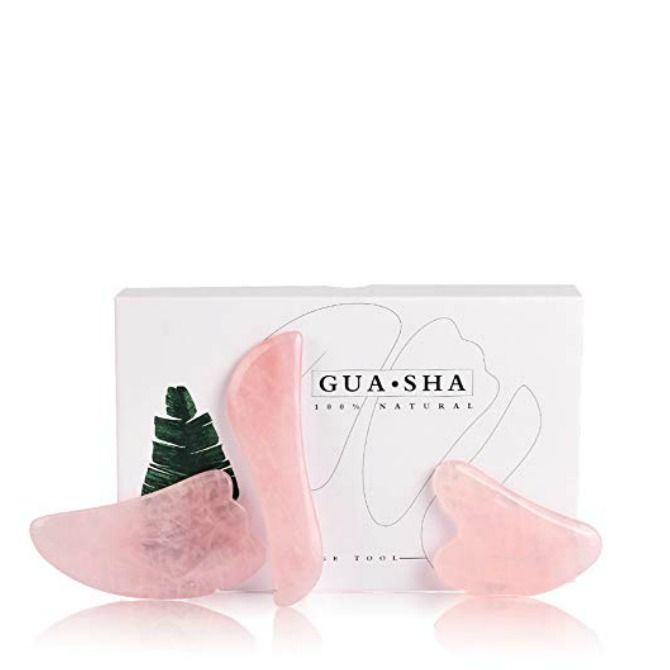 SHOP AT AMAZON 
You Go-To for Trigger Point Therapy!
Great for accessing your trigger points, this gua sha therapy comes in safe, durable, and adorable pink! Three shapes are for you to use even on hard to reach areas and stimulate trigger points. Some also use this tool for an illness like flu or cold to improve blood flow and lymphatic functioning! It comes in a sweet box that's perfect for a gift!
• Loved for: ★★★★ | Trigger-point release action, handmade, great for cold and flu
• User said: Put this item in the freezer and then use it. it feels so good!
WHERE TO BUY:
SHOP AT AMAZON 
Red Agate for Pretty With Prosperity!
Are you in need of prosperity? Carnelian stone brings fortunes plus repels envy and relieves your stress. Use these boards to ease tension and relax your body because you deserve it! A beautiful three-piece set for your face, neck, back, and feet. Each item has unique markings and is uber smoothing for your skin.
• Loved for: ★★★★ | Made of natural Carnelian stone, great for relaxation
• User said: I love these tools. I saw an immediate lift in my eye area.
WHERE TO BUY:
SHOP AT AMAZON 
Your 3D Sculptor for Full Facial Release! 
This tool means serious business! Made by physical therapists, this 3D sculptor works on scar tissue and relieves pain. Give yourself a myofascial with The Wave's ergonomic grip design. Slap on some beeswax or cocoa butter, and you are ready to surf yourself to radiant skin!
• Loved for: ★★★★ | Ergonomic grip, full-body use, target tense muscles
• User said: The best buy on the market and the only complete one in all tool.
WHERE TO BUY:
SHOP AT AMAZON 
Your Choice for Longlife!
Finally, someone made a stainless steel version, so when you drop it, it won't break! Who knew that you could fight wrinkles and purify your blood at the same time? This medical grade spoon is truly a full-body massager with a mirror-like finish, so you can use it to touch up your make-up, too!
• Loved for: ★★★★ | Relieves muscle tension, immune boosting
• User said: great tool for muscle tension release all over body
WHERE TO BUY:
SHOP AT AMAZON 
Facelift in Your Pocket!
Designed to illuminate your face, this tool comes with instructions on how to stimulate stubborn areas like wrinkles and baggy eyes. Comes in a cute pouch, so this could be your "yes, please" birthday gift of the year! Fully rejuvenating, it's a facelift in your pocket that freshens skin instantly. 
• Loved for: ★★★★ | Ultra rejuvenating and plumping, wrinkle reducing
• User said: Love the ebook that came with it as well and I must say, this is the best tool I have found for drainage. I actually saw less puffiness in the a.m.
WHERE TO BUY:
Best Gua Sha Facial Tool Overview
Whether you are looking for beautifying anti-aging results or more deep muscle tension relief, we hope you have found the gua sha massage tool for you! We'd love to see which one you chose in the comments!
Have you got any suggestions of your own for the best gua sha facial tool? Let us know in the comments!