Featured Image: Amazon
Best Floral Maxi Dress
When Summer reaches the peak factor, you need an outfit with as much airflow as possible to stop yourself from being – stuffy and sweaty. Long floral dresses are beautifully vibin' in the summer trends, and we cannot stress enough, just how perfect and effortless go-getters they make.
Whether you have an outdoor/beach wedding to attend, brunch with your bestie on the list or even office on the agenda – our selected best dresses won't fail you and make you look like you've put effort than you really did! Throw on and go!
If you love this post on the best floral maxi dress, you might also want to check out our best options for body shaper for women for all those tricky areas!
What Are The Best Long Floral Dresses?
Florals are super-trendy right now, and maxi dresses are the chicest ways to sport this trend because such dresses elegantly sort you out for any kind of event without you having to go out the extra mile with accessories.
Our top-ranked list is based on what consumers are raving about and to whom they're showing brand loyalty. These are the essentials for all types of women as you can dress them up or down as you wish and will!
SHOP AT AMAZON
Blow Off Some Steam
Wanna keep your cool when the temperature rises? Fret not, get it with this floral wrap maxi dress, which allows you to show ample skin, and prevent the moodiness that comes with terribly hot weather! Termed as the "sunset dress," it's perfect for a sun-drenched vacation or for a stroll on the beach.
Featuring a lightweight and soft cotton/polyester mix with a V-Neckline, short butterfly sleeves, and frill hemline to make the best of your picnic or beach day. You can be in your most relaxed version with this on, and users love the way how it moves along with you!
Loved For: ★★★★ | Lightweight, soft, available in different prints
User Said:  It's extremely comfortable, moves beautifully and the fabric is prettier in person than I thought it would be!
WHERE TO BUY:
SHOP AT AMAZON
Perfect For The Weekends By The Seaside
We must admit the price of this boho floral print maxi dress is a low blow, and according to the buyers, the quality certainly surpasses what you pay for. The viscose/rayon blend is not only whisper-light for the hot and humid weather, but it's also great to cool off on a beach.
You can easily dress this up or down for a fancy dinner, festival, concert, or a cruise. It's not as sheer to put your body parts on display neither does it get easily wrinkled (wonderful in a time constraint.) Furthermore, it's machine-washable and is a loose fit! Pair it with some trendy hair accessories, and you're good to go!
Loved For: ★★★★ | Loose fit, available in different prints, machine washable
User Said: It is honestly an extremely flattering dress and my husband told me it looked so good that I need to buy a couple in different patterns!
WHERE TO BUY:
SHOP AT AMAZON
We Can Vouch
There's nothing more spiritually elevating than stepping out in a breezy light blue floral maxi dress like this one on a warm day! Rayon and spandex based outfit that's stretchy, soft, and comfy, according to the consumers, and doesn't feel cheap at all! The dress is decent enough to get you through all the seasons with layering when it gets colder, but on its own, you'll feel amazing without a doubt!
It hugs your body in all the right places yet delivers space to move around freely, and if you're expecting a baby, this will prove to be a fantastic companion throughout your preggo journey!
Loved For: ★★★★ | Best Seller, available in different prints and colors, backless, with pockets, loose fit
User Said: It's perfect for hot summer weather with some cute sandals and accessories.
WHERE TO BUY:
SHOP AT AMAZON
You'll Be Wearing It All Summer Long
This off the shoulder womens floral maxi dress isn't only perfect for casual outings and events but passes off nicely as office gear, if you style it with a work-appropriate blazer to set the tone straight! Made with a stretchy and soft material for a breathable experience, you can wear it inside as much as outside.
Long dresses are not only hit street styles but call for instagrammable moments every time you wear one! It fits the weather of all seasons, particularly if you pay attention to layering and styling!
Loved For: ★★★★ | Available in different colors and prints, available in plus sizes, stretchy and soft fabric
User Said: This dress is really great! The fabric is thick enough not to be see through but thin enough to be perfect for summer.
WHERE TO BUY: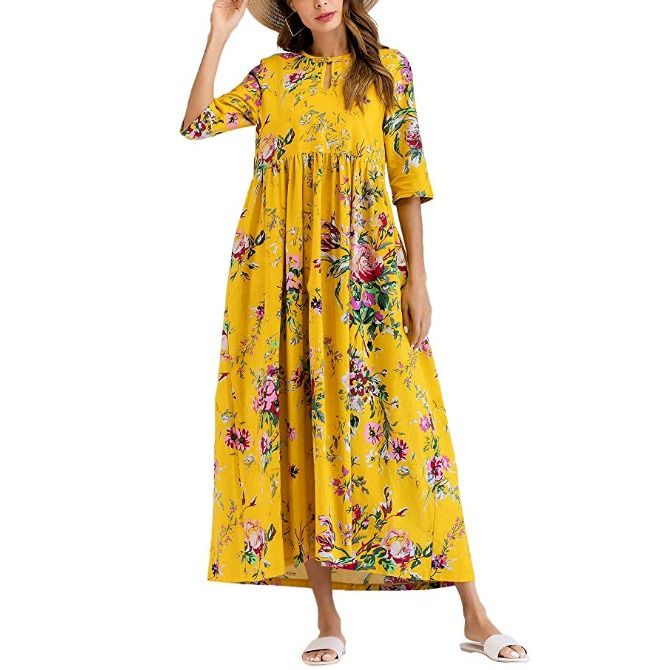 SHOP AT AMAZON
Get On Board
Depicting a colorful flower print, ruffle hem and a flowing crazy that's not so crazy, consider yourself armed for everything casual with this black floral maxi dress! Not only that, sport it with a woven hat and bag to complete the look, which is the IT style of this season! It works for a party and maternity dress too!
We love it because you can pull on a blazer with it and somehow make it work excellently as your office attire. Yes! It will definitely look good as long as you know how to style it – more on that later.
Loved For: ★★★★ | Available in different colors and prints, 100% Polyester, available in plus sizes
HSL Said: This dress made it to the shopping cart. We love it!
WHERE TO BUY:
SHOP AT AMAZON
Conquer Summer
If this low V Neck floral maxi dress with sleeves does not spark your feminine side, then we don't know what does! Showcasing a super fresh and pastel palette, it's A-line, made with cotton/rayon and backless with a drawstring waist.
Slip it on and head to a summer party, wedding, beach, vacation or a picnic, you'll find no reason to complain since it fits the bill for a multitude of occasions.
Loved For: ★★★★ | Available in different colors and sizes, bat sleeve style, drawstring at waist, backless, elastic waist, unlined, very soft material
User Said: The fabric is very lightweight and will be perfect for the Florida wedding I'll be attending.
WHERE TO BUY:
SHOP AT AMAZON
Shop It & Flaunt It
If you aren't going to wear such uplifting colors in Summer, THEN WHO WILL? And if you're after something fun, floral, short sleeved, flowy, comfortable and skin-friendly, this floral red maxi dress will do the trick.
Heading to a wedding, beach or any place during the Summer? Then, such vintage-inspired designs should not be turned down!
It stylishly billows but never gets stuck, bunches up or pinches according to a buyer, even washing it and drying doesn't cause any shrinkage or crinkling which sounds A-1 for those in a time crunch!
Loved For: ★★★★ | Available in different colors, prints, and sizes, stretchy waist part, comfortable and lightweight
User Said: I love this dress so much I bought a second one. It is so flattering when you put it on and so flowy and light.
WHERE TO BUY:
SHOP AT AMAZON
Uncover The Truth
To be honest, trends are the most we look forward to as the fresh offering of every new season and if we won't follow those of our own liking, where's the fun in that? Florals are what the majority is embracing, and this navy floral maxi dress doesn't stay behind!
It's a bright damask print which balances office, and some play incredibly well, more so, if you layer it with a lightweight tan blazer to increase its work-appropriateness! Those with small boobs will love the way it amplifies the chest area with its sexy scoop neck and at the same while, can use as a maternity dress!
Loved For: ★★★★ | Available in different colors, prints and sizes, sexy scoop neck and raceback
User Said: It is exactly as described, the material is not see-through thin, but light enough to wear in a tropical location.
WHERE TO BUY:
SHOP AT AMAZON
Get Your Cute On!
When floral reigns supreme, this floral summer maxi dress won't be going out anytime soon. It ticks all the boxes of being well-made, high-quality, light, airy, and more as stated by the customers. Something graceful to transition into Summertime, some even have given it their holy-grail status, whoa!
Sweeten it up with flats, sandals, high heels or the like, and head anywhere without breaking into a sweat. This is the high-priority summer uniform for many, given the cuteness and usability, we totes agree!
Loved For: ★★★★ | Available in different colors, prints and sizes, Rayon, V neck front and back
User Said:  This dress is the BOMB! it is light and airy without looking cheap, the pattern is beautiful, it has POCKETS, and the fit is perfect.
WHERE TO BUY:
SHOP AT AMAZON
Don't Hold Back
If you want to take advantage of the Summer season, get this Hawaiian print maxi dress and don't look back! Crafted of polyester/spandex, this is an A-line design which looks tremendously sexy under the sun, even goes fabulously in the office if you accessorize smartly!
The strapless style and the flirty design will gorgeously set you up for any casual affair with the flexibility to move around with independence and get abundant compliments. The customers find the fit to be perfect and itself to be soft – and comfortable!
Loved For: ★★★★ | Available in different colors, prints, and sizes, high-quality soft fabric
User Said: I wore the dress to the office with a linen blazer and received lots of compliments. This dress is perfect for the beach or a romantic night out.
WHERE TO BUY:
SHOP AT AMAZON
Not Harder But Smarter
Calling it pretty would be an understatement, we'll go with the fact that you can pair halter floral maxi dresses with any shoe style and the beauty keeps budding. Displaying a charming open back, swing hemline, hollow out ribbon on the breast area and a lace-up back, every bit of it fulfills the word seductively attractive!
Homecoming, ball, summer party, wedding, beach, you name it and slay it with this in tow! All the confidence is hidden in the delicate detailing, once you'll pull this on, you will get to experience it in your very bones!
Loved For: ★★★★ | Available in different colors, prints, and sizes, self-tie lace-up back, elasticated back waist, sexy side slit and swing hemline
User Said: This dress is a MUST! It is nothing less than gorgeous.
WHERE TO BUY:
SHOP AT AMAZON
There's Never Been A Better Time To Choose
It gets better – No! It gets hotter with this floral chiffon maxi dress! We actually see it as the most perfect poolside attire but the buyers have worn it in the morning to the evening, to the beach to a cocktail party without second thoughts and we urge you to do just that!
This is internally lined, and with the right kind of accessories, you'll find it hard to let this go! Even Preggers Mummas can don this on casually or use it for their maternity shoot (so fun!) The majority claims it to be beyond adorable!
Loved For: ★★★★ | Available in different colors, prints and sizes, chiffon, front slit, elastic sleeve
User Said: This dress is absolutely adorable! It's very flattering on, and very flowy!
WHERE TO BUY:
Best 
Floral Maxi Dresses 

Overview

 

 
How To Style Floral Maxi Dress?
You may think of these ankle-long dresses only suitable for casual occasions but you certainly won't mistake them for being formal too, if you style them the right way that is! Add a belt to create a flattering silhouette and don't let your curves hide in the billowy dress. Either go for a neutral-toned option or choose a contrasting one to bring attention to your waist.
Also, to balance out your maxi, some espadrille wedges or boho sandals will greatly benefit your attire if you're opting for a certain look. Shoes make or break your entire look, we aren't saying a beautiful maxi dress doesn't look good on its own, but shoes are ideal for adding those finishing touches (y'know.) Some of us are guilty of taking shoes lightly, but it's the other way around since they give major impact to your attire and help specify whether you're headed to work, casually out or to an evening party.
Lastly, let your hair loose, put on some naturally flushed makeup and enjoy your day.
How To Accessorize Floral Maxi Dress?
Floral prints are busy enough on their own, so let's not add more distraction to it. Instead, go for simple accessories to tie in your look beautifully. Shoes are ideal for adding those finishing touches, dip your toes into heels to get that lift if you're headed to a cocktail party. Otherwise, a statement watch, sophisticated bag, classy choker or simple earrings are key factors to keep the look good enough for any event. Just remember "Less Is More".
When To Wear Floral Maxi Dress?
Such dresses are summer staples because of their easygoing vibe and ability to be dressed up-dressed down for the weekend, brunch with your girlfriends, outdoor wedding, drinks, a date, the beach, or anywhere you feel like. This one-piece essential is a must-have for your summer wardrobe.
What To Avoid With Floral Maxi Dress?
• Avoid an all-over colorful design, go with something that has ruffles or structured cuts. Something with dimension!
• Floor-length dresses that come under your feet to save yourself from the embarrassment of tripping. Determine your height to get the right length, though long dresses can elongate your height and provide a slimming effect.
• Avoid colors that make you look dull or clash against your skin tone!
• Avoid larger or bolder prints if you are petite. Simpler and smaller prints will do you good!
• Don't bury the look of the dress with lots of jewelry or other accessories.
Where To Wear Floral Maxi Dress?
As we said, you can wear them to any casual events or formal ones with the appropriate styling.
• On the beach, combine your dress with a pair of comfortable thong sandals or summer slides, and a woven hat.
• For an evening look, opt for a light jacket, a stylish clutch and killer high heels for a polished appearance.
• On a date night, let your dress, hairstyle, and makeup do all the talking.
• A wedding calls for slinky, ruched, or backless floral maxi dress styles with strappy heels and drop earrings!
• Look for trendy accessories these days to pull off a spectacular look, we personally love rattan bags, cat-eye sunglasses (ya'know Gigi Hadid inspired), and ankle-strap sandals. These go well with anything, anytime and anywhere!
That's the end of this post! Take hold of these gems before they're officially off the racks! We hope you enjoyed this read! If you want to add your own suggestions, hit us up in the comments section.
Have you got any suggestions of your own for the best long floral dresses? Let us know in the comments!