Featured Image: Dolce Vita
 
Best Sneaker Espadrilles for Women
Womens espadrille shoes are just in time for the summer season. You can dress them up or dress them down as you wish. It's the perfect warm-weather companion, and without one, your shoe closet will be lost on good. The ease of wear and versatility found with these pairs is just astounding. You can wear them to a shopping spree, lounging, to the beach, or even to the office (if you will.) And frankly speaking, they never go wrong. 
Apart from the optimal comfort that's expected from them, they let you enjoy the weather and look terrific on all day and night. However, there are millions of options to choose from. To spare you the research and effort, we've found the best womens espadrille sneakers. Each one of them makes fabulous investments for summer for every type of person out there. 
If you love this list of the best espadrille sneakers, you might also want to check out the best cute womens espadrille wedges with comfort level at its finest!
What Are the Best Womens Espadrille Sneakers?
If you're on a summer-shoe shopping errand, consider adding espadrille sneakers to your cart. These are classics that never fail to work for both a formal and casual wardrobe. With their neutral hue and signature rope braided heel, they're equal parts adorable and stylish. Particularly for your Spring and Summer ensembles, be it a dress, casual jeans, or denim cutoffs. Women of all ages can wear them, which makes them tremendously practical. These are the picks you can always have faith in when you're running out of time to get ready. 
To make shopping more comfortable for you, we've combed the internet for the selection of best womens espadrille sneakers to buy now. Whether neutrals are your thing or brights, we've left not one but ten impressive options to choose from!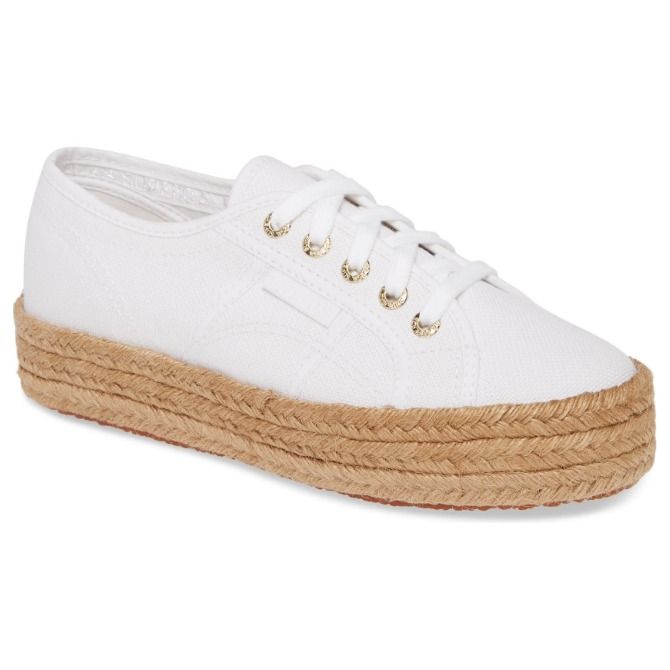 SHOP AT AMAZON
A Pair Worth a Stare!
Sporting the signature earthy-toned rope braided sole, Superga's Cotropew white espadrille sneakers make an ideal choice for the daytime. They're sporty-looking as well as stylish, casual and could easily tie in for an all-day walking experience. Thanks to the cushioned footbed that provides optimal comfort. 
Let us move onto the structure of these fun-looking Superga espadrille sneakers. It carries a rubber sole for sturdiness and has metal eyelets for excellent breathability. This supports lace-up closure and an adjustable fit. Consumers love that it's a style that never dates and easily goes with anything in your closet. 
• Loved for: ★★★★ | Available in different colors, rubber sole, lace-up closure, metal eyelets, cushioned footbed
• User said: I love the platform and style for spring/summer!
WHERE TO BUY: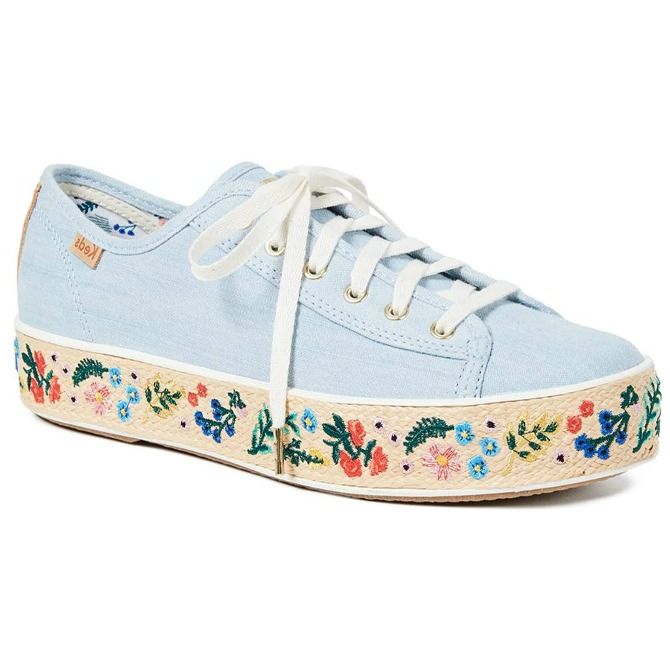 SHOP AT AMAZON
Compliment-Getter!
If Kawaii designs are your kind of thing, you'd love the Keds espadrille platform sneakers. They won't only see you well through the Spring and Summer months, but help get that finished look for any cute outfit. Thanks to the closed-toe, these can be worn during the Fall season as well. 
These are canvas espadrilles women's shoes, and the upper consists of denim fabric as well. The rubber sole with its braided platform features floral embroidery and helps you to walk with ease. If you want to stand out in a crowd, this is it. The pop of color and the effortless sneaker-style mesh well for anybody, anywhere. 
• Loved for: ★★★★ | Canvas & Denim, available in one color, rubber sole, lace-up closure, braided platform
• User said: Beautiful shoes and I get lots of compliments when I wear it!
WHERE TO BUY: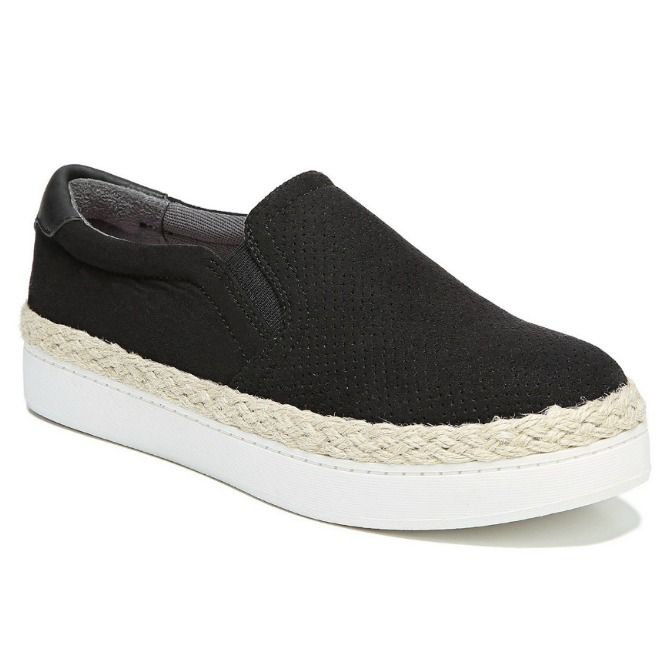 SHOP AT AMAZON
You Need These More Than a Partner!
Do you want to step up your Summer vacation game? Dr. Scholl's platform espadrille sneakers could be your perfect go-to's. This slip-on bears a simple appearance that works best for casual occasions. Though, the braided jute accent adds the punch you need to upgrade your carefree style. 
It supports Be Free Energy Technology in three different zones of the black platform espadrilles for maximum comfort. Slipping them on and taking off is a breeze, the side goring provides extra flexibility, and durable heel allows wonderful tread. Consumers appreciate the generous amount of padding and arch support these kicks have to offer. 
• Loved for: ★★★★ | Available in four colors, rubber sole, be free energy technology, twin goring panels
• User said: Very comfortable! I always get asked about them when I have them on!
WHERE TO BUY: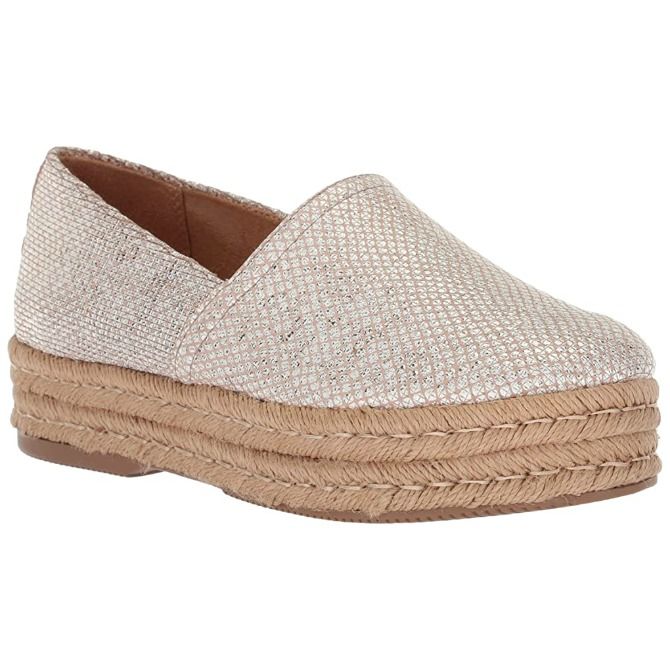 SHOP AT AMAZON
Look Good and Feel Good!
Naturalizer's heavily-roped women's espadrille shoes make a significant impact, both in the office and on the street. The upper is one hundred percent leather coupled with a breathable lining that prevents stinky and sweaty feet. This pair invests the N5 contour comfort system in keeping you feeling light on your feet. 
Thanks to the flexible sole and bountiful padding on this espadrille slip on sneaker, your feet won't kill you after a long day of standing, running, and walking. It provides height, comfort, and chic style in a matter of moments. Just slip these on, which is super-easy and make your feet look fashionable!
• Loved for: ★★★★ | 100% Leather, available in different colors, flexible sole, N5 contour comfort system, breathable lining
• User said: Cute shoes! I love the thicker soles and the jute trim!
WHERE TO BUY: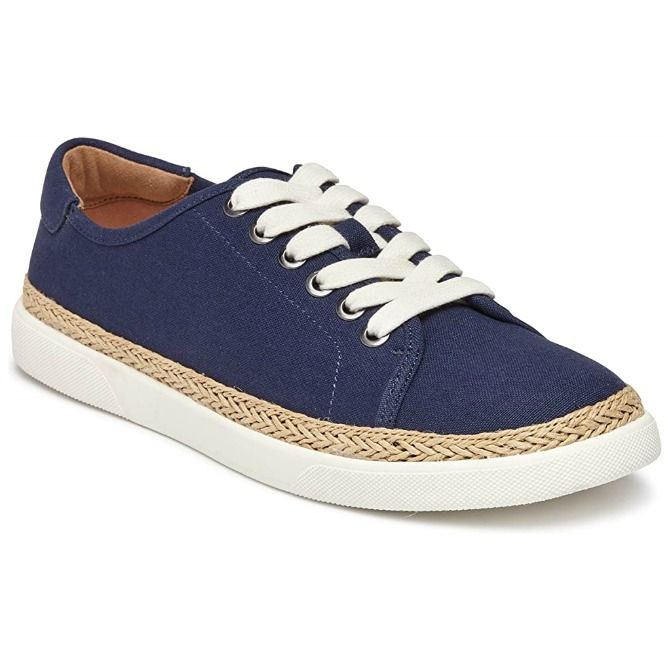 SHOP AT AMAZON
Takes You From Sunrise to Sunset!
If you face some severe feet issues yet want to make the best of summer, Vionic's espadrille platform shoes pull no bull in terms of both style and comfort. Equipped with a canvas upper, removable EVA footbed, and American Podiatric Medical Association Seal of Acceptance, these podiatrist-designed kicks really mean comfort. 
It's constructed to contour to your natural foot shape and bids uncompromised comfort depending on your foot needs. The blue color pleasantly works with the muted tones of the sole and rope-based heel. Whether you need to complete your household chores or wish to go brunching, these ladies espadrille shoes have our approval!
• Loved for: ★★★★ | Canvas, available in different colors, rubber outsole, removable twill covered EVA footbed, podiatrist-designed
• User said: I did not get blisters, even wearing them for 8+ hours the first time!
WHERE TO BUY: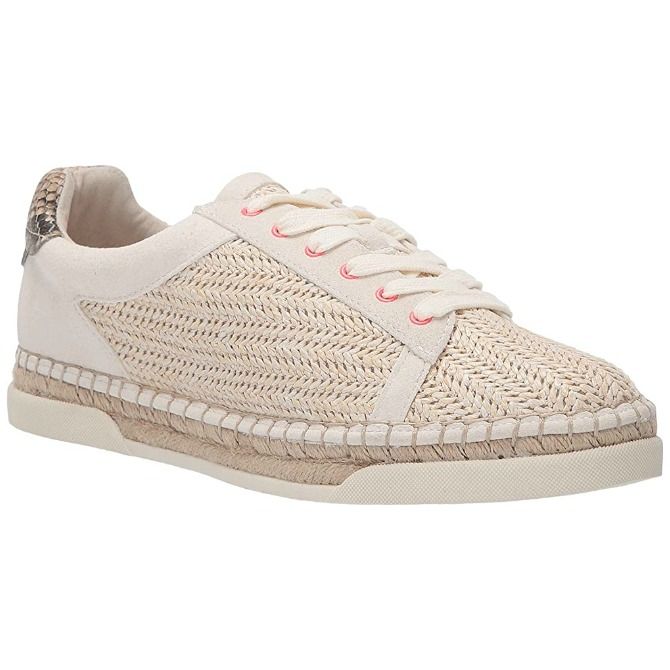 SHOP AT AMAZON
What's Better Other Than Being Customer-Approved
There are not enough words to describe the natural goodness of the Dolce Vita lace up espadrille sneakers. They're sleek and stylish, plus help elevate an otherwise casual outfit very well. They are an excellent choice for the office; running around the town doing chores in these will also do impeccably. 
We totally dig the jute details and the espadrille sneakers white accents that make for a subtle but a very complimentary combination. Not to mention, this beauty has gained full five stars from all the nine customers! Isn't that cool? People love the looks and supreme comfort!
• Loved for: ★★★★ | 100% Calf Hair, available in different colors, rubber sole, mixed-media construction
• User said: Love these and have got so many compliments so far!
WHERE TO BUY: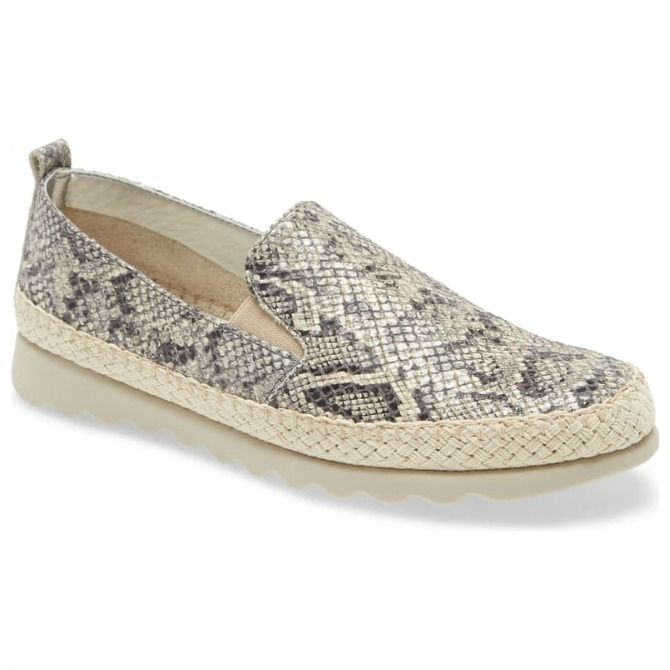 SHOP AT NORDSTROM
Preppy & Perfect!
Whether you are hunting shoes for all-day wear or need a wise choice for the office, nothing makes a better grab than the Flexx espadrille shoes womens sneakers. These feature a pretty braided sole and bring quite a cutesy twist to an otherwise straightforward sneaker. The sporty guise, combined with the heel helps females with short heights as well. 
The light-toned animal print on these espadrille style shoes is trending and is a safe choice for the office. It comes with arch support and a padded footbed to work as pain relievers for your feet. And the cushioned comfort makes this option reasonable for walking long distances. 
• Loved for: ★★★★ | Leather, available in five colors, rubber sole, padded footbed, arch support
• User said: Loved these shoes! Great support and very comfortable as well as fashionable!
WHERE TO BUY: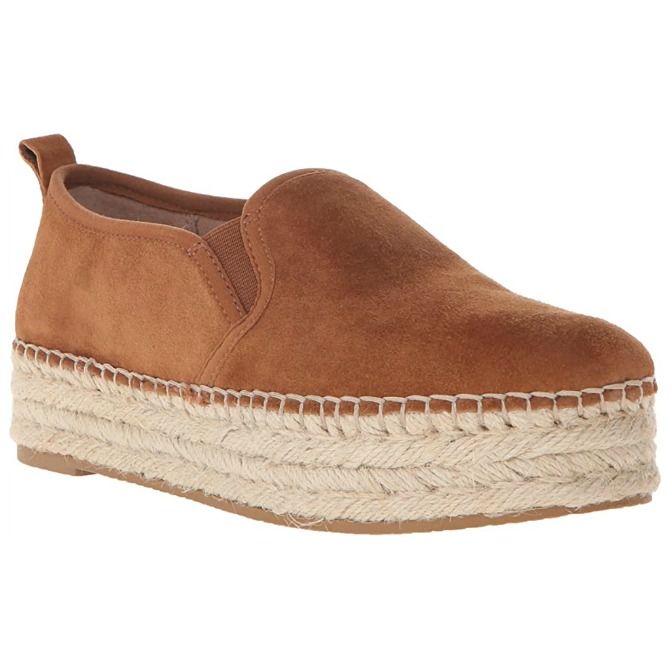 SHOP AT AMAZON
We Should Have Recommended This Sooner!
The brand Sam Edelman always has something interesting to offer that rarely disappoints, true to the statement Carrin espadrille sneaker is no less. Toting one hundred percent Suede craftsmanship and a perfectly braided rope sole, it's a high-quality beast with beauty. 
The espadrille wedge sneaker is effortless to slip on and take off. If you're pregnant or face bending issues, be calm because Carrin would take care. The style is extremely flattering and would make for the right choice on a date night, office, or any casual events. Consumers commend its versatility for Summer!
• Loved for: ★★★★ | 100% Suede, available in different colors, rubber sole, braided trim, slip on style
• User said: They have been fine and comfortable, so I'm happy!
WHERE TO BUY: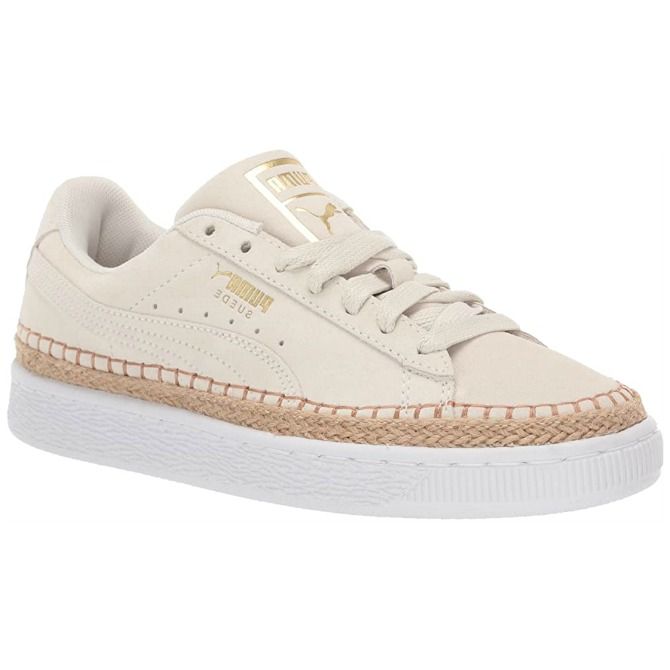 SHOP AT AMAZON
You've Got Nothing to Lose!
We've discussed this baby in another sneaker post as well, and considering this is a reappearance, it's worth a shot! The sneakerdrille is the perfect example of classic meets contemporary. This bears athleisure looks yet possess a sophistication that works best with pencil skirts and dresses. These off white espadrille shoes are composed of Suede and Leather. 
Due to the good-quality fabric, the sneaker espadrilles are sturdy and made to last. Consumers highly appreciate the build quality. They find the shoes to be soft and easy to maintain. Plus, the arch support and comfortable padding are kind on their feet. 
• Loved for: ★★★★ | Leather & Suede, available in two colors, rubber sole, low top, contrasting blanket stitch
• User said: It has very soft suede and excellent arch support!
WHERE TO BUY: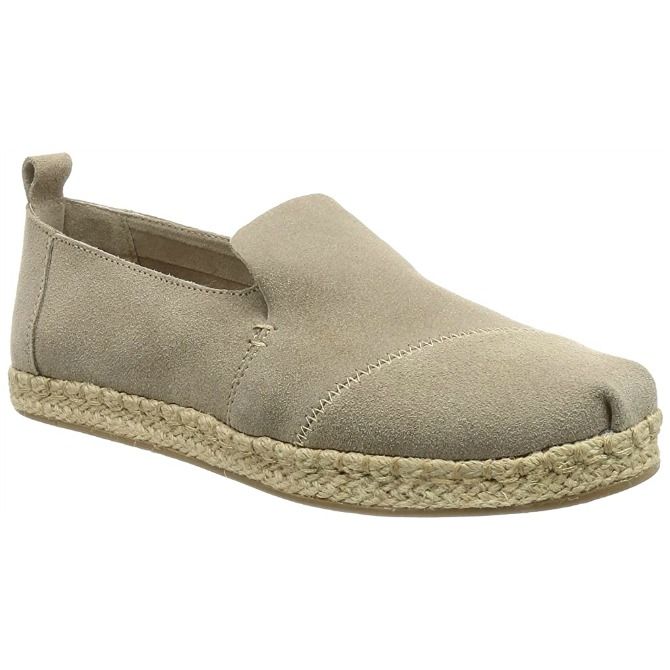 SHOP AT AMAZON
Like a True Shoe Companion!
Another popular brand that never fails to impress is the Toms espadrille boat shoes! They are convenient, and if you believe in the power of comfort, this will be right up your alley. Alpargata's made from a mix of fabrics, luckily high-quality and soft on the feet. They keep your feet odor-free, dry, and look smart!
These canvas espadrille sneakers tick all the boxes in regards to foot comfort. Soft, flexible tongue, light cushioning, back heel loop, and soft footbed are all those elements that make walking, standing, and running unburdensome for you. Not to mention, with every shoe you purchase from this brand, they would give new shoes to a child in need. Great gesture with the one on one policy!
• Loved for: ★★★★ | Available in different colors, mixed-rubber outsole, back heel loop, soft textile footbed, flexible tongue
• User said: I am now a customer for life because I absolutely love these! Feel like slippers and are true to size too!
WHERE TO BUY:
Best Sneaker Espadrilles For Women Overview
No matter what are your plans for the day, these best womens espadrille sneakers would help you achieve them with style and ease. If you have even better recommendations of your own, let us know in the comments below. 
Have you got any suggestions of your own for the best espadrille sneakers for women? Let us know in the comments!