Featured Image: Amazon
Best Cute Sleeping Masks
Are you in need of a serious snooze? From fuzzy masks to silky, smooth, and pearlescent, sleep masks are available in every style. However, a sleep mask cute for women does more than make you look cute while you get your beauty rest. They help you sleep and protect against signs of aging. Like a serum or night cream, a blackout mask over the eyes keeps skin hydrated. Friction from your pillow or quilt breaks down collagen around the eye and causes wrinkles, but sleep masks act as a barrier and keep skin youthful.
Eye covers for sleeping are most well known for helping you get a good night's rest. They work by blocking out light, both natural and artificial. Light from computers, televisions, and cell phones can be particularly disruptive, even interfering in your ability to dream. Dreaming allows you to do important emotional work while you sleep. Beyond helping you tap back into Circadian rhythms, you can also buy a sleep mask as a gift for a bride, bachelorette, or any woman on the go, so check out our list of the cute eye masks for sleeping below!
If you love this list of the best cute sleep masks, you might also want to check out the best eye cream for dark circle to keep looking fresh and young!
What is the Best Cute Eye Mask for Sleeping?
Harness your ultimate sleep powers by blocking out light and even sound, too! The best women's cute sleep masks combine cuteness with other design factors to keep you rested and gorgeous. Some eye covers for women are made with aromatherapy elements. In contrast, others invoke a cooling silk fabric for a tropical feel. Heatable masks relieve tension from headaches, and freezable options fight puffy eyes and headaches.
Are you looking for a cute sleeping mask? One with anti-aging benefits, to enhance lucid dreaming, meditation, hydrate eyes, or to tune out your partner's television watching because you simply need a deep snooze? Types of sleep masks include full silk breathable masks, blindfold-style, blackout-style, weighted, travel, cooling, 360 degrees, and foam-padded. We hope this list helps you find the right mask for you!
SHOP AT AMAZON
Best for Beauty Rest
100% mulberry silk, the Yanser is a luxury mask for women seeking eye hydration. Elegant and in shiny, smooth silk material, this blindfold style sleep mask is ultra-soft and light. Fight fine lines and wrinkles by protecting eye skin with a soft barrier between you and wrinkle-forming pillows and sheets. Two-sided silk fabric means no snagging on hair or slip-sliding masks in the middle of the night. Hypoallergenic materials are great for wearers with sensitive skin. 
• Loved for: ★★★★ | 100% mulberry silk, blindfold style, available in different colors and design, anti-aging
• User said: This works better than melatonin! I was not a sleep mask wearer before, but it has been life-changing.
WHERE TO BUY:
SHOP AT AMAZON
Most Adorable Eye Cover
This adorable gel padded eye cover comes in a variety of striped desert styles with positive quotes like you are perfect! Cotton and linen fabric offer cloud-like comfort for the sensitive skin of women and girls alike. These are free size, so they fit anyone, and everyone, plus the gel layer creates softness on the eyes for a soothing feel. Hip and cozy, this sleep mask makes a great gift for the hip woman who loves the great outdoors. This cute sleeping eye mask sends a fun message to passengers when you wear it on a plane or bus! And reviewers agree: it's great for kicking migraines!
• Loved for: ★★★★ | With gel padding, blindfold style, breathe easily, comfortable
• User said: Plain eye masks block the light, of course, but these have this really nice gel insert- so soothing! Perfect to use when you have a headache.
WHERE TO BUY: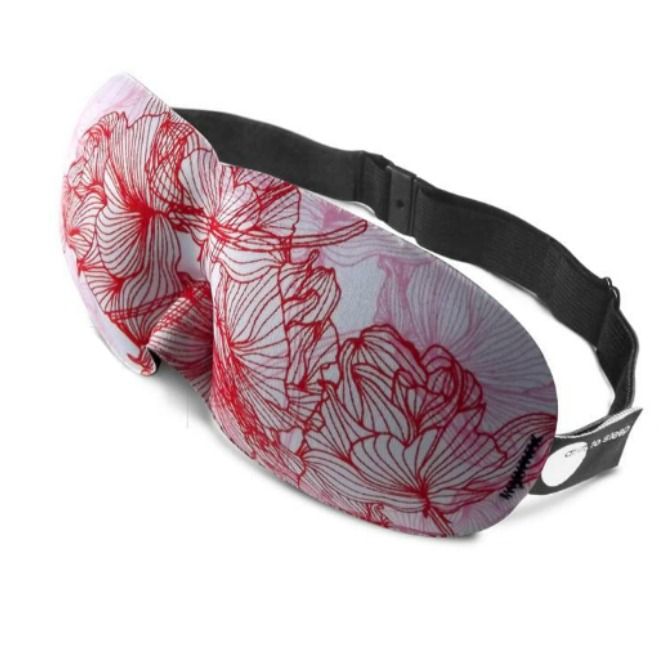 SHOP AT AMAZON
Won't Smudge Makeup!
A patented US design that won't smudge your makeup or snag hair, the Drift to Sleep mask comes in cute midnight rose print, emerald, and elegant black. Foam padding leaves an air pocket over the eyes so your makeup won't get smudged. Comfortable contouring means intense blackout effect, so no light gets to you, even blocking LED and blue light. Straps are adjustable for the customized fitting of any head size. It comes with a free set of earplugs, too!
• Loved for: ★★★★ | Lightweight, contoured, foam padded, comfortable adjustable straps
• User said: I've finally found the best mask for comfortable sleep! Another bonus is that the unique design won't interfere with eye makeup or creams.
WHERE TO BUY: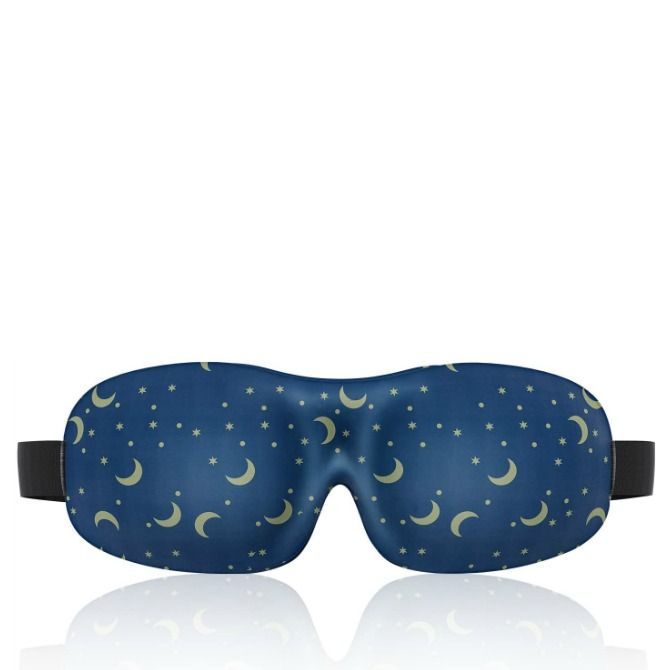 SHOP AT AMAZON
The "Block out That light!" Mask
Made by Lonfronte, this molded eye night cover is made of soft and lightweight material for ultimate breathability. Eye pockets allow for the free movement of eyes, while light blocking technology creates the perfect environment for undisturbed relaxation. Uniquely designed to relieve pressure from face and nose, sponge material is odor-free and as cozy as memory foam! The star moon pattern is super-duper cute, and reviewers say it is "the perfect mask" and "more than just a cutout." Overall, it is professionally made for the professional woman in need of some serious R&R (rest and relaxation!).
• Loved for: ★★★★ | Light and breathable, 3D blackout, fully adjustable, deep eye cup design
• User said: I never found a perfect mask— until now! If you're in need of one, you just found it, too.
WHERE TO BUY: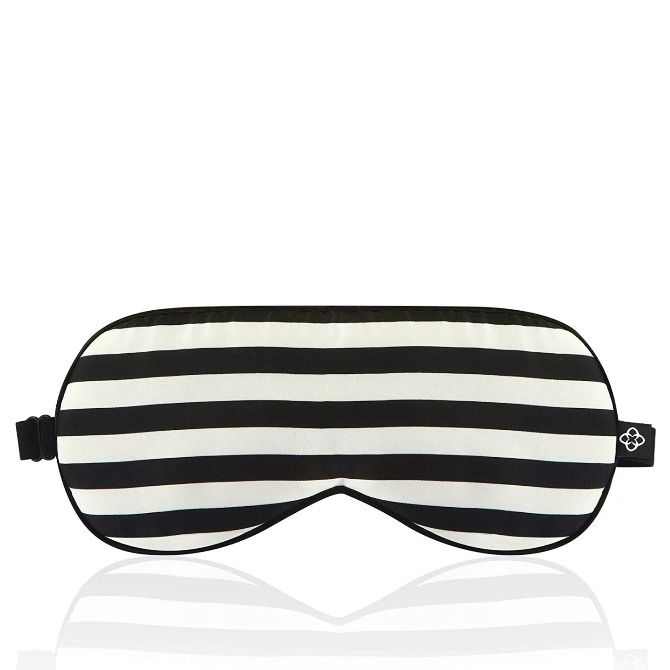 SHOP AT AMAZON
Great for Hydration!
Porous, natural silk material is excellent for hydration of the delicate eye area! This natural silk mask for a hydrating sleep comes with free earplugs and pouch and will enhance your naps, yoga flow, and travel. The mask's gentle touch relieves eye and facial pressure, too! You may select a solid color mask or one with one of two phrases knitted on the front, "I am sleeping" or "good night." When you wear this mask, people get the message: let me be! Nose bridge padding fabric helps you breathe at night and won't leave lines or red marks. This is a cute, stylish mask for total darkness!
• Loved for: ★★★★ | Natural silk, available in different colors and patterns, fits all sizes, comes with dust-proof satin carry pouch
• User said: Super soft, great quality material and  I love that it's adjustable!
WHERE TO BUY: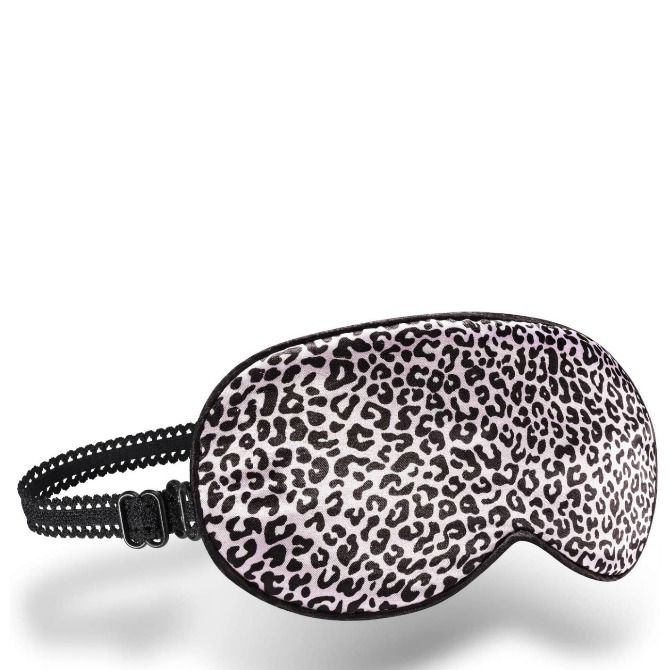 SHOP AT AMAZON
Your Mask for An All-Natural Sleep
Just three ounces and made of one-hundred percent raw material silk derived from natural farms, the ultra-lightweight eyeshade for women is also odor-free. It is healthy for the skin and perfect for relieving fatigue. Band elastic will not bleed on pillows because it is made via 8 unique processes. This lightweight blindfold mask comes in adorable patterns like leopard and black fox! Treat this ultra lightweight mask with care by hand-washing with a natural detergent.
• Loved for: ★★★★ | 100% silk fabric, available in different colors and design, light and soft
• User said: My hubby leaves the TV on at night and now I can finally get some sleep! Plus, it's soft and comfortable.
WHERE TO BUY:
SHOP AT AMAZON
Relax with Lavender!
Unlike the other sleep masks, this one is infused with a natural lavender aroma to treat issues like insomnia, fatigue, migraines, and headaches. Lavender aroma soothes the body and heightens relaxation effects in modern medicine. Instead of grabbing for the ibuprofen, consider using a scented aromatherapy eye pillow like the one featured above. It redirects blood flow and fights headaches the natural way. Combining both cold and aromatherapy, this urban spa pillow for eyes is also eco-friendly and pet safe with a one-year warranty, too! Freeze for two hours to fight puffy eyes. 
• Loved for: ★★★★ | Filled with lavender and flax seed tonic, soft adjustable strap, spot clean
• User said: This eye pillow feels very relaxing to use for daytime naps. I love it!
WHERE TO BUY:
SHOP AT AMAZON
Perfect for Side-Sleepers!
If you are looking for ultimate softness, look no further. This pure silk eye covering blacks out all light and protects against dry eyes. The mask won't disrupt your sleep because it stays in place, even on restless sleepers. A completely adjustable headband is made of elastic and adjusts to all head sizes. One-size-fits-all and perfect for sensitive skin, it charges up your melatonin production while you rest. Silk fibers give delicate skin ventilation and keep oxygen flowing. It is thin and unweighted with even pressure distribution. A no-wrinkle design means you are fighting your best anti-aging fight!
• Loved for: ★★★★ | 100% percent mulberry silk, available in different colors and prints, one size fits all
• User said: This is a beautiful, delicate silk eye mask. It is quite long and hits mid-cheek, protecting your eyes from the bright sun in the morning!
WHERE TO BUY: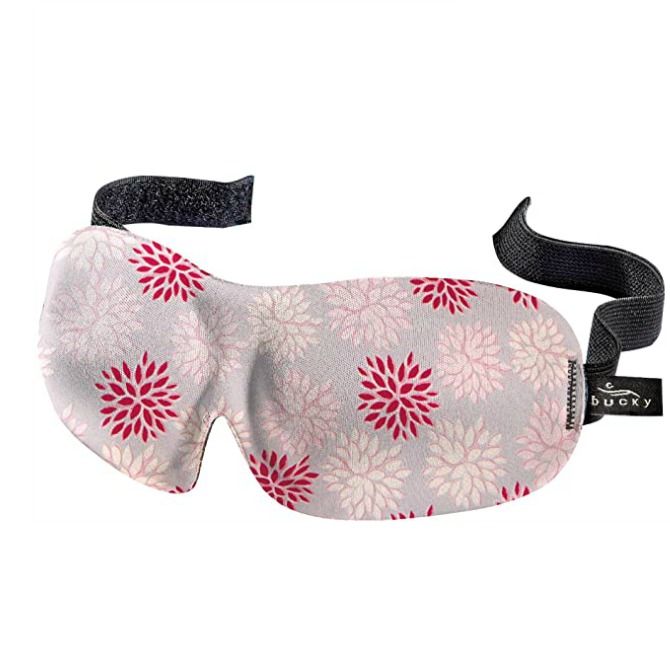 SHOP AT AMAZON
The Sleep Like a Baby Mask
Contoured with interlocking foam, this no pressure beauty mask is all the pressure you need for full rejuvenation! Latex-free foam creates a deep orbital space to keep makeup looking fresh. Healthy airflow allows for unobstructed blinking that won't ruin false eyelashes. The Bucky mask blocks out all light and can be paired with other Bucky items like neck pillows and a soothing buckwheat seed wrap! The no pressure eye masks come in a variety of cute patterns like ditsy floral and pink Arabella. Reviewers say the Bucky 40 Blinks mask gets them to, "sleep like a baby!"
• Loved for: ★★★★ | Available in different colors and prints, ultra lightweight, latex-free molded foam
• User said: I sleep like a baby when I wear these -hardly know they're on!
WHERE TO BUY:
SHOP AT AMAZON
Your Ditch The Tension Eye Pillow!
There's nothing worse than waking up with pain still raging in your head, at your temples, or just behind the eyes. IMAK's patented eye pillow is designed to treat headaches, sinus pain, and migraines by relieving pressure with its gentle massaging fabrics and researched stitching methods. Intense eye tension from computer work or phone time can be treated by freezing this mask, and this is also a great solution for puffy eyes. An ergo bead filling adds to the softness making this perfect for sleeping in. Wearers call it "amazing" and perfect for getting into your "sleepy mode!"
• Loved for: ★★★★ | Pain-relieving, soothing, breathable, freezable
• User said: This mask is simply amazing! I mainly use it to block out light when I have a migraine and it does a great job.
WHERE TO BUY: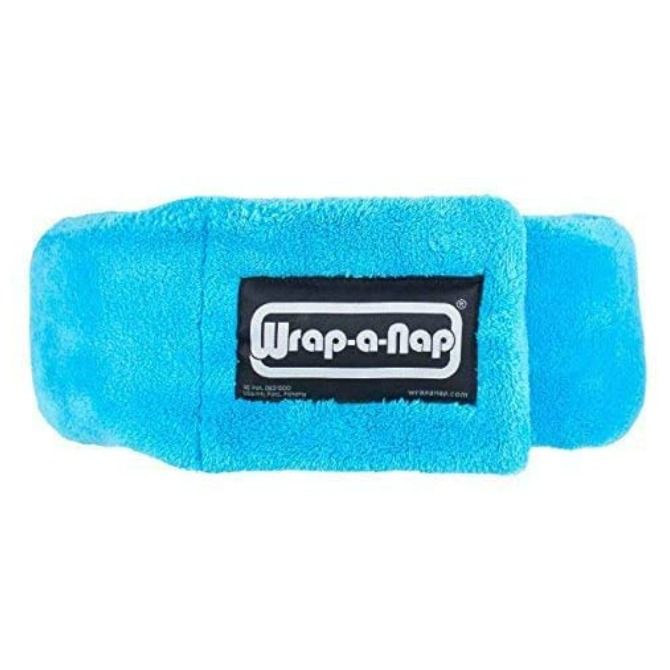 SHOP AT AMAZON
Your On-the-Go Sleep Mask and Pillow, Too!
A fuzzy wraparound muff, this duo eye, and ear cover can be moved around to become a pillow for your neck or lumbar support. Filled with Minky and plush fleece, it is both soft and durable. You don't need to keep track of earplugs anymore since this sleep mask is designed to cover your ears and muffle sound at the same time. The Wrap-a-Nap is so fulfilling one Amazon reviewer even said his girlfriend left him for it! While we can't suggest this is a relationship replacer, we do stand behind its light and sound blocking coziness: a real hug for your head!
• Loved for: ★★★★ | Available in different colors, convertible, portable, one size fits all
• User said: I just wrap it around my eyes and ears – that's it for a great nights sleep!
WHERE TO BUY:
Best Cute Sleep Masks Overview
Now the mic goes to you: which of the above cute eye masks is calling your name? We can't wait to hear how it's working for you! Feel free to post your find in the comments below.
Have you got any suggestions of your own for the best cute sleep masks? Let us know in the comments!