Best Comfortable Heels for Work 
The one thing that can hold you back from showing your full potential and giving your utmost attention is a pair of uncomfortable heels that make your feet cry by the end of the day. Just as good workwear is crucial to make the best first impression and carrying on with that statement everyday, comfy heels for work follow suit. Shoes are like the brickwork to your structure. If the brickwork is not strong, needless to say, your confidence topples, and productivity level drops like a hot potato. 
You might have sworn off heels for the life of you. But we know in the heart of hearts; the majority of women want to wear them. Though, only without the soreness and bruising, heels bring along, right? Well, you've come to the right place! We've compiled a list of the best comfortable womens heels that are perfect for standing up, moving and walking all day! No more distractions now!
If you love this list of the best comfy work heels, you might also want to check out our list of comfortable office shoes for women!
What Are The Most Comfortable Work Heels That Are Office-Appropriate?
Whether your job requires you to be on your toes from 9 to 5 and you wish to add some height or look the part of a professional environment, comfortable heels work like a charm to do both! There are plenty of heel brands in the market that claim to be highly-comfortable. Still, upon close inspection and research, those options prove otherwise. 
To save you from the marketing trickery and get you a pair that has everything you need for your feet, which also keeps the sanity of your mind during work hours, we've rounded up the best comfortable heels for work. These cut the pain and feel comfy on all types of feet even (problematic feet) the whole time! Besides, you have no idea how stylish they are!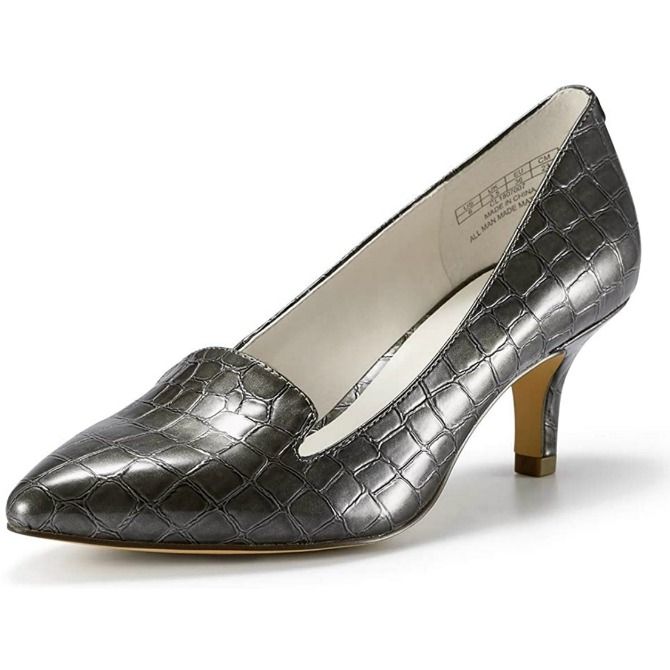 SHOP AT AMAZON
A Compliment-Earner!
Indulge in Jenn Ardor's Black Work Heels! They look as pretty in reality as on the feet. It is made from man-made leather with a latex sole, instead of an EVA footbed. This shoe helps alleviate any foot pain, no matter how long you stand or how briskly you move. It is a classic pair for work that can be dressed up and dressed down with jeans, dresses, skirts, and pants how you like. Customers have only good things to say; superior comfort and sophisticated style!
• Loved for: ★★★★ | Man-made Leather, available in different colors, pointed toe, comfortable latex insole, 2.5 inches heel
• User said: Very stylish, and after being on my feet for 10 hours, my feet do not hurt!
WHERE TO BUY: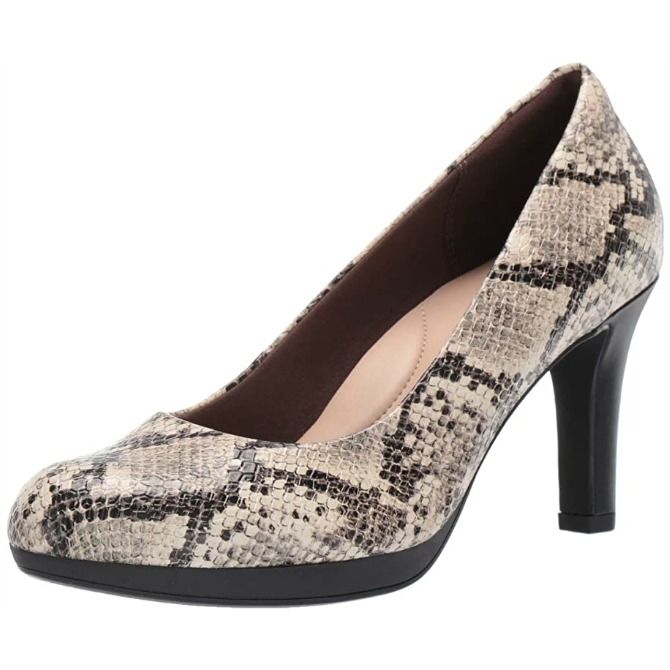 SHOP AT AMAZON
Best Foot Forward!
Clarks are tried and tested by thousands of people worldwide. They make comfortable heels for standing all day, and the comfort level is second to none. If you need a pair that stays true to your side, Adriel Viola makes an excellent choice. This work shoe can be used for dressier casual occasions as well as glamorous events and won't cause your feet to cry by the end of the night. Using leather construction with soft cushion footbed, these provide ease of walking and feel of freakin' clouds!
• Loved for: ★★★★ | Leather, available in different colors, Ortholite footbed, textile lining, 3.25 inches heel
• User said: These shoes hold up and don't hurt my feet during my hectic day, even up and down 3-5 flights of stairs several times a day!
WHERE TO BUY: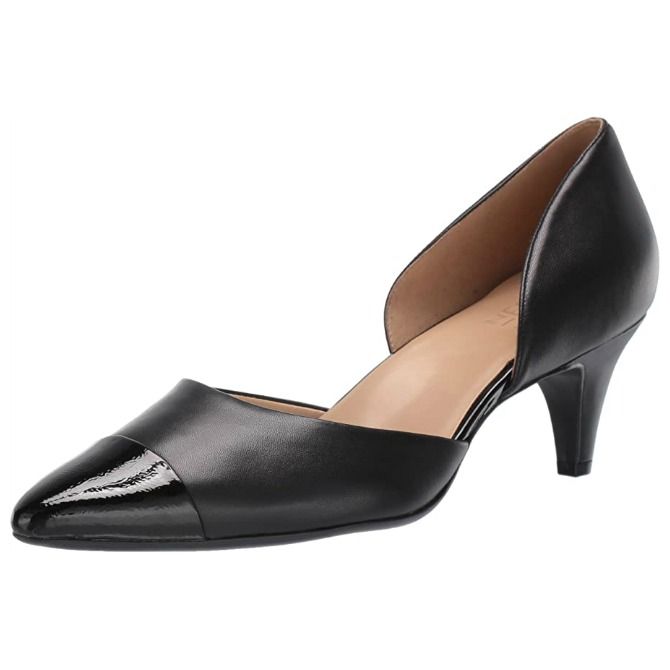 SHOP AT AMAZON
For the Office and Beyond!
For a better fit and feel that doesn't leave your feet all day, Naturalizer makes one of the best heels for work. Barb uses open-cell cushioning that ensures comfort every step of the way and doesn't drain you out after a busy day of moving. These elegant pumps make a great choice for formal occasions and the office. Besides, it comes with arch support, and your feet won't be painfully rammed in—no need to sacrifice comfort for style here. 
• Loved for: ★★★★| Leather/Suede, available in three colors, cushioned insole, 2.25 inches heel
• User said: These shoes are incredibly comfortable and hide my bunion well!
WHERE TO BUY: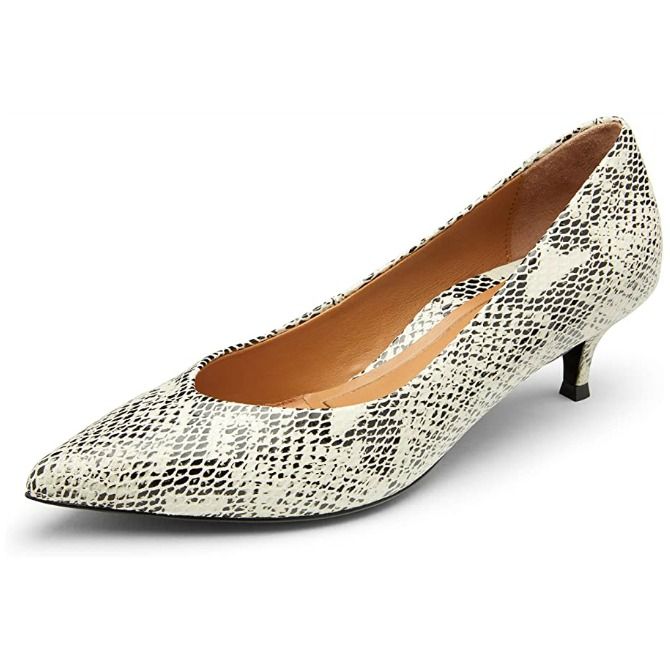 SHOP AT AMAZON
Your Foot Mate!
For a pair that meets both fashion and function, Vionic offers the most comfortable pumps for work that you can pair with dresses, blouses, trousers, and even with dressier jeans. Crafted from premium leather of Italy, the shoes include an extra layer of foam, a deep heel cup, and enhanced forefront contour to perfectly conform to the shape of your foot. The additional cushioning lifts off the pressure of staying on your feet and walking all day long. 
• Loved for: ★★★★ | Leather, available in different colors, rubber sole, deep heel cup, metatarsal dome padding
• User said: Finally a pretty shoe that I can wear to work or even formal events!
WHERE TO BUY: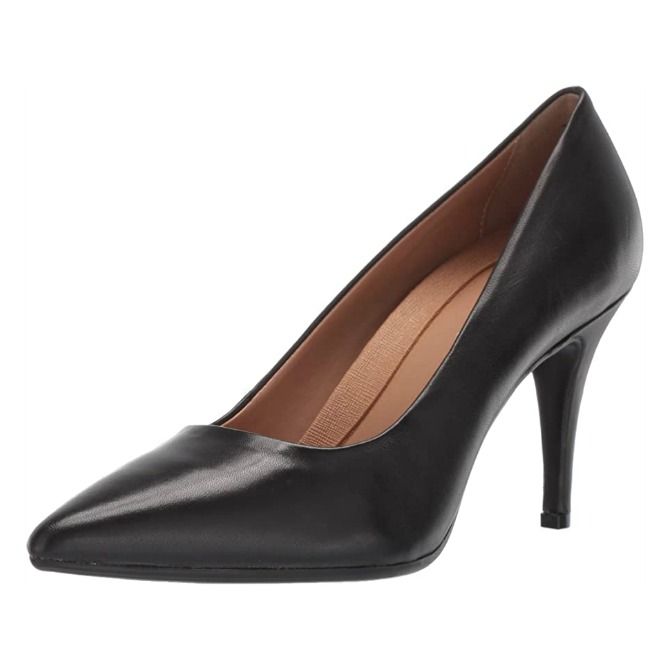 SHOP AT AMAZON
A Sole Mate!
True to its name, Aerosoles pumps are not only the most comfortable heels for work, but they are the need of the hour. If you're looking for reliable and graceful shoes to invest in, no need to look elsewhere! With a covered heel, removable footbed, memory foam, and heel rest technology, you don't only get to achieve a pressure-free stance, but all these benefits make moving a cakewalk for you! This classic pump is a perfect finishing touch for any outfit and any event! 
• Loved for: ★★★★| Leather, available in different colors, removable footbed, heel rest technology, memory foam
• User said: They are comfortable, beautiful, and have great support!
WHERE TO BUY: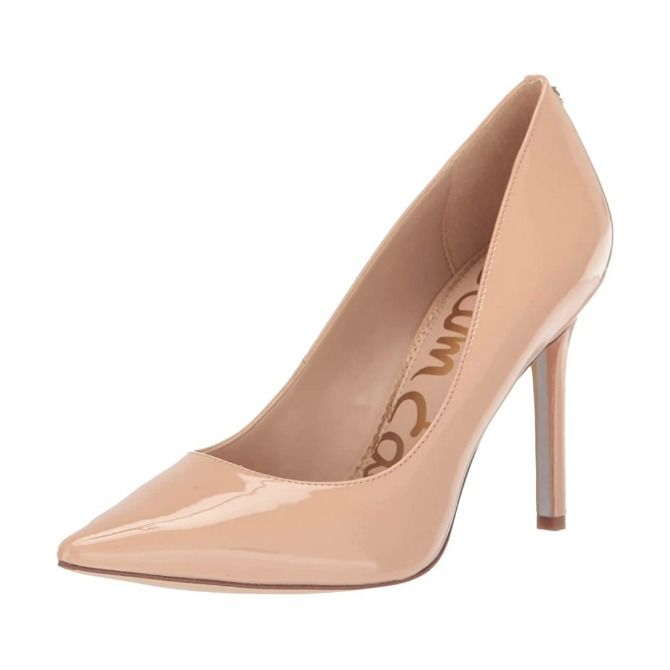 SHOP AT AMAZON
Goes a Long Way!
If you've arrived on this post in the hopes of great suggestions of comfortable heels for women, you're in luck! Sam Edelman pumps come with padded sock comfortability. The low-cut design offers a leg elongating illusion, and the product is made out of calf hair. This impressive number is the perfect basic for your daily grind and feels insanely comfortable on the feet. These are well-made and very durable! But only for narrow feet, so keep that in mind when buying. 
• Loved for: ★★★★ | Hair Calf, available in different colors, latex sole, leg lengthening design, padded sock
• User said: Very comfortable and fits great with skinny jeans or joggers!
WHERE TO BUY:
SHOP AT MACY'S
We're All About the Heel!
Going classic is always the easy way out and around. Similarly, Alfani's offering makes beautiful block heels for work. Created from rich suede, the texture and the appearance of these pumps speak volumes about its high-quality and longevity. The metallic heel is the perfect ode to the metallic trend and adds a nice slice of a modern twist to an otherwise simple shoe. This shoe utilizes cushioned insole and snaps n flex technology to make going back to work with heels on a breeze for you. 
• Loved for: ★★★★ | Leather/Suede, available in two colors, step & flex technology, metallic heel, 3 inch block heels
• User said: I can't wear heels too high and the block heel gives me the support I need in a shoe!
WHERE TO BUY: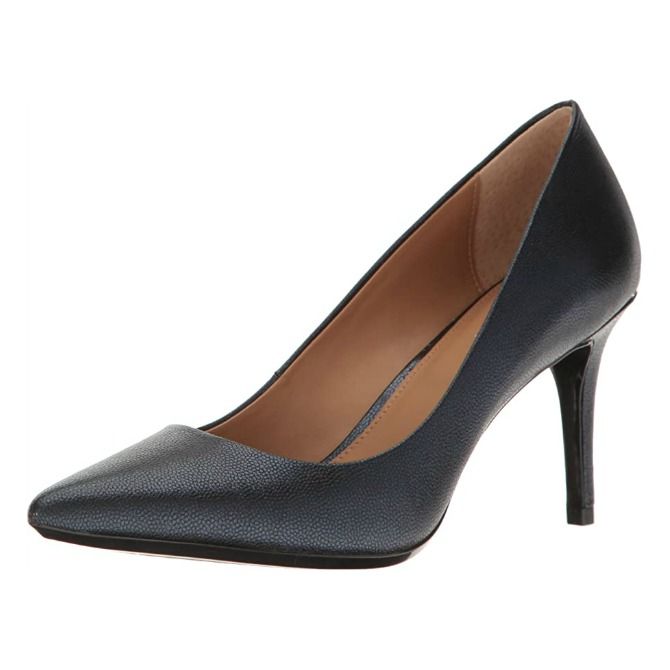 SHOP AT AMAZON
Just The Pair for Bad Days!
Believe it or not, but these pumps have the Cinderella effect with its shiny silver exterior and classic design. These are one of the types of comfortable heels women must invest in because pairs like these are functional, practical, and are handy dandy day and night. It is leather-made and features a fantastic sole with shock-absorption while being weather-resistant and slip-resistant, too. You won't only get comfort but lots of protection too, even on damp surfaces!
• Loved for: ★★★★ | Leather, available in different colors, classic pointed toe, signature gel pod inserts, slip-resistant and weatherproof sole
• User said: The heel is high enough that it elongates my legs but not so high that I can't work a full day in it!
WHERE TO BUY: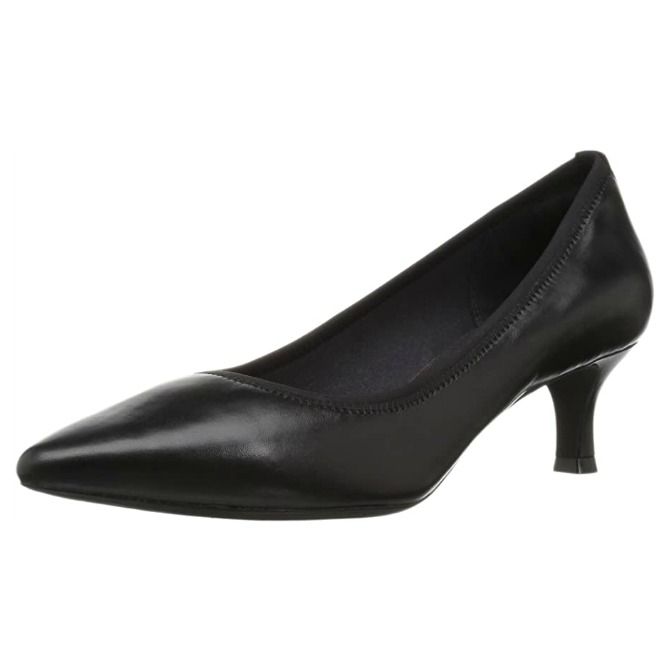 SHOP AT AMAZON
One-Way Ticket to the Office 
For style, form, and function, Rockport's comfortable black heels are the answer to your prayers if your job requires you to be on your feet the whole time. Kaiya looks flawless with business attires and even upscale functions. It employs soft grain leather with a foam-backed lining and TruTech comfort system for shock-absorption. With a glove-like fit, the shoes feel comfortable right out of the box and have the perfect heel height for a newbie!
• Loved for: ★★★★ | Leather, available in six colors, rubber sole, non-slip, shock-absorption, foam backed lining
• User said: The heel is high enough for dress-up and low enough not to tip over!
WHERE TO BUY:
SHOP AT NORDSTROM
Ideal Pick When You're In A Pickle!
Shoes that you can legit wear all day long without second thoughts are the Sofft Myka comfortable nude heels. It made from leather and is sporting a latex-cushioned sole and arch support. The pumps are easy on the feet and act as fantastic support for the back of your feet. Whether you face blisters or bunions, the round toe is quite roomy and convenient for all sorts of foot shapes. Plus, we like the straightforward design, which works with everything, everywhere!
• Loved for: ★★★★ | Leather, available in two colors, cushy footbed, arch support, 2 ½ block heel
• User said: Feels like walking on clouds!
WHERE TO BUY:
Best Comfortable Work Heels Overview
How To Make Heels Comfortable For Work?
The comfort level differs from person to person, as well as foot shapes. There are heel lovers and heel haters, but there are those women with conservative jobs where flats aren't allowed. So heels at that point in life become a must. 
Whether you're a heel addict or a beginner, you don't necessarily have to wear high heels. They are not office-friendly, and neither do you have to discomfort yourself. You can easily match the office dress code through low heels, which are way more comfortable and office-appropriate.
Get a Feel
If you're planning to invest in heels but do not know how to wear and walk in them in the first place, get chunky or comfortable wedge heels for work. A thicker heel is easier to wear and won't cause wobbly feet you so fear with thin heels. Once you get a feel for the chunkier heel versions, and when you start to feel more confident in heels, you can slowly work your way up towards stiletto heels.
Comfortable Height
Some of you might be fans of high heels because of the exceptional height they provide, but for the office, high heels are a big No. Let's just agree that high heels are not comfortable, and staying comfortable is the key in an office. 3-inch heels are enough, that's maximum and is acceptable in offices too. But going beyond would be silly and the cause of sore feet for yourself.
The True Fit
Seriously, the fit is everything! Once you get the right fit, everything falls into place. If you have a wide foot or foot problems such as bunions, you may want to get a wider toe box. Pointy toe heels can get tricky to work with, especially if your feet aren't the least in the narrow side of things, but round toe heels could just be the thing for big feet. 
When shopping online, read reviews, check for the brand's helpful questions, and answers sessions. Most of all, get a pair only if you trust it blindly, or it comes with a return policy for a risk-free purchase. 
Add Insoles and Make Changes
Even if low heels don't satisfy you, make them comfortable with your own additions. You can add insoles of your own for added comfort, or take the shoes to a shoe professional for changing the heel tips and even the soles to add extra rubber portions to make the shoes more comfortable for you. 
Practice Makes Perfect 
You know there's a reason rehearsals exist before the real show. So when you get work heels, wear them in the house and practice walking. This is not only a great way to break them in, but you'll be all set to wear them to the office later. 
That's the roundup of our comfortable heels for work. Instant comfort and style, we've laid out the most popular and highly-discussed options for you. Make the pick and chase the clock tick without the foot pricks!
Have you got any suggestions of your own for the best comfortable heels for work? Let us know in the comments!