Featured Image: Athleta
Cloth Face Masks
With the current situation, you may have noticed the rise in demand for protective face masks and the extremely low supply rate. Most of the good-quality ones are sold out or put you on a waitlist for weeks on end. And with CDC now encouraging the public to wear masks, specifically in packed places where people are more at risk than ever, for instance, grocery stores. 
Protecting yourself even if you don't have access to a mouth cover mask is essential. It helps you and protects your loved ones and the entire community from the danger of virus (if you knowingly or unknowingly have it) from transmitting to them. 
Remember, a cloth face mask is certainly NOT the only solution to fight and protect yourself against COVID. Other recommended measures suggested by the government officials must be practiced to stop the spread of this pandemic. But, Yes! A good-quality mask is one-step ahead to do your part, and we have chosen 10 of the best ones that are ready for delivery, asap. 
Face Cover Mask that is in Stock
SHOP AT AMAZON
Not Stuffy!
Made from a comfortable and breathable material, it fits the upper half of the face and below the chin securely while preventing moisture. The tighter fit is great for protection against large droplets, dust, pollen, spray, and can be washed for reuse and to prevent germ build-up. Consumers appreciate it's extremely convenient!
• Loved for: ★★★★ | 100% Cotton, available in five colors, reusable, ringspun cotton lining, washable
• User said: This mask is so soft and comfortable and also so cute!
WHERE TO BUY: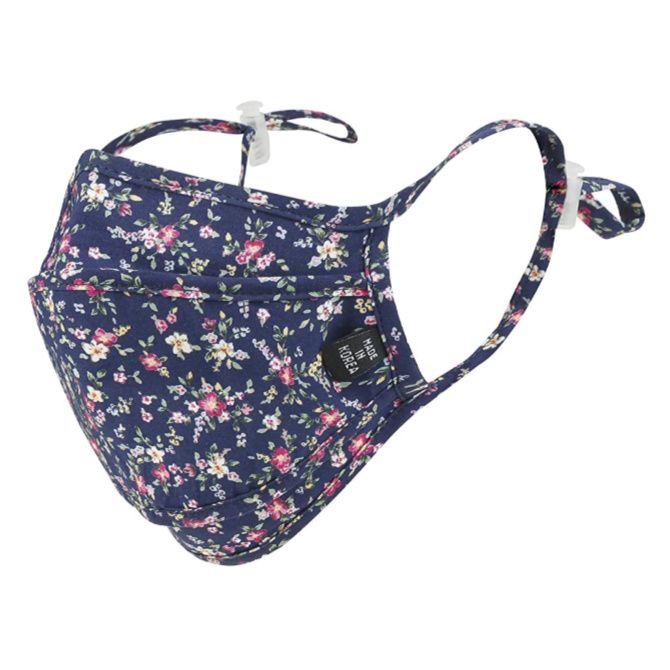 SHOP AT AMAZON
Well-made And Pretty!
If you'd rather go for a good-looking fabric mask, you can try your luck with this floral offering. Made with cotton for breathability, it's double-layered with a sewn-in filter for battling the advancing risks of the virus. It feels lightweight and covers the lower face part securely.
The adjustable loops tug firmly behind the ear for full support. This isn't suffocating and is reusable after washing. Also, washing and drying it properly before use is highly recommended for getting rid of any plastic-y smell. It is the best face mask for germs, in our opinion. 
• Loved for: ★★★★ | 100% Cotton, available in one color, double layered, sewn-in filter, reusable
• User said: The mask sits away to create a little pocket to allow for comfortable breathing!
WHERE TO BUY:
SHOP AT AMAZON
Has Our Respect!
It's good to keep some cloth face masks handy at all times, and Levi's offers a great opportunity with a pack to hoard a few that are reusable. This offers a tight, secure grip around the mouth and is made from 100 percent cotton due to which this is quick-drying and ventilated.
The pack includes 3 masks that can be worn from the reverse way round as well. Self-fabric cords help in achieving a customized fit to get your preferred level of sealing. 
• Loved for: ★★★★ | 100% Cotton, available in five colors, reversible styling, adjustable cord ties, machine washable
• User said: As a hairdresser, I wear a mask for 12+ hours a day, and I have had no issue with these bad boys!
WHERE TO BUY: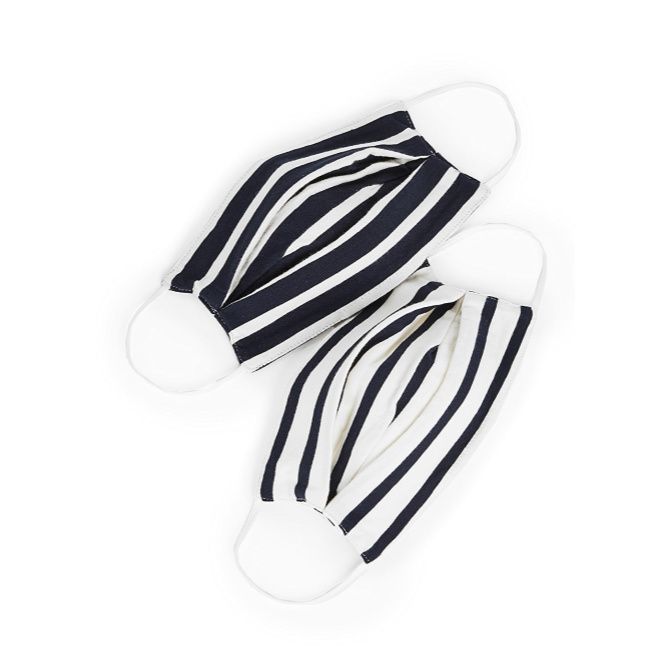 SHOP AT SHOPBOP
Again, if you're bulk-buying!
Choose to do it with these pretty-looking black and white striped Kule's cloth mask. This pack of two can be hand washed and reused from time to time. Carrying elastic straps, these adjust well around the ears and don't cause pinching or itching. The fabric promotes airflow, is quick-drying and adaptable thanks to the use of 100 percent cotton.
The cover has a banded upper for a better scope of protection. It doesn't make any promises neither is proven in any way, but for your safety, face coverage is everything you should go by. 
• Loved for: ★★★★ | 100%Cotton, available in one color, ear straps, washable
• User said: Both minimal and cool enough for anywhere!
WHERE TO BUY:
SHOP AT SHOPBOP
Cheers You Up!
Yes, wearing a face cloth mask is essential, and Citizens of Humanity's offering makes wearing one in summer much easier owing to the sweat-wicking abilities. Apart from that, high-quality cotton material keeps it lightweight, easy to wear, quick-drying, and washable for anti-bacterial reasons.
It saves you against sunlight, pollution, dust, and everything nasty in the air. The pack has an assortment of three different covers with different cute prints, which on another note, uplift your mood and bring happiness into this morbid period. 
• Loved for: ★★★★ | 100% Cotton, available in one color, tie straps, washable
• User said: Love the cute and minimal print!
WHERE TO BUY:
SHOP AT NORDSTROM
Comfort Considered!
From Nordstrom's own line, this pack of four mouth cover mask include some cool-looking prints and carry built-in filter pockets as well. Made out of cotton, these favor airflow over sweat and softness over itchiness. Even in a humid and hot climate, this won't feel oppressive and stays dry to give you optimum comfort. Places, where social distancing is hard to practice, could be faced with this option.
Adjustable ear loops are neither too big nor too small, and they stay in place with the tie closure provided for your ease.  
• Loved for: ★★★★ | 100% Cotton, available in other colors, adjustable tie loops, built-in filter pocket, machine washable
• User said: The material is so comfy, and the fact that it is adjustable is fantastic!
WHERE TO BUY:
SHOP AT AMAZON
A Unique Grab!
Packs are convenient, you can help your fellow loved ones by sharing or keeping backup for emergencies. Plus, packs ensure not having to go out to buy them again and again. Either way, packs are useful. Each mask bears a different gorgeous-looking design done in sequins and looks cool both day and night.
The glittery view is undoubtedly striking and forms from the nose to the chin firmly without heating up your face. Earloops are stretchy and easy to work with. Handmade by a female-owned company, this is a bestseller amazon face mask. 
• Loved for: ★★★★ | No.1 Bestseller, available in one color, stretchy elastic trim, hand washable
• User said: There was love put into this mask, and it's got personality!
WHERE TO BUY: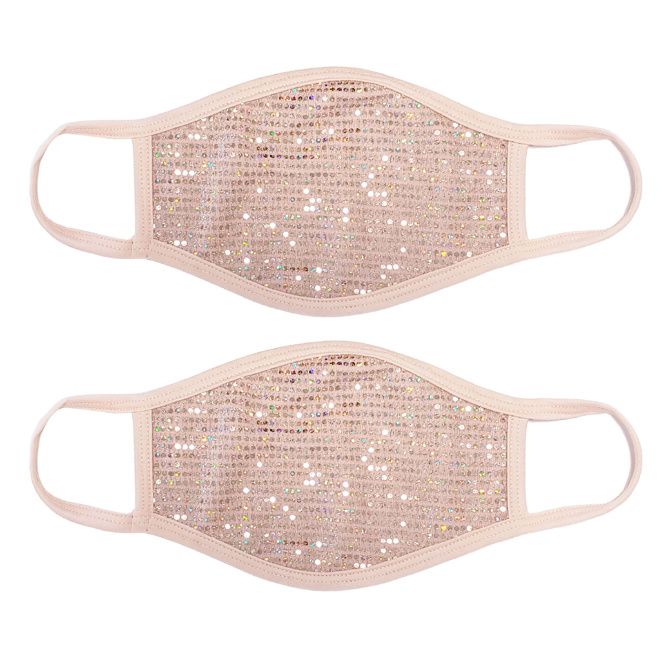 SHOP AT WALMART
Surprisingly, A Compliment-Getter!
Since cloth face masks are a thing now, this one keeps your style on point all due to the metallic and chic-looking design. The company hasn't gone overboard with the flashiness, the bling has the right balance. Also, it's made from soft nylon, metallic, and spandex for excellent stretchability and comfort-fitting.
Unisex design renders this a fave for both men and women. Made with three layers, it does a great job of covering and protecting you. Customers are in love with the pretty looks. 
• Loved for: ★★★★ | Nylon Blend, available in one color, three layers, unisex, reusable
• User said: High five to the person that selected the fabric for this one!
WHERE TO BUY: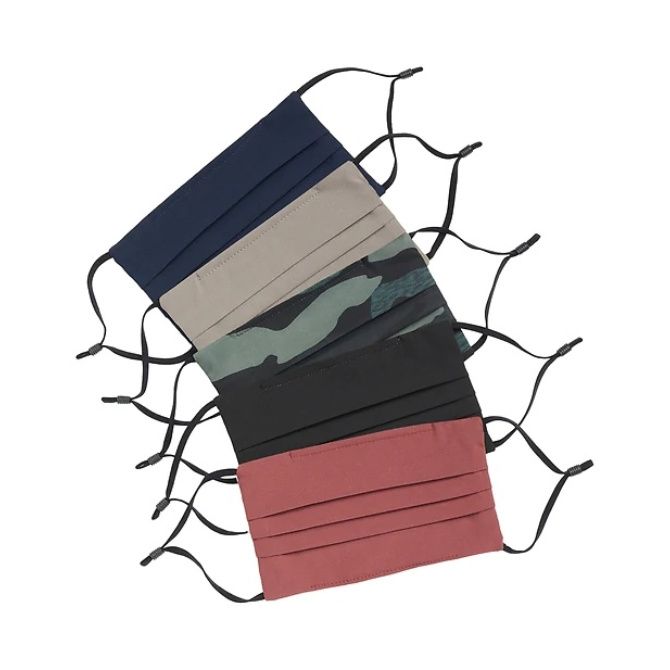 SHOP AT ATHLETA
Doing Your Part Is All That Matters!
The struggle for finding well-made protective face masks is real. Still, Athleta solves the problem with a really nice-quality pack of five. Made from three layers created from polyester and spandex promotes airflow and feels light against the skin. Breathable and quick-drying, these non-medical options make no claims other than asking you to follow the recommended social-distancing guidelines, washing hands, not touching your face and taking other safety measures.
Athleta is donating 100,000 non-medical masks to a major healthcare organization, which is a sincere step to making the world a better place!
• Loved for: ★★★★ | Polyester/Spandex, available in one color, cotton liner, three layers, machine washable
• User said: Very soft, almost silky, breathable and fits my small face with adjustable ear loops!
WHERE TO BUY: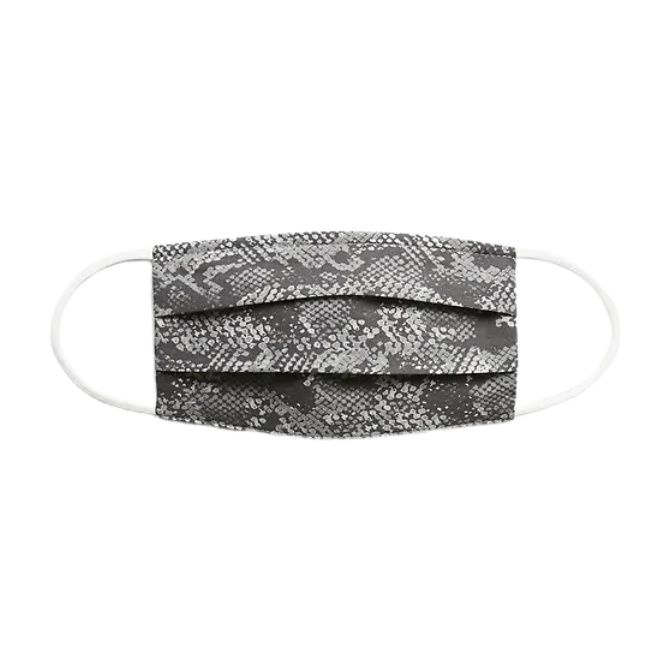 SHOP AT BANANA REPUBLIC
Comfort Over Anything!
Always launder a fabric face mask before use, and this one from Banana Republic is reusable, so no panicking for more masks. Made out of triple-layer cotton, it bids comfort and covers the face well. The straps are stretchy and soft, don't dig nor cut into the flesh.
Available in different patterns, there is a beautiful assortment of designs to choose from. An adjustable wire is included in the nose region for it to stay put, and it doesn't cause itchiness or chafing in the least. 
• Loved for: ★★★★ | Cotton, available in different colors, over-the-ear straps, adjustable nose wire, reusable
• User said: The price is right and they look great!
WHERE TO BUY:
Cloth Face Masks Options Overview
Keep in mind a cloth face mask is no substitute for other recommended precautionary measures. Still, it can reduce the risk of spreading this infection further. If you have any favorite masks to recommend that are readily available, share them with us. Stay aware, and stay safe!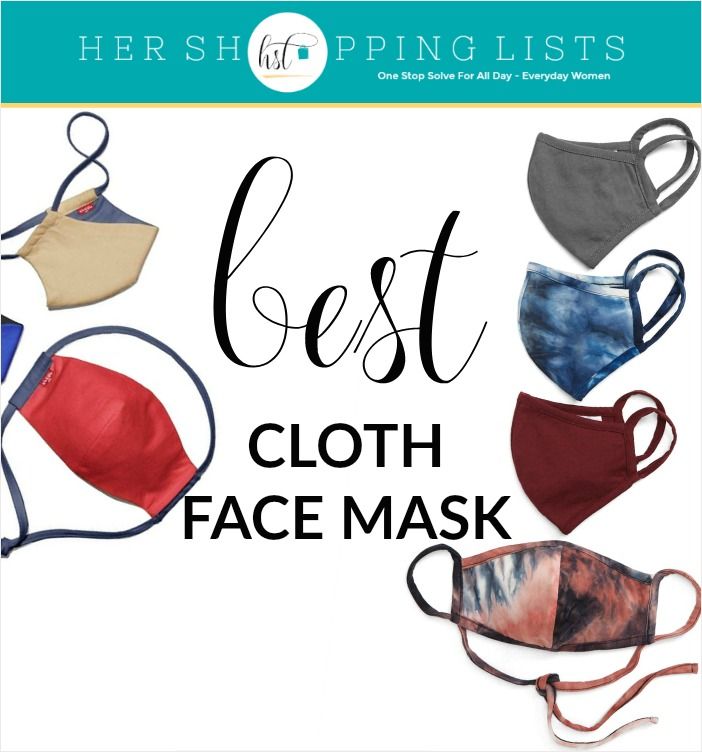 Have you got any suggestions of your own for a cloth face mask? Let us know in the comments!