Featured Image: Naadam
Best Womens Cashmere Sweaters
Only a few materials in this world scream luxury and comfort, quite like a cashmere sweater. It's the ideal wardrobe staple that transitions from fall to winter. But this also means it can cost you an arm and a leg, especially those with designer tags. However, all's not lost. The online market is an incredible place to come upon some extremely unique finds. That, too, at a cost most favorable for your budget. 
We're looking at the best cashmere sweater for women on our list with gorgeous designs and affordable prices. The products range from cozy to cute, comfortable to captivating. You'll be spoilt for choice and in awe of these smart, purse-friendly finds.
If you love this list of the best womens cashmere sweaters, you might also want to check out the best fleece joggers for women to stay snug & lounge-ready!
What Are the Best Cashmere Sweaters for Women?
If you don't want the prickling feel and bulk of the wool, and the unsatisfactory warming abilities of fleece and cotton, then cashmere sweaters are your best friend. Like a true friend, it's thin but warm and personal. Add to the convenience its ability to be layered upon and look great on. With that said, the expensive aura and high-quality feel of cashmere are unmistakable, and it gives years worth of use. Of course, it necessitates great care but holds lasting durability at the same time. 
You may assume that warranting yourself a good-quality cashmere is actually all about dropping some major coin. But no! We've created a category of the best cashmere sweater for women available at a steal of prices with beautiful appearances. From neutrals to brights, everything's nice about our catalog. You'll see it for yourself. We've featured brands that adopt fair exchange practices and expert craftsmanship to give this fabric justice for zero pilling and prolonged seasonal use. 
SHOP AT AMAZON
Daily Confidence Starts With Lark & Ro's 100 Cashmere Sweater!
A modern black cashmere sweater never goes wrong. Not only is it a sort of little black staple, but it can be worn both in and out with trousers, pants, and a long, lovely skirt, too! The Classic V-neck and subtle ribbing add a touch of feminine. At the same time, it's carefully assembled to be durable and 100 percent cashmere at your service!
• Loved for: ★★★★  | 100% Cashmere, available in different colors, v-neck, subtle ribbing, resistant to pilling
• User said:  It fits perfectly and hits me above the hipline. I like the V neck and the way it hangs. Nice weight!
WHERE TO BUY:
SHOP AT AMAZON
Spoil Yourself With This Camel Cashmere Sweater!
A smart cashmere turtleneck sweater like the one from State's goes with everything, every time. Pop it on with a frilly dress and caramel-colored boots, or pair with blue jeans and gray boots: you'll look superb. Made from pure sustainable cashmere, the shade variety is on par as neutral color schemes go, while the silhouette's tastefully body-enhancing. 
• Loved for: ★★★★  | 100% Pure Sustainable Mongolian Cashmere, available in different colors, pull on closure, adjusted tension knit, anti-pilling
• User said:  Birthday gift for my wife: fit as expected, excellent style, classic look, and priced reasonably!
WHERE TO BUY: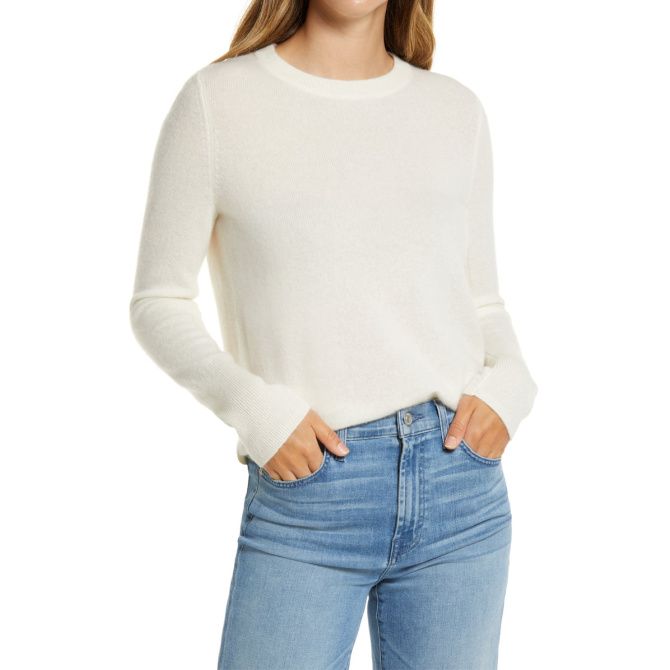 SHOP AT NORDSTROM
Halogen Cashmere Sweater Goes The Extra Mile!
Halogen's white cashmere sweater is the perfect addition to your wardrobe. Not to leave the fact an ideal styling piece for day and night. Pair this with floral dresses or go all-white with black heels. It lavishes you with softness while turning you into a pretty sight for everyone to appreciate. 100 percent cashmere make this worth an investment!
• Loved for: ★★★★  | 100% Cashmere, available in five colors, long sleeves, crew neck
• User said: I was pleasantly surprised by how soft and non-scratchy they were. For the price, it's an incredible value!
WHERE TO BUY:
SHOP AT EVERLANE
Everlane Cashmere Sweater Is a Fantastic, Cozy Basic!
Anything goes with this pink cashmere sweater, be it mustard flared pants or a similar colored skirt. We love the effortless vibe of this number combined with 100 percent cashmere; it merely becomes adorable. We'd call it 'the beauty with strength' as it's pill-less and gets softer with wear. Perfect for living and layering, come fall! 
• Loved for: ★★★★ | 100% Grade A Certified Cashmere, available in different colors, signature reversed stitching, pills less, relaxed fit
• User said: Purchased solely off a cashmere review I read. I am so pleasantly surprised because the top is beautiful and the quality is great!
WHERE TO BUY: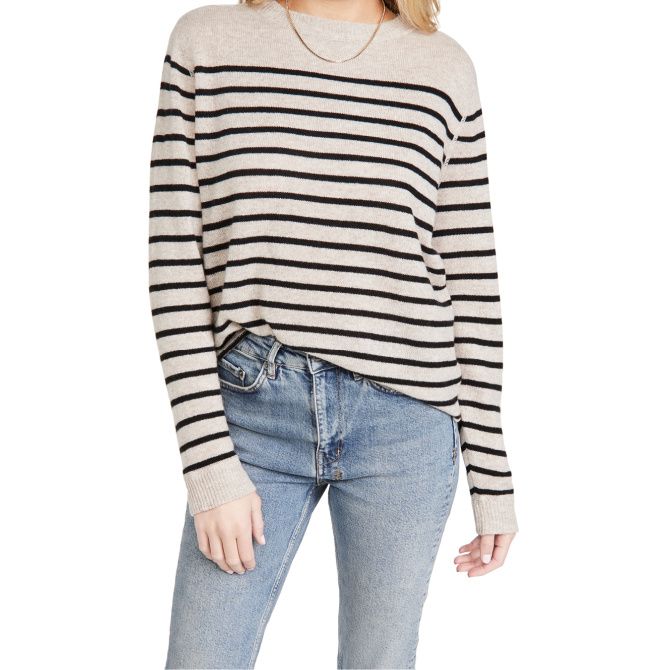 SHOP AT SHOPBOP
Crew Neck Cashmere Sweater Womens Pull-on Solves It!
Super for fashionably making it to any place, be it heading to the brunch with friends, or taking a commute to work. It's very durable, and you don't have to be self-conscious about ruining this crew neck cashmere sweater. Thanks to the cool striped print and relaxed outlining, leather pants with this would look superb!
• Loved for: ★★★★  | 100% Cashmere, striped print, crew neck, long sleeves, ribbed edges
• User said: It's made of super soft and stretchy cashmere to keep you warm. It's a softie!
WHERE TO BUY:
SHOP AT LAND'S END
Looking for Cashmere Cardigan Sweaters?
Created from decadent cashmere, this sweater is wicked soft and wearable. The shapely waistline enhances the figure, and this itself gives a pop of color to any outfit. Be it blue jeans or a red dress, you can rock it with anything, and let the color brighten your day. It'll support you whether it is the start of fall or the depths of winter! 
• Loved for: ★★★★  | 100% Luxurious, 2-Ply Cashmere, available in different colors, grosgrain-trimmed placket, rib crewneck, long sleeves
• User said: I bought the red cashmere sweater. It is a very flattering color, and I am incredibly pleased with it. It has a soft feel!
WHERE TO BUY: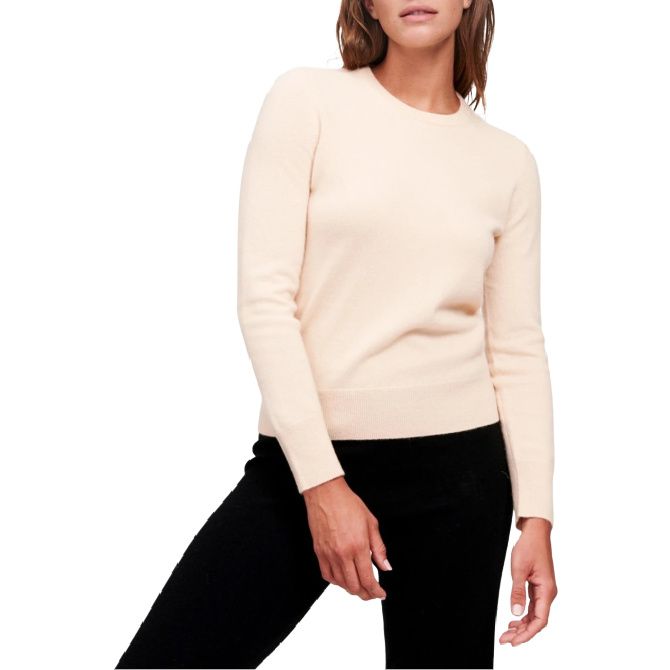 SHOP AT NAADAM
Cashmere Sweaters Women Don't Mind Repeating! 
The kind you can never get tired of repeating. The cream cashmere sweater is blended with Mongolian cashmere that's sustainable and mind-blowingly comfortable. It's true to size, available in two times extra small to two times extra-large. You'd definitely come upon the perfect fit. With black jeans or a black leather skirt and chunky boots, you can easily become next-level stylish. 
• Loved for: ★★★★  | 100% Sustainable Mongolia Cashmere, available in different colors, minimal pilling, wrinkle-free
• User said: This is the softest thing that has ever come through my mailbox, and you will not regret purchasing it. I promise!
WHERE TO BUY: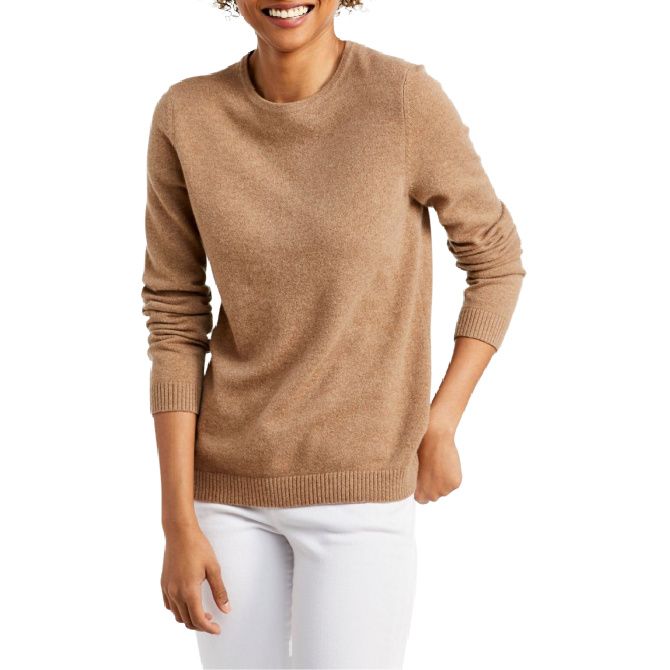 SHOP AT LL BEAN
Cashmere Sweaters for Women Should Be This Good! 
There's balance in this pure cashmere sweater: it's neither too thick nor too thin. Not fitted and not baggy, just the perfect in-between. People comment on the utter wearability factor, especially in winter. A variety of colors are at your disposal. You can mix and match or get it in a range of shades you like. Dress it up or dress it down — your choice. 
• Loved for: ★★★★  | 100% Mongolia 2-Ply Cashmere, available in different colors, narrow ribbed trim, softly shapes the body 
• User said: I loved the sweater so much. It was soft, not scratchy, just the right weight, the longer length, and the easy fit were perfect!
WHERE TO BUY: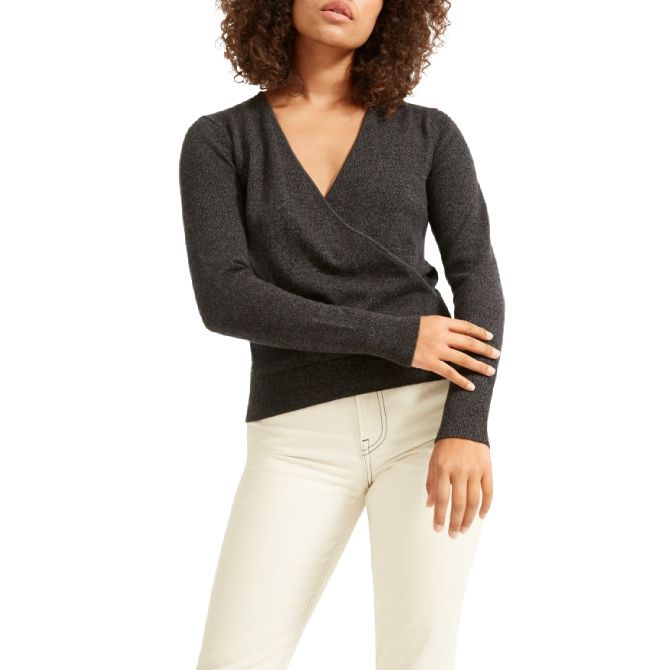 SHOP AT EVERLANE
Cashmere Sweater V Neck Is a Sweet Beaut!
Ridiculously soft owing to the Grade A cashmere construction, consumers cannot stop buying this beauty. If you like it low, this can be donned along with pants. But it also could be impeccably worn over a shirt or blouse. We can't mistake low-key cool appearance since it's a classic turned modern. Looks best with high-waisted capris. 
• Loved for: ★★★★ | 100% Certified Grade A Cashmere, available in different colors, v-shaped wrapped front, machine washable
• User said: The cut is as flattering as possible and is reminiscent of ballet. The material is so soft and even, a pleasure!
WHERE TO BUY:
SHOP AT MACY'S
Happy Hour With Pure Cashmere Sweaters!
Available in a stream of colors, Charter Club's Macy's cashmere sweater couldn't have come at a better time. Long-sleeved with a shirttail hem, tucking it half-way in or letting it out leads to awesome style. The boat neckline lends it extra sexiness, which you all could do with when dressed up or dressed down in Autumn. 
• Loved for: ★★★★  | Cashmere, available in different colors, shirttail hem, boat neckline, long sleeves
• User said: I love Charter Club cashmere. This particular style is very fashionable and perfectly cut. I'm planning to buy most of the colors!
WHERE TO BUY:
Best Cashmere Sweater for Women Overview
Is a Cashmere Sweater Worth the Money?
The only caveat with cashmere sweaters is their expensive costs and demanding maintenance. But then, you get what you pay for, and it's seen as the gold standard for high-quality winter wear. We won't deny the popularity of cashmere, particularly the fact that it justifies its hype. 
However, not all womens cashmere sweaters are made equal. There's a difference between types of cashmere, particularly those only mere blends of the original fabric. We know exactly how to separate quality pieces from the trash and determine whether your pick is worth the money. 
Is Cashmere Fabric Good for Cold?
Yes, cashmere fabric is considered a king of fiber because it's deliciously soft and more warming than wool and doesn't come with the wool's itch factor. Even a pure thin cashmere sweater is better at keeping you warm than versions of fleece, polyester, and cotton. Seemingly, the warming elements is what determines the price of cashmere. The thinner the fabric, the lesser the price. Thicker the fabric, the more expensive the cost. 
Pure cashmere sweaters have great moisture absorption power, making it less susceptible to accumulating sweat and retaining moisture. It is breathable and keeps you dry in all situations. Cashmere contains special molecular abilities that keep you cool in warm weather and warm in cold weather. You won't feel stuffy or suffocating in its soft layers of warmth. 
Since the cashmere goat belongs in areas with harsh cold climate, cashmere is eight times more insulating than a regular sheep's wool, making it ideal for the winter season. But no matter how cold-proofing it is, the fabric itself is lightweight, which makes it great for travel because there's no bulk to deal with during packing. Besides, layering this fabric with an additional sweater or coat becomes so much easier. 
How Long Does a Cashmere Sweater Hold Its Shape and Elasticity?
Cashmere has a natural elasticity of 40 percent, which renders it perfectly flexible to wear all day long. It's a known luxury material that reigns supreme in softness since it's made from the soft, fleece-like underlayer of the cashmere goat. That's where the opulent softness comes from. Also, it is stated that a cashmere only gets softer with age, if proper care is taken. 
Talking about softness has everyone wonder about its longevity. That all factors into how much you take care of this fabric. It demands extensive upkeep, so you have to make sure it isn't met with stains, pulling, punching, and being mindful wearing it in high-traffic areas. Sandwiched between people will not be the most ideal situation to be in while wearing cashmere. As you will only manage to destroy its fragile structure. 
Despite the delicate nature of this fabric, its advantages outweigh the disadvantages. Not only does it offer maximum comfort, but it's also fire-resistant, hypoallergenic, and a timeless piece that will never go out of fashion. 
If you're looking for the best cashmere sweater for women for layering, wearing alone, and styling at excellent prices with superior quality, you'll find it in this post! Want to see your recommendations here? Add them in the comments section. 
Have you got any suggestions of your own for the best cashmere sweater for women? Let us know in the comments!