Featured Image: Billabong
Best Dress With Buttons Down Front
Summer heatwaves call for different fun activities; beach, brunch, hiking, tanning, friends, or simply hanging out. And when you're in the mood for some fun, changing clothes is probably the last thing on your mind, but looking good has to be done to have fun in style. There's no need to choose between a bevy of summer outfits for various summer activities. A button front dress is enough to transition from a beach coverup to evening attire. 
While they're pretty, trendy, and an absolute must-have for last-minute adventures, the options are made available at a steal of prices. From easy-breezy silhouettes to comfortable fabrics and gorgeous designs, we've marked down the best button front dress highly coveted by women. They describe them as never-failing for all your summer endeavors!
If you love this list of the best button front dress, you might also want to check out our list of the best ankle strap sandal to complete your outfit!
What is the Best Womens Button Front Dress?
Summer is one season when you crave minimal, breezy and lightweight fashion. Part of that comes from the heat forcing your body into a longing for air. The mood is another part wanting nothing more than a single slip of a thing for practically everything summer has in store for you. Luckily, we totally get you and have set our eyes on button front dresses that can be your savior this summer! They are an ideal relaxing pick-me-up for battling sweltering heat and enjoying exactly what one heads out for.
There are thousands of summer dresses in the market. We've scoured the internet for hours to create a list of the best womens button front dresses with a nod of approval from the real customers. 
SHOP AT AMAZON
No Frills!
Available in a range of colors and prints, Angashion features a dress with buttons down front, V neck, and spaghetti straps. It keeps you feeling comfy and breezy even on the hottest of days while making an excellent grab for attending dinners or catching up with friends on the beach. The polyester and cotton fabric lies soft against the skin with no pinching, itching, or being skin-pricking. Straps are adjustable for precise fitting and keep the neckline in place. The buttons are only for show, and pockets come useful for storing your essentials. 
• Loved for: ★★★★ | Polyester/Cotton, available in different colors, adjustable spaghetti straps, buttons for show
• User said: It's stretchy and not thin, but it isn't thick and heavy. I love the material!
WHERE TO BUY: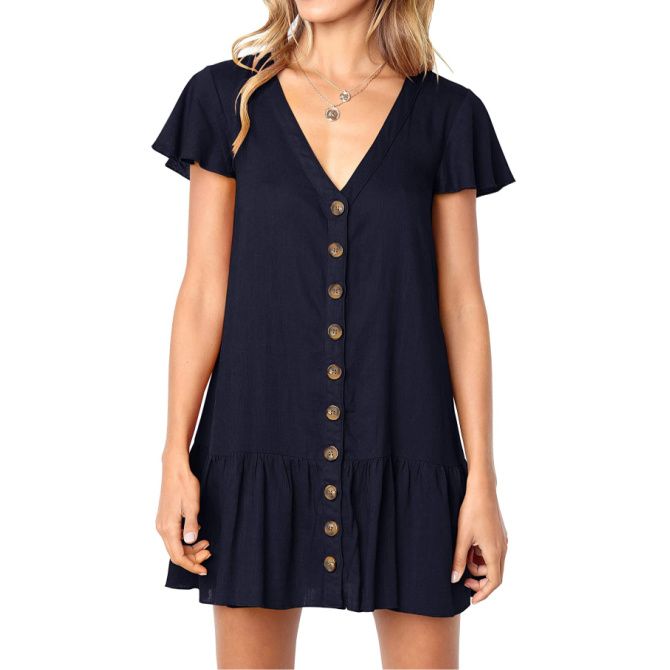 SHOP AT AMAZON
In With the New!
Imysty offers a button front dress midi T-shirt dress in a range of adorable colors. You can stock it in various shades to wear on different days or pick one in your favorite color for a special event. Polyester and spandex are used to make the fabric, combining softness as well as non see-through opacity. The button closure isn't for all 'we know,' but the end results are gorgeous enough to overcome the odds. This is a 'hero dress' to team up with boots, heels, sneakers, you name it, making you look instantly pulled-together. 
• Loved for: ★★★★ | Polyester/Spandex, available in different colors, non see-through, short cap sleeve
• User said: It looks cute by itself or when worn with a belt!
WHERE TO BUY: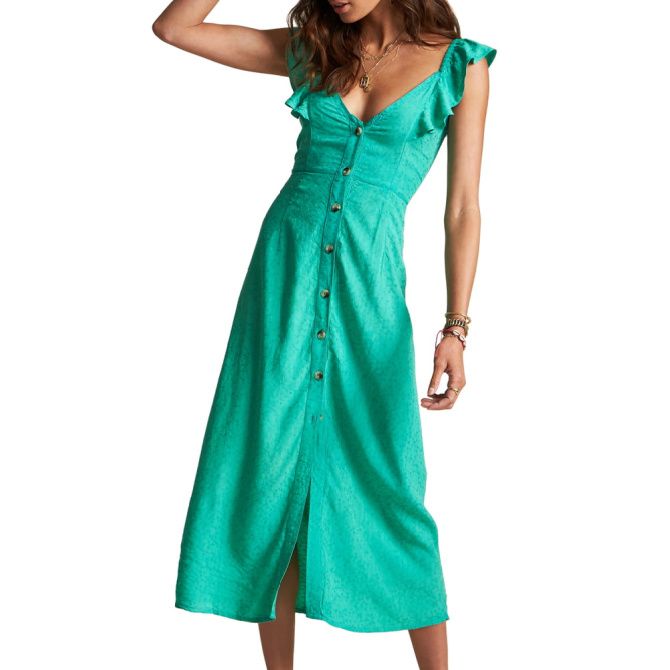 SHOP AT NORDSTROM
Romantic!
Summer's not complete without a pop of color, and to make the most of this season, Billabong's button up front dress in a bright shade of turquoise is a perfect choice. Long and flowy, it's exactly how we like it in summer, and it is fantastic for the beach, lunch with friends, cocktail parties, and so on. Made from 100% rayon, it keeps the wearer cool and comfy. Takes a mere minute to put on and take off with no tucking or confusing styling decisions to make. Just slide on some sandals, a woven hat, and you're good to go. 
• Loved for: ★★★★ | 100% Rayon, sweetheart neckline
• User said: The color is so pretty, fabric lightweight, and perfect for summer!
WHERE TO BUY: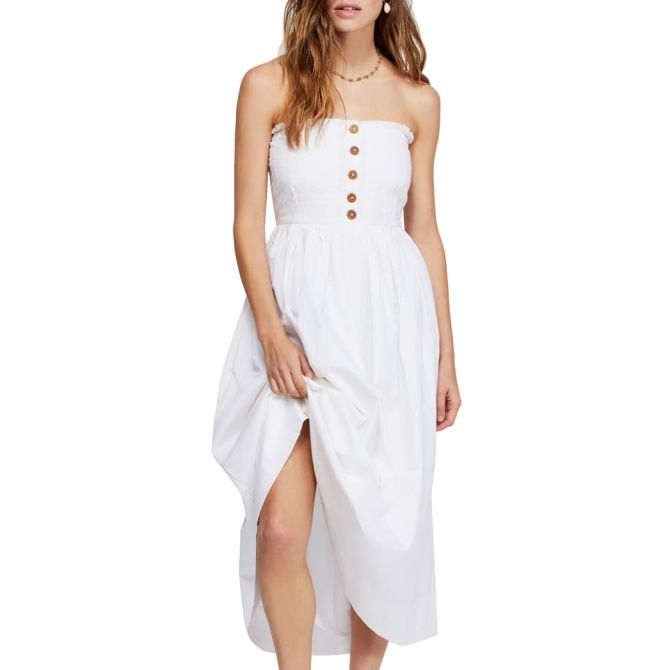 SHOP AT NORDSTROM
Punk Rocker!
This white dress with buttons down the front reminds us of the runaway bride. Now, in no way, it's a wedding dress but carries the same cool and retro vibe of that reference. Ideal for rocking with sneakers and chunky sandals for a boyish vibe. And can be styled up with lashings of gold accessories and strappy heels for a glamorous dressed-up event later. The strapless neckline lends it a carefree air and provides an opportunity to show some skin. It's 100 percent cotton; definitely aimed to keep the heat out thanks to the lightweight fabric. 
• Loved for: ★★★★ | 100% Cotton, available in another color, strapless, machine washable
• User said: I like pairing it with flat sandals. I like where it falls and how it accentuates my waist!
WHERE TO BUY: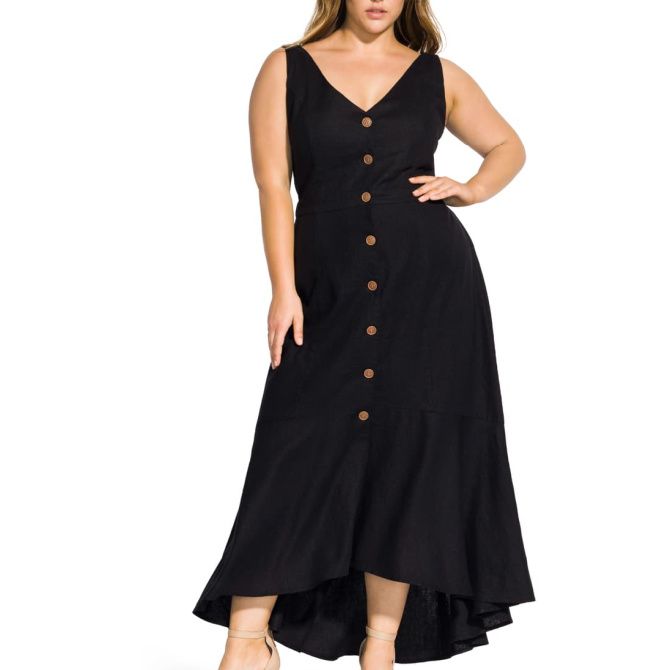 SHOP AT NORDSTROM
Everyone's Version of Versatile!
This is the chicest thing you can add to your wardrobe! The button front linen dress feels amazing on the body, and by dint of buttons, it stays in place. There's no tweaking or detailed styling needed here. It pairs well with a different amount of footwear and is a grab-and-go option. This utilitarian dress sketches a pleasing image with a flattering, flowy silhouette, sleeveless design, and a sexy V-neck. Pairing this dress with a delicate choker or long gold chain would look superb!
• Loved for: ★★★★ | Linen/Viscose, sleeveless, machine washable
• User said: Super flowy and fun. Plus, true to size!
WHERE TO BUY: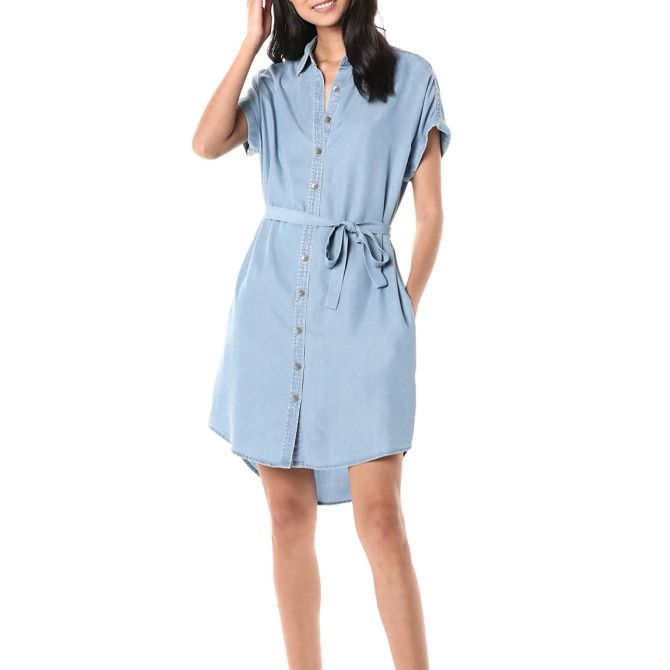 SHOP AT AMAZON
A Mindful Buy!
Tencel is a trademark of a sustainably sourced fabric that carries soft, wrinkle-resistant attributes with the advantage of being airy and moisture-wicking. Goodthreads button front shirt dress is an ethical buy. It is a simple, summer-appropriate dress you can just throw on and go, without caring about ironing it. The added belt promotes an enhanced waist, and displays spread collar and shorts sleeves, which look beautiful for a day out. You can use the side pockets to your advantage and style it up with sandals or flats to create a head-turning appearance. 
• Loved for: ★★★★ | 100% Lyocell, available in different colors, tie waist, side pockets, machine washable
• User said: I love this little dress. It can be dressed up or down and is perfect for work!
WHERE TO BUY: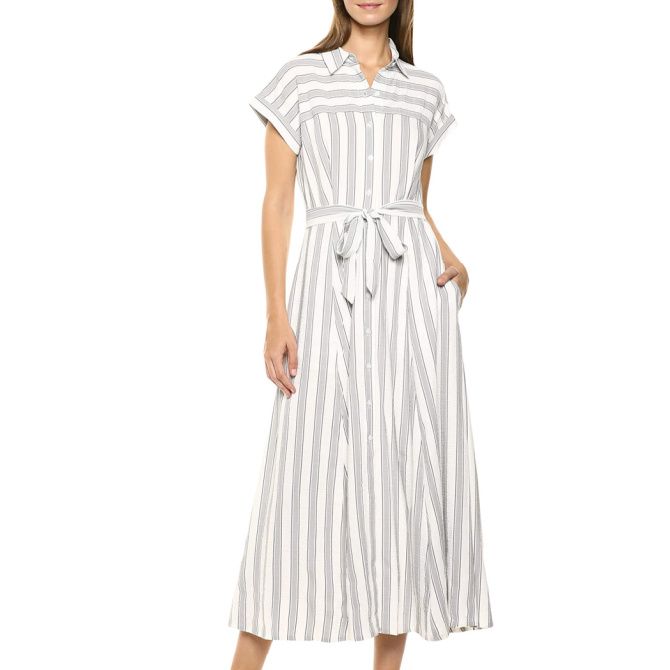 SHOP AT AMAZON
Here's A Keeper!
Talk about your own "feel good" dress that makes you look smart and elegant even if you've just rolled out of bed. Dress it up or dress it down with minimal jewelry and smart shoes, Calvin Klein's button front summer dress would never fail you. Made out of polyester blend, the fabric drapes beautifully, brings a loose silhouette to the table which looks stylish as heck and above all, and pairs well with all types of accessories. The aesthetic approach is a must-have for this summer and would never ever go out of style. 
• Loved for: ★★★★ | Polyester Blend, available in different colors, self tie belt
• User said: This dress looks great on. Can dress up or use for casual!
WHERE TO BUY: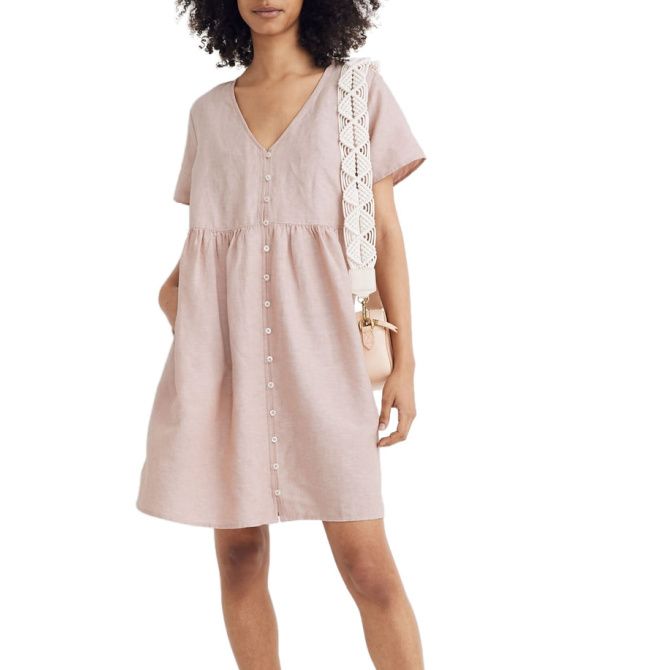 SHOP AT NORDSTROM
No Slip Needed!
Low-key fashion starts with Madewell's front button up dress with shell buttons inspired by menswear and short length to keep cool and stay cozy. The easy-to-wear guise with a pleated waist makes this look fab for a hot day. It's absolutely unique and can be accessorized with almost anything. The linen blend offers softness and sweat-wicking, whereas the V-neck stylishly attracts attention. For a single item that requires minimal effort in wearing and taking off, we've found you a winner in its own right!
• Loved for: ★★★★ | Linen Blend, shell buttons, machine washable
• User said: Fun dress for hot humid summer. Nice soft linen fabric, thick enough so not see through and fits loosely!
WHERE TO BUY: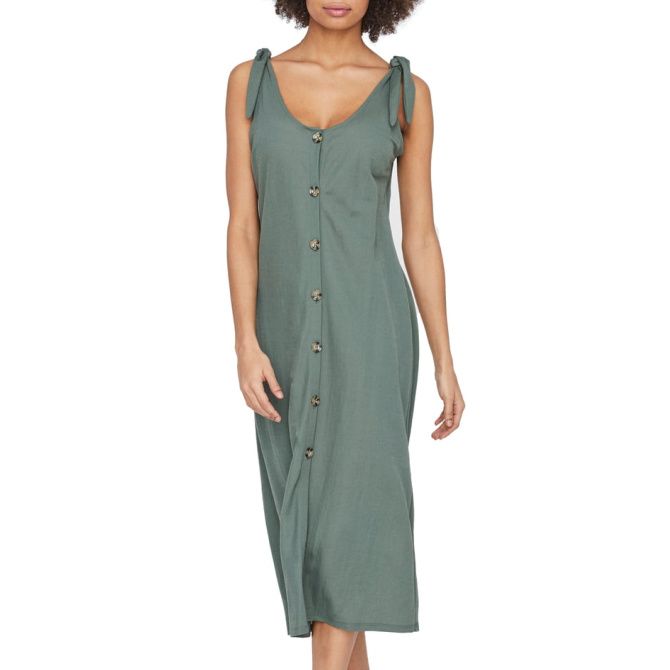 SHOP AT NORDSTROM
Easy-Chic!
This screams elegance to an extreme, and we can't help but admire the gracefulness of this attire. Utterly stylish to the core, Vera Moda's vintage button front dress is cut in a universally-flattering shape. Not to mention, it would go well in all types of summer happenings, be it the beach, get-togethers, casual poolside dinners, or whatever. The tortoise-shell buttons really add to the beauty of this dress and stand out nicely. You can up the attraction by pairing similarly printed earrings, shoes, and bags. 
• Loved for: ★★★★ | Viscose/Rayon, scoop neck, machine washable
• User said: Quite flattering and forgiving. I like that the strap position can be adjusted too!
WHERE TO BUY: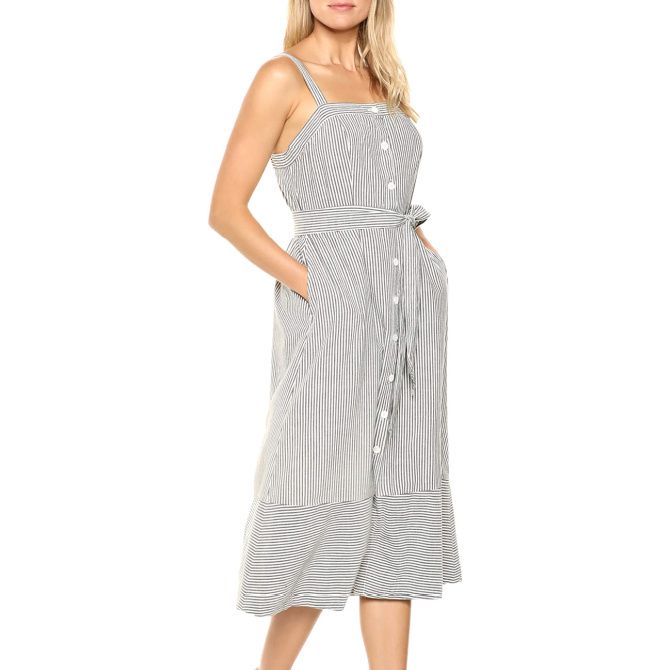 SHOP AT AMAZON
Easy On, Easy Off!
We love this sophisticated Michael Stars pacifica stripe front button dress with handy pockets and an adjustable tie. Due to the tie, you get personalized waist adjustment and easily determine how tight or loose you wish to keep the dress. Made from cotton and rayon, it's breathable, easy-wear, and non-itchy. Peplum at the end lends cute finishing, and we adore how fashionable it looks with sandals, wedges, or sneakers. There's something so practical and relaxed about this garment that it should be part of everyone's closet!
• Loved for: ★★★★ | Cotton/Rayon, available in another color, adjustable tie belt, belt closure
• User said: Lightweight enough to wear throughout the warm summer season!
WHERE TO BUY: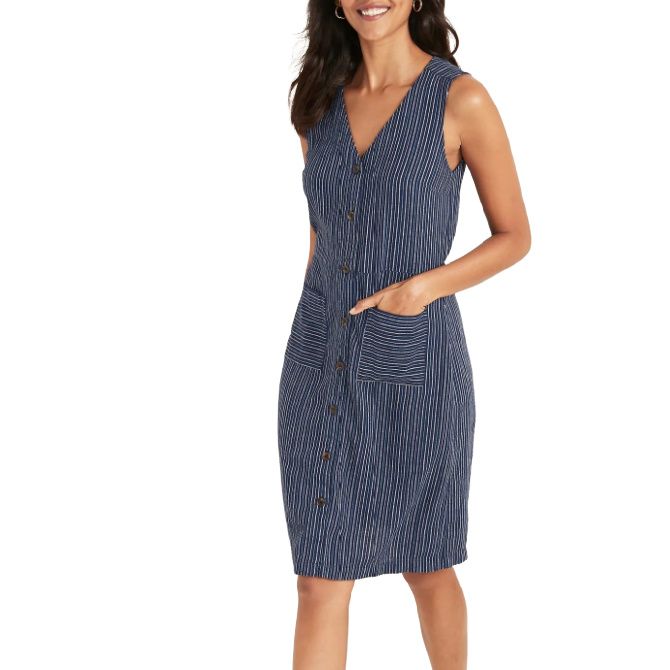 SHOP AT OLD NAVY
Appealing For Everything!
Do you need an aesthetic dress? Give Old Navy's button front sleeveless dress a try. The elegance of the stripes, coupled with the smart cut makes this a great everyday addition and an office-appropriate article. Along with that, it would look just as good with sandals as with sneakers, and makes a fine decision. Patch pockets are useful to hoard in a few essentials, plus the body-flattering design is an impressive factor. We love the clean, simple approach and totally dig it for the daily. 
• Loved for: ★★★★ | Linen Blend, seamed waist is elasticized in back, front patch pockets, machine washable
• User said: This dress is slimming, it made me look 5 pounds lighter!
WHERE TO BUY:
SHOP AT GAP
Gosh! The Sleekness!
We love a dress that's playful enough for casual daytime and formal office-time. Gap's button front maxi dress fits the bill. The elasticized waist with tie belt helps with an enhanced waist, and tank straps are ever so beautiful. Besides, the entirety is perfect for the hot weather season since it looks great on-screen and off-screen, plus pairs well with all types of footwear. The cotton-lined fabric promotes ventilation and keeps the body dry and comfortable. For days when you need a boost of confidence, we'd ask you to put your faith in this product!
• Loved for: ★★★★ | 100% Cotton, eyelet texture, elasticized at back with zipper and hook closure, machine washable
• User said: This dress is beautiful. True to size and perfect length!
WHERE TO BUY:
Best Button Front Dress For Women Overview
Whether you save these for summer weddings, picnics or casual meetups with friends, you're bound to be pleasantly surprised with some of these selections. Don't let indecisions get in the way. If you have recommendations of your own, let us know in the comments below. 
Have you got any suggestions of your own for the best button front dress for women? Let us know in the comments!