Featured Image: Natori
 
Best Bras for Small Sizes Breasts
There's no shame in being average-breasted than some. In fact, there are a few benefits to having smaller breasts. You can pull off the braless look effortlessly: you can wear plunging necklines without having your bitties falling out and get saved from the extra heaviness that comes with a larger bust! But shopping for small breasts is no easy feat. Some bras for smaller breasts have a band too loose: some don't help support: some have gaping cups, and most don't do anything than being small! We believe everyone deserves a bra that fits! 
Having a feeling that you're shaped wrong is distressing, and we are here to undo that! Our list of the best bras for small sizes breasts features the most sensible bralettes you'll ever come across! 
If you love this list of the best bras for small breasts, you might also want to check out the best high impact sports bras that are simply genius!
What Are the Best Bras in Small Sizes?
Many brands have popped up on the scene by creating sensible small bras to target problems faced by small-busted people. On another note, their products have garnered favorable ratings and honest raving reviews. The users explain the real difference these bras have made in their lives, which small-breasted women can expect. 
Our list of the best bras for small sizes breasts is a directory of such brands to make it easier and simpler for you to shop. After trying out these options, you'll know what a good-fitting bra can do, all in terms of support, lift, shape, and volume.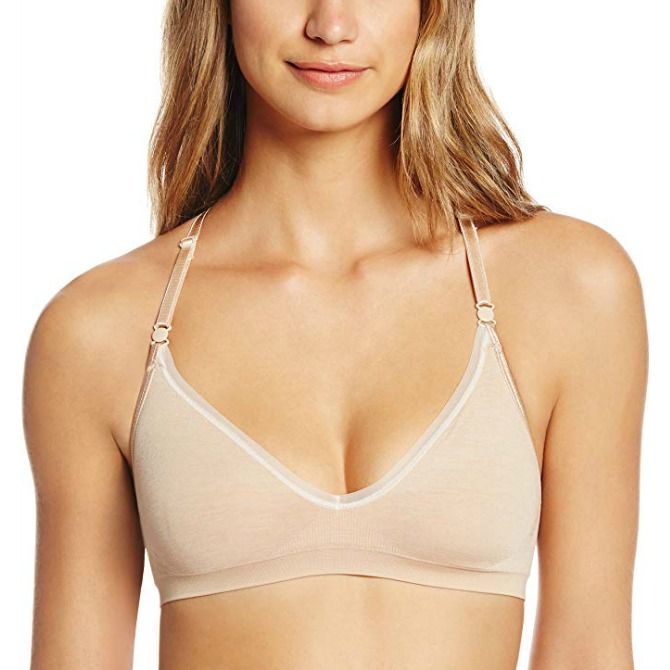 SHOP AT AMAZON
Perfect for Busy Moms
Hanes is our top-choice best bra for small chest with over 2000 reviews and a well-deserved place in Amazon's choice category. Opinionated as soft and comfortable, this is made from nylon, polyester, and spandex. This undergarment feels weightless on the skin and wicks away moisture. The straps can be worn straight or crisscrossed for extra support and better shaping under tricky styles of tops. It could also be utilized as a nursing bra and during light workouts due to the easy-wear design. 
• Loved For: ★★★★ | Amazon's Choice, available in different colors, hook and eye closure, 4-way stretch, adjustable straps, machine washable
• User said: It almost feels weightless, but it still maintains comfortable support.
WHERE TO BUY:
SHOP AT AMAZON
Practical and Purposeful!
The New York Magazine votes this "The Best T-shirt Bra," and you mustn't pass this up when looking out for bras for small boobs. Comprising nylon and elastane, it goes smoothly onto your breasts and conforms to the shape without making you uncomfortable or itchy in the skin. The opaque cups provide seamless "non see-through" coverage, and you can safely wear it under all shades of outfits without fearing a public display of your nips. Even with plunging tops, this keeps your boobs in-line and stays hidden!
• Loved For: ★★★★ | Voted Best T-Shirt Bra, available in different colors, memory foam technology, double layer bonded wings
• User said: Fits like it was custom-made for me. No pinching, very comfortable, and stays in place!
WHERE TO BUY:
SHOP AT AMAZON
Live Sexy!
When you want to feel like the prettiest little thing "inside and out," dive in for Natori's feather bras for small busts. Defined with intricate lace edges, it's made from a combination of nylon and lycra, this is a perfect pick-me-up when you won't mind having those lace frames peeking out. The lightly-padded cups mold to your breasts and provide a nice cleavage. The cups aren't gaping and would fit in your lady lumps comfortably! This should be fantastic for wearing under T-shirts and deep necklines!
• Loved For: ★★★★ | Available in different colors, lace frames, molded mesh outer cover
• User said: This doesn't gap, also really pretty, and worth the price!
WHERE TO BUY:
SHOP AT AMAZON
Fantastic Basic Bra!
If you have boobs that are set apart, B.tempt'd nicely brings them together and gives them a push upwards for volume, creating a beautiful cleavage. Precisely the reason we call it the best push up bra for small chest in this list. The scalloped edges are a pretty addition and are completely undetectable once worn under a shirt. It goes on smooth, feels soft, and the straps are convertible, offering room for better adjustability from halter to crossover. 
• Loved For: ★★★★ | Available in different colors, push up, integrated wire, convertible strap, scalloped edges
• User said: The scalloped edges make it look appropriate as a bra to be seen on purpose!
WHERE TO BUY:
SHOP AT AMAZON
Both Function and Fashion
This finely padded push-up bra is luxuriously comfortable thanks to the suede soft-touch fabric. This is one of those bras small breasts should benefit from, as it uplifts the breast tissue and minimizes their shallow appearance. Plus, the bands are as soft as the cups and don't bite into the skin, especially useful for sensitive-skin folks. This would accentuate your chest and keep the boobies intact, even when you bend over or move your arms. 
• Loved For: ★★★★ | Available in different colors, suede-touch fabric, lacework, plunge neckline
• User said: The material is very comfortable with the right amount of lift from the padding. 
WHERE TO BUY: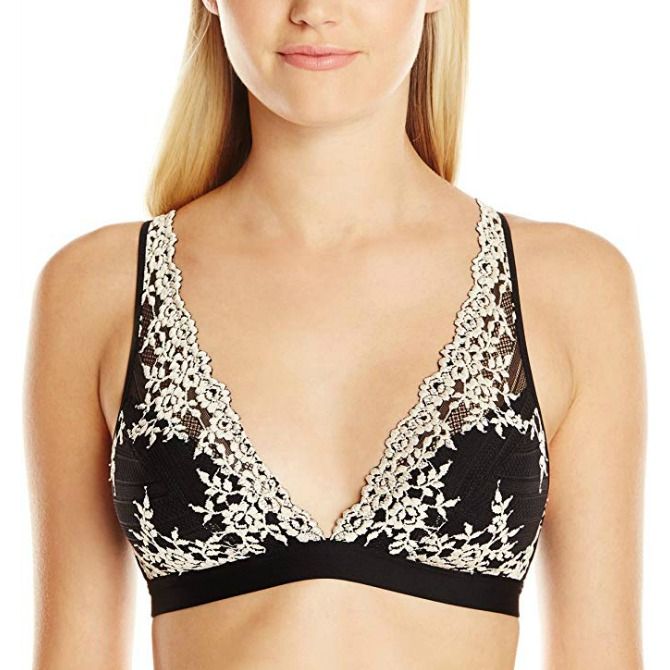 SHOP AT AMAZON
Could Be Your New Bff!
If you wish to swear off underwires, Wacoal's Embrace comes under the prettiest bras for small breasts. It looks sexy and sophisticated with lace embroidered on the cups. It has a deep design, ideal for a multitude of tops. Made from nylon and spandex, this holds your girls comfortably without feeling scratchy. The shoulder straps on this are the best and versatile, as they come with an adjustable j-hook on the back. It is natural-looking and very flattering!
• Loved For: ★★★★ | Available in different colors, lace cups, camisole straps, adjustable back j-hook, two ply stretch wing
• User said: The lace isn't scratchy and you won't nip through it!
WHERE TO BUY:
SHOP AT NORDSTROM
An Absolute Must-have
If there's a bra that works for every woman, the Chantelle Invisible is the best bra for small breasts for exactly this reason. Made from polyamide and spandex, it goes easy on your skin and feels lightweight. The cups lend extra support, have underwire that gives shape (especially useful if you have more side-volume) and it doesn't come with an overwhelming amount of padding. The u-shape back fits impeccably well and takes the tension off your back. The cups provide a custom-fit!
• Loved For: ★★★★ | Amazon's choice, available in five colors, seamless underwire memory foam cups, U-shaped power mesh back 
• User said: A bra that's invisible and sits smoothly underneath your tops!
WHERE TO BUY: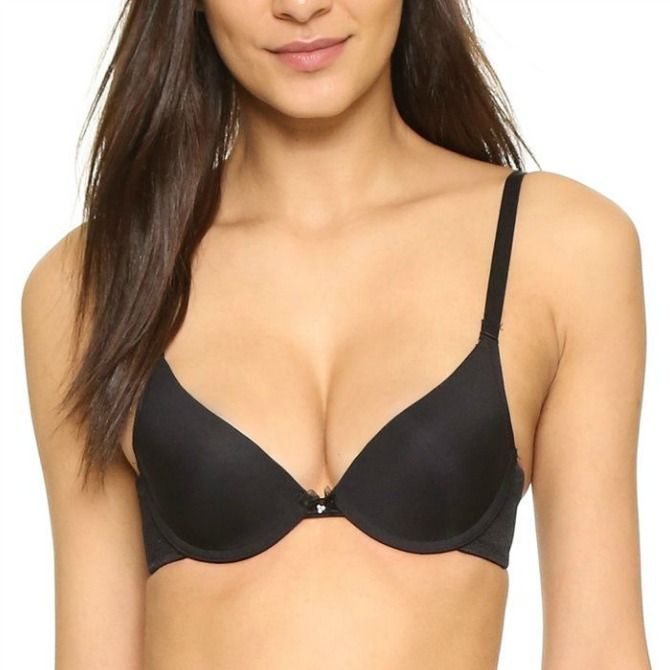 SHOP AT AMAZON
The Name Speaks for Itself
Seriously, women looking for small bras should give The Little Bra Company a go! Apart from the simple design, Angela exudes elegance and enhances the natural shape of your boobs, creating a little cleavage, which is excellent for really flat-chested women. But we must warn you this may not be a forgiving option for wider-set boobs, as the cleavage may feel tight and bothersome. The contoured cups and refined edges make this look like a traditional bra, but without the wires!
• Loved For: ★★★★ | Available in two colors, t-shirt bra, contoured, push up style, molded cups
• User said: I like the nice cleavage it creates even though I have smaller breasts!
WHERE TO BUY: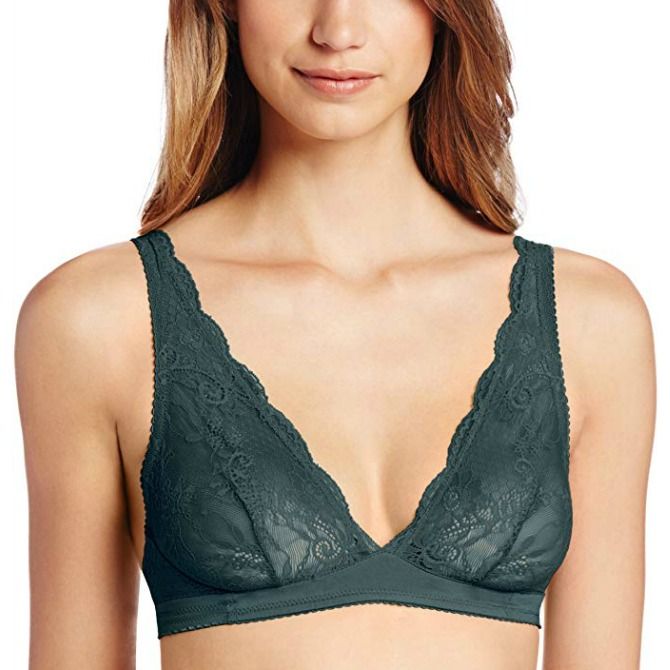 SHOP AT AMAZON
Made for Your Small Twins!
When the weather gets hot and sweaty, outcomes short dresses and barely-there tops. And you know your bra will definitely show. Cosabella's Trenta is one of the most reliable bras for small bust for this intention! Made from polyamide and elastane, the lace bids uniqueness and feels soft against the skin, owing to the softly padded cups inside. It has adjustable straps, easy hook-and-eye closure and spares you the unease of wires since it comes without them!
• Loved For: ★★★★ | Available in different colors, scalloped edges, wire-free, adjustable straps, soft lace
• User said: It's smooth, soft, and really sexy!
WHERE TO BUY:
SHOP AT NORDSTROM
A Positive Pick!
Hands-down one of the most comfortable bras for small busted women who need to feel like there's nothing on. The bra isn't like your average one, it's without typical cups to fill. Instead, it naturally adheres to the shape of your breasts, and the stretch mesh does all the magic of support. It's a welcome change from other traditional bras and keeps your boobs in place without squashing or squeezing them tightly together. Proves great for wearing under many tops as well!
• Loved For: ★★★★ | European-milled stretch mesh, available in three colors, sheer soft cups, underwire
• User said: I had no idea an unlined mesh bra could be so supportive and flattering!
WHERE TO BUY:
Best Small Size Bras Overview
What Are Some Tips for Finding the Right Size of Bras for Small Breast?
Going only without a bra is not a good option, neither a healthy choice. Because in the long run, it could damage the ligaments and make your boobies look saggy as you grow older. Bras protect your fragile breasts against tissue damage. Besides, going braless isn't all that appealing, eventually leading to the discomfort that can translate serious back-pain. 
To reduce such risks, bras are a godsend! Apart from their many health benefits, they also straighten your posture and make you look decently well-kept under any outfit! Particularly those that fit, and every woman deserves a well-fitting one! 
Best Bras for Small Busts Matter
While we do envy, you going braless and completely understand the relief you feel after ripping out your bra once you're back home from work (no harm in doing so.) But it's important to understand that you still need support, particularly when you're heading outdoors or involved in intense activities. We're not forcing you, we're asking you to pay heed to the health and elegance of your breasts. 
Get Fitted
Whether you own fried-eggs or small melons, know your fit, and get fitted by a professional to make sure you're wearing the right fit of cups and bra size. You can measure your breasts at home by simply watching a youtube tutorial that explains how. Our body changes all the time, so do our boobs and sizes vary from brand to brand. That's completely okay, it's a natural human process. Try to work around it, instead of worrying about the changes. 
Don't assume if a bra fits you two years ago would fit you two years after. Size doesn't matter as much as the fit does, once you find the right fit, you'll feel convenient right away. 
Online Shopping 
We ask you to search for popular brands, have free return policies, good customer services, and fitting agents who can answer your concerns right away. Shopping for bras have become a norm, and people do share their experiences. Pay attention to customer feedback to make a sound decision. 
The Problems Finding Best Bras Small Breasts Options & Their Solutions!
If you have shallow or wider-set boobs or annoyed with loose straps that keep falling off your shoulders, opt for convertible straps that can be changed from halter to crisscross. Such straps would hold the breasts in place and create a beautiful cleavage with minimal spillage, particularly if you're searching for lift and volume. 
Wider-Set Boobs
Also, for breasts like east and west, bras that come with a one-inch gap between the cups help frame the natural shape of your breasts without painfully pressing them together. In this case, triangle cups are your best and an ideal fit for small-chested women. 
Band Fit
The fit of the band is also essential. If it's too loose, your boobs might easily pop out from the bottom of the bra when you lift your arms. Make sure it stretches to fit in the fullness of your boobs without having the fat spilling from the sides. Bands should be comfortable and sit evenly at the back as in the front!
Bra Technology
A bra made with fabric-touch or memory foam technology would mold to your breasts itself and offer a lift, volume, support, and everything you need. You don't have to make your breasts adjust to the bra!
Uneven Boobs 
Women with uneven ta-tas (one smaller boob in comparison to the other) should look for bras that can be custom-fitted and have removable cups or padding. So you can remove one side of the padding and insert your own to match a personalized fit. 
Padding 
Padding isn't crucial when the fit is perfect. But if looking bigger is in your books, go for lightly-padded push-up bras that bid a natural cleavage, not an unnatural "in-your-face" lift. That would be too artificial and extremely uncomfortable!
These best small bras for small breasts won't make you feel conscious. Instead, you'll feel on top of the world wearing them. That's the kind of feel we're aiming for!
Have you got any suggestions of your own for the best bra for small sizes breasts? Let us know in the comments!