Best Black Work Pants for Women
A pair of good-quality, comfortable and stylish black pants for work are a must for every working woman, whatever the dress code may be. Super-practical, flattering and classic; such pants make dressing up for daily work hassle-free. The right pair keeps the smile on your face throughout the day. But with so many options on the market, it's hard to choose. You have to consider the style and fit. Do you want a stretchy waistband or a slimming silhouette? Then there's the never-ending search for the perfect size!
That's where we come in! With our list of the best black work pants for women, you don't need to look elsewhere. You can practically live in these 'handpicked' styles and they should look as good during a client meeting as in a fancy restaurant with a dressier top!
If you love this list of the best black pants women love to wear for work, you might also want to check out our list of the most comfortable office shoes for women!
What Are the Best Black Pants for Work Women Wear?
Fit is the backbone of work pants. If you fail to find the perfect fit, either you'll end up with too tight or too loose pants, and nobody wants that. But this is a discussion we've left for the end of the post where we've explained in detail how you can choose the best black work pants for yourself. 
Our selects are the best black pants for work women choose for a reason. We've carefully weighed thousands of users' opinions and opted for those bottoms that have earned the most popular status with ratings above 4 from customers all around the world.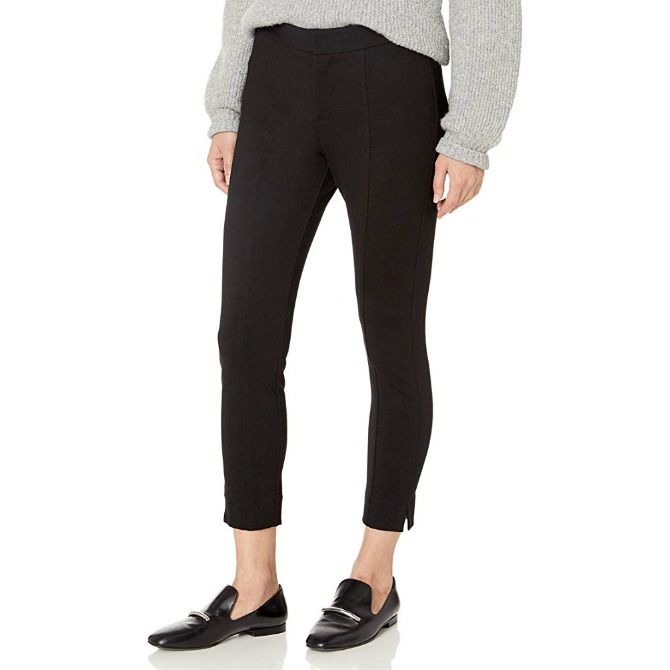 SHOP AT AMAZON
Definite Keepers!
NYDJ's black women work pants provide a fitted silhouette, but they make you look polished, nonetheless. The stretchy pants are made from Ponte knit material, which nicely outlines your legs without looking inappropriate. The company uses its signature lift and tuck technology for a smooth front, which is great if you prefer to tuck in your shirt. It offers a slimming effect to your legs, and thanks to the narrow cuffs — they allow you to flaunt your favorite footwear!
• Loved for: ★★★★|  Ponte knit, available in four colors, petite focused, signature lift tuck technology, machine washable
• User said: Love these pants! They are so comfortable but look polished!
WHERE TO BUY: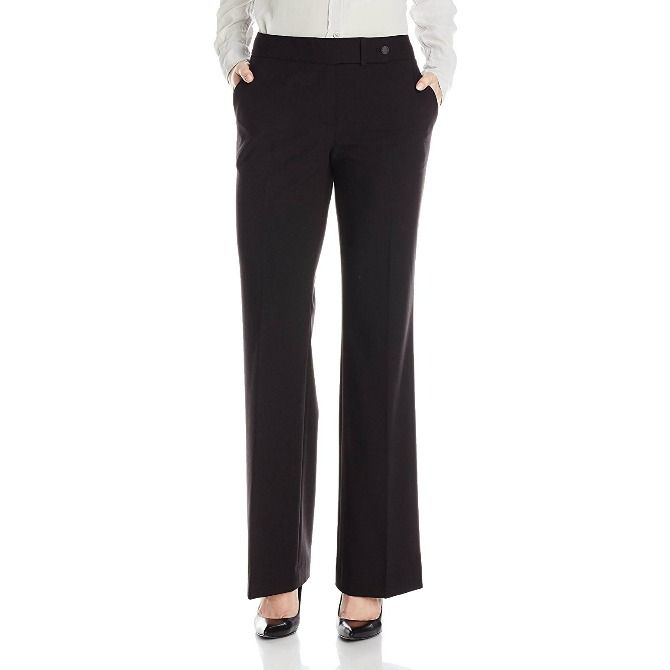 SHOP AT AMAZON
Comfort Check!
Tall women and heel-lovers, Calvin Klein's black women slacks are the answer to your prayers. Made from polyester, rayon, and spandex, these suit pants are straight-legged and slim fit but leave enough room for your legs to feel relaxed and move around with ease. The pockets are a bonus. The pants have a nice stretch, it wouldn't be constricting when sitting at your desk for long hours, crouching down to retrieve fallen papers, or say standing up!
• Loved for: ★★★★ |  Amazon's choice, available in five colors, straight leg, back pockets
• User said: These pants are loose-fitting and comfortable. To boot, they are very professional looking!
WHERE TO BUY:
SHOP AT AMAZON
Meets All the Needs of a Mama!
Black work pants for women have come a long way and if you happen to be pregnant, Seraphine fits the bill. Loved by celebrities and famous personalities, Seraphine uses fabrics with natural stretch only like natural cotton, linen or viscose to not add stress to your already stressful body and makes you feel lightweight. Additionally, the bump cover goes smoothly over the abdomen and doesn't settle into any belly bulges. The slim tailoring elongates your legs and has silky lined pockets for stashing small items. 
• Loved for: ★★★★ |  Soft over-bump band, slim fit, silky lined pockets, pintuck detail
• User said: I am 5 months postpartum and they are comfy. Great for work too!
WHERE TO BUY: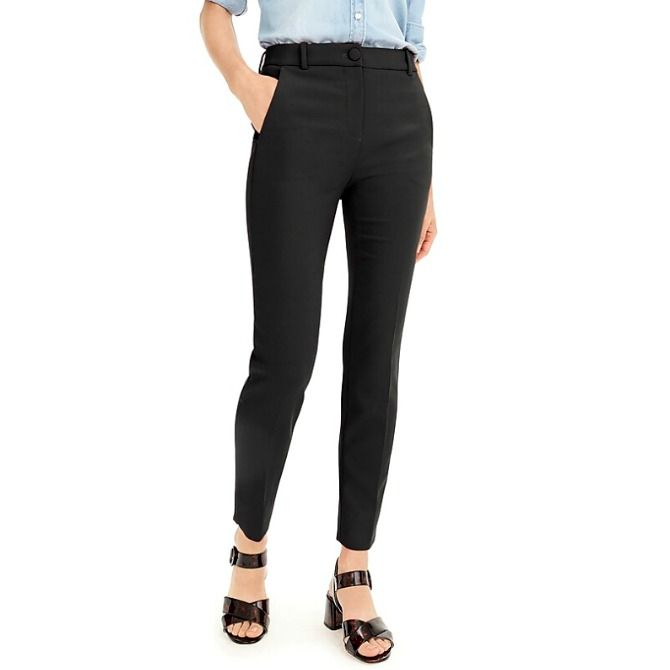 SHOP AT J.CREW
Perfect for All Body Types
Black crop pants are ideal for casual Fridays and they have the magic to make your 9-to-5 much more bearable, especially when you can't be bothered with full-length bottoms. Stylish, form-flattering and comfortable, these are high rise and go a little above the waist, great for some tummy-tuck and smoothing over bulgy bits. Made from cotton, viscose, and elastane, the pants have a good combination of stretch for comfort reasons and fall straight down in a very fashionable manner. 
• Loved for: ★★★★ |  Available in two colors, high rise, cropped style, front and back pockets
• User said: Great fit and so comfortable!. A compliment-earner, too!
WHERE TO BUY:
SHOP AT AMAZON
For in and Out!
Lee's black slacks women trousers make a perfect office staple, that'll suit a variety of tops. Made from cotton, polyester, and spandex, the pants have nice stretch for all-day comfort, and soft enough that you won't be itching to take them off by the end of the day. They also feature front and back pockets (perfect for stashing necessities) non-binding, flexible waistband (won't bite into the skin), and front button closure with zipper (full ease and protection.) Everything's taken into consideration for you!
• Loved for: ★★★★ |  Available in different colors, flex waistband, button and zipper closure, hidden pocket, machine washable
• User said: They are cotton and require zero ironing!
WHERE TO BUY:
SHOP AT MACY'S
Wearable With All the Tops You've Got!
Every woman wants work-attire that requires little effort and basically, looks effortless. Thanks to INC Pull-on black dress pants skinny bottoms that are loads more professional-looking than leggings and much more comfortable than denim skinnies. You can wear them and take them off with ease without wasting your precious time. Made from rayon, nylon, and spandex, the fabric stays in place and provides a four-way stretch while still looking modern for attending a board meeting or having lunch with your boss. 
• Loved for: ★★★★ | Ponte knit, pull-on style, skinny fit, machine washable
• User said: They are nice and thick with no "show through." And no "muffin-top!"
WHERE TO BUY:
SHOP AT GAP
Sleek and Perfectly Tailored!
Comfort and fashion go hand in hand, which is why Polka Dot black and white pants are no exception to stay on-trend while staying comfortable in your skin. The pants are a good deal lighter, owing to the cotton, which on another note, makes them a whole lot better than jeans. A little bit of spandex infuses stretch to move to and from with zero fuss. This is a solid fashionable office-piece that is durable, houses front and back pockets, and is machine-washable, too!
• Loved for: ★★★★  | Cotton, skinny fit, hidden button and zipper closure, front pockets,  machine washable
• User said: Super comfortable, stretchy, and stylish. Great for work!
WHERE TO BUY:
SHOP AT EXPRESS
A Waist That Won't Cause Gapping!
Pants that hold their own, these black dressy pants are made to set you apart from the rest of the employees. With a bow so elegant, silhouette so lean and enhancing, and polyester construction for breathability and lightweight feel, this ain't an option to ignore. With a pair of heels and a dressy blouse paired with these trousers, you could easily transition from an informal to a formal event and it'll have you look polished instantly! This is a must-grab when you wish to dress to impress!
• Loved for: ★★★★ | Polyester, available in different colors, high paperbag waist, removable tie,  machine washable
• User said: The tie actually tightens and the elastic waistband is great!
WHERE TO BUY:
SHOP AT ANN TAYLOR
Not Your Run-Of-The-Mill Pants!
If you wish to feel like home, even at an office, Ann Taylor black flare pants make you feel like your best self, and certainly at home! The fabric feels nice and loose on the legs. The silhouette is lean and slouchy, which makes the perfect pick-me-up for any occasion. It could be easily dressed up and dressed down, plus would go with a number of tops, outerwear, and footwear. You can easily have the nipped-in illusion because of the high-rise waist! It's comfortable and machine-washable!
• Loved for: ★★★★  | Adjustable belt, wide leg,  front and back pockets, petite focused, machine washable
• User said: I'm pleased with the fabric, fit, and silhouette!
WHERE TO BUY: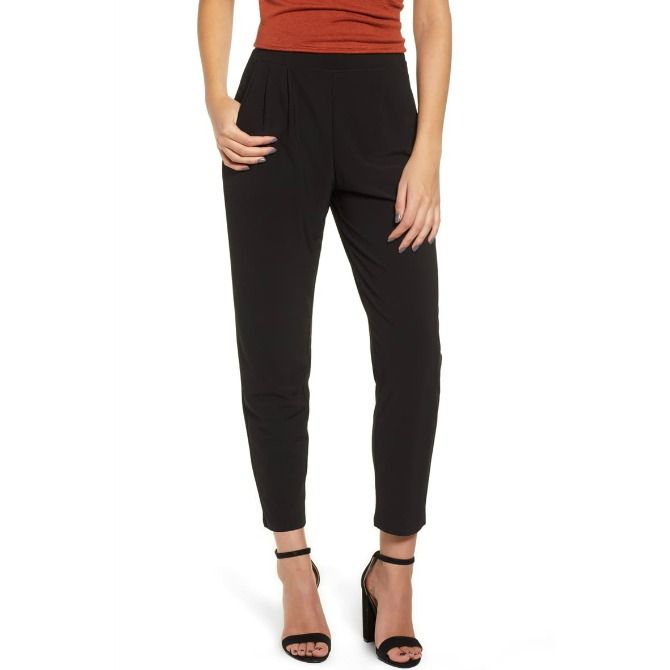 SHOP AT NORDSTROM
Best On-Duty and Off-Duty Bottoms!
The pleats on the front of Leith's black work trousers add a nice drape while lending extra dimension and professionalism. There's an easy vibe with these bottoms, which can be made use of with both your casual sneaks and tees and formal heels and professional tops. The pull-on styling makes them a breeze to wear, and the high rise is best for a smooth belly appearance. They're extremely comfortable, made even more functional with side pockets, and are perfect in off-hours, too! 
• Loved for: ★★★★  | Polyester, pull-on style,  front pleats, front slash pockets
• User said: I bought two pairs for work and can't find anything more comfortable and stylish!
WHERE TO BUY:
Best Women's Black Work Pants Overview
How To Choose the Best Black Work Pants?
Fit
Fit is very important where the best black work pants are concerned. Ill-fitting pants are a no-go and you can spot them as soon as you wear them because either they feel too tight with creases on or too loose as to appear slouchy in the front. Simultaneously, standing up and sitting down becomes a nightmare, so take care of these issues.
If you sit in the office most of the time, pick black pants work trousers with a comfortable waist. A too-small waist might pinch or dig into your skin while you work. So going a little larger feels like the right option, do it!
Footwear
Never forget to consider footwear, it makes or breaks the look of your black work pants because there are different styles and different hems that go with different variations of footwear. Consider your personal preferences too, whether you're a heel-wearer or more of a flats-wearer and decide what style of pants would fit in with your choice of shoes accordingly!
Read The Reviews
Buying clothes online has become so much easier, thanks to the loyal customers who leave behind truthful feedback for buyers like you. Read those reviews, find those that relate most to you, look for photos or videos of real people trying on your potential buys. Check how a product looks on real women with different body shapes versus a model; this makes it much simpler to reach a decision.
If a buy ultimately ends up being your favorite, stick to it and buy more pairs of it than looking for different buys all the time for your office attire rotation!
With these best black work pants for women, you would find it easy to tune in and tune off from work without a change of clothing!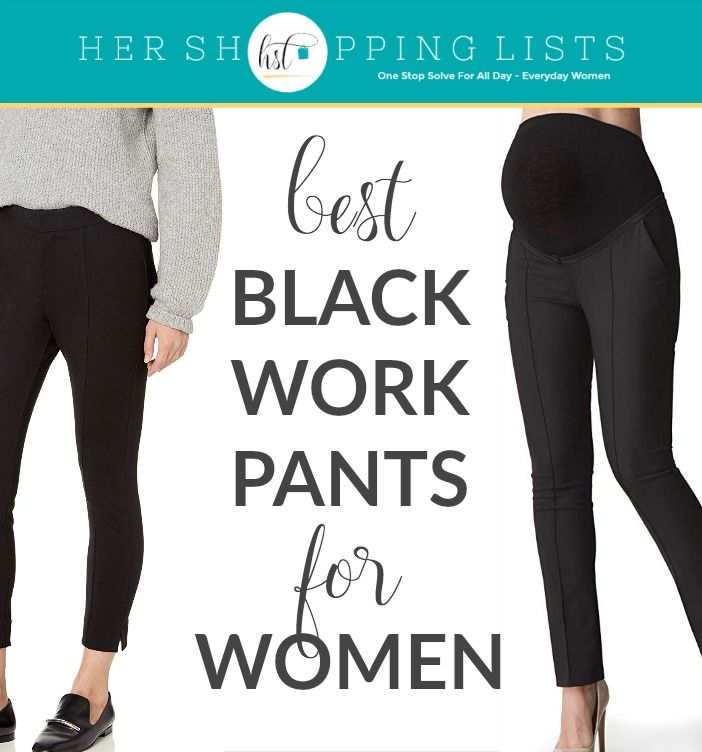 Have you got any suggestions of your own for the best black work pants for women? Let us know in the comments!