Featured Image: Clarks
Best Work Sneakers
Times are changing, and office dress codes are being seen with a light heart. People have embraced a more casual work style, and smart-casual is the worldwide norm today. With that in mind, wearing sneakers to work is not an eyebrow-raising move anymore. If you only rock a pair with a style that sparks an impressive reaction! Don't take us wrong though, we're not talking about your high school 'PT' shoes. We're discussing work sneakers that fit right in with the ambiance of your office and look quite pretty at it, too! 
Such pairs that provide both style and comfort are found in our list of best work sneakers. No matter where your personal sense of style lies, from low-tops, sock uppers to wedge sneakers, there's something for everybody in this post. No more shoe problem every day, browse the list, and make an already wise pick! 
If you love this list of the best womens sneakers for work, you might also want to check out the comfortable office shoes for women – a slew of the best options!
What Are the Best Womens Sneakers for Office?
While the office dress code has become more relaxed, thanks to casual Fridays and fancy sneakers. It does not, however, mean breaking the unspoken code of maintaining orderliness and simplicity in your attire. Which can only happen by avoiding holes, a scruffy appearance, and a traffic bright color palette (unless acceptable, of course.) The key is to enhance your office look and, obviously, within the rules. Otherwise, no look would be an office look if it doesn't meet your company's policy. 
Luckily, all our options in the best work sneakers happen to be perfectly office-appropriate! Besides, they combine the comfort you need to stay focused and productive without your feet weighing you down! You can dress these up with fine-looking dresses, fit work pants, trousers, skirts and more! 
SHOP AT AMAZON
Simple But Functional!
Can we please appreciate the simplicity of this thick-soled beauty? The soles are synthetic but behave as suspensions for your feet. These suck in all the pressure and allow walking to feel like a breeze. No matter how mundane your work is, at least you can hope your feet won't kill you with these on by the end of the day. It comprises a mesh leather upper, not only for high-quality but breathability for odor-free feet. One of the comfiest black sneakers for work that you can own!
• Loved for: ★★★★ | Leather, available in four colors, lace closure, narrow fit, synthetic sole
•User said: Slightly pointed toe makes them really cool and stylish!
WHERE TO BUY:
SHOP AT AMAZON
Make Up Your Mind!
Rose Gold's a thing, and with Superga's office sneaker, this is a win-win! Coupled with cotton upper, metallic finish, and a rubber sole, this is fashion-forward as well as a relief for the feet. You can dress this up and dress this down; however, you wish. If you're a sneakerhead who never gives up on style, this is a must-have for busy bees. With a chic dress and these kicks, you're officially work-approved. And it doesn't end here, this makes the 'it' pick for a night out as well! 
• Loved for: ★★★★ | Available in different colors, lace-up plimsole, satin, vulcanized rubber, low-top
• User said: I am one of those people who has a second toe longer than my big toe and my toes fit fine in the shape of the shoe!
WHERE TO BUY:
SHOP AT AMAZON
Makes Quite an Impression!
If you want sneaks that provide height without showing it, Clarks all black work sneakers should do the trick. Coming from a family of premium suede, it's super high-quality and leather lined, and made to last! This also combines an EVA footbed than a regular one to keep your feet pain-free and ready to survive the 9 to 5. Moving onto the looks department, Kiowa doesn't disappoint. It's chunky, it's cool, and it's made to work with everything, anything, anywhere!
• Loved for: ★★★★ | Leather, available in two colors, lace-up closure, reflective laces, EVA outsole
• User said: The soft leather relaxes to fit your feet. I also like the additional height they provide!
WHERE TO BUY:
SHOP AT AMAZON
Fills Our Heart With Cuteness!
Cuteness overload is the Puma's Basket Heart fancy sneakers. And like its name, it really hits the heart hard. So much so, we wish to add it to our cart asap. This is entirely crafted from leather and will last you a long while. It's just those marble-esque laces that are positively adorably and add so much fun to your work appearance. Customers have great things to say about this loveable gem. And bonus points for those with wider feet, because it's great for that!
• Loved for: ★★★★ | Leather, available in two colors, low top, marble print ribbon lace
• User said: If you want a shoe that is as good looking as it is comfortable, then buy this one!
WHERE TO BUY:
SHOP AT AMAZON
We're on to Something!
Now, this is perfect for your 9 to 5 grind. If you are looking for dressy sneakers for work, Kate Spade's the way to go. Not only are these made with durable, top-quality leather, but comprise a slip on design making these a cakewalk to put on and take off. We love the ruffle details on the upper portion! It gives quite an edge to your office attire and can be worn to any place, anytime. The round toe is great for big feet, and it's lightly padded to ensure maximum comfort!
• Loved for: ★★★★ | Leather, available in two colors, round toe, ruffle detail, rubber outsole
• User said: The fit is great! Just loose enough that I could comfortably wear thick socks with it in colder months!
WHERE TO BUY:
SHOP AT AMAZON
We Had a Hunch! It's Awesome!
Seychelles Quake is one of the best work sneakers womens popular options owing to its simple but interesting design. The ruffle is such an eye-grab and one of the main reasons why this is a fan favorite. Apart from that, consumers love how versatile these are. From casual to office, you can wear this to any event without fail. They're stylish and minimal! Every worker should own one of these for comfort and cuteness. Besides, it's a long-lasting investment the customers approve of!
• Loved for: ★★★★ | Suede, available in different colors, removable insole, ruffle detail, rubber outsole
• User said: They feel good on, and have a nice thick foam insole. So much like walking on a sturdy marshmallow!
WHERE TO BUY: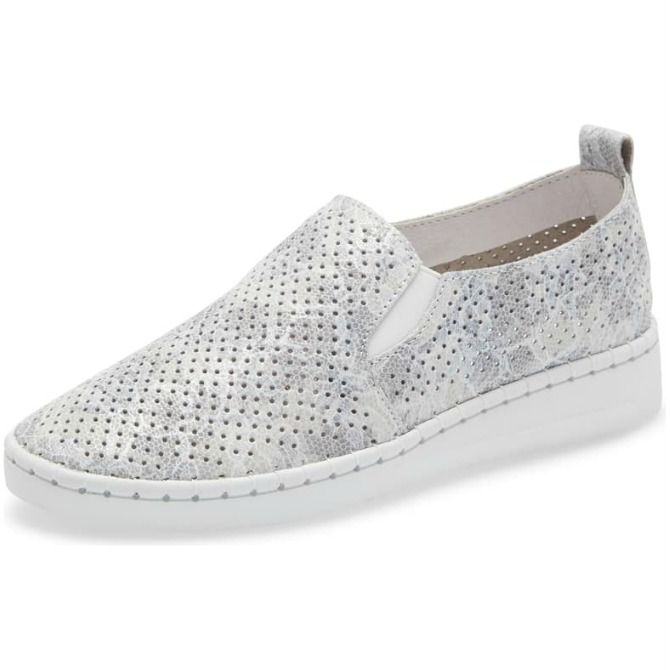 SHOP AT NORDSTROM
Your Feet's Best Friend!
Is sporty-chic your go-to look for the office? Bernie offers very comfortable sneakers for work. Thanks to their rich leather craftsmanship and rubber sole, Bernie slip-on provides comfort as well as style that's on par with the office dress code. These offer minimal effort to put on and take off and make an excellent choice for standing all day long. According to the customers, it's wearable right out of the box and perfect for walking long distances. You'll get miles of use out of this pair!
• Loved for: ★★★★ | Leather, available in different colors, slip-on, memory-foam footbed
• User said: I wore them all day the first time I put them on. No breaking in period needed!
WHERE TO BUY:
SHOP AT NORDSTROM
Chunky but so Funky!
Chunky sneakers are now a trend, and the public is going gaga over it like nothing else. We love their strong, robust appearance, not to mention they look tremendously flattering on pencil trousers and blazers! Nydame is work appropriate sneakers and made from leather. This supports a rubber sole, which flexes to provide ease of walk. The wedge heel adds nice height, and the extra cushioned insole says bye to swollen, painful feet. You won't have anything to complain about once you come back home from work! Apart from Summer, it's going to be ideal in the cold weather, too!
• Loved for: ★★★★ | Leather, available in different colors, extra cushioned insole, patented breathable sole
• User said: Are you kidding me? These are so swagalicious!
WHERE TO BUY:
SHOP AT NORDSTROM
The Perfect All-Rounder
This beauty here packs a lot of punch. It is flexible, waterproof, easy to maintain, and, most of all, one of the smartest sneakers you can wear to work! Comprising a rubber sole and a suede finish, this is high-quality and has the longevity to become a regular in your shoe rotation. The rubber sole offers great traction, and the wedge adds height without the soreness that comes from wearing heels. Functionality aside, this is a beautiful-looking pair that goes with anything casual and formal. 
• Loved for: ★★★★ | Amazon's Choice, available in five colors, flexible sole, waterproof, easy care
• User said: They are waterproof and look very stylish!
WHERE TO BUY: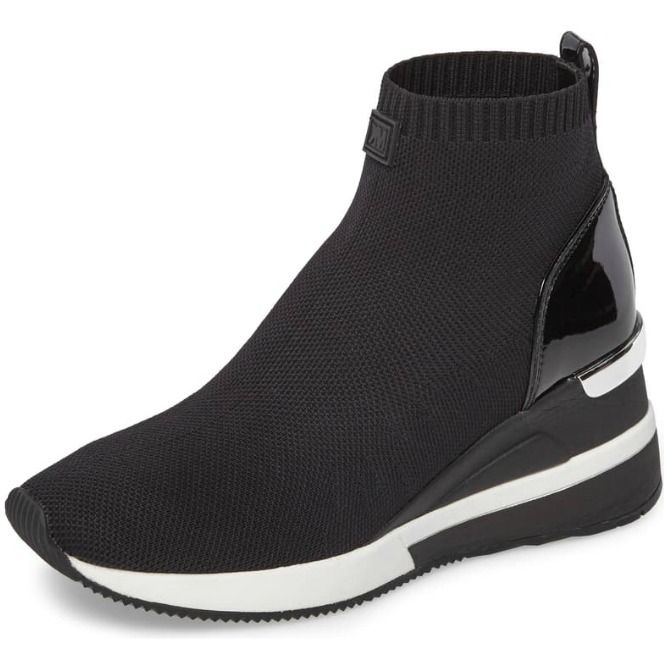 SHOP AT NORDSTROM
Haven't Known Something Quite Like This!
Michael kors never disappoints! And if you're looking for dressy sneakers for work, nothing beats Skyler knit bootie! Made up of leather with a stretchy knit upper, it harbors comfort and better walking experience, especially if you suffer some sort of ankle issues. The street-smart bootie shouts luxury and has a large fan following. We particularly dig the metallic capped back and sock details, which makes a big difference dressing up or dressing down!
• Loved for: ★★★★ | Stretchy Knit, pull-on style, rubber sole, closed toe
• User said: These are comfortable and give a lift!
WHERE TO BUY:
Best Work Sneakers For Women Overview
How To Wear Sneakers To Work?
Dressing up formally for an office isn't the only way to go. Instead, as long as you look good, you can pass as office-appropriate! Offices are no longer bound by strict dressing rules. If that's the case with you too, whip out your best work sneakers now and be free to put together as many outfit combinations as you like. We are here for the sneaker office outfit inspo. Catch up on the ideas and pull them off with a Bam!
The Skirt
If you work in a creative environment, opting for a pencil skirt with a bold printed shirt and chunky sneakers would turn out to be gorgeous. Other than that, midi, long, and mini skirts are wonderful choices for wearing with crisp button-downs and white kicks that are slightly more structured!
A Dress
Midi dresses with polished sneakers make beautiful attires for a professional working environment, be it law, corporate, or finance. In this working situation, your sneakers shouldn't be chunky. Rather they should be dressy and fancy to fit into the dress code necessary for the job. 
Suit Up
From boardroom meetings to interviewing potential employees, a trim suit looks the best with chunky or even low-top sneakers for that snazzy effect. To further up the style game, don't forget to add delicate pieces of jewelry. 
Seriously, the right pair of sneakers with the correct form of clothing can never go wrong. Also, focus on color themes, such as combining pastel outfits with white or light-colored sneakers. Or choosing dark pairs of kicks with equally dark suits. This could work out so well!
Blazers
Honestly, blazers and sneakers go hand in hand. Even if you're wearing white sneakers with casual jeans and a white top, adding a blazer immediately brings sophistication! Next time you are mentally going over on how to wear sneakers fashionably, pop on a blazer, and you'll be good enough to go. 
Even a slip dress, a blazer, and a chunky sneaker create a bomb look for the office. 
Personalization
Use your style sense, as well. Often, lace sneakers look way better with pants and shirt, than with dresses. On the other hand, slip-on sneakers look much on point with skirts and dresses. If you don't believe us, try out yourself. 
Just so you know, dressing up for success or to impress comes with a set of rules. And those rules include mixing and matching with high-quality accessories such as bags, scarves, and jewelry. Also, never skimp on personalizing your outfit to the tone of your workplace!
Embracing these best work sneakers for the office will make your feet happier than ever and your productivity several notches higher. If you have recommendations of your own, let us know in the comments below. 
Have you got any suggestions of your own for the best work sneakers for women? Let us know in the comments!