Featured Image: Everlane
 
Best T-shirt Dress for Women
An evolution of the shirt we all grab from a dad, boyfriend, or big brother, the t shirt dress outfit is altered to fit women in a way that flatters you! Some of the changes these dresses show compared to a regular shirt are a few added slits, cute-sized pockets, cinched waist, or a few ruches on one side. 
When it comes to basics, every woman needs a black, gray, striped or white t shirt dress in her collection! If you're feeling beachy, we even have a great floral printed option for you to try from Lucky Brand. You can wear these for any casual occasion, inside or outside. Some are designed specifically for nursing or pregnant mamas!
If you love this list of the best womens t-shirt dresses, you might also want to check out the best sports dress for you to stay and play!
What are the Best T Shirt Dresses?
Are you funky, fresh, sporty, or more of an Audrey Hepburn type? Your favorite option will be one that suits your style. Some people like that semi worn out vintage look, while others want a crisper, more classic version with preppy stripes in navy and white. Are you a woman who likes a maxi length or something above the knee? Scroll down to find the option for you!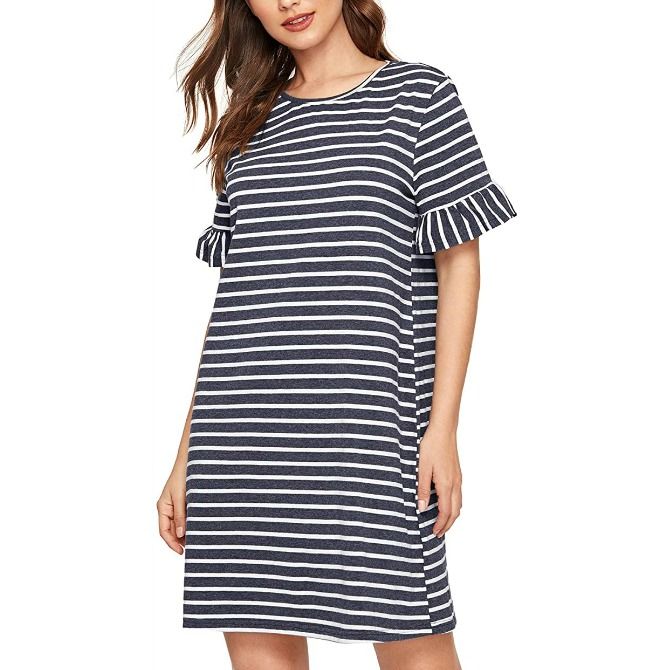 SHOP AT AMAZON
Play Up That Sleeve
Stretchy fabric and playful sleeves make this oversized t shirt dress your perfect choice for summer! Wear with a belt for added waist definition. It is oh-so comfy and breathable you could hike in it! Casual, you can also play it up for a nice occasion. It comes in other fun colors and shapes like navy bodycon t shirt dress!
• Loved for: ★★★★ | Great fit, above knee length, stretchy
• User said: The length of this striped t shirt dress was perfect. I received several compliments!
WHERE TO BUY: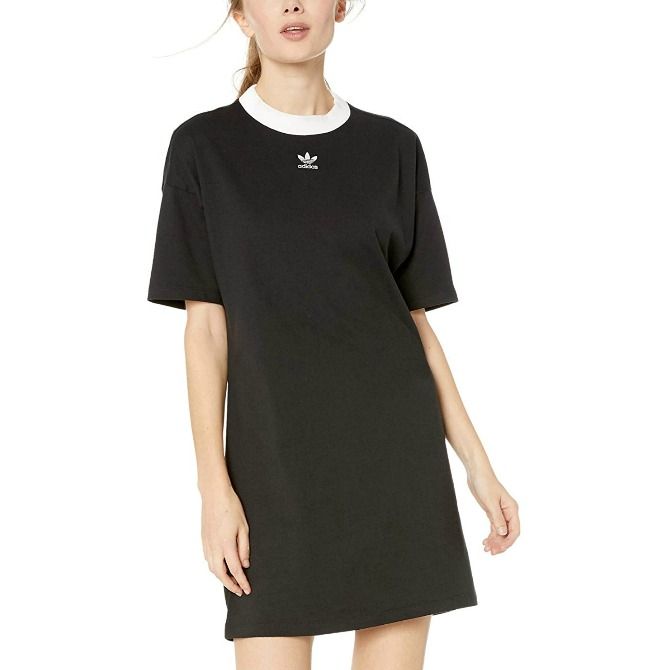 SHOP AT AMAZON
Your "Party Like It's 1999" Option
The nineties are back in style, and ADIDAS is here to support it! Adorable, stylish, and sporty, this Adidas t shirt dress with a white collar and white logo is fiercely on-trend right now. Wear with sneaks or spruce up with nicer shoes and jewelry. Made of lightweight jersey, it's soft on your skin. Overall, it's a great modern update of their heritage style!
• Loved for: ★★★★ | Great brand, well-made, lightweight, on-trend
• User said: So comfy and so cute paired with my Adidas shell toe sneakers!
WHERE TO BUY: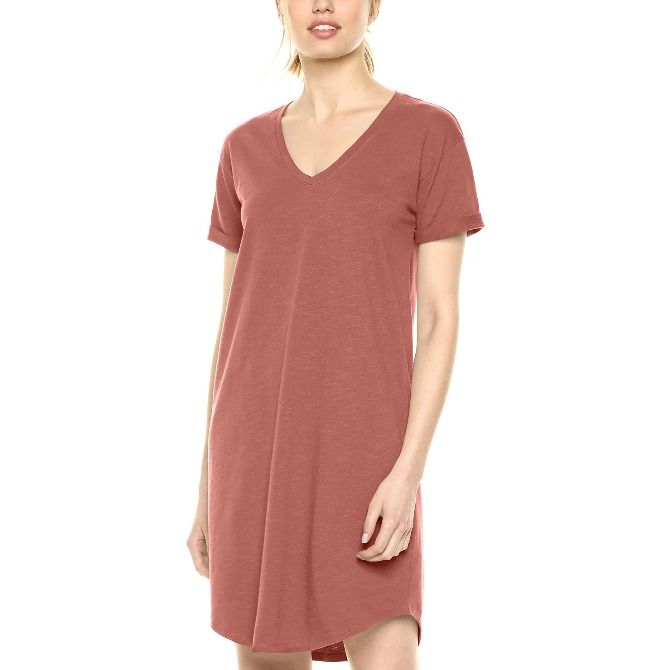 SHOP AT AMAZON
Your High-Quality Lived-In Look
Loosely fitting and in a neutral dusty rose tone, Daily Ritual has truly perfected the Amazon t shirt dress. It's available in other colors, too! If you are looking for that lived-in look but still want a good quality item, throw this in your shopping cart. Slub knit and distressed with a natural enzyme, the v-neck gives you space to dress it up with a necklace!
• Loved for: ★★★★ | Simple and beautiful, 100% cotton, light and breathable
• User said: This t shirt dress Amazon offers is the most flattering, comfortable dress I have ever worn!
WHERE TO BUY: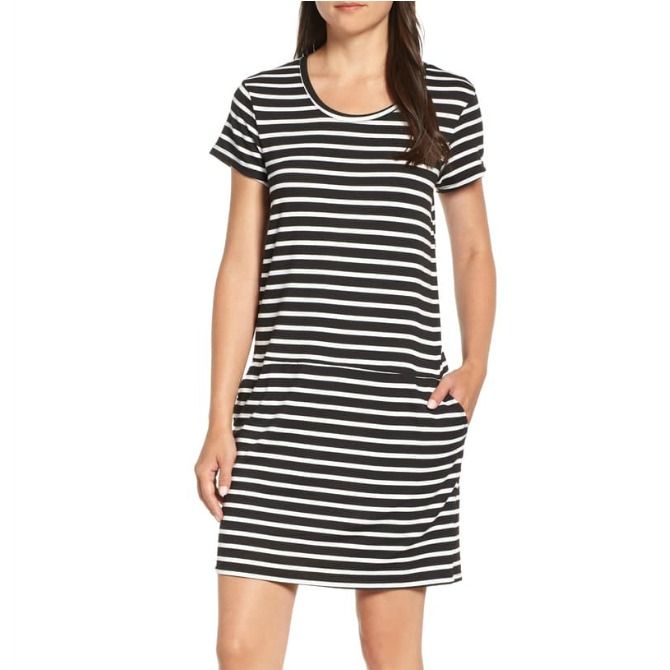 SHOP AT NORDSTROM
This Lady Likes Classic Stripes
You know it's good when it comes from Nordstrom! A t shirt dress with pockets made for your comfort, it has a paneled front and is fun to accessorize. Preppy with a flirty scooped neck, the side pockets are a nice touch (because seriously, everyone needs a couple!). Unlined, it feels great on. This would be great to wear at your next picnic or beach outing!
• Loved for: ★★★★ | Straight cut, pockets, classic striped look
• User said: Great casual dress!
WHERE TO BUY: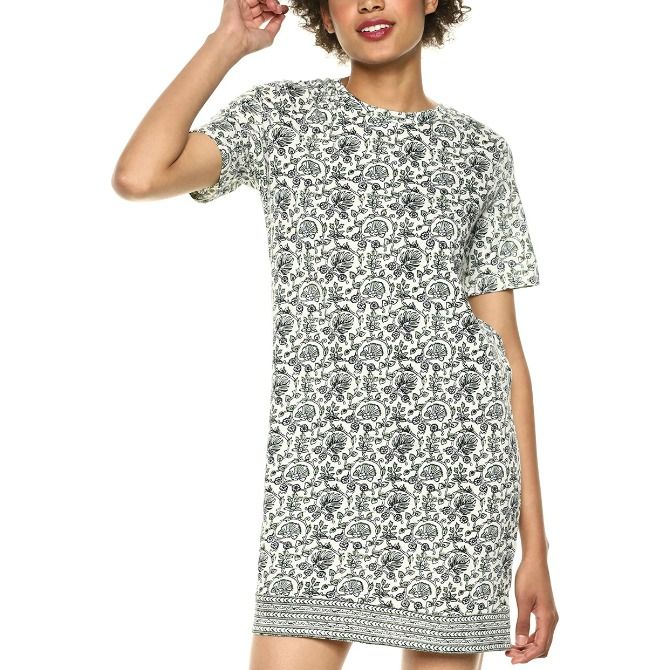 SHOP AT AMAZON
Your Vintage Fusion Dress
Beachy vibes make your midi t shirt dress option from Lucky Brand perfect for hot weather. Uniquely patterned and made with a cotton, linen, viscose blend, it is lightweight and cooling on your skin. The pattern feels vintage with intricate repeating florals. Still, the cut is contemporary, making this a perfect fusion of fashion ideals!
• Loved for: ★★★★ | Trusted Lucky Brand, vintage pattern, lightweight fabric blend
• User said: This is a comfy and beautifully patterned dress.
WHERE TO BUY: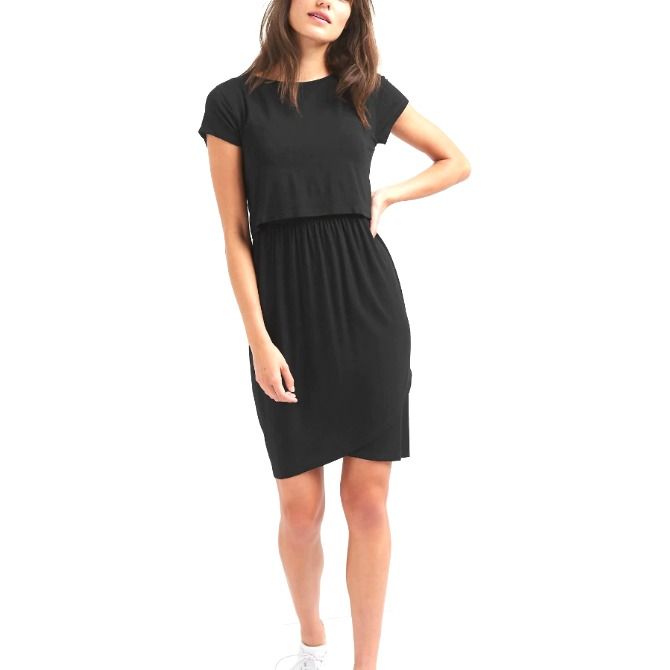 SHOP AT GAP
Your Easy Access Mama from GAP
A slimming choice for nursing or pregnant mamas, it emphasizes your waist while being practical for nursing! The top layer floats over the form-fitting underlayer to give you a cute shape. Sleeves tick up for a nice look on your arms. The skirt falls just above the knees with a straight silhouette in true black!
• Loved for: ★★★★ | Made of supersoft jersey, round neckline, wrap skirt, nursing overlay
• User said: I feel pretty in this dress! Super soft, and I love the tulip hemline!
WHERE TO BUY: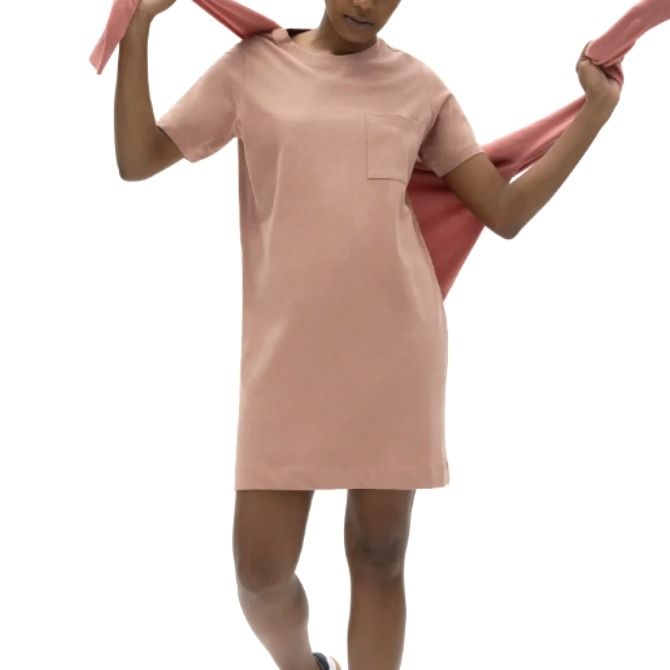 SHOP AT EVERLANE
You Can't Go Wrong Vintage Pocket
Endearingly oversized with a front pocket, this 100 % cotton t shirt dress has a cute fit that will look good on you all weekend! Try it with a sweatshirt tied around your waist, it has a vintage tee look and casual feel. It comes in elegant black but also fun colors like cameo pink, canvas, and hazel. Hard to dress this one up to formal, but your choice for flattering simplicity!
• Loved for: ★★★★ | Vintage pocket, slightly distressed, oversized
• User said: This pink t shirt dress is my wardrobe favorite!
WHERE TO BUY: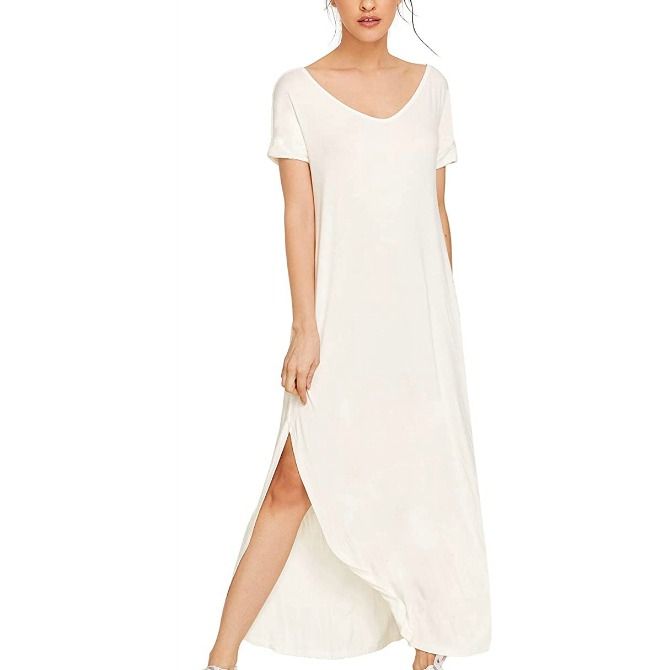 SHOP AT AMAZON
Your Sexy Slitted V-Neck Maxi!
Ooh-la-la, check out the back on this t shirt maxi dress! The loose fit v-neck is in front and back, with a line of fabric just over your shoulder blades: how exquisite! Made of rayon and spandex, it is comfortable with sexy touches (slitted from the knee!). This one totally works with your low cut bra, lacy backed, or strappy bralette!
• Loved for: ★★★★ | Side slit, v-neck in back and front, maxi length
• User said: This dress is so comfortable and versatile!
WHERE TO BUY: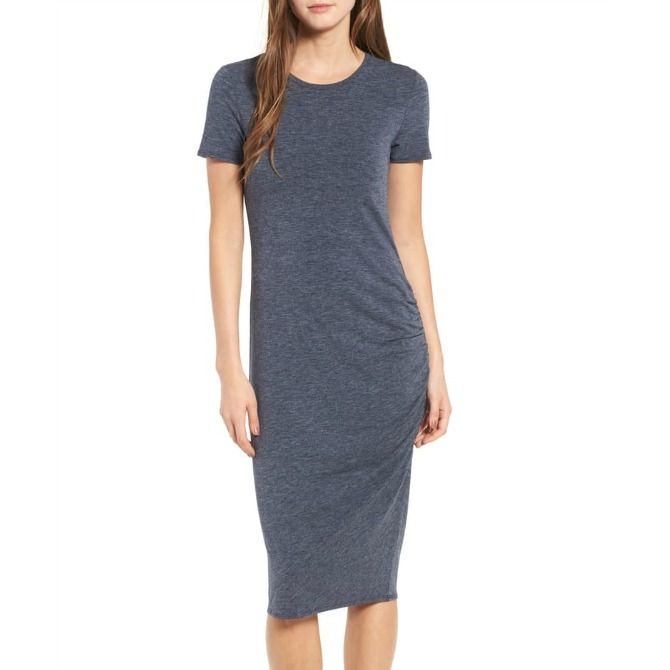 SHOP AT NORDSTROM
Yours For A Ruched Appeal!
Hugging in all the right places, this long t shirt dress falls just below the knees and is ruched for extra appeal. Crewneck and unlined, you can toss it in the washer and dryer (because who has time for handwashing?!). Not overdone, it is your pick for minimalism. Plus, when you buy it, Nordstrom donates to organizations working for youth empowerment!
• Loved for: ★★★★ | Minimalist, super comfy, stretch-jersey material, ruched on one side
• User said: Overall, cute slim-fitting plus size t shirt maxi dress!
WHERE TO BUY: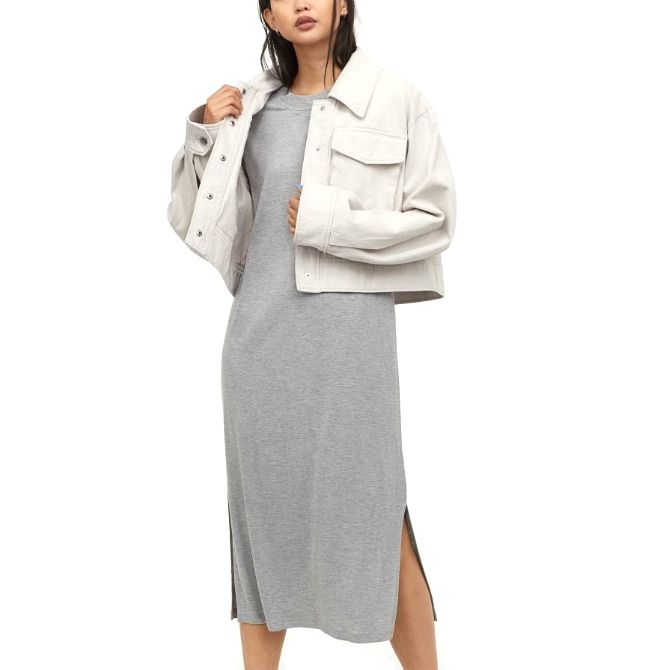 SHOP AT H&M
The Elegant Tomboy Dress
This t shirt dress H&M made speaks sexy simplicity! So much fabric to flirt with: you will love the double slits at the knee! Coming down to your calves, it is made of a soft viscose jersey. With a ribbed and rounded neckline, this unlined item is elegant while being youthful and relaxed. Sleeves are loose three-quarter length. Try it out with your boxy jacket on top!
• Loved for: ★★★★ | Light gray melange or black, round neck, a closet staple
• User said: It's definitely one of my favorites for a casual/ relaxed day.
WHERE TO BUY:
Best T-shirt Dress for Women Overview
What is T Shirt Dress?
A wardrobe basic, it is an elongated version of a regular t-shirt or a feminized take on one you'd borrow from your favorite man friend! 
How to Wear T Shirt Dress
Pair with a boxy jacket or blazer, tie a sweatshirt around your waist then throw on some cute tennis shoes with low socks! You can also try a baseball hat on top for a sporty look.
We hope you found the cute t shirt dress calling your name! For some inspo, share how you style yours in the comments below!
Have you got any suggestions of your own for the best t-shirt dress for women? Let us know in the comments!