Featured Image: L.L. Bean
Best Plaid Flannel Shirt for Women
It's officially the crunchy leaves season! And nothing defines Fall better than plaid flannel shirts. It's pretty hard to go wrong with flannel. Whether you choose to style it up with layers of warm outerwear or wear on its own, the print's effortless style remains a standing point. Plus, the variety of styles available in the market catering to each body type will blow your minds. There's something unique for everyone! 
If you demand to be noticed. Want to feel sexy in your skin. Couldn't care less about fashion, but still want to look confident and be as comfortable as you can get, then you cannot miss out on our list of the best womens plaid flannel shirts. They're warm, cozy, and a perfect base to establish a stylish persona. 
If you love this list of the best plaid flannel shirts for women, you might also want to check out the best boyfriend cardigans for women for a whole new fashion mood! 
What Are the Best Womens Plaid Flannel Shirts?
A plaid flannel shirt of the best-quality keeps you cozy and at ease without embarking into the itchy territory. There are variations in colors that make the patterns beautifully eye-catching to team up with different pants and bottoms. Disparate fits and textures are there for unlimited choices. Whether you prefer an organic cotton plaid fabric to a wool one or fleece, all options are made available for your convenience. 
Soft feel and moisture-wicking abilities are something to look for when considering the best women's plaid flannel shirts. Also, we must mention our choices are made to last. So if you're looking for warm, highly durable, and chic selections, this post is all you need right now. Each design offers a medley of pattern shades and fabric textures to put together great everyday and formal outfit pairings. Be it for the office, brunch with girls, or to look fabulous for the weekend getaway.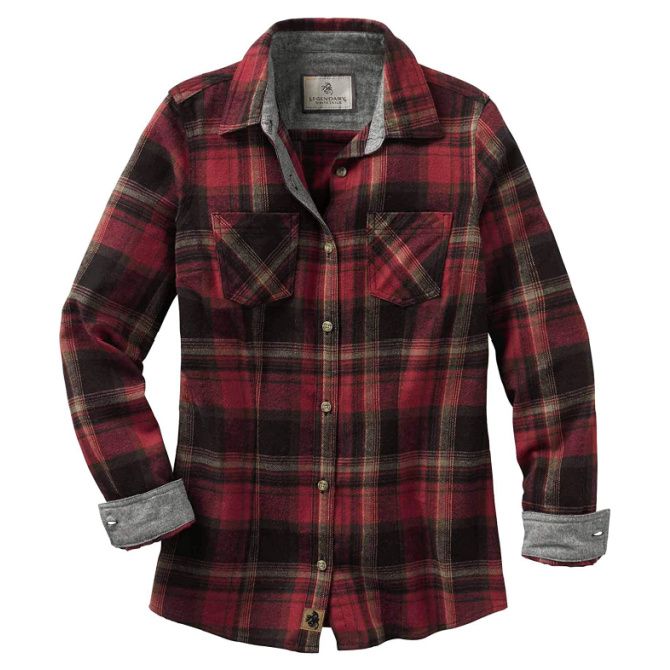 SHOP AT AMAZON
Flattering to Shape!
Made from 100 percent cotton, Legendary's womens plaid flannel shirt is breathable and can be worn throughout four seasons. Combined with front button closure and long sleeves, you can style it in a series of ways. Especially with dark blue denim, the shirt looks superb. Though, we'd leave the creative side of fashion styling to you. 
The sleeves on this red plaid flannel shirt could be folded for that classy appearance and make room for a beautiful display of a wristwatch or bracelet. People commend the true fit, which allows free movement and doesn't gap. Besides, you can easily raise your arms without an issue. 
• Loved for: ★★★★ | 100% Brushed Cotton, available in four colors, button closure, twin chest pockets, chambray lined collar, and cuffs
• User said: I really like that the collar and cuffs are lined in chambray. It makes them a bit stiffer and offers a nice contrast!
WHERE TO BUY: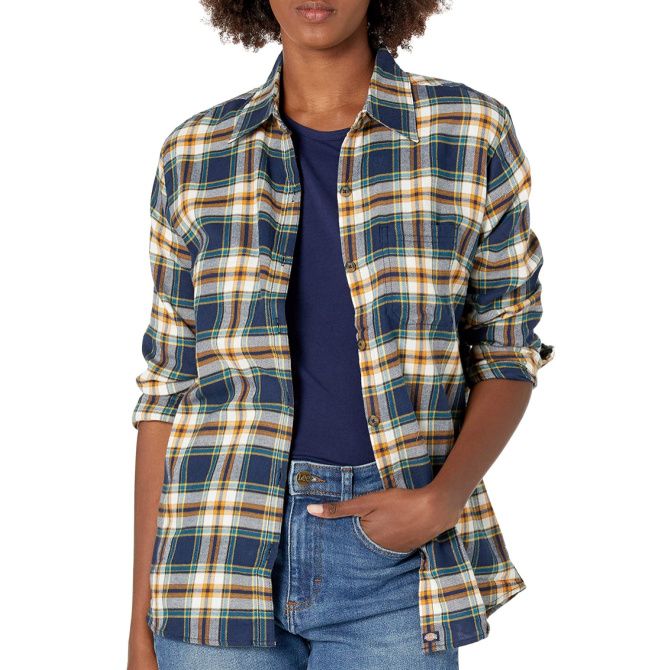 SHOP AT AMAZON
Checks All the Boxes!
We love the pretty color of the Dickies women plaid flannel shirt! Crafted of 100 percent cotton; brushed for premium softness and maximum comfort. The fabric is neither too thick nor too thin, just the right amount of 'warm' for Fall and Winter. 
Plaid flannel shirts for womens wear can be dressed up with pencil skirts for an office look, or you can wear it casually with khaki-colored pants and footwear of choice. Added for your advantage is a small pocket that blends in with the design and comes handy for storing small essentials. Plus, this is perfect for layering and does not feel restricting on the body at all. 
• Loved for: ★★★★ | 100% Double Brushed Cotton, available in different colors, button closure, chest pocket, machine washable
• User said: I can easily layer long sleeves underneath with room to move without feeling constricted or uncomfortable!
WHERE TO BUY: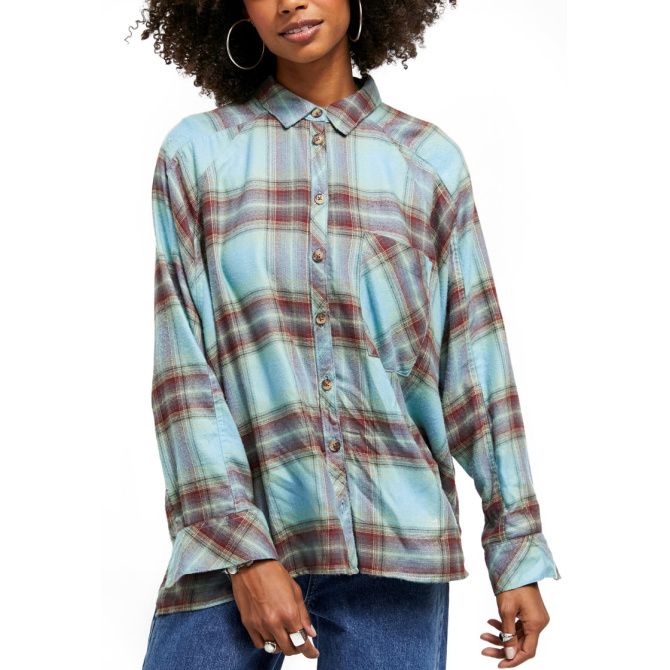 SHOP AT NORDSTROM
It's All About Plaids!
What's better than an oversized blue plaid flannel shirt? Imagine styling this as an open shirt over a plain white t-shirt, skinny denim jeans, and white ankle boots? You'd be a vision! Made out of rayon and polyester, the fabric's aims to keep you warm and feeling good in your skin. The blue complements all skin tones and serves to be a refreshing change from reds and other dark hues. 
The sizeable chest pocket seamlessly meshes with the fabric to keep the necessities at hand. Button closure allows an open and closed clothing style, whereas long sleeves are a bonus for a sexy cuffed up fashion look. This womens blue plaid flannel shirt doesn't look frumpy. 
• Loved for: ★★★★ | Rayon/Polyester, available in one color, front button closure, chest patch pocket, machine washable
• User said: It's soft, cozy, and the color is exactly as shown, so it's flattering on every skin tone. This is adorable!
WHERE TO BUY:
SHOP AT AMAZON
The Classic Norm!
The clean lines of a women \'s plaid flannel shirt cannot be denied on a Fall morning. Built with 100% cotton and softer than your duvet. It's handspun and made to assist you through a lifetime. More so, the fabric is machine washable for easy care. 
Accompanied by a relaxed fit, long sleeves, and straight silhouette, this could be styled to bring out your arms and neckline or wear as it is. According to the customers, this navy and pink plaid flannel shirt doesn't weigh you down, rather cooperates well for layering and without. 
• Loved for: ★★★★| 100% Cotton, available in different colors, button front, and cuffs, relaxed fit, machine washable
• User said: Nice quality, quite thick, and looks great with jeans!
WHERE TO BUY:
SHOP AT AMAZON
Fool-Proof!
Claiming reduced shrinkage and soft 100 percent cotton flannel craftsmanship, the subdued color makes for a great wardrobe addition. You can use women \'s flannel plaid shirts with a number of bottoms, which is no exception. The two chest pockets with snaps and flaps add up a smart appearance. 
This isn't body-limiting thanks to the relaxed fit that allows ease of movement. Plus, it's an excellent cut for layering and for a tucked-in effect. This women flannel plaid shirt doesn't wrinkle easily, as stated by enthusiastic consumers. Even so, when you bend down, it provides enough coverage to hide embarrassing butt gaps and lines you won't want anybody to see. 
• Loved for: ★★★★ | 100% Cotton, available in different colors, button closure, reduced shrinkage, machine washable
• User said: The fabric is soft and comfortable. Plus, a great cut for layering with a t-shirt, tank, or thermals underneath when it's colder!
WHERE TO BUY: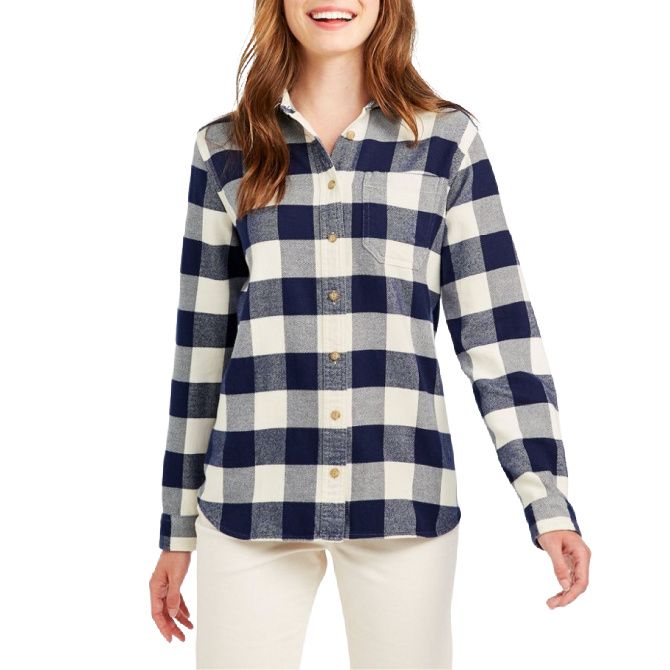 SHOP AT LL BEAN
Living Safe!
L.L Bean offering is a 100 percent certified and ethically organic sourced buffalo print flannel shirt. The chic shirt could be paired with white jeans and boots to elevate its gorgeous print. It offers the cloud-like softness and comes with sweat-wicking abilities, so you'll never feel hot and bothered under layers of outerwear or during the warm season. 
The relaxed fit of the buffalo plaid flannel shirt women \'s garment promises non-restrictive movements. The chest pocket is undetectable and the right storage size for little things. Available in a lot of print shades, you can go crazy with the range. And being an organic product makes it super trustworthy to purchase. 
• Loved for: ★★★★ | 100% Organic Cotton, available in different colors, center back pleat for ease, front patch chest pocket, machine washable
• User said: This flannel is what I think all flannels should be like: soft and warm!
WHERE TO BUY: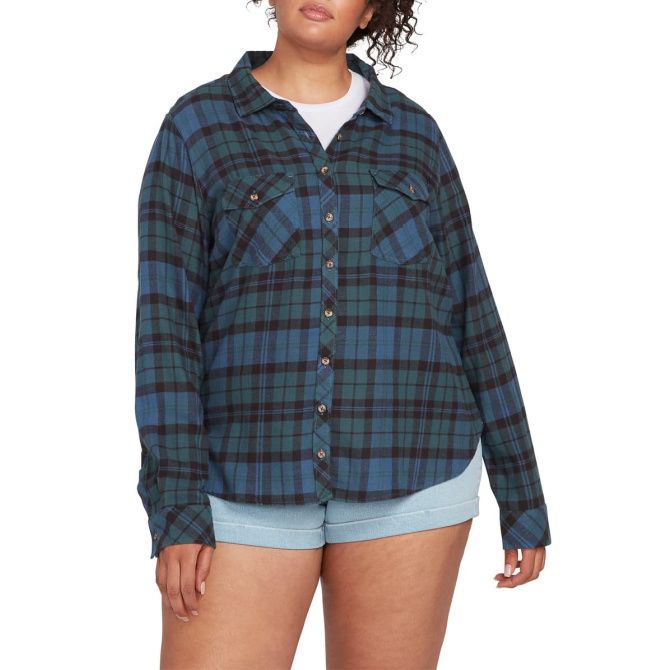 SHOP AT NORDSTROM
Dress to the Nines!
Yes, it's all about getting rad with Volcom's blue and dark green plaid flannel shirt. The dark hue lends it an extra sophisticated appearance. You can work with it for a dressier appearance with a brown leather skirt or tan trousers. Or trim it down for the day with denim shorts or sheer leggings underneath when it's cold. 
Created of 100 percent cotton, it's comfier than your pillows and very soft to the skin. This will keep you warm on chilly winter mornings, and you can layer this green plaid flannel shirt womens wear for extra protection against cold weather. Customers confirm it's genuine flannel and has an untroubling fit. 
• Loved for: ★★★★ | 100% Cotton, available in three colors, long sleeves with buttoned cuffs, chest button-flap patch chest pockets
• User said: Thick and warm like a flannel should be. Pleasantly true to size. Love it!
WHERE TO BUY:
SHOP AT GAP
Seriously cute!
A one minute silence for the prettiest combination of yellow with slight hints of red. Gap's yellow is so lovely and fall-appropriate that you can team this up with fresh blue denim or tan bottoms without second thoughts. We see this as one of the most perfect flannel plaid shirts womens clothing for keeping warm and producing that vintage appearance with gold, retro accessories. 
It's a soft cotton weave with full sleeves. The relaxed fit doesn't restrict body movements, and button front allows this to be a secondary layer over a plain white or on 'any shade' t-shirt. The fabric is breathable and comfortable. Besides, if you're looking for versatile plaid flannel shirts womens style, this is ideal! 
• Loved for: ★★★★ | 100% Cotton, available in five colors, long sleeves, button front, machine washable
• User said: Their flannel shirts are so comfortable that I buy them even as gifts for the family!
WHERE TO BUY: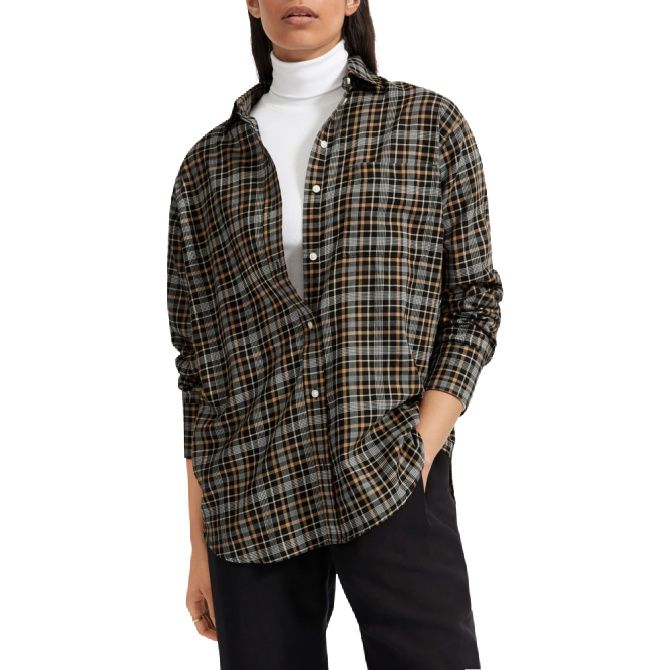 SHOP AT EVERLANE
No Regrets!
Now that's the kind of scotch plaid flannel shirt you can wear to a club with a black sheer frilly skirt or pair under a suit for a professional office appearance. Thanks to its sleek design, you can create classic and pulled-together get-ups for almost anything going in your life. 
Also, being an oversized fit, let this be even more effortless. Put this on over a turtleneck or layer over a plain t-shirt, the styling ideas are endless. It's 100% cotton and very smooth. Customers have many good things to say about this, especially lightweight and befitting for all seasons—definitely one of the best ladies plaid flannel shirts. 
• Loved for: ★★★★ | 100% Cotton, available in one color, rounded hem, warm brushed feel, machine washable
• User said: I love the color and how comfortable it is. I think I will wear it more often when the weather cools down!
WHERE TO BUY: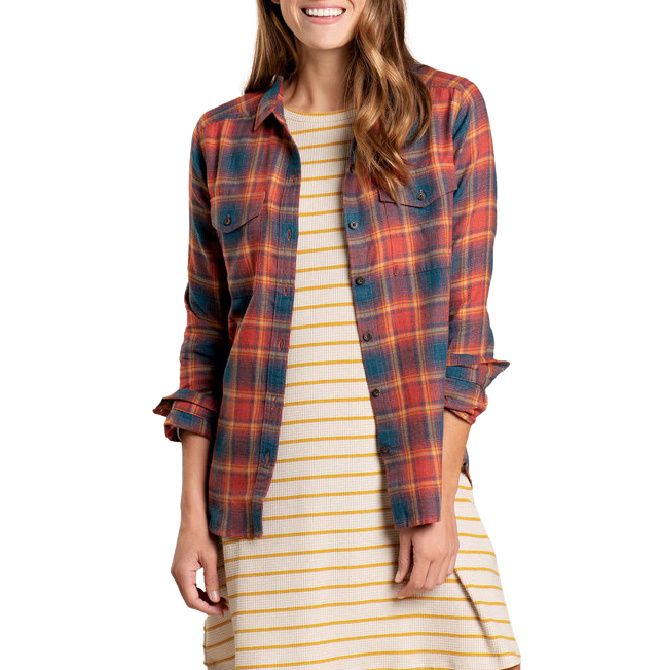 SHOP AT TOAD&CO
Compliment-Getter!
The understated elegance of this blue and women \'s red plaid flannel shirt cannot be ignored. It's beautifully donned with brown, and the same goes for blue jeans. The earthy hues of blue and red portray casual-chic simplicity: something you can pull over a dress or wear under a denim-on-denim look for a bewitching twist. 
The fabric is a mishmash of recycled cotton and polyester—all the best for organic, eco-friendly lovers. The sustainable fabrics are hard-wearing and safe on the skin. Most importantly, one of the safest womens flannel plaid shirts that fall lightweight and are non-restrictive for outdoor adventures. Stay safe, and stay pretty! 
• Loved for: ★★★★ | Recycled Cotton/Polyester, available in different colors, moisture-wicking, soft and sustainable, machine washable
• User said: The fabric is nice and smooth and not flimsy. Very cute piece!
WHERE TO BUY:
Best Plaid Flannel Shirt for Women Overview
What Are Some Different Ways to Wear a Flannel?
Anyone can rock a plaid outfit. And we love the fact, it isn't confusing neither requires brainy decisions to pull off a killer look since the print itself is dashing alone. In this post, we'll highlight a few fail-safe ways to pull off an attractive plaid look. No, you won't end up looking like a lumberjack!
Plaid Shirt & Plain Skirt
A solid way to combine a great outfit is by putting on a plaid shirt and finishing the look with a skirt. Now, whether you want the skirt to be long-length or short, it's totally dependent upon you. 
We, personally, love a stunning plaid shirt and long pencil skirt combo. And it also works a treat in the office and for a professional client meeting. Especially if you tie in everything together, with a blazer or a long elegant coat!
Plaid Shirt & Jeans
Now, plaid shirts look wonderful with jeans, and that goes without saying. For instance, if you're wearing a womens green plaid flannel shirt, pair it with blue jeans, and you'll be instantly stylish. 
Even beige trousers with a green shirt tucked in and enhanced with beige tassel loafers is a beautiful route to take. This look can be further dressed up for work with a statement bag and coat, or you can leave it as it is for spending a casual day out. 
Always remember brights look superb with neutrals, and the same can be said about darker toned shirts. Also, black is one universally-flattering shade that works with almost all color palettes of plaid. 
Don't Wear It Only as a Shirt!
Yes, wear a plaid shirt like a cardigan over a cropped top and culottes. With cute sneakers to match! This will be low-key perfect for every day! You can swap the cropped top for a tank top or a simple tee. Go all-black with a contrasting white plaid shirt. Or all-white with a black plaid shirt serving as a top. 
Or wear a plaid shirt over a plaid flannel shirt dress for a doubled cool combo. There's no end to what you can achieve with plaid. Keeping in the limits of interesting, that is!
Red & Mustard Never Flops
That's true! Pair a red plaid shirt with mustard pants, brown shoes, and a bag to match. You've got nothing to lose by wearing this for a get-together with friends. 
Pink & White
That's our favorite recipe for success. White plaid looks superb with pink pants or, better yet, a long body-hugging pink skirt. Make sure the pink is soft, not in-your-face bright. Do the honors of this look with white heels or pink for a matchy-matchy effect. 
Break Rules
Break the code with plaid over plaid. Honestly, pair a plaid shirt with a plaid skirt or trouser to match for a classy appearance. This look could be best pulled off with neutrals as you don't want to create a nasty distraction; rather, you need pleasant attention. This is a boss-babe suiting up technique for the office! And wear heels to bring it all together!
What Are the Best Plaid Flannel Color Combinations?
If there's one way to not look like a lumberjack, opt for muted colors. Plaid flannel shirts women can reliably wear are those with neutral tones. Think vintage! Plaid can be incredibly hip with the right styling, but boring too if not done justice. 
Seek more inspo from Pinterest. It's perfect for brainstorming outfit ideas!
You don't have to work for a nice look with plaid. It's all that on its own! Check out our best womens plaid flannel shirts that feel like they should! If you have recommendations to make, hit us up in the comments section.
Have you got any suggestions of your own for the best womens plaid flannel shirts? Let us know in the comments!