Featured Image: Nike
Best Womens Workout Shorts
The activity of working out has to be done in the most convenient and comfortable clothes. Sure, you might think that there's nothing better than your leggings or track pants, but you have to try the workout shorts. Once you do, you will never want to workout in those fabrics again. These shorts are going to be your gym-buddy throughout the summers, and you are gonna love them for it! Just throw on the best women workout shorts and get ready to burn the calories in style!
If you love this list of the best womens shorts to workout in, you might also want to check out our best crop workout tops to take your fitness journey a major step ahead!
What is the Best Workout Shorts Women Wear?
Summers are finally here, and we all know what a pain it is to work out in those full-sized joggers or leggings. Why not ditch them for some super cozy and flexible pair of women workout shorts and have more fun while losing some calories? 
Whether it is yoga you intend to do, a full treadmill run, training outdoors, or going for a hike, these shorts can be worn anywhere and for every outdoorsy activity. What's more, you will still look your presentable best in these fashionable picks. Wondering what the best workout shorts women wear are? Keep scrolling to find out!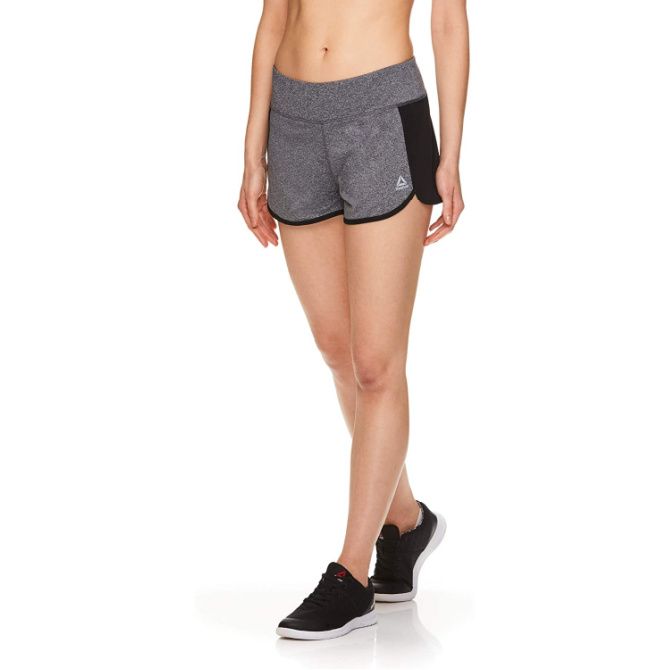 SHOP AT AMAZON
Keepin' it Short and Cute!
You will love the fabric of this Reebok women \'s workout shorts as it is made of polyester and spandex and would feel lighter than air. Working out with these shorts ensures flexibility and comfort, so your movements aren't restricted. It is neither too tight nor too loose that you can wear them to exercise outdoors or head on a hiking trip with your group.
• Loved for: ★★★★ | Available in different colors, lightweight, sweat-absorbable cloth, flexible material
• User said: These are the most flattering shorts!
WHERE TO BUY:
SHOP AT AMAZON
For the Sporty Girls!
These Nike workout shorts are a benchmark product that will keep you dry and moving even during high temperatures. Designed with 'in-built underwear,' these shorts will ensure that you face absolutely no problem running around as it provides maximum comfort and flexibility. Customers love the pockets that keep your mobile phones close to you even when the shorts are loosely fit.
• Loved for: ★★★★ | Available in 8 colors, internal drawcord, comfortable and flexible, pockets, quick-dry material
• User said: I am obsessed with these shorts! They are perfect for running, golfing, hiking, etc. 
WHERE TO BUY: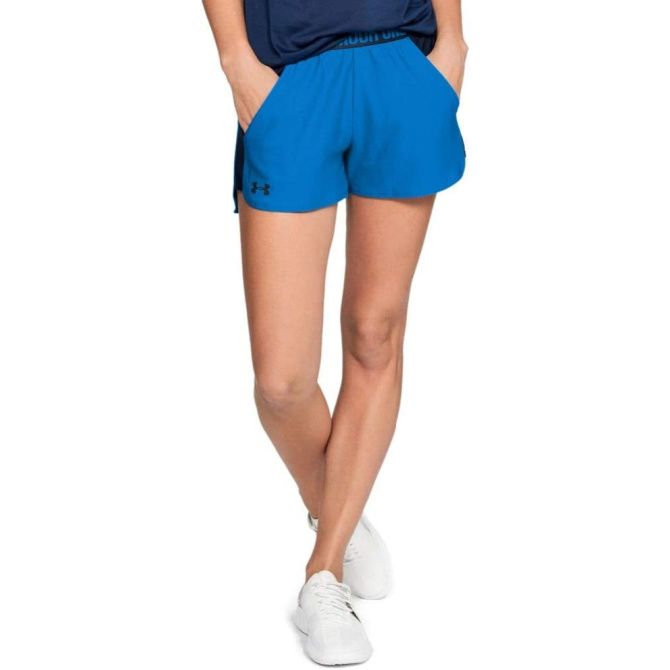 SHOP AT AMAZON
Play and Slay in These Shorts!
Who knew exercising in summers could be this fun? With these work out shorts, you will look forward to your sessions every day. Made of 100% polyester and lightweight elastic material, you can do all kinds of exercise without having to worry about sweat or discomfort. The convenient hand pockets are a major plus that holds your car keys, mobile phones, or other small accessories.
• Loved for: ★★★★ | Lightweight and breezy, relaxed fit, side pockets, sweat-proof material
• User said: Hands down the best athletic shorts I've ever owned. These are so comfortable, cute, relaxed, and forgiving!
WHERE TO BUY:
SHOP AT NORDSTROM
Simple yet Chic!
Looking for the simplest shorts that would just serve its purpose and keep you cooled down? This high waisted workout shorts by Zella is the best fit for you. Wear it for a hiking trip, for workouts at the gym or any sporty event, these shorts will look simply amazing and feel breezy all day long. The super-comfortable and elastic material makes sure you can move around without feeling restricted or uncomfortable on a hot summer day!
• Loved for: ★★★★ | available in 2 colors, elastic waist with drawstring, 3 types of pockets, 88% recycled polyester 12% spandex
• User said: Love how these fit! The band is not tight and has four pockets; these are a summer staple in my closet.
WHERE TO BUY: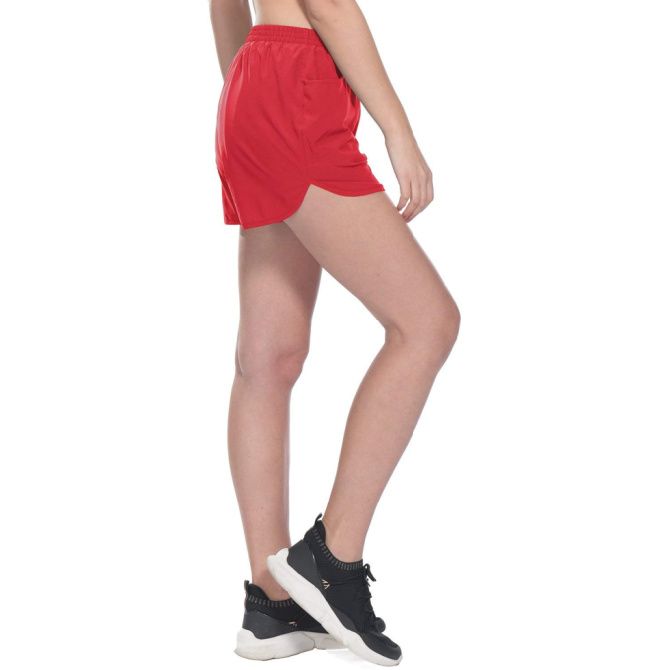 SHOP AT AMAZON
Outdoorsy and Playful!
All kinds of activities can be done in these pair of pretty, cute little booty workout shorts that inspire you to get out and get going! These shorts have built-in briefs for added comfort and security that also keeps the pants breathable. The unique split-leg design allows more movement. Featured pockets can hold your car keys, cards, and even your mobile phones, so you have a backup when you go to the woods for a run.
• Loved for: ★★★★| best for running, available in different colors, 95% polyester 5% spandex, lightweight, breathable material
• User said: I love these shorts! They are thin and have pockets that will hold my iPhone 7plus!
WHERE TO BUY:
SHOP AT AMAZON
It's All Cool and Cozy in Here!
In the shades of daring blue or black, these summer special workout booty shorts are going to be your staple athletic shorts this summer. Crafted thoughtfully with a breathable woven fabric and lightweight inner mesh that stays breezy all day long, these shorts are "not to tight around the waist like some". The secure media pocket at the back allows you to keep your stuff safe while hopping on to a quick run.
• Loved for: ★★★★| Breathable material, super light and comfy, available in different colors, 100% polyester
• User said: It is comfortable and of good quality!
WHERE TO BUY: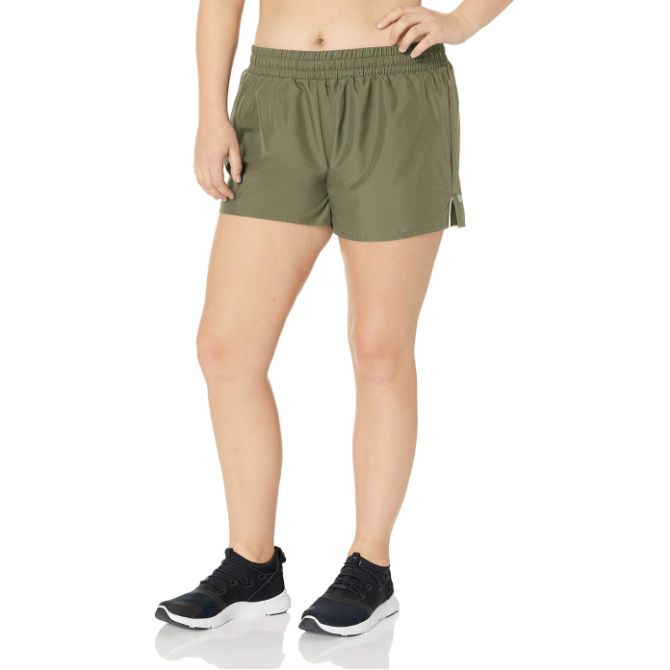 SHOP AT AMAZON
Go Grab the Day, Lady!
If versatile shorts are your thing, then this one by Core10 should be in your shopping cart for its comfort, flexibility, and quality! Highly ranked as the best workout shorts for women, these will surely become your staple workout shorts once you glide them on. It allows great freedom of movement when you are on the run and doesn't allow sweat to form easily. Reviewers love the fact that "there is no bulky or lengthy tie at the waist to have to deal with".
• Loved for: ★★★★| 86% polyester, drawstring closure, hidden key pocket, lightweight moisture-wicking brief liner
• User said: These are great shorts for pretty much any activity. Short enough that you can move in them, but long enough that they keep you covered nicely. 
WHERE TO BUY: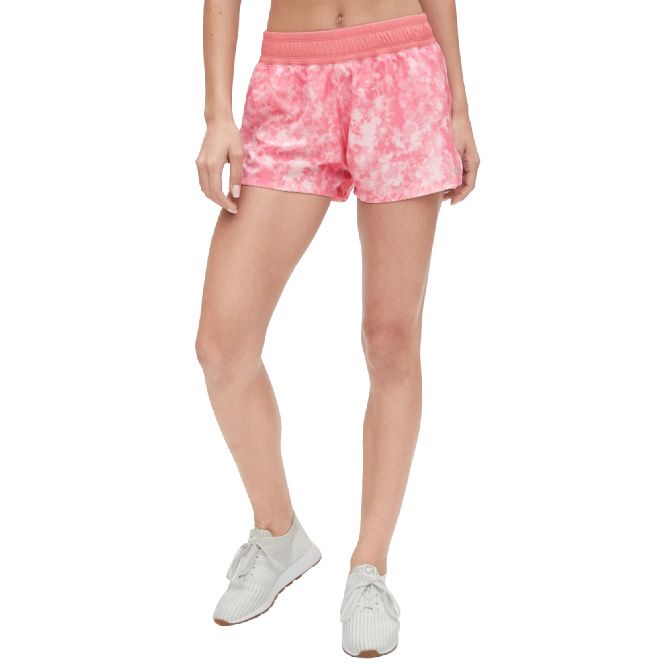 SHOP AT GAP
Your Summer' Workout Buddy
This cute looking best workout shorts women \'s should be in your shopping cart just for the looks of it! Who wouldn't want to own it? These are cute and attractive looking shorts that can instantly energize anyone to go and workout? According to the ladies, "these shorts are so lightweight!! They're like not wearing anything," and we think this is reason enough you should buy them now! What's even more attractive is that there are multiple patterns and colors available.
• Loved for: ★★★★| available in different colors, moisture-wicking, cut for easy movement, elastic with drawstring
• User said: I have been living in these shorts since I received them!
WHERE TO BUY: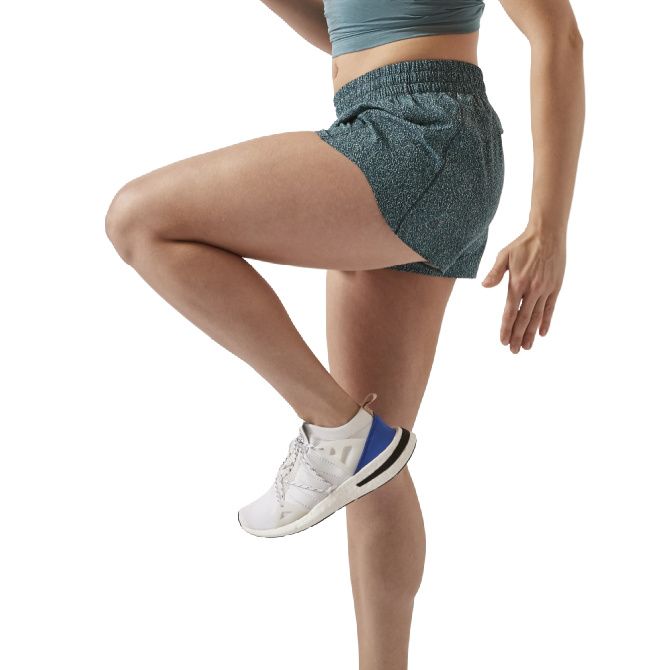 SHOP AT ATHLETA
Brings Out the Athlete in You!
Carefully crafted for all the sporty ladies out there, this workout spandex shorts provides optimum comfort, elasticity, and superior quality. You can be active all day long! The printed design is literally to die for, and the chained pockets make it an even attractive choice for women on the go! You can now keep your things secure while you go on a run.
• Loved for: ★★★★| Featherweight stretch fabric, adjustable drawstring, breathable, wrinkle-resistant
• User said: Seriously, all of their shorts are so freaking cute!
WHERE TO BUY: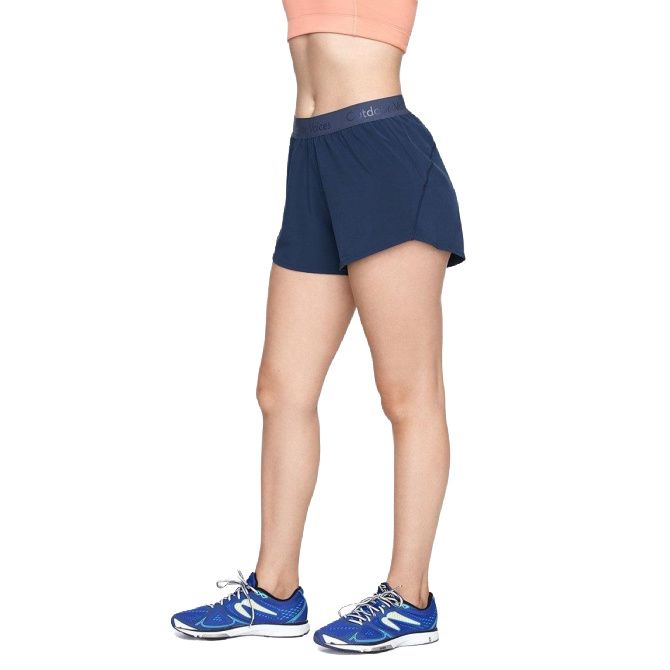 SHOP AT OUTDOOR VOICES
Let's Go Out and Play!
The lightweight, quick-drying polyester fabric used to make these spandex workout shorts are basically every workout lover's dream. Perfect for running, jogging, hiking, working out or yoga, these shorts are gonna be your companion for a long time. With a hidden zip pocket, your stuff stays secure!
• Loved for: ★★★★| Recycled polyester, hidden zip pocket, breathable material
• User said: I love these womens workout shorts! They're lightweight without feeling insubstantial, and they're super cute.
WHERE TO BUY: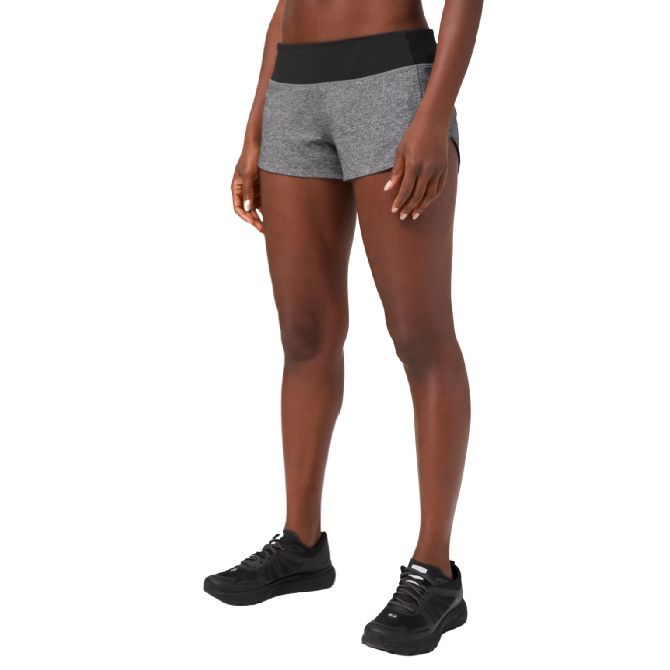 SHOP AT LULULEMON
Brings Out the Sassy Athlete!
The perfect definition of keeping it short and simple, these workout tight shorts are made for the hardcore athlete in you! Designed for running and hyper-active tasks, the fabric is made of elastic material which doesn't restrict movement. The chained pocket is something not most of the people would know about!
• Loved for: ★★★★| Lightweight, available in various colors, made for running, breathable fabric
• User said:  These are really comfortable and they feel amazing, especially in super hot weather.
WHERE TO BUY: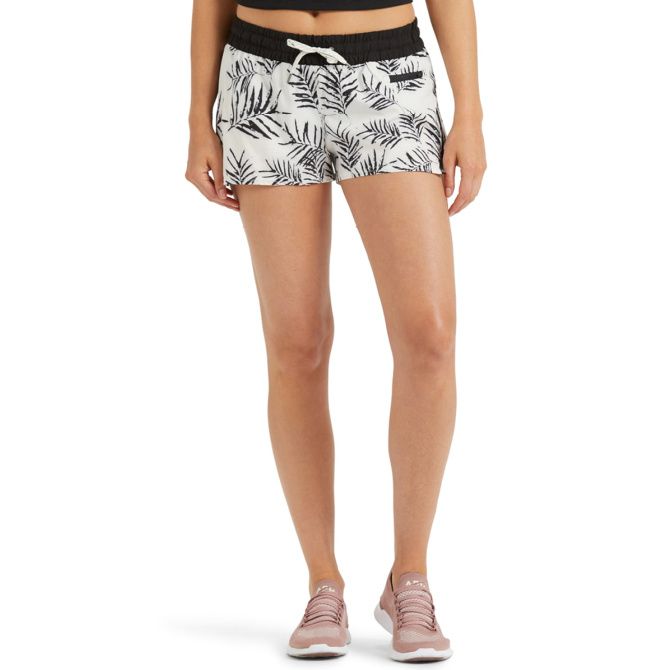 SHOP AT NORDSTROM
Workout in Style!
The prints on these shorts are to die for! The drawstrings on these workout shorts women make it look more stretchable and easy to carry. The side slits are for easy mobility, and the lightweight fabric ensures you don't feel a thing when you are working out. Ladies out there think that "the fit and quality are well worth the investment!"
• Loved for: ★★★★| Lightweight and breezy, attractive designs, elastic drawstring
• User said: These shorts are the bomb! So soft, comfortable, and flattering.
WHERE TO BUY:
Best Womens Workout Shorts Overview
When the summer kicks in, it becomes a tad bit difficult to find the motivation to work out. When you have the perfect pair of best workout shorts, it becomes more fun and enjoyable. So what are you waiting for? Get your hands on your favorite from the list. And flaunt your new buddy when you head out for an active day in the sun! If you have suggestions for us, we'd love to hear from you!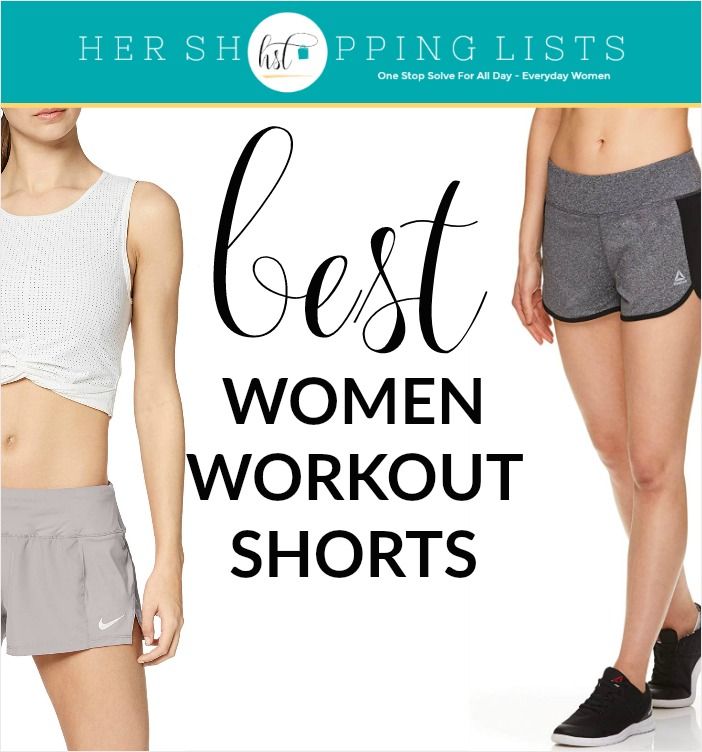 Have you got any suggestions of your own for the best workout short for women? Let us know in the comments!