Featured Image: Athleta
Best Sport Dresses
Women's athletic dresses are amazing! You can find ones that look like sexy black basic minidresses and others that look more like a tennis uniform. Some have hidden bras inside or shorts underneath. Did you know that certain fabrics even keep stinky, sweaty odors away?
Are you planning to bust some big moves in your purchase? Think about what kind of support you need your piece to offer. Are you going to bust some sweet moves on the basketball court, or are you just looking to impress someone while you fake exercise in the gym? These outfits are designed to give your body real, high-endurance benefits.
If you love this list of the best sport dresses, you might also want to check out the best womens athletic sandals that are actually cute!
What are the Best Athletic Dresses?
Hands down the best dresses combine elements like pockets, supportive skin compression, and internal bra structuring to give you multiple enhancements. Other dresses add on top of those adorable elements like side slits, ruching, and ties at the waist or preppy collars. The best dress is one that complements the activity you will do in it. Will you trek up Mount Everest or read Glamour on the treadmill? Rest assured, we have dresses for every activity, so read on!
SHOP AT AMAZON
Wear for a Hole in One!
Say hello to sporty dresses with this gray gradation item with a black skirt bottom! Reviewers are just thrilled when it comes to this Adidas made for golf pick with gray shorts underneath so you can do a happy dance when you make a hole in one! Definitely on the more athletic side when it comes to this type of hours, but cute enough you can wear to get a post-workout smoothie with your hot yoga crush.
• Loved for: ★★★★ | Polo collar, princess inseams, overlap skirt front, separate inner shorts
• User said: This is a very fashionable golf Adidas dress!
WHERE TO BUY: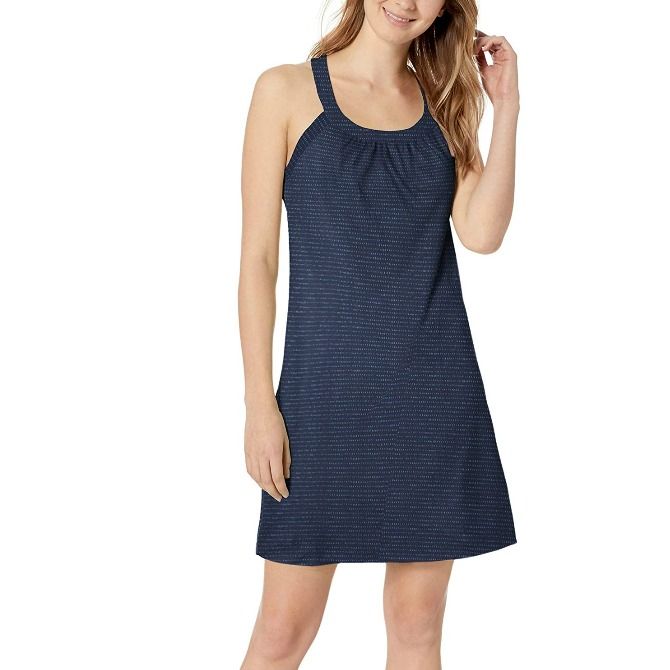 SHOP AT AMAZON
Bye-bye Sweat Stains
You will be overwhelmed by the support these activewear dresses get from reviewers! You can wear this when you aren't working out. Fits you great with some gentle ruching at the chest area. Comes in solid colors or fun prints with an interior shelf bra and cups that you can remove if you wish. Also, it wicks away your sweat in case that "drenched" look isn't quite what you're after!
• Loved for: ★★★★ | Moisture wicking, built in shelf bra, wrinkle-free
• User said: The Prana Cantine is one of the best athletic dresses with built in bra I have purchased. Plus, It is super comfortable and stylish!
WHERE TO BUY:
SHOP AT AMAZON
Your "Call Me Terry" Cute Yoga Outfit
Made of smooth terry mesh, this is an adorable pick for sport dresses casual look. It's loose enough to feel good on but comes in ever so slightly at the waist to flatter your figure while you down dog or cobra pose. It is racerback and also comes in orchid, black, space dye and ice blue. And the kicker is: there's mesh trim at the armhole, so you don't get yucky sweat stains, hooray!
• Loved for: ★★★★ | Mesh armhole trim, french terry, great stretch
• User said: I love sporty summer dresses like this. It looks and feels great, and I wear it all the time!
WHERE TO BUY: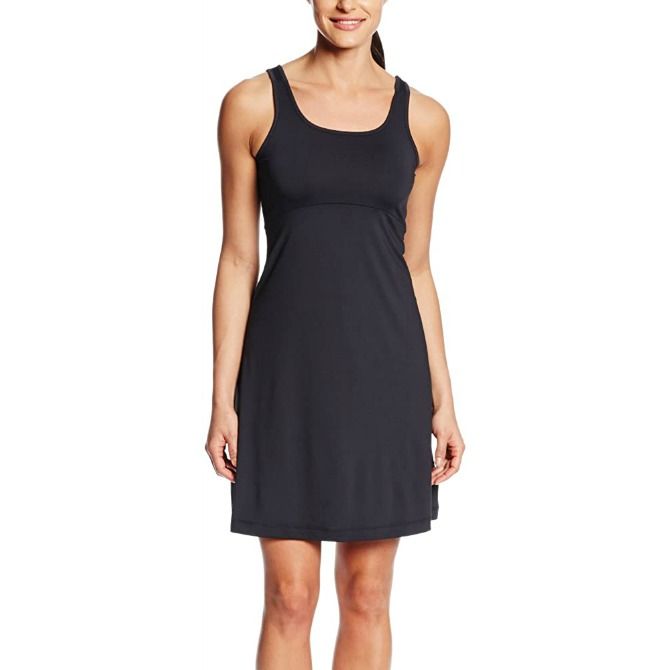 SHOP AT AMAZON
You Can Hang Glide or Date Night in this One!
Did you know active dresses can be the basic little black something in your wardrobe, not just for sporting events? When you check this out online, you can see reviewers wearing this all over town, hiking up mountains in it, and even hangliding (well, maybe not hang gliding, but it is seriously durable!). Has cooling technology and wicks away your sweat while fighting harmful sun rays, too!
• Loved for: ★★★★ | UPF 30, sweat wicking, cooling technology
• User said: This is one of my favorite Columbia sportswear dresses in my wardrobe!
WHERE TO BUY: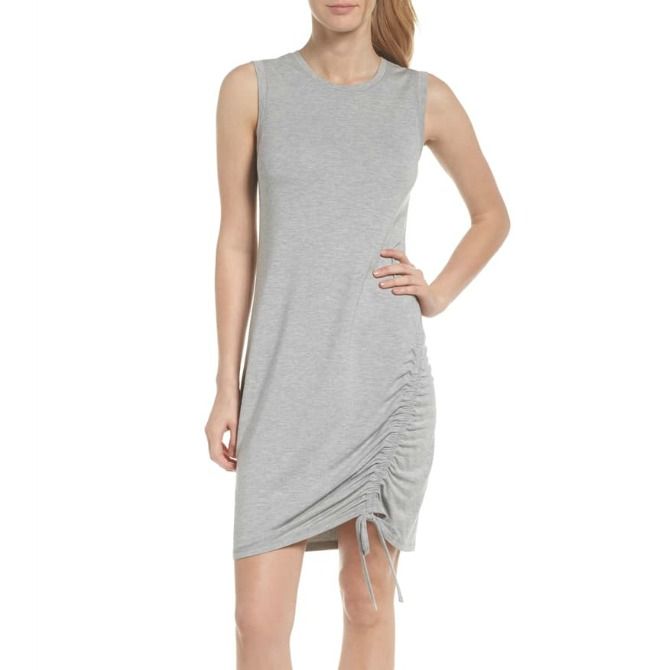 SHOP AT NORDSTROM
Ruched and Tied to Perfection
Designed to slap on after your studio workout, these women \'s sport dresses come in cooling colors like a blue shadow, gray heather, and black. The one-sided tie means you can be playful while you wind down. Sleeveless and lightweight, it feels great on and has a streamlined look. This is the perfect option for wearing over your clothes pre and post Zumba!
• Loved for: ★★★★★ | Crewneck, sleeveless, ruched and tied hem
• User said: Side ruching makes short sleeve athletic dresses like this very flattering. I love it!
WHERE TO BUY: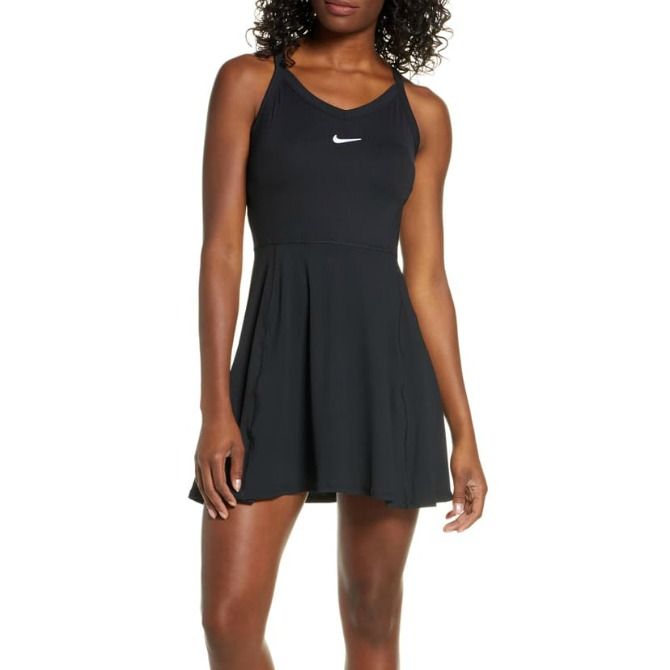 SHOP AT NORDSTROM
Nike Logo Finesse
A moisture-wicking show off your muscles kind of pick, this item comes in black with that classic white Nike logo. It comes in at the waist, but the skirt folds over itself to move while you move in a seamless style. Racerback, it's made of comfortable stretch material. When you jump up for that high ball, just double check to make sure you have some shorts on underneath, wink, wink.
• Loved for: ★★★★ | Stretchy material, Nike logo, moisture wicking technology
• User said: This comfy dress is a keeper!
WHERE TO BUY:
SHOP AT AMAZON
Pretty and Preppy
In Gibraltar Sea, Ultramarine, or Bright White, this two-piece quick dry dress is made for when you are in gear for high performance! It has an almost magical ability to wick sweat away and keep you looking unphased. At the same time, you swat that shuttlecock with your badminton racket. With two adorable pockets and a fashionably preppy collar, this one is a definite "rawr!" by Puma.
• Loved for: ★★★★  | Moisture wicking, comes with shorts underneath, high performance
• User said: This dress is very stylish and extremely comfortable!
WHERE TO BUY:
SHOP AT AMAZON
Your Stay to Play in Heather Gray
Striking a true chord with the athleisure movement, this true gray heather sport dress has a hip height tie and nicely positioned side slits. The white lining gives it edginess and style. Still, the design is also pragmatic, totally ventilated, and promises to help you stay odor free while you play! Pair with sneakers or sandals when it's time to relax.
• Loved for: ★★★★★ | Fights stinky microbes with anti-odor technology, fast-drying cotton
• User said: Athleisure is here to stay: great fit!
WHERE TO BUY: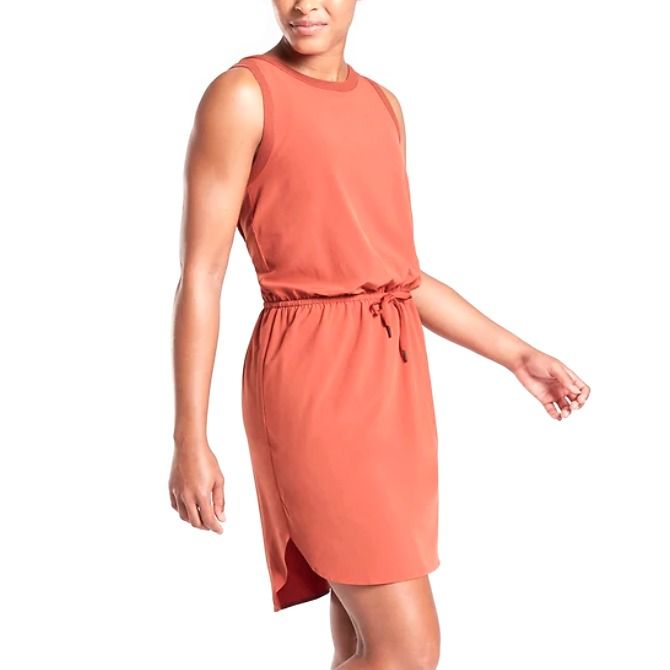 SHOP AT ATHLETA
Feels Like a Tropical Breeze 
Sports dresses for ladies can look too much like an awkward uniform, but this one is sleek and can be easily worn to the beach! Made of stretching fabric that is light as a feather, it feels silky on. A pseudo ringer tee has a chunky ridge at neck and arms for a cute touch and ties at the waist for some form definition. Plus, you know how good that side slit makes your hamstrings look!
• Loved for: ★★★★ | Side slit, waist tie, recycled featherweight fabric
• User said:  I cannot overstate how much I love this dress.
WHERE TO BUY: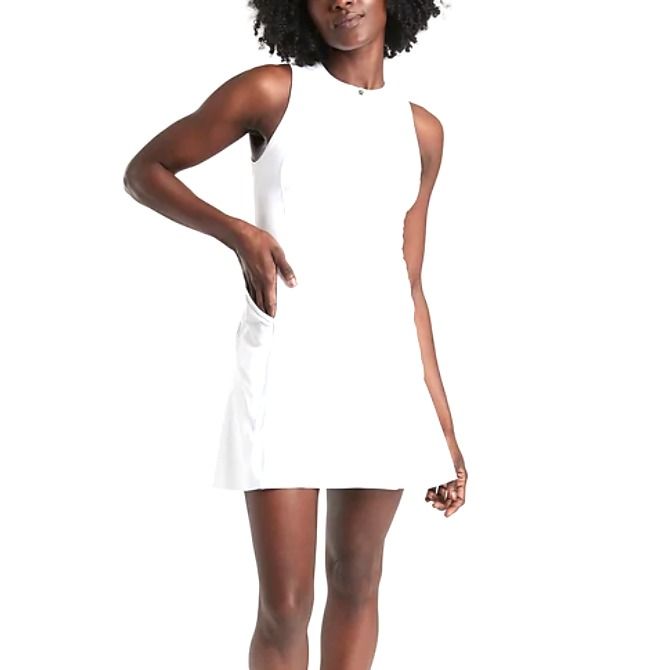 SHOP AT ATHLETA
The Watch Out, Here I Come Stunner
Look as fierce as Scarlette Johanssen in Match Point wearing this sports luxe dress in bright white, black, or cascadia violet! With a short mini-skirt height, a zipper at the chest, and back compression, this one pulls tight for a flirty and flattering look. The material is featherweight to keep you dry and super fly while you kill it at whatever you play!
• Loved for: ★★★★ | Fitted bodice, supportive compression
• User said:  I love this dress! I want to live in it.
WHERE TO BUY:
Best Sports Dress for Women Overview
By now, you've probably found your favorite among these sports dresses, and we hope when it arrives on your doorstep, it's everything you hoped for and more! Can you tell us which one you chose in the comments? We are so excited for you and can't wait to see it!
Have you got any suggestions of your own for the best sports dress for women? Let us know in the comments!