Featured Image: Free People
 
Best Womens Slip Dress
Slip Dresses are the perfect "less but better" piece. The ability to work them into a variety of situations, be it casual or dressy, sounds versatile on so many levels. We love to call it a 'single' slip of something that neither insists on the bother of bottoms nor entails the need for anything extra. This garment ties personality of its own. To partner this with some gorgeous shoes and accessories is your own way of hacking into an appearance you wish to create. 
Such 'barely-there' attires are great to take on the warm weather with open arms. These dresses offer a 'lucky break' from other garments that may not seem as comfortable and could be a struggle to wear, at times. To appear pretty and put-together for your zoom meetings, a get-together with friends, or for a walk at the beach, any lady can do with a taste of our best slip dresses. Just slip them on, and you're ready to be on your way. 
If you love this list of the best slip dresses for women, you might also want to check out our best floral maxi dress you need in your summer wardrobe!
What are the Best Slip Dresses?
A slip dress is subtle, unfussy, and sexy beyond words. And the best part, however, is its ability to be layered on. You can add to it as much as you can take away from it: no problem. It highlights curves and can take attention away from parts not on your most appealing list, especially if you're far from the slim and sultry grand scheme of things. 
But don't let that bother you! With designs ranging from minis, midis to maxis, you'll be sure to find something in our list of the best slip dresses to suit your particular body type. From a spectrum of colors and prints at your disposal, you can be office-appropriate just as much as you can like a seductive bed kitten. All comes down to your preference.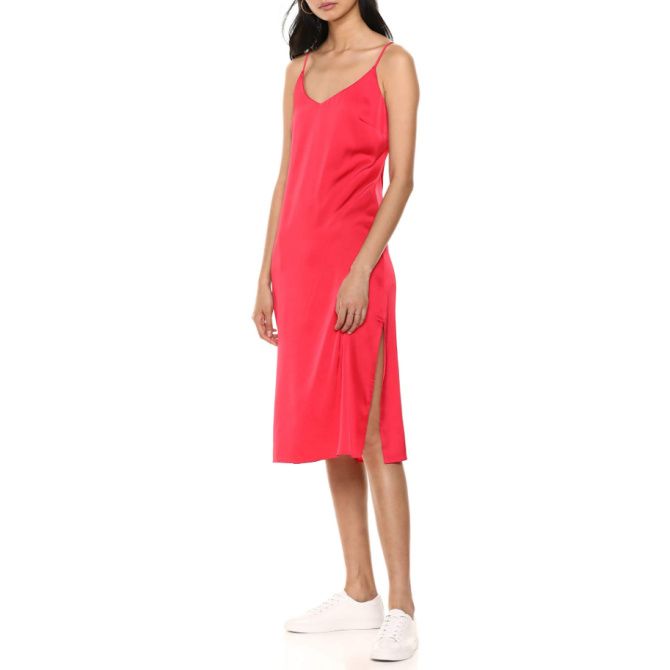 SHOP AT AMAZON
Ultimate SOS Companion!
Drop's dresses are so exclusive: they only stay online for 30-days, given the demand for the high-quality fabrics they use. Similarly, their midi slip dress is no exception. Made from polyester with 5 percent elastane, it boasts a lightweight feel and breathable comfort—something you'd like to pair with sneakers for day and stilettos at night. Even the sizes tailor to every body type. From two times extra small to three times extra large: the lefties, middles, and righties all have an excuse to get this in their wardrobe. 
• Loved for: ★★★★ | Polyester/Elastane, available in different colors, side slits, adjustable straps, machine washable
• User said: The fabric feels fantastic and is the perfect amount of stretch!
WHERE TO BUY: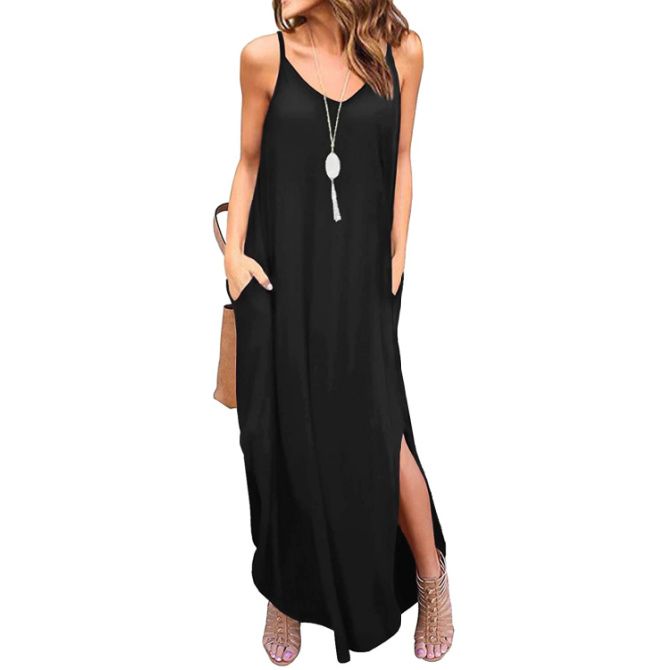 SHOP AT AMAZON
Pair With Gladiators!
Reminding us of the loose bohemian summer dresses, Grecerelle's black slip dress embodies soft comfort. The slit provides a beautiful, breathable leg room. If that wasn't enough, it's available in a series of beautiful shades. People recommend buying this in your normal size owing to the loose silhouette. Rayon and spandex add stretch to make moving in this dress effortless for you. Straps are adjustable, and this carries a pocket for storing small essentials. Besides, this makes a fantastic beach cover-up. 
• Loved for: ★★★★ | Rayon/Spandex, available in different colors, backless, pocket
• User said: The length of this dress is perfect, especially for wearing sandals and necklaces!
WHERE TO BUY:
SHOP AT AMAZON
Perfect with Golden Accessories!
Cupshe doesn't fail to turn an otherwise unassuming white dress remixed into an eye-catching printed cotton slip dress. This can be donned to a beach, vacation, home, or layered up at night with slim heels or whatever you choose without second thoughts. According to customers, this is ideal for hot and humid weather when you don't mind showing skin for sweat-proofing and lots of ventilation. An excellent choice for diverse body types: since it does not cling to the body, but skims through. Adjustable straps are there for a custom fit. 
• Loved for: ★★★★ | 100% Cotton,  lace up closure, adjustable neck strap
• User said: Super cute flowy maxi that I got a lot of compliments on!
WHERE TO BUY:
SHOP AT NORDSTROM
One and Done!
Another refreshing take on a maxi slip dress, but this time with an exciting maxi length as a twist. It flatters the right curves and hides those parts you don't want highlighting in the least. Made from rayon and spandex, it seizes some good stretch for relaxed body movement, while feeling smooth. The spaghetti sexy V neck allows much-needed skin-show. Makes a great grab for quick getaways, lunches, dinners, and night events. It can be worn with minimal effort thanks to the head room. 
• Loved for: ★★★★ | Rayon/Spandex, available in different colors, slips on over head, spaghetti straps, machine washable
• User said: The fabric is so comfortable and soft on the skin, it is a dream. The dress just flows when walking!
WHERE TO BUY:
SHOP AT AMAZON
Feminine on a Large Scale!
To stick to a slip dress pattern in your routine, go for different prints and colors to reap its vast benefits. This unique ASTR makes a wonderful pick for parties, and has quite the class to be layered with a trench coat in winter! Crafted from polyester, the slinky fabric feels soft and has sexy legroom to increase the breathability. It's chic and sleek with zipper closure, and the cross-back straps keep it in place for zero nip slips and a better fit! 
• Loved for: ★★★★ | Polyester, available in different colors, lined, zipper closure
• User said: Love this dress. It's very sexy and flattering!
WHERE TO BUY:
SHOP AT NORDSTROM
Dual Purpose!
Swaying to the beat of the music and wearing Adella's long slip dress is like a dream come true for most. Hypnotic and boho-chic, it possesses dream-like silky comfort owing to the use of Viscose, Cotton, and Nylon. The flowy ends swish with romance, and plunge-neck bodice encourages you to be daring in an innocuous manner. The neckline is trimmed with lace and drapes delicately. Lined it is to be non see-through, and adjustable straps allow you to indulge for a personalized fit. We love how you can style it for bad-girl grunge or tone it up for an evening out. 
• Loved for: ★★★★ | Viscose Blend, available in different colors, adjustable straps, lined
• User said: Dress is absolutely beautiful and so flattering. No need for a bra, as it holds you in perfectly!
WHERE TO BUY:
SHOP AT EVERLANE
A Piece of Old Tackle!
When you crave structure more than fancy add-ons in a dress, the Japanese black midi slip dress proves to be a sharp kick to a capsule wardrobe. Even it befits women who swear by minimalism. Because, quite frankly, it makes you feel 'barely-dressed' in a good way. You'll be pleased at how it drapes and moves against your body. Whether you're lithe or plump, get this to shed some love on your figure. With appropriate styling and accessories, this could be tweaked to your dressy or hip level without behaving like a pushover. 
• Loved for: ★★★★ | 100% Triacetate, available in two colors, thin straps, machine washable
• User said: This is a really fabulous dress. The material is unlike anything I've ever felt!
WHERE TO BUY:
SHOP AT ANTHROPOLOGIE
Brushes Through for a Silky Feel!
Talk about staples, talk about essentialism that must be a central part of your wardrobe. Bia's pink slip dress is tastefully structured and available in a stream of powdery, pastel tones. You'd want to get all of them! The subtle cowl neck, midi length, and slight slit add to the attractiveness of this attire. It could be dressed up with a white leather jacket for a girl's night out or draped with a long white coat to take it to new heights. Even with white ankle books, this will be a stunner! 
• Loved for: ★★★★ | Viscose, available in different colors, adjustable straps, seamed bodice
• User said: It can be dressy or casual, I look forward to wearing it often. I am on the curvy side, and this dress is very flattering!
WHERE TO BUY:
SHOP AT BANANA REPUBLIC
Gets the Cream!
Willowy and sensual, this cowl neck slip dress is made out of luxuriously soft and supple satin fabric. It flatters your curves and serves as the ideal pick for a formal occasion. The distinctive tone compliments all skin types and drapes the body for a non-itchy feel. When you walk with this on, you'll feel it breeze through. Cowl neck features buttons at the sides, which sounds promising for concealing bra straps, and this is fully-lined for non-transparency. Pair it with studded stilettos and be ready to make heads turn. 
• Loved for: ★★★★ | 100% Polyester, available in different colors, button closure at the side neck, fully lined, machine washable
• User said: This dress is very slenderizing and elegant. Dressy enough to wear to a soiree and fits perfectly!
WHERE TO BUY:
SHOP AT NORDSTROM
Versatile is the Name!
Topshop never fails to disappoint with its vast range of garments. One such is their lace slip dress. Impeccable for sophisticated boss babes with a hint of badass-ness. The frill envelops certain parts of the dress, creating a romantic effect for it to be debonair for the daily work, brunches, and evenings out to elegant dinners. Up the style game with a bomber jacket, a duffer coat, or simply, summer-friendly cape when you feel like it. And finish the awesomeness with strappy heels or pull on sandals for the beach. 
• Loved for: ★★★★ | 100% Polyester, adjustable straps, side slit, machine washable
• User said: Easy to wear and lovely. I love the two openings at the front!
WHERE TO BUY:
Best Slip Dresses For Women Overview
How Should I Wear Slip Dress?
A womens slip dress can really go the extra mile since you can style it in endless ways. We have included fashion summer tips and added styling for winter, so you can get the most out of your pair. 
Street-Chic
When you are doing no more than walking and talking on the streets, a street-chic appearance fashioned by a T-shirt around the waist of a slip dress, wedge sneakers, and a denim jacket is your ultimate companion. Channel this for day time and be ready to take on the streets like a queen. 
Casual-Chic
Take your slip dress a notch above by shedding off the layers. Choose a structured silhouette and partner with a pair of comfy slides, a classic bag, a cap, and a scarf for good measure. 
Semi-Formal
Wanna spice up the dress up for a casual business day? Throw on a blazer and pair a mini slip dress with ankle boots or chic slides for a whirl of semi-formal in your get-up. 
Formal
For an exciting spin on a slip dress, choose one that settles onto your best curves and pick it in a spell-binding color. It could be a soft baby blue, a shade of pumpkin, or just a plain silky white that, coupled with a statement bag or a pair of attraction-grabbing heels could really take things next-level. And would make stunning attire for a formal event. 
Winter
You can be as experimental with slip dresses in winter as you are in summer. A turtleneck worn underneath looks stylish and can be warming. A long trench coat to mate with a simple slip dress can go a long way. A slip dress worn with a jacket, a cape, or a shrug with long boots is how you can recreate a classic winter appearance. 
Alternatively, wear a slip dress short in style with pants on, a leather jacket, and a delicate choker to get transformed into the perfect daytime winter look. Seriously, you can never be out of ideas when it approaches to dressing up or dressing down a slip dress. 
If you're lost on some inspo, Pinterest and fashion blogs could be your answer to your prayers. Understated glamour and clean lines are the essence of these best slip dresses featured. After scouring for hours, we came upon these gems. If you have suggestions of your own, our comments box is always open. 
Have you got any suggestions of your own for the best slip dresses for women? Let us know in the comments!