Featured Image: Amazon
Best Laptop Stand
People with small spaces who don't have a proper laptop setup succumb to lying on the bed or the couch with the laptop on their laps. Slouching and working in this position for hours on end isn't great for your health, or by any means ideal for your computer. This posture increases eye strain, neck sprain, headaches, and back pain. Not to mention, disrupts your laptop's cooling fan, hence the lack of ventilation drives to overheating and a damaged laptop in return. Rather than calling customer service or taking a pain killer to seek a cure, consider portable laptop desks, which makes these issues a lot better. 
Our list of best portable laptop stand is super simple to set up, improve posture, and make working on a laptop much more comfortable sans any aches or pains. 
If you love this list of the best portable stand for laptop, you might also want to check out our list of the best desk essentials – cute accessories to add to your workspace right now!
What Is the Best Portable Laptop Desk Stand?
While there are numerous portable laptop stands in the market, you cannot choose one blindly. Many points have to be taken in concern, such as the dimensions of your laptop, an external keypad, and the mouse. Once your laptop is positioned on the riser, using the built-in keypad and mouse would be a discomfit. You'll also have to think about sturdy build quality, attractive design, fixed or adjustable, collapsible, and space for cable storage. 
Our best portable laptop desk stand is perfect for folks who spend half of the day hunched over their laptops. All the options have a combination of adaptability, stylish looks, and are user-friendly in all seriousness!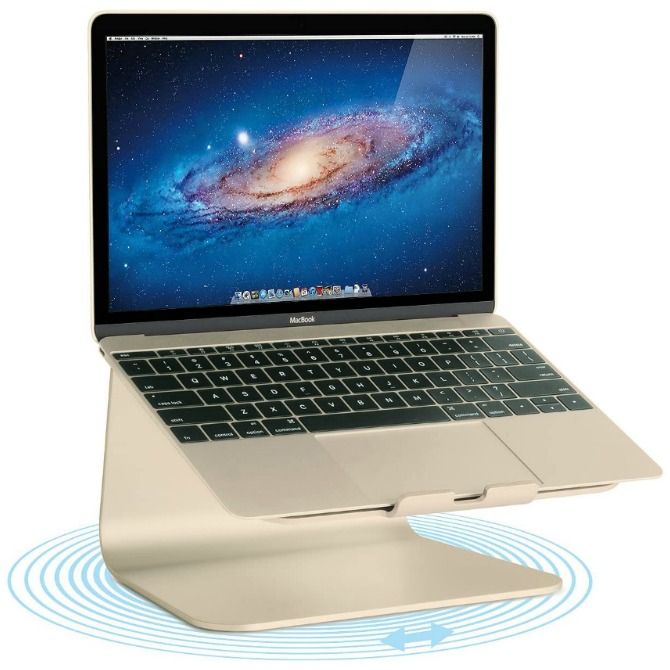 SHOP AT AMAZON
Bring It to Eye-Level and See the Magic!
Rain Design's mStand360 is an award-winning adjustable laptop stand! With over 5000 reviews, it doesn't take much to get the popularity of this product. Depicting a sleek design, this is made out of aluminum which behaves as a sturdy base for your laptop. 
Even when you're typing, it doesn't seem flimsy or wobbles. The aluminum body also helps regulate overheating to keep the laptop working in tiptop condition. It has a storage slot for cables for a maintenance-free workspace. And offers a tablet-pro add-on to connect your iPad!
• Loved for: ★★★★ | Aluminum, available in three colors, swivel base, adjustable height, cable organizer
• User said: Not only is this stand stylish, but it is at a great height and incline for typing!
WHERE TO BUY: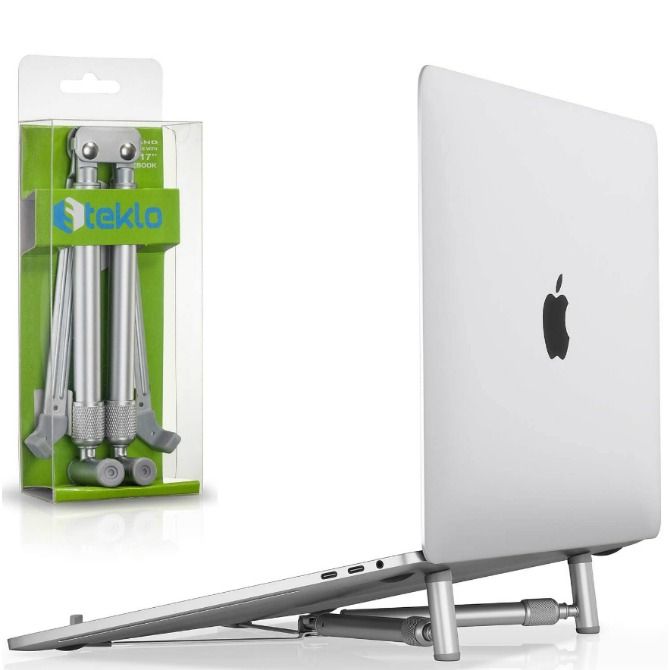 SHOP AT AMAZON
Love at First Sight!
One look at this cooling laptop stand, and anyone can tell it means business. Thanks to its cooling qualities, your laptop won't heat up even if you use it on your lap. And you'll experience the same kind of ventilation and stability sitting on a desk as well. 
While the name may only target Apple users, this stand is great for other laptop models, only between 12, 15, 17 inches. This complements any laptop and elevates the front and back to your eye-level, which not only removes eye strain but puts the low-back and neck at ease, too!
• Loved for: ★★★★ | Amazon's Choice, Aluminum, available in one color, foldable, compatible with all laptops up to 17inch
• User said: Folds up in about a second, so I can take it with me anywhere easily. Instead of needing one at work and one at home!
WHERE TO BUY: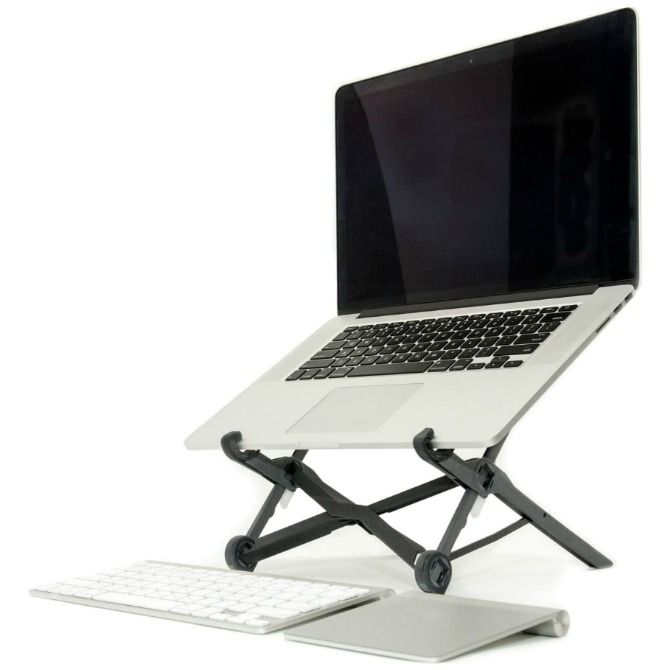 SHOP AT AMAZON
Forget Your Worries!
The Roost laptop stand portable abilities are awesome! From work to home and to travel, it's super useful and collapsible to assist you on the go. This does not sacrifice on sturdiness as it supports laptops of almost all weights and models. 
The rubber inserts hold the laptop secure! Even when you're tapping away, this doesn't budge from its position. It has a height of 6 to 12 inches and can be brought up to an ideal eye-level, and keeps your sitting posture straight! It's very lightweight and compact for frequent travelers!
• Loved for: ★★★★ | Available in one color, fully collapsible, rubber insets to secure, eye-level adjustable
• User said: I'd recommend this to anyone who spends serious time on a laptop!
WHERE TO BUY:
SHOP AT AMAZON
Wonderful for the Daily!
A proper desk setup can lead to increased productivity, less stress, and reduced neck, back, and arm pain. The Griffin Elevator Stand fits most laptops and is a breeze to put up, disassemble, and assemble again, making this a travel-friendly companion. 
This sleek portable laptop table saves desktop space and provides plenty of room for an external keyboard and mouse! There are stoppers for the end available as an extra bonus! This is a well-made, good-quality product that aids in cooling down your laptop as well.
• Loved for: ★★★★ | Amazon's Choice, available in two colors, dissembles easily, 360 degrees of air circulation, both for Mac & PC
• User said: The perfect size, the perfect materials on every curve, and the perfect minimalist design! 
WHERE TO BUY:
SHOP AT AMAZON
Focus Better and Relieve Physical Stress!
Over 11'000 people are fans of AmazonBasics computer laptop holder, considering it's convenient from all aspects. The mesh metal material cools off your laptop to reduce system crashes, malfunctions, and a slack performance; nearly all issues related to hot laptops. 
The height could be adjusted to your desired level so you can achieve a comfier level of browsing, reading, and writing from your laptop. On the plus side, a cable management slot is included to keep your desk space tidy and easier to maintain!
• Loved for: ★★★★ | Metal Mesh, available in one color, ventilated, adjustable height, cord organizer
• User said: This allows me to utilize my laptop monitor and a second flawlessly! 
WHERE TO BUY: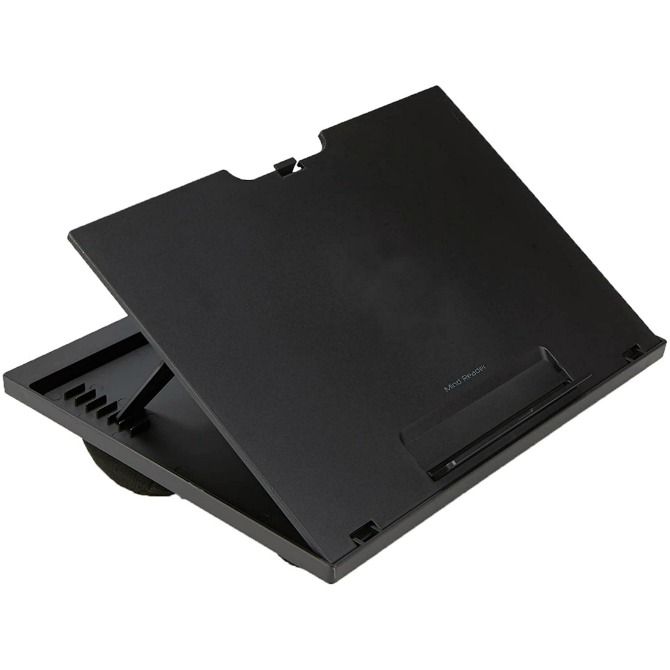 SHOP AT AMAZON
Airflow at Its Best!
Don't blame the laptop, and neither curse the aches after spending a long, awkward day at it. Your position is to blame, and getting a bed laptop stand you can use while lying down or sitting up is just the solution you need. 
This is a two-in-one as not only this provides a sturdy base for your laptop, but can be utilized for writing, reading, and as a tablet board. Versatility is the name of the game with the Mind Reader! It assists with laptop ventilation for smooth operation all day long!
• Loved for: ★★★★ | Amazon's Choice, available in six colors, eight angle viewing, multipurpose, double bolster cushions for stability
• User said: Now, I can comfortably take notes and write flashcards while semi-laying down. No more hunching over to write for long periods! 
WHERE TO BUY: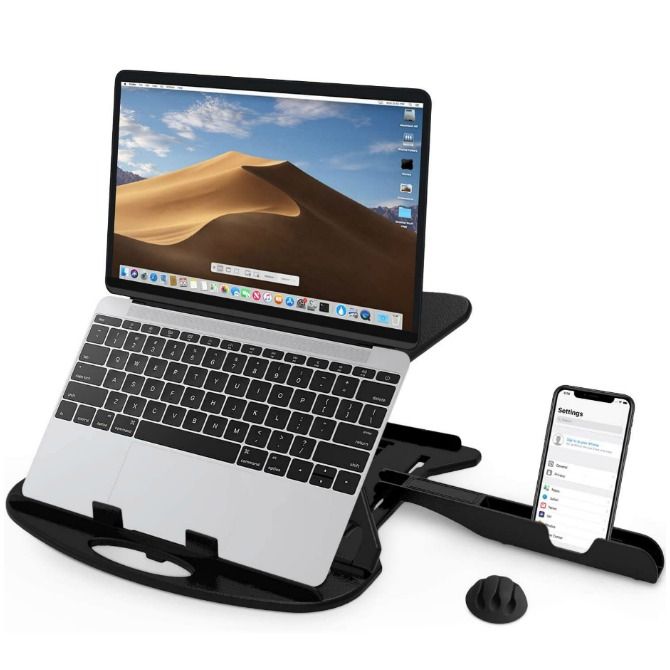 SHOP AT AMAZON
Maintain Good Posture!
The Carnation mobile laptop desk stand comes with highly appreciable ergonomics. You can easily manipulate the height to a sitting or standing level for a glare-free view. Besides, it comes with a swivel base so you can share the screen with others effortlessly, and without making adjustments continuously. 
The laptop riser is sturdily built and has a foldable design to meet your travel needs. It's lightweight, prevents the laptop from overheating, and contains a bonus phone stand! To sweeten the deal, you get a 30-days replacement warranty once you register your purchase!
• Loved for: ★★★★ | Amazon's Choice, available in one color, foldable, multipurpose, swivel base, bonus phone stand
• User said: The arms to hold the computer up are so sturdy and lock into a deep hole, so they don't always slip out! 
WHERE TO BUY: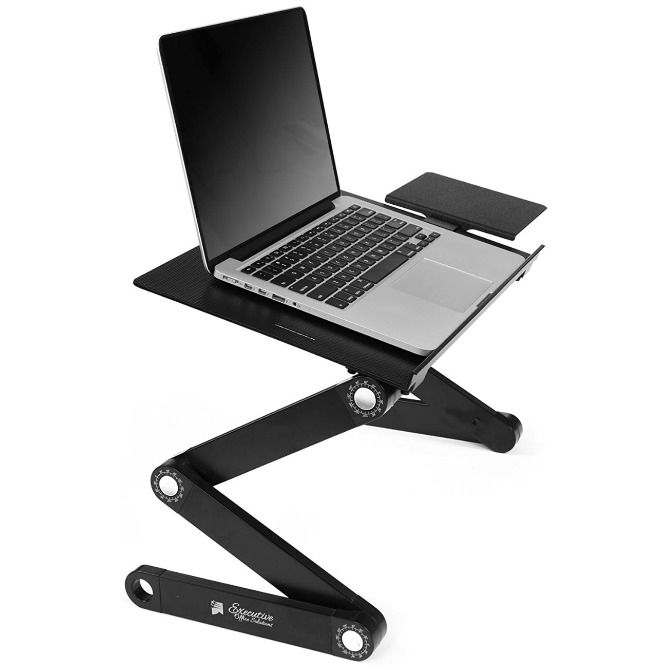 SHOP AT AMAZON
Best Practical Pick!
Executive foldable laptop table stand is multipurpose as much as it's user-friendly. This can transition from a tv dinner tray, a writing desk, book tray, and usable for your sound equipment, tablet and more. With adjustable feet, you can rotate this 360 degrees and lock it in place for complete immobility. 
It's multifunctional for any use in any place! And houses CPU fans for cooling your laptop to prevent overheating. Virtually any position is possible with this adjustable, accessible stand. It can be folded down for easy storage!
• Loved for: ★★★★ | Available in one color, fully adjustable legs, multipurpose, CPU cooling fans, money-back guarantee
• User said: The build quality is very good. All components are precisely machined aluminum, the joints are high impact plastic! 
WHERE TO BUY:
SHOP AT AMAZON
Handy & Super Comfortable!
Over 7000 individuals praise Neetto's laptop holder for bed, and trust us, they praise big! Whether you have your breakfast in bed or start your day with the laptop, this item is favorable for all tasks! 
Sporting a high-quality wood design with an oak tabletop, it's lightweight, compact and foldable to chuck into your bag and take along anywhere you want! The beauty of this product lies in its adjustable feature. You can use it while sitting or standing. Plus, lock it in place for no slips or wobbles at all!
• Loved for: ★★★★ | Amazon's Choice, available in two colors, adjustable height, auto-lock buttons, foldable
• User said: You get what you pay for and I paid for something that is solidly put together, sturdy in use, and easily adjustable. 
WHERE TO BUY: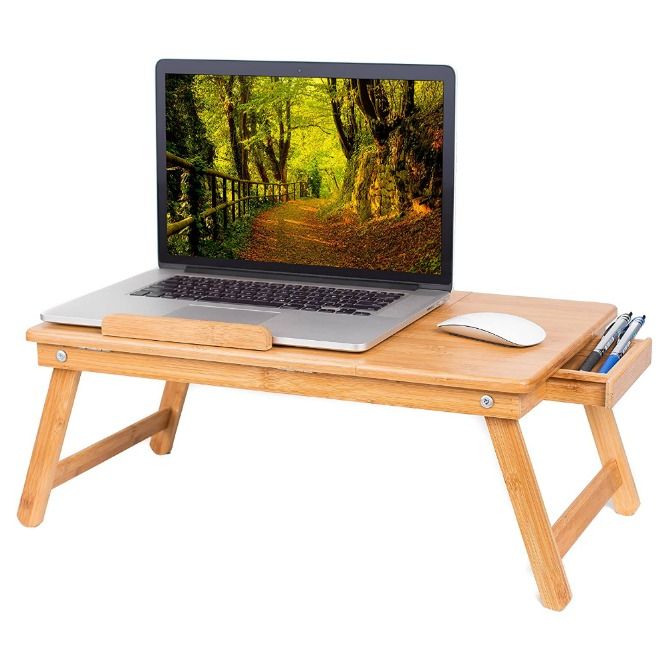 SHOP AT AMAZON
Utilitarian!
Let's take a moment to appreciate the beautiful appearance of Birdrock's portable computer stand! This features a storage drawer for any essentials you need to keep at hand, provides extra space for placing your mouse and tilts up to four positions. Plus, it is convenient to use in bed, on the sofa, or while sitting on the floor. 
The legs are foldable and turn this into a compact tray for stress-free storage on the move. Not to mention, the wood design is environmentally-friendly and made to last!
• Loved for: ★★★★ | Bamboo, available in one color, tilting, environmentally-friendly, foldable legs
• User said: This is a beautiful little table with a very handsome finish and a sturdy build!
WHERE TO BUY:
Best Portable Laptop Stands Overview
Each of these options poses as the best portable laptop stand and promises healthy outcomes with regular use. If you have any recommendations of your own, put them down in the comments section. 
Have you got any suggestions of your own for the best portable laptop stand? Let us know in the comments!