Featured Image: Loft
Best Jeans for Petite Women
Do you own a drawerful of jeans but not one fits your petite figure? Or do you have one favorite pair of womens petite jeans you wear every day? Now, it's worn thin, and not available anymore? Issues — darn — issues! Add to that, you may have neophobia: a fear of trying new things, especially new jeans for your petite body — for fear it may not work? Fortunately, this is the post for you. 
We have created a list of the best petite jeans for women. Upon trying, each option makes you feel like a winner! How? And Why? Because they are an exact match for your petite body proportions. Wash? Perfect enough! Rise? Just what you asked! Pockets? Added — and not weird. As for why? Everyone knows finding a good pair of jeans: that fit, look great, and hold your bulges in is a struggle. But we won't, let it get real!  
If you love this list of the best jeans for petite women, you might also want to check out the best butt lifting jeans for a pert and great-looking derriere!
What Are the Best Petite Jeans for Shorter Women?
No matter the genre of jeans you prefer: straight-legged, boyfriend, mom, ripped, or skinny — as long as it doesn't compliment your short frame, there's no point in trying and shelling out your hard-earned money. Jeans are such a staple, and everyone deserves to rock a pair — call their own and feel proud to don. Such makes the best petite womens jeans. 
We also shed light on similarly-shaped (petite-sized) reviewers to determine how a particular brand with its offering can benefit you. You must focus on this, too. Take a keen look at the reviewers, who face the same issues as you, and markdown (potentials.) We have scaled down to the best petite jeans for women from a vast number of options — to make sure there's no room for disappointments.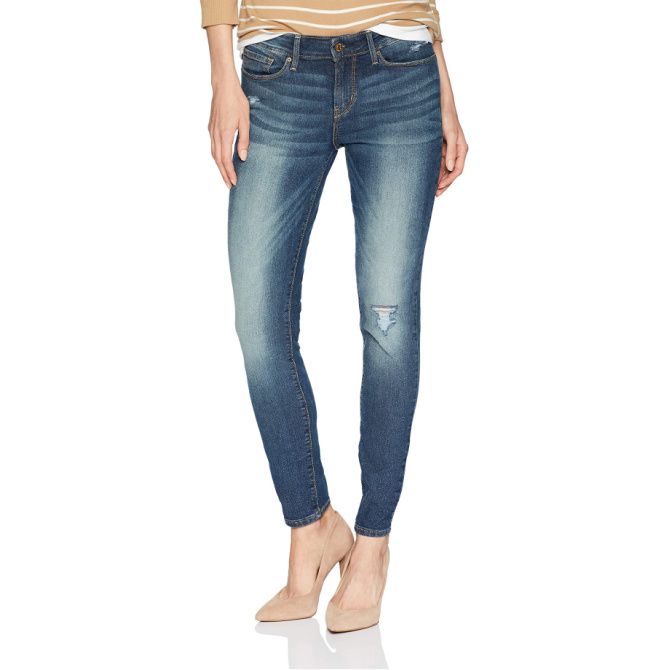 SHOP AT AMAZON
Straightforward!
Thousands of consumers are fans of these modern Levis petite jeans. Composed of cotton, polyester, and elastane: these feel comfortable on the skin, lightweight enough for daily wear, and durable to make it through wear and tear. With four inseams and plenty of sizes to choose from, it's the perfect choice for a woman with thick thighs and a booty. 
These petite skinny jeans sit relaxed in the seat region without going baggy or too tight to restrict movement. Skinny fit, not jegging-like, turns this into an easy-wear garment. While zip fly with button closure and belt loop waistband lends a classic appearance. The mid-rise saves you from developing a muffin top.
• Loved for: ★★★★ | Cotton Blend, available in different colors, belt loop waistband, zipper closure, machine washable
• User said:  The mid-rise waist is high enough to eliminate the potential for the dreaded muffin top!
WHERE TO BUY: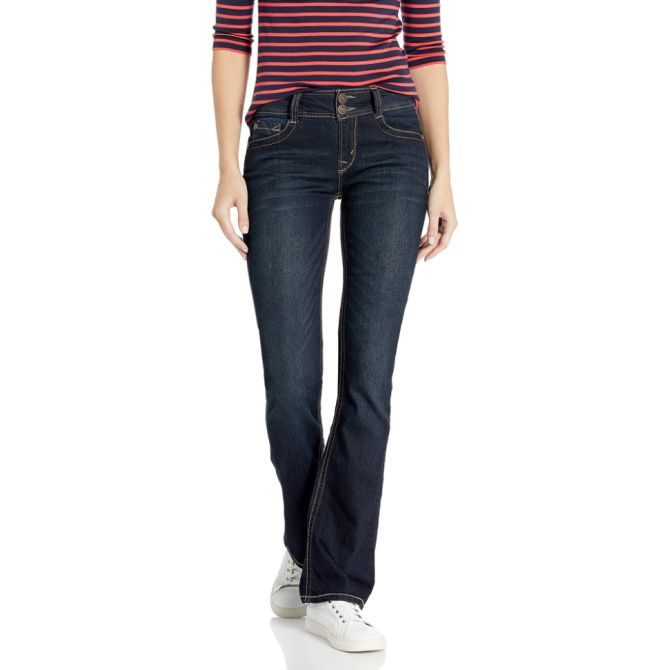 SHOP AT AMAZON
Flattering!
Jeans are one of the best staples you can style in many ways without always ending up the same. Which brings us to the Bestseller: Wallflower petite bootcut jeans. Made from cotton, polyester, and spandex, it uses a good amount of stretch for moving freely and holds breathability for maximum comfort. Available in a range of washes, sizes, and accommodating inseams, you can quickly get your hands on the perfect pair. 
To top it all, contour and shape-sculpting fit elongate the legs without feeling irritating and gapping. Mid-rise works well to keep the jeans in place — no tugging them up all the time. These petite flare jeans also look flattering on pregnant women, as pointed out by some buyers. 
• Loved for: ★★★★ | No.1 Best Seller, available in different colors, mid-rise contour waistband, zipper closure, machine washable
• User said:  They maintain their shape and support comfortably. You'll look just as good walking in your house after work as in the morning!
WHERE TO BUY: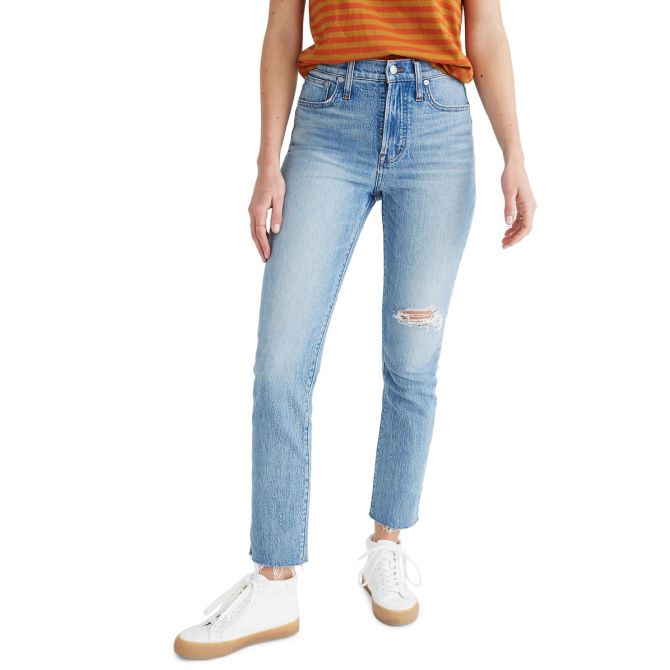 SHOP AT NORDSTROM
90's Vibe!
Vintage jeans are always in demand, and Madewell's petite mom jeans are no less. Defined by a high waist to accentuate and tapered legs offer a very flattering appearance. The smart look renders it effortlessly pairable with tops, shirts, and short dresses with sneakers as final touches. This is available in a variety of sizes, with an inseam number of 26. 
Madewell petite jeans are crafted from cotton, and lycra adds stretch for comfortable movement. Though these are meant to mimic the 90's, they're pretty excellent for today, any day actually. We love the slightly cropped length, and the high waist flatters the figure, so you look bang-on all the time!
• Loved for: ★★★★ | Cotton Blend, available in one color, waist-accentuating high rise, zip fly with button closure, machine washable
• User said:  They have a little bit of stretch but still have that crisp cotton denim look, which I love!
WHERE TO BUY: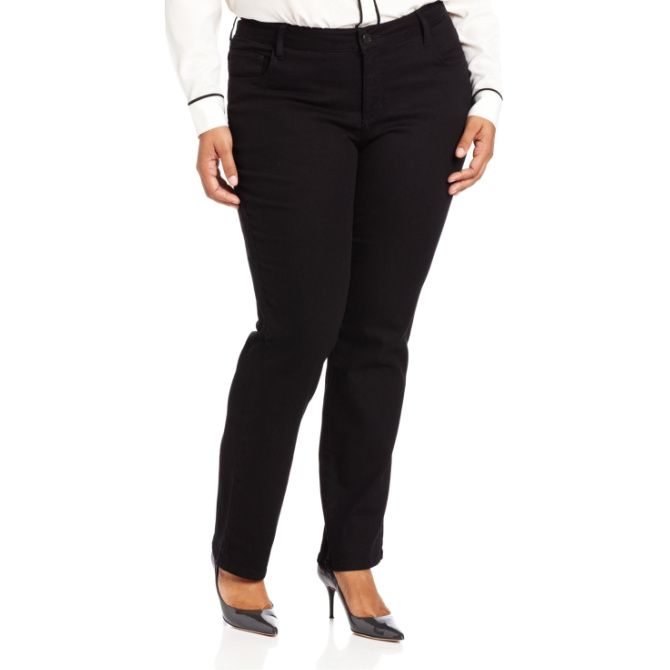 SHOP AT AMAZON
Can't Be Beat!
Oh, the pain of finding jeans, particularly if you're petite and plus-sized. But Lee's got the party rolling with the introduction of plus size petite jeans. Equipped with a straight leg, a slimming effect is provided instantly to the legs. It looks smart enough to rock in an office or a casual elsewhere. Cotton, polyester, and spandex does wonder for comfort and possesses enough wiggle room to wear and take it off, easy! 
Breathability is another pro with this one, which helps shake off a tight or sweaty feeling. The high rise waistband comes complete with a slimming panel for a tucked-in appearance. No more bulges, no more getting conscious. These Lee petite jeans are versatile: could be styled for anywhere — with anything!
• Loved for: ★★★★ | Cotton Blend, available in different colors, high rise, zipper closure, machine washable
• User said: Good for those that have bigger hips and thighs. That little bit of extra room goes a long way!
WHERE TO BUY:
SHOP AT NORDSTROM
Tasteful!
The high rise petite jeans for women don't have to suck out the living air out of your legs. On an exciting note, Donna's skinnies are worth the praise. They hug your curves without suffocating your lower body or becoming the reason for unease. Meant for petite bodies — strictly — the indigo wash offers a slimming illusion. 
Not to mention, the blessed lightweight-ness of cotton and stretch of elastane combined works well to deliver petite ankle jeans that don't feel sand-papery when pulled on. It's smooth, soft to the touch, and not body-limiting at all. Five-pocket styling adds extra charm and is helping!
• Loved for: ★★★★ | Cotton Blend, available in one color, high waisted, zip fly with button closure, machine washable
• User said: These are the best petite jeans ever. I'm 5'2, 130lbs, and found the 6p to fit nicely. The high waist helps with my mom tummy!
WHERE TO BUY: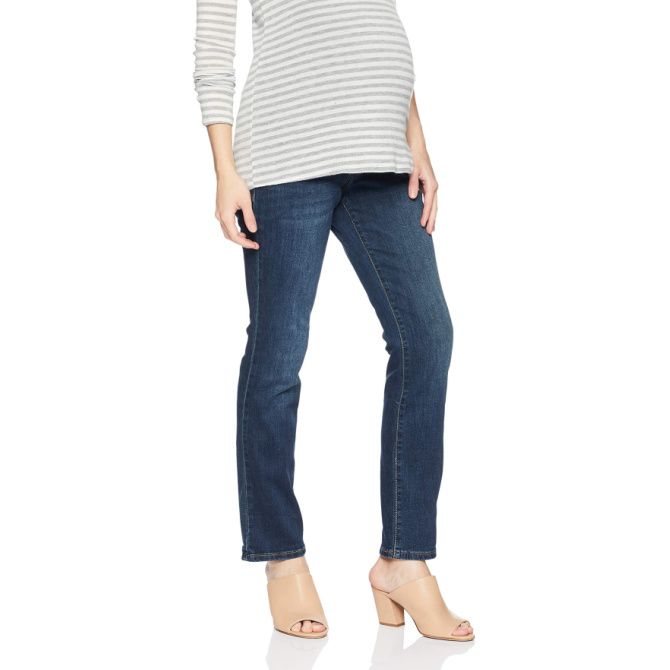 SHOP AT AMAZON
Passes The 'Mommy' Test!
Hello, Mommies! This one's for you! Motherhood's petite maternity jeans possess cotton, polyester, and spandex workmanship. Thanks to these materials, the pants are super-stretchy for easy wearability. Most of all, combine a lived-in factor that's hard to come by. As a mom, you're already dealing with a lot. These bottoms don't add to your pile any further. 
Slip them on, pair 'em with anything, and you're ready to make it through business-casual workday straight to a happy hour. Inseam is 28.5, and it happens to be petite curvy jeans for women. An ode to the stretch panel, it grows with your body for optimal — mommy — comfort! 
• Loved for: ★★★★ | Cotton Blend, available in one color, stretch maternity panel, pull on closure, machine washable
• User said: Plenty of stretch for growth but stayed up without a belt during the earlier stages. Great for going around boots or running shoes!
WHERE TO BUY: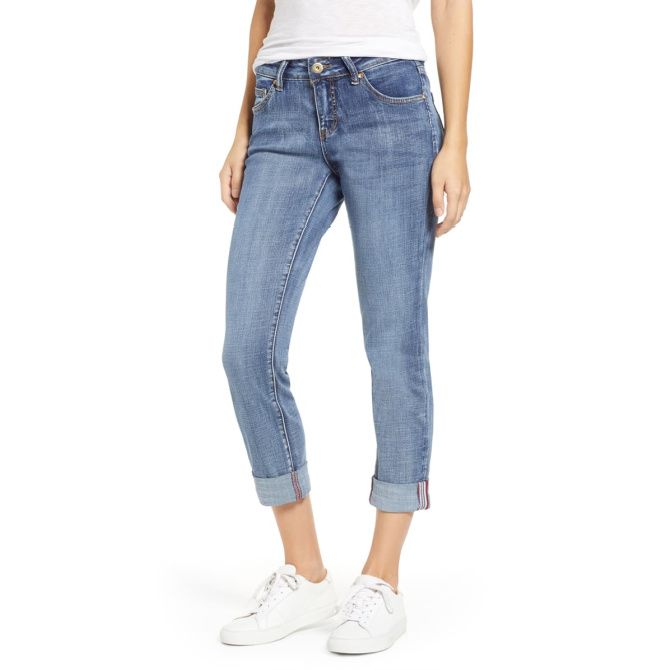 SHOP AT NORDSTROM
Thought It Through!
Jeans might be closet staples, but some can be cruel reminders that not all of them are made equal. Especially for short women, finding a good pair of petite boyfriend jeans is tough. Not with Jag jeans, though. It is fitted from up top and becomes slightly flared as you move along the bottom for a flattering silhouette. 
You can easily cuff up the jeans for a straighter leg, or let it be for the style. Modal is utilized in the materials for a better eco-conscious approach. Plus, the cotton lends air-ventilation lets you flaunt the jag petite jeans from place to place without feeling sweaty. 
• Loved for: ★★★★ | Cotton Blend, available in one color, five-pocket styling, zip fly with button closure, machine washable
• User said: Love these jeans, they have quickly become one of my favorite go-to pairs. They are soft and wear well!
WHERE TO BUY:
SHOP AT NORDSTROM
Kween of Jeans!
Topshop petite jeans are hot, and the high waist does not make it any less! In addition, you get the ankle-grazing hem and teamed up with ankle boots; the combination is made super-hot. Made from cotton and two different types of elastics. It conveys a good amount of stretch without loss of shape. 
Several petite consumers comment on the black petite jeans lends one a slim figure for an elevated appearance. It doesn't ride up or ride down. They also confirm that on petite frames, the normal length doesn't require hemming. It is wonderful on its own. Those who find it hard to come across truly fitting jeans, this one fits the best!
• Loved for: ★★★★ | Cotton Blend, available in one color, five-pocket styling, ankle-grazing hem, machine washable
• User said: Always my first choice of brand for my jeans. True to the size, ordered online, and delivered quick!
WHERE TO BUY: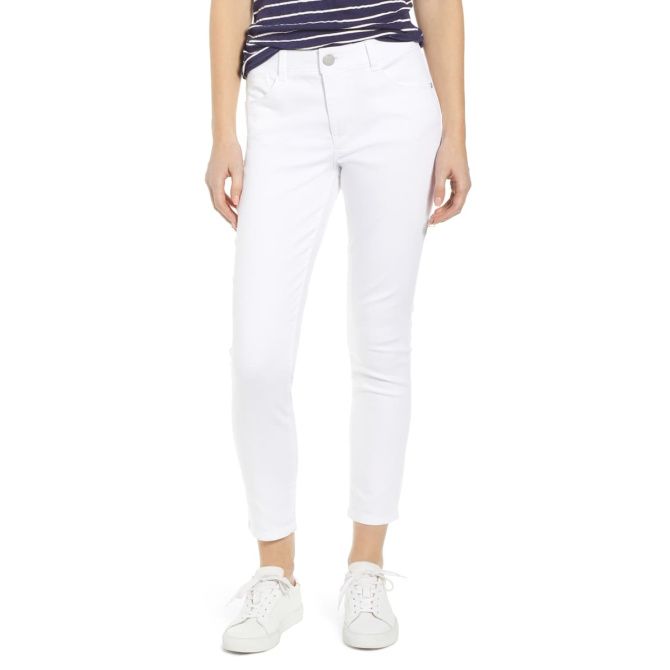 SHOP AT NORDSTROM
Convincing Comfort!
For pants that lift, shape, and fit like a glove, you can find them here on Wit & Wisdom. These are petite white jeans, and we adore the versatility of such color as you can style these in a number of ways. It infuses ab technology to lift and slim all the right places. 
Apart from that, it boasts Tencel material that takes eco-friendliness to the next level. It's not only an eco-conscious buy but contains enough give in the content for effortless movement – all day. They're thick enough to not be see-through, but still light enough for summer/spring. These petite jeans 27 inseam is regular, which is the ideal number for petite ladies. 
• Loved for: ★★★★ | Cotton Blend, available in one color, five-pocket styling, ab solution technology, machine washable
• User said: This is my third pair of these pants, and they did not disappoint. I was scared to order white, but I'm glad I did!
WHERE TO BUY:
SHOP AT AMAZON
Premium Stretch!
What's the best way to complement your striped t-shirts and plain white button-downs? NYDJ's petite pull on jeans! Made from cotton, elastane, and lyocell, the pants are environment-friendly and durable to last you a long time. This features stylish side slits for some ankle-show and would look beautiful paired with wedges, espadrilles, and closed-toe pumps. 
Add to that a lift-tuck technology which highlights and embraces your curves in the best way possible, so they don't end up being the cause of embarrassment for you. And, the stomach panel conceals the pooch. Being pull-on NYDJ petite jeans, they're a breeze to wear daily.
• Loved for: ★★★★ | Cotton Blend, available in five colors, pull on closure, ankle slits, lift tuck technology
• User said: Have some 'stretch' to them, so buy your exact size, or if you like them tight, you could go down a size. Very comfortable fit!
WHERE TO BUY: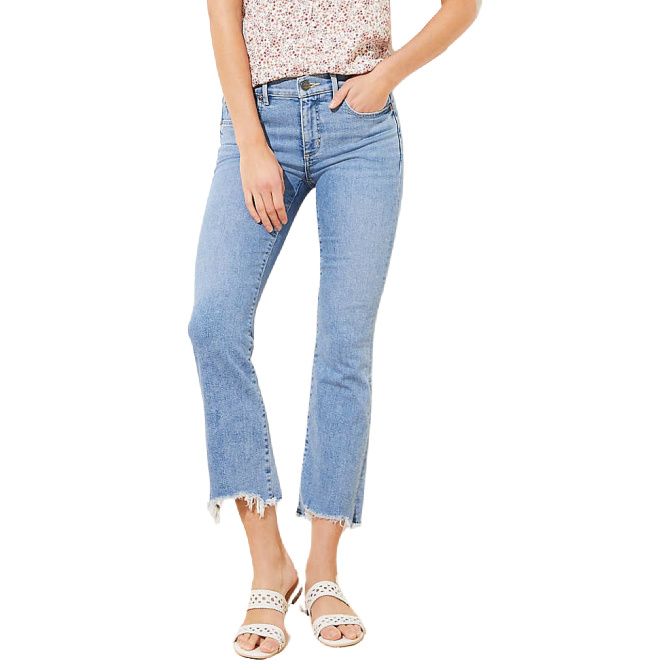 SHOP AT LOFT
Yours, Truly! 
The balance between form and function is preserved by these high waisted petite jeans. Carried off by a cute crop ankle-length and boasted by a high-waist, it makes for a sleek and figure-enhancing silhouette. The flare embodies a lean appearance, which is further enlivened with the pretty indigo wash. 
24 inseam comes regular with these jeans; hence, you'd sure obtain the ideal fit with the different sizes. On another note, how can we forget the shaggy ends? Either mule shoes or boots, it'll pair beautifully. People happily point out the good things about these Loft petite jeans: they lift your butt cheeks and don't go shapeless, despite reaching day-end. 
• Loved for: ★★★★ | Cotton Blend, available in one color, stretchy and slimming pockets, high waisted, machine washable
• User said: I'm 5'2, 120 lbs, and size 28 fits me perfectly. I love the style and the material!
WHERE TO BUY:
SHOP AT GAP
Be You! 
With Gap petite jeans, you don't have to worry about trends or looking stylish, their attires are naturally born with it. Being petite, you may avoid wide legs for fear of looking stumpy. Still, with Gap, it's the opposite, because this seems incredibly fine! More so with wedge sneakers! 
There's a wide variety of sizes to choose from: regular, petite, and tall. It incorporates cotton and recycled cotton for the best of both worlds, with a high rise on the agenda, to get extra bellies from hanging out and causing slight mortification. These are petite wide leg pants, and the mobility comes easy with this one!  
• Loved for: ★★★★ | Stretch Denim, available in one color, front and back pockets, button closure with zip fly, machine washable
• User said: Once over your hips, they hug like a dream. And they look fantastic from the back!
WHERE TO BUY:
Best Jeans for Petite Women Overview
What Types of Jeans Should A Petite Woman Wear? 
Short women aren't limited to any jean styles, as long as you get the inseam and the rises right. Yes, for petites, finding a convenient pair you can call your favorite is difficult, but not impossible. Precisely what we're going to help you with. 
If you're 5'4″ or less, petite is you! Going above, that is the category of average-framed and tall heights. With this in mind, you'd be weighing inseams to figure out how you can make jeans (of all types) work for you. This and including other factors that affect jeans for petite women, so you can make an informed choice. 
Inseam
Inseam refers to the leg-length of the pants. 28 and less is most favorable for 5-foot-4-inches women or less. Once you determine this as well as the right sizing, you're just on your way to nailing a perfect buy. 
Rises 
Add to that, mid or high waisted rises, and avoid low-rises as they can make you seem shorter than your actual height. Whereas, mid and high waist are wonderful for far many reasons than just hiding your belly. They also make your legs look longer, leaner, and sharper. 
Silhouettes
No matter the jean styles: wide leg, straight, skinny, mom, plus, tapered, and whatever, they should stop at your ankles without bunching up. Jeans that gather at the ends can often look ugly and stubby on short legs. 
The same is the case with folded hems, baggy and loose versions, but cuts with a flare or a bootcut spare you from this experience as mentioned earlier. Hence, making wide-legged, flared, skinnies, and ankle-length styles much more practical for petite women. Make sure the embellishments are kept to a minimal, not big, loud, and round. 
Of course, you trust heels to add height, but if the fit and length are seen to, from the start, the results can be even more pleasantly startling. Plus, you won't need any adjustments. 
Washes
A typical blue is synonymous with jeans — valued to a great degree. Still, darker washes are far more flattering on shorter lengths. Because they add height to your frame, legs look longer and slimmer, overall, everything looks prettier. And not as average as light washes can go. 
With lighter washes, such as skin and white, you face the problem of transparency. In the case of blacks and dark blues, being see-through is no issue at all. Not to mention, both these two washes go with almost anything in your wardrobe, but with lighter washes, you have to be a bit more selective and careful. 
Do Your Research 
Before purchasing a prospective product, always read the reviews of the people who share the same issues and apprehensions as you. This way, you won't only connect with the 'likely' product on a deeper level, but you'll be saving yourself from a great level of disappointment and making a possible mistake. 
Some buyers leave detailed reviews exactly for such purposes, so that future customers know what they are adding to their cart. Of course, everyone buys with their own risk, but knowing a product from deep down provides confidence. It will less likely leave you feeling guilty by spending on something that doesn't meet your demands. 
What More Can You Do?
You can always contact the brand via an email or put out a question in the FAQ section along with scanning the reviews. You can get direct replies from their customer service if you have any confusion. 
Some brands also allow money-back guarantees and return policies with their products for a risk-free buying experience. With that, making a purchase becomes a lot easier and helps with your fear of trying out new products that may not work in your favor. 
We have done our research for your ease, but we don't guarantee 100% satisfaction because all body types, tastes, and choices differ. For that, correct measurements are also absolutely vital!
With our list of the best petite jeans for women, you can avoid the thankless task of researching and ending up with less than perfect choices. We've made shopping for potentials and favorites a lot easier. Got recommendations? You're welcome in our comments section!
Have you got any suggestions of your own for the best jeans for petite women? Let us know in the comments!