Best Maternity Leggings
Being pregnant is one of the biggest highlights of a woman's life. While being preggo comes with its own 'Aaaahh.. you're glowing' phase, it also brings with it the I'm-hungry-all-time and the I'm-puking-all-the-time phases! Pregnancy may be hard sometimes, but finding the best maternity leggings definitely isn't. 
We've compiled a list of the top pregnancy leggings available in the market right now for your consideration. Whether you're on the go every day or are just taking it slow, these leggings have everything you're looking for. They have extra back support and a compression band to provide maximum comfort to your belly.  
If you love this list of the best leggings for pregnant women, you might also want to check out the best maternity jeans for expectant mothers of all shapes & sizes! 
What Are The Best Maternity Leggings For Expectant Moms?
Just because you're pregnant doesn't mean you need to stop being stylish! And hey, we're not judging if you wish to step out in your baggy PJs and get on about your day. You be you, girl! However, for those days when you want to look a little extra stylish while being comfortable and supported at the same time, compression maternity leggings are the way to go. 
Gone are the days of boring, black maternity leggings. Leggings these days come in a variety of colors, designs, and fit, which is why they can easily complement your outfits while keeping your look super stylish. Even if you've actively hated leggings all your life, chances are you'll find one you like in our list! 
SHOP AT AMAZON
Extra Soft Material for Unrestricted Movement 
These thick maternity leggings by Motherhood will last you through the entire pregnancy and after, making it one of the best choices for pregnant women. The leggings are fitted without being too skin-tight and are opaque as well, so your skin won't see through.
These provide you with unrestricted movement to stand, sit, squat, drive, you get the point! The belly band on this one is thin, made of a seamless stretch maternity panel that's sure to grow with you as your belly grows. It is made with an incredibly soft material that provides maximum comfort and style. 
• Loved for: ★★★★ | Amazon's Choice, machine washable, pull-on closure,  available in different colors
• User said: I legitimately haven't been this comfortable in pants since I got pregnant. You will live in these leggings, trust me!
WHERE TO BUY:
SHOP AT NORDSTROM
Perfect for Work-outs 
Zella makes a great maternity legging, which is made from stretchy, supportive material that expands with your belly over time. They're ideal for day to day activities or for working out as they're made from moisture-wicking fabric, which dries quickly and provides maximum comfort while keeping you cool.
They are sewn with flatlock seaming that won't irritate or rub the skin, and we all know what a deal breaker that is! Some of the reviewers claim this to be the best petite maternity leggings, so all our petite beauties may want to take their word on it. 
• Loved for: ★★★★ | Moisture-wicking fabric, machine washable, flatlock seaming
• User said:  This is the only maternity leggings that stayed up, were flattering, and comfortable for my growing legs and belly. 
WHERE TO BUY:
SHOP AT NORDSTROM
For the Rock Star Mommas!
Just because you're pregnant doesn't mean you can't show off your rock star attitude! It's easy to look trendy and rock your pregnancy with these leather maternity leggings by Ingrid & Isabel. They feature a crossover panel that provides added lower-back support that can be folded up or down to adjust with your changing figure.
The material is a bit thicker, so it would be perfect for winter. But maybe not so much for summer (but then have you ever worn leather pants in summer? Disaster!). You can get out of the monotones of black and grey and opt for this one for a night out or a casual date. 
• Loved for: ★★★★ | Machine washable, patented crossover panel, moisture-wicking
• User said: They are beyond comfortable and never need to be pulled up!
WHERE TO BUY:
SHOP AT AMAZON
For Those Who Prefer Cropped Leggings
These cropped maternity leggings are made of thick material and are loved for its opaqueness. The stomach panel is made out of thicker material than the rest of the leggings, which assures that the panel stays up without sliding or slipping down. The front of the panel is higher to cover your entire belly while the back is cut lower to provide support to your lower back.
Reviewers of these leggings swear by its ability to hold up during workout sessions as well. They are available in full size as well if you aren't up for the capri length.
• Loved for: ★★★★ | Amazon's Choice, available in different colors and prints, four-way stretch fabric
• User said: These pants feel like they are of the higher end quality and are great for working out at the gym. 
WHERE TO BUY:
SHOP AT AMAZON
Add Color to Your Wardrobe! 
Viosi makes great maternity leggings over bump that are available in a wide variety of colors and designs to incorporate the needs of every pregnant woman. These high-waisted leggings are made from the softest material that almost feels like your second skin and provides maximum comfort.
They're also made from the stretchiest fabric ever that won't lose its elasticity even after many washes. They allow enough room for your tummy to breathe but provide enough support, so your belly feels supported at all times. All these features plus available in all the colors of the rainbow? Take our money already!
• Loved for: ★★★★ | Available in different colors, moisture-wicking fabric, available in petite and plus sizes
• User said: They are super soft and comfortable. The high waisted part is very comfortable around my belly, and they do not seem to be see-through at all!
WHERE TO BUY:
SHOP AT AMAZON
For the Stylish Diva!
Go beyond colors and add some fun prints to your leggings with the Hybrid & Company super comfy printed maternity leggings. They have a wide assortment of fun prints, stripes, checks, and tribal prints to glam-ify your leggings. Add to that, they're made of an incredibly soft fabric that's sure to please over sensory mommas-to-be.
They are on the thin side, though, and some reviewers have complained of it being a little see-through around the butt, so make sure to wear it with a long top or tunic. For its price, this is one of the best leggings out there with prints that could many anyone go gaga!
• Loved for: ★★★★ | Available in many colors and patterns, machine washable, seamless 
• User said: These fit as expected and do not slide down throughout the day. They also look great and are super soft and comfortable. 
WHERE TO BUY: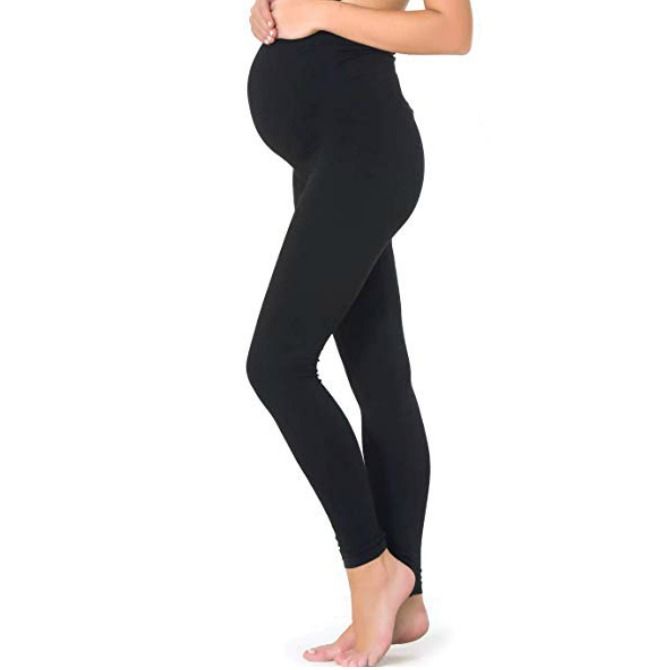 SHOP AT AMAZON
An Overall Winner! 
Over 1700 women have rated these pair of leggings as one of the best over the belly maternity leggings for its ability to provide great compression to your legs and belly without being uncomfortable. Its lightweight and extremely stretchable fabric hugs you in all the right places and adds support to your belly and back.
These leggings are great for workouts or for simply lounging around on your sofa. The material is moisture-wicking, which is sure to keep you cool and dry no matter what activity you're undertaking. 
• Loved for: ★★★★ | Amazon's Choice, Available in different colors, moisture-wicking
• User said: These are wonderfully stretchy and fit me perfectly. They are of excellent quality, and the panels stay up all day. 
WHERE TO BUY: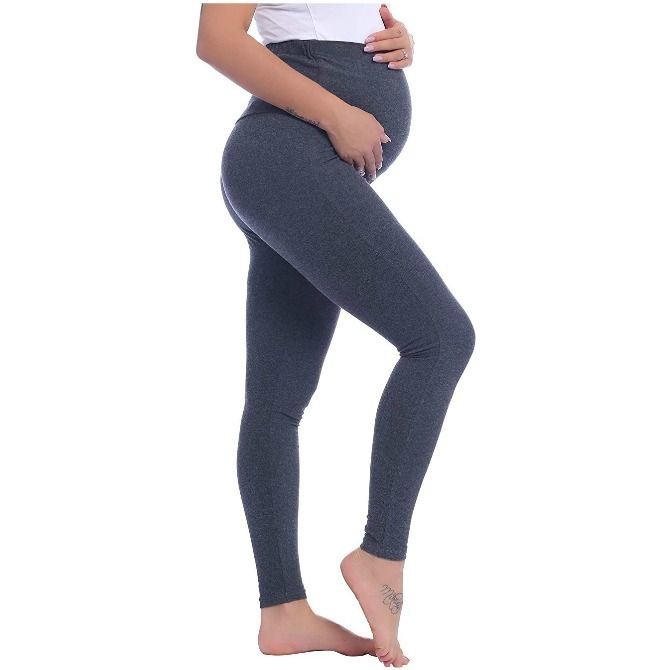 SHOP AT AMAZON
Super Soft Cotton Leggings
These may be cheap maternity leggings but over-deliver in their performance. They're made of 95% cotton, which makes it an incredibly skin-friendly legging with a soft elastic band that is durable and won't slip throughout the day. It is highly stretchable and will fit you throughout your pregnancy from the first trimester to your delivery and after, during your postpartum period.
These over belly leggings provide added stability and can be used to lounge around or for activities such as sports or yoga. These soft material leggings are sure to keep you comfortable no matter what! 
• Loved for: ★★★★ | Available in different colors, over belly, elastic waistband, full length 
• User said: These are great for wearing while pregnant as the material is soft and stretchy. The best part is they are not see-through. 
WHERE TO BUY: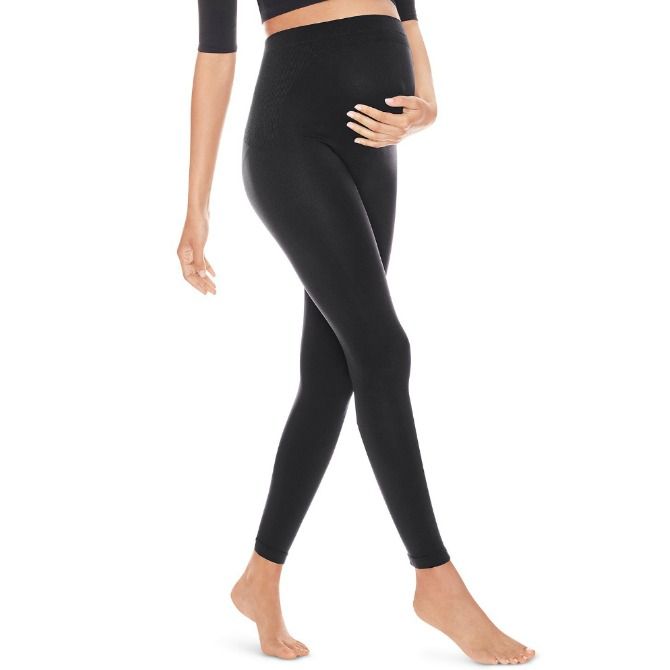 SHOP AT MACY'S
Seamless and Stylish Leggings 
These seamless maternity leggings come with an extra comfy waistband that features a ribbing design to provide additional support to your belly during all stages of your pregnancy. Its seamlessness makes for an ultra-smooth pair of leggings that can go from athleisure to a night out with just a few quick outfit swaps. These leggings are extremely black and opaque which assures you that there won't be any nude see-through at all, even when you're squatting! 
• Loved for: ★★★★★ | Opaque, seamless fabrication, comfy top waistband
• User said: These leggings are the best. I love them so much that I bought 5 pairs!
WHERE TO BUY:
SHOP AT AMAZON
The Stretchiest Leggings Ever
These are one of the most loved spandex maternity leggings that come in a one size fits all and accommodates everybody from XS to plus-size. They are incredibly stretchable and are made of a thick material that won't see-through.
While some of you may be a little wary about the one size fits all, its reviewers assure you that it does the job and fits exceptionally well, no matter what size you are.
• Loved for: ★★★★ | Available in different colors, pull on closure, ultra soft fabric
• User said: I was a little nervous when I saw one size fits all, but so far I like these. They are extremely lightweight, comfortable and fit me great. 
WHERE TO BUY:
Best Maternity Leggings Overview
Can I Wear Leggings During Pregnancy?
100%. You can live in your pregnancy leggings throughout the pregnancy and well after it's over. They're an easy way for your legs to look shapely as they provide with good compression while flexing over your belly bump and providing maximum support. 
However, you must swap your regular leggings with over or under belly maternity leggings. This ensures that the compression waistbands won't constrict the baby bump and delivers maximum comfort and style. Leggings made for pregnant women these days offer vast choices of colors and sizes and are easy to style your look with, be it an everyday look or a special occasion. Pregnancy rocks and your leggings should be too! 
And that's the end of our list of the best maternity leggings for women. Did we miss out on a great pair of leggings that should've been on the list? Let us know in the comments! 
Have you got any suggestions of your own for the best maternity leggings? Let us know in the comments!