Featured Image: Amazon
Best Makeup Fridge
Time to let your kinds of butter and jams claim their rightful space in your fridge! Plus, are you not tired of your countless trips to the kitchen each time you need a beauty product? Getting yourself a cute little beauty fridge has never been cooler. Pun intended!
If you love this list of the best skincare and makeup fridge, you might also want to check out the best hair tool organizers to keep your hair accessories handy!
What Is the Best Skincare Fridge?
Okay, so ladies got tired of storing their eye cream next to their peanut butter. And someone decided it was time to give these beauty products their little republic. Enters the cosmetic refrigerator. The best ones can take six12-oz cans. They're so compact, finding space for them won't give you sleepless nights. And they're portable, so you can preserve your beauty supply on the go. 
SHOP AT AMAZON
First for a Reason!
Being the number one bestseller on Amazon is no joke. This amazing cosmetic cooler has paid its dues. Almost 7000 reviews, and still counting! Whether for the dorm or dresser, this product is the perfect dwelling for your most cherished cosmetics.
• Loved for: ★★★★★  | Variety of colors, multifunction, portability, quietness, adorable design
• User said: This is a great little makeup refrigerator for my skincare. Aside from keeping everything cold, it has this luxurious feeling that makes me feel like a celebrity!
WHERE TO BUY: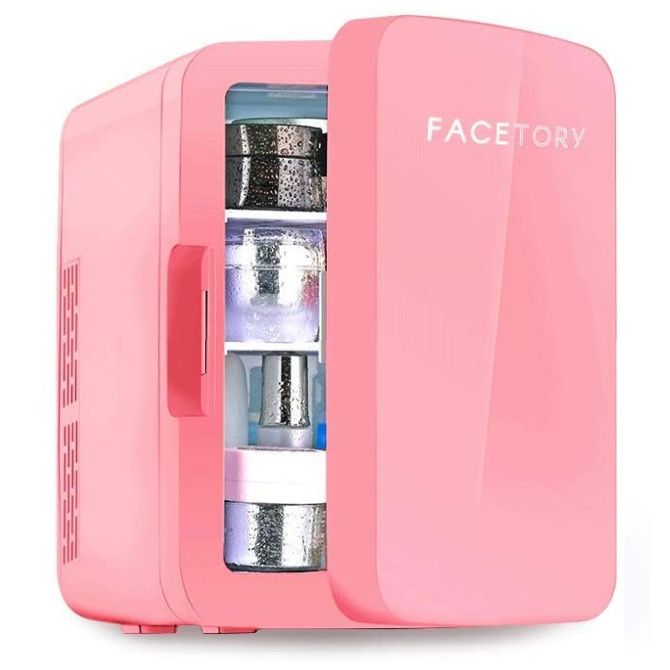 SHOP AT AMAZON 
Spa Goals!
Who says that spa feeling can't be sparked at home? Organize your darling beauty products in this mini cosmetic fridge and recreate that luxuriant spa sensation in your home. This option also has a dry-erase board where you can track your skincare routine. Plus, not only do you get that personal spa feeling, but you also get longer shelf life (sorry, fridge life) for your cosmetics. Double win!
• Loved for: ★★★★ | Dry-erase board, portability, AC/DC cable for travel, large storage capacity
• User said: I love my cosmetics fridge. Perfect for your beauty area or room that makes it definitely worth the money.
WHERE TO BUY:
SHOP AT AMAZON 
Abracadabra!
Your longtime wish of performing some magic just got granted. With just a switch, you can make this product go cold or warm. If that isn't magical, then what is? There's more! Reviewers say the noise level is almost non-existent. Imagine you getting all that magic without the usual fridge noise. Bliss!
• Loved for: ★★★★ | Swift cold to warm switch, portability, multi-functionality, sturdy handle, easy to clean
• User said: The mini makeup fridge that could. And did! It was enormously useful on a long road trip of 1400 miles over 6 days. 
WHERE TO BUY: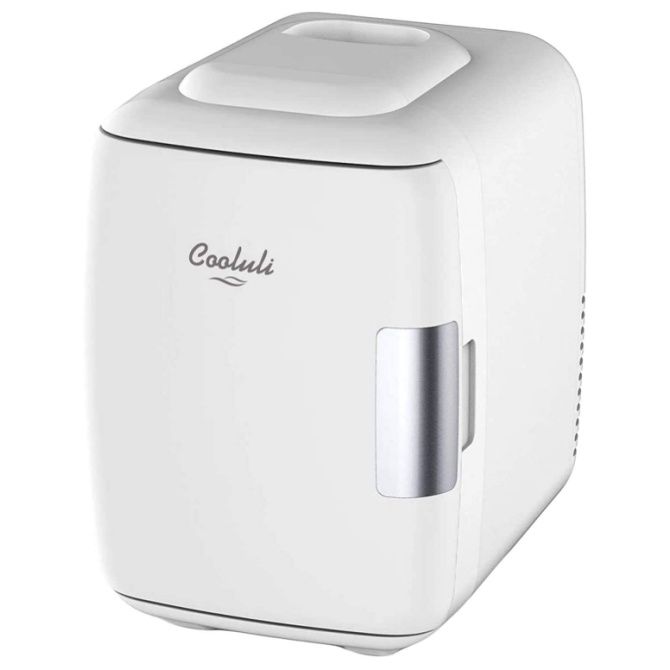 SHOP AT AMAZON 
When You're Cool, and You Know It!
If this isn't the perfect personal beauty refrigerator, then what is? This sleek cooler made its way straight to Amazon Choice, and deservingly so! But really, what's not to like about Cooluli? From its beautiful design, multi-functionality to its portability, this fridge sure takes the cake. Like that's not enough, it's available in 7 amazing colors! Beat that if you can!
• Loved for: ★★★★ | Sleek design, available in multiple colors, easy to use, well packaged, cooler/warmer function, USB/power bank option
• User said: It's the perfect size for my nightstand. I use this skincare fridge to store my facial serums that need to be kept cold. I'm happy with my purchase!
WHERE TO BUY: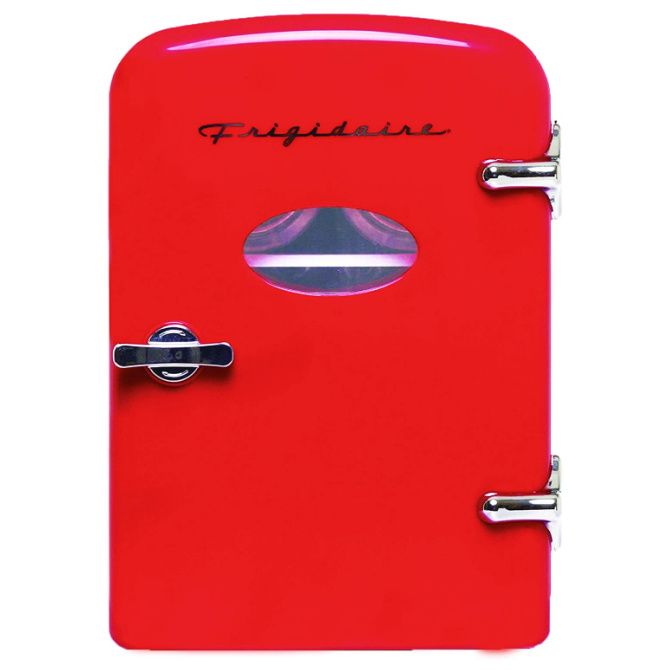 SHOP AT AMAZON 
Go Natural With Ease!
Now you can use your organic skincare products for much longer. Organic products, by their nature, lack preservatives and can go bad easily. We don't want your hard-earned money going down the drain, do we? With this skincare fridge, your organic products last longer. That's more TLC for your beautiful skin.
• Loved for: ★★★★ | Vibration-free, consumes less power, locking latch, see-through window, adapter cords for home and car
• User said: This mini fridge for skincare is the perfect size for my needs. It cools up very quickly and can house my skincare products as well as a can of seltzer. 
WHERE TO BUY: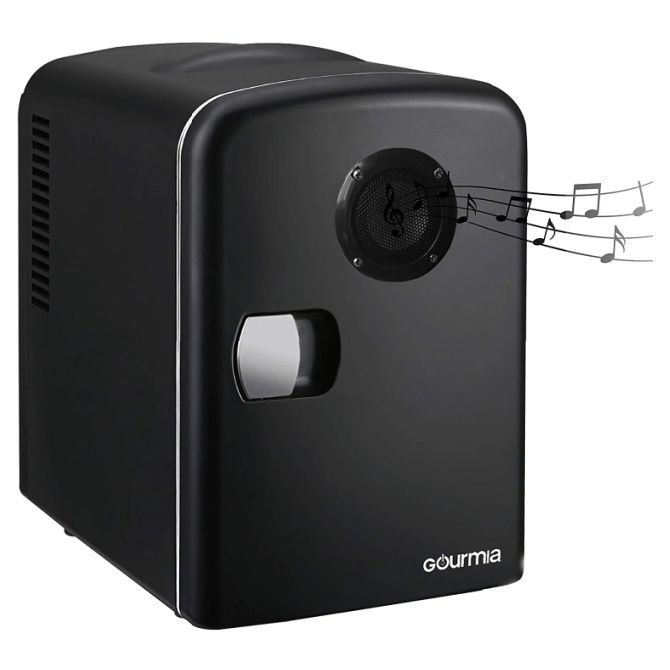 SHOP AT AMAZON 
When Skin Food Meets Soul Food
What's better than some soothing music while you indulge your beautiful body, right in the comfort of your home? Nothing! Seriously, this kind of pleasure shouldn't be legal. But it is! All thanks to this beauty refrigerator that lets you listen to cool music while you pamper yourself. With this, spas got nothing on you!
• Loved for: ★★★★ | Bluetooth speaker, cold and warm feature, multifunction, self-locking latch
• User said: This is just perfect! The speaker is really loud and clear.
WHERE TO BUY:
SHOP AT AMAZON 
The more, the merrier!
What's the point of moving your favorite cosmetics to their own special fridge if it wouldn't contain all of them? Well, problem solved! This cosmetic cooler lets you have all you need for your beauty regimen in one place. It fits up to 18 standard 12-oz! And it still manages to be compact. Isn't that fabulous?
• Loved for: ★★★★ | More storage capacity,  low noise level, dry-erase whiteboard, foldaway top handle, adjustable/removable shelves, container baskets
• User said: This little beauty is wonderfully portable and holds a shocking amount of stuff. Everything fit, the door stayed closed, and everything stayed at appropriate temperatures! 
WHERE TO BUY:
SHOP AT AMAZON 
Cooler for Longer
Are you game for some premium pampering? If your answer is yes, then here's some good news! You can now make your cooling cosmetics even cooler. Your anti-itch menthol lotion, aloe face cream, and cucumber face mask just found a new home in this mini fridge for skin care. This means an even cooler sensation for that sensitive skin of yours.
• Loved for: ★★★★ | Convenient carry handle, low noise level, multi-functionality, temperature control, storage capacity
• User said: Love is in the fridge! It's perfect for the few tiny cosmetics that need chilling.
WHERE TO BUY: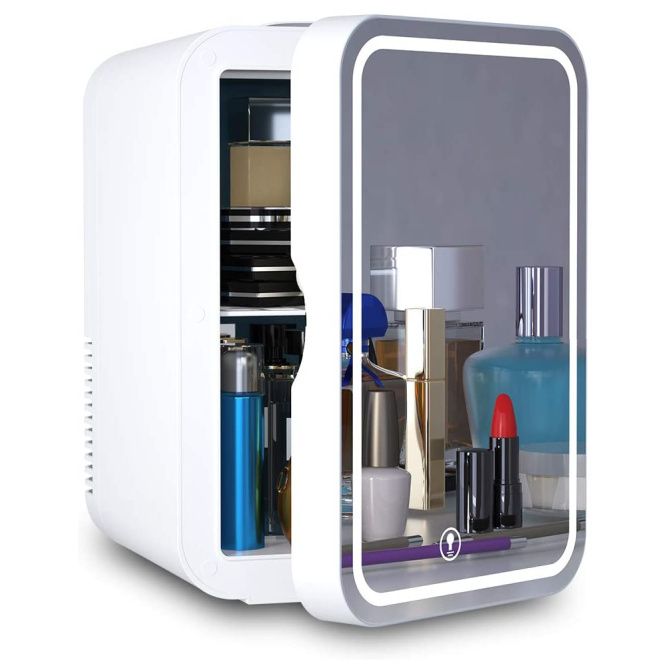 SHOP AT AMAZON 
The Classy One-Stop Shop for Self-Care 
It's rare to find class and convenience in one product, but when you do, go for the kill! This beauty fridge is all you'll ever want for your dear makeup and skincare products. Aside from cooling your precious beauty products in it, you also get to use the door as a mirror, with adjustable lighting to suit any time of the day. Exquisito! 
• Loved for: ★★★★ | Mirror and led design, touch panel, adjustable brightness, storage capacity, portability, multi-functionality
• User said: This mini cosmetic fridge is the absolute best! I feel fly and super confident, knowing all of my products are cool and fresh. 
WHERE TO BUY: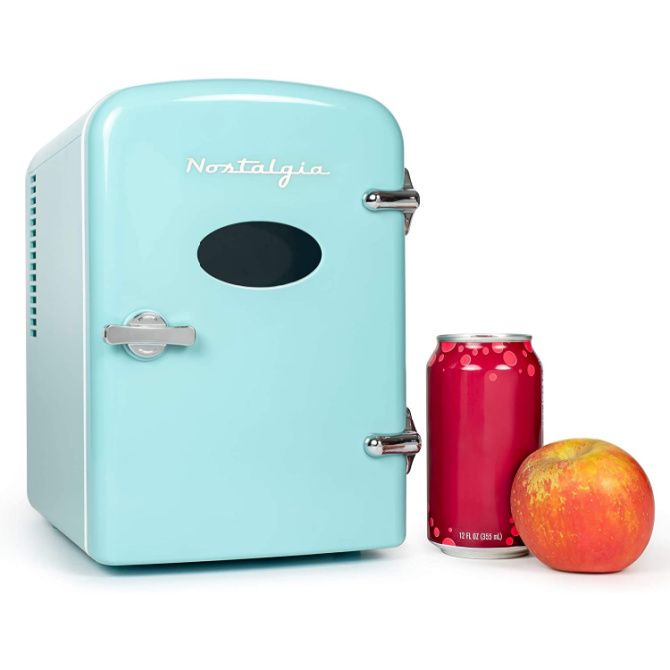 SHOP AT AMAZON 
Get Over Your Spa Nostalgia 
One look at this makeup cooler, and you'll know you have to buy it. Its design is appealing! But this offers more than its polished design. It is multi-functional without removing the fun in functional. And it keeps your cosmetics at the perfect temperature, ready to give your skin the rejuvenation it deserves.
• Loved for: ★★★★ | Cold and warm feature, multi-functionality, portability, strong carry handle, see-through window, chrome door latch
• User said: I just love this mini cosmetic fridge. It keeps all my face masks cold!
WHERE TO BUY:
Best Makeup Fridge Overview
These cute little fridges are the new cool. Fashionable, convenient, and affordable, they let you have real value for money invested in your cosmetics. Get one now!
Have you got any suggestions of your own for the best skincare and makeup fridge? Let us know in the comments!