Best Crop Workout Tops
Gym wear is a thing! If you wish to give it an upgrade, walk along the path of gym crop tops. These are so much better than a sweaty shirt clinging to you when you move, especially in summer. They add style and functionality to your workout wardrobe, so you can reach your fitness goals with elan and without compromising on comfort. From light yoga to high-intensity workout sessions, there's a pick for every part of your gym routine. 
We know how cumbersome it is to research and get your head around the best crop workout tops in the market. We've done the hard work for you and selected top choice products to cut out fails and disappointing products for the best shopping experience. Especially for the First-Timers!
If you love this list of the best crop workout tops, you might also want to check out the best tummy control leggings that you'll actually want to wear!
What Are The Best Cropped Workout Tops?
From a vast range of colors and styles, we've selected the most popular choice of cropped workout tops. From positive customer reviews to stellar ratings, there's something for all keep-fit freaks and fitness enthusiasts that won't break the bank. 
From breathable, high-performance fabrics to cute designs you can wear out, our list of best crop workout tops meets all your expectations and removes apprehensions. Whether you need a sporty semblance or dress casually for a night out, all these options would do the trick!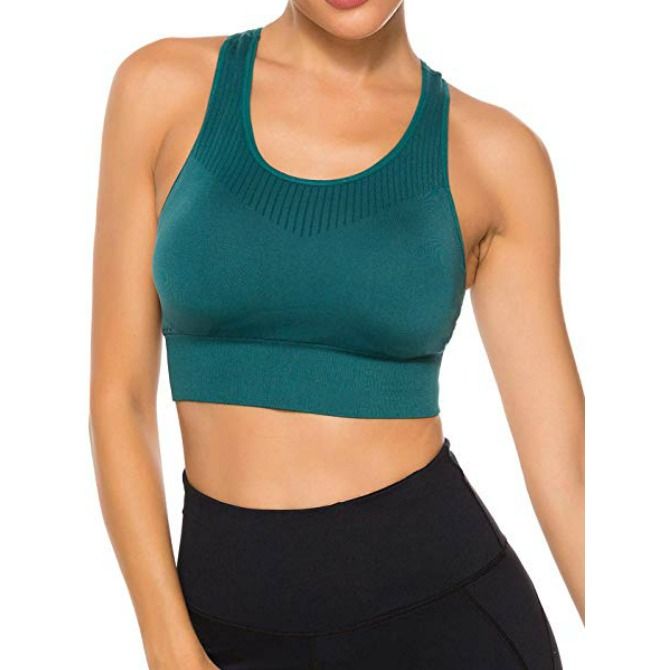 SHOP AT AMAZON
Fantastic To Workout In!
Incorporating polyester and spandex, Seasum workout crop top is neither sweat-inducing nor scratchy. The moisture-wicking fabric absorbs sweat, be it your most intense workout class ever or not! The hollow out design not only looks stylish but offers extra ventilation, whether you're running, doing yoga, or sweating it out in a pilates class. The built-in padded bra is full coverage and is an excellent support to your bust. It holds boobs in place and eliminates back-pain! Combine with black leggings, and you'll be complete!
• Loved For: ★★★★ | No.1 Bestseller, available in different colors, racer back design, removable padded cups, pullover style
• User said: The quality of the material is great. Thick and elastic!
WHERE TO BUY: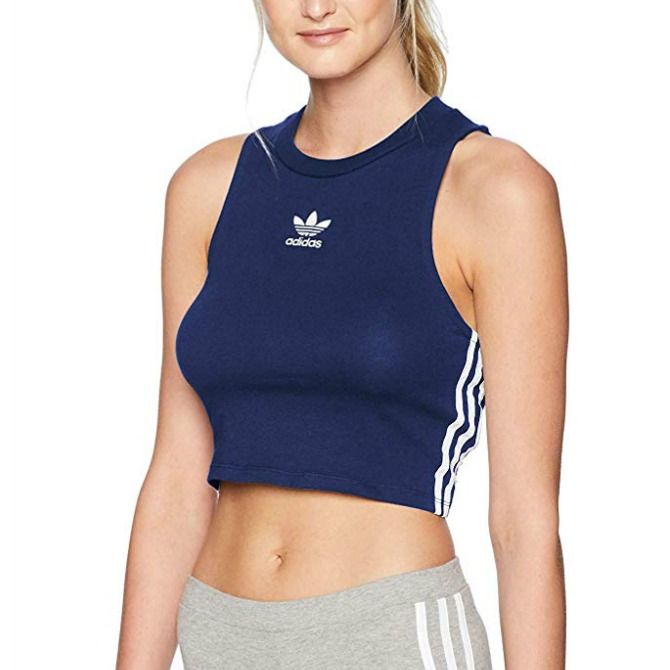 SHOP AT AMAZON
Sweat It Out
Made from 100% cotton, Adidas crop workout top is moisture-wicking and dries quickly. Available in extra small to extra large sizes, you'd likely find your size here. The slim straps and pull-on closure all add to the functionality of this number. Not to mention, it's machine-washable too! Consumers approve of this gym-wear and appreciate the high-quality and comfortable fabric which doesn't show too much skin. This would look fabulous with matching Adidas pants or high-waisted leggings!
• Loved For: ★★★★| 100% Cotton, available in different colors, pull on closure, slim straps, machine washable
• User said: Very comfortable and good fabric quality too!
WHERE TO BUY:
SHOP AT AMAZON
Does It All For You!
Athleisure isn't relevant without discussing this Nike crop top. Crafted from polyester and spandex, this feels cooling on a sweaty body and can be layered or worn on its own. The mesh back panel offers an airy experience, which simultaneously fights odor. The beautiful design sits comfortably without any gaps and provides flexibility to move and have your way around any sort of your workout routine. On the plus size, you don't have to wear a sports bra underneath!
• Loved For: ★★★★ | Polyester/Spandex, mesh back panel, elastic chest band, machine washable
• User said: I love the cross-over design hugging my stomach!
WHERE TO BUY: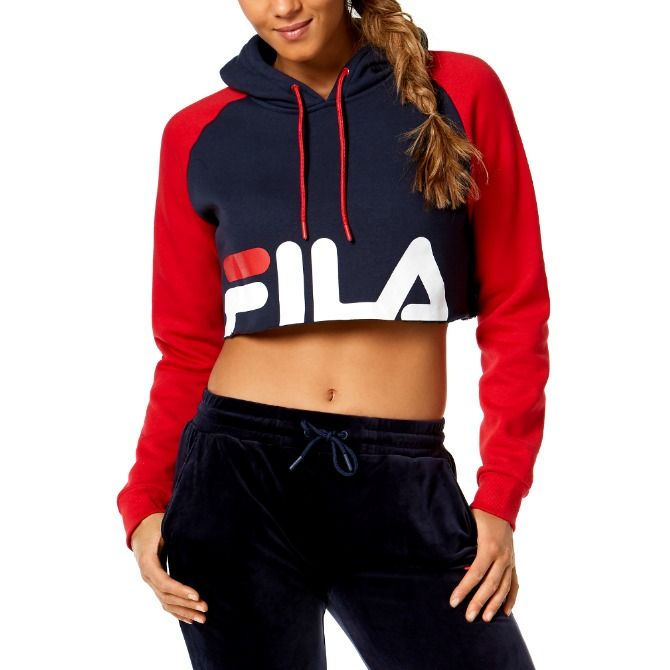 SHOP AT MACY'S
Worth A Shot!
If you don't like feeling constricted, Fila offers one of the most stylish color-blocking sport crop tops you can find. The cotton\polyester made fabric is lightweight and breathable. Through sweat-wicking abilities, it stops getting you all hot and slick with sweat. It features a hoodie with a drawstring. You can wear it inside the gym or rock it out with a pair of cut-off jeans. Definitely a pick for dressing up or dressing down. 
• Loved For: ★★★★ | Cotton/Polyester, available in one color, attached drawstring hood, machine washable
• User said: Very cute top that can be dressed up or down!
WHERE TO BUY: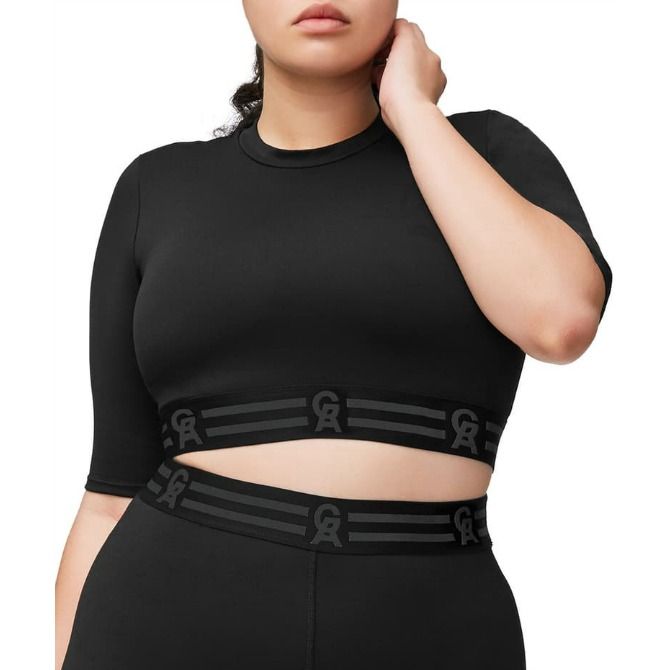 SHOP AT NORDSTROM
Simply Chic!
Rated full five stars by two people, Good American workout crop tank is going to be the most standout piece in your gym-wear wardrobe. Made from polyester and spandex, it bids plenty of stretch for easy moveability. The fabric is machine-washable and has a wide band to offer full support to your breasts during the most strenuous activities. Show it off worn alone or with matching workout trousers. It's available from regular to plus sizes!
• Loved For: ★★★★ | Polyester/Spandex, available in one color, mock neck, wide elastic band, machine washable
• User said: Has perfect length! It's a great top for comfort or exercise in any season!
WHERE TO BUY: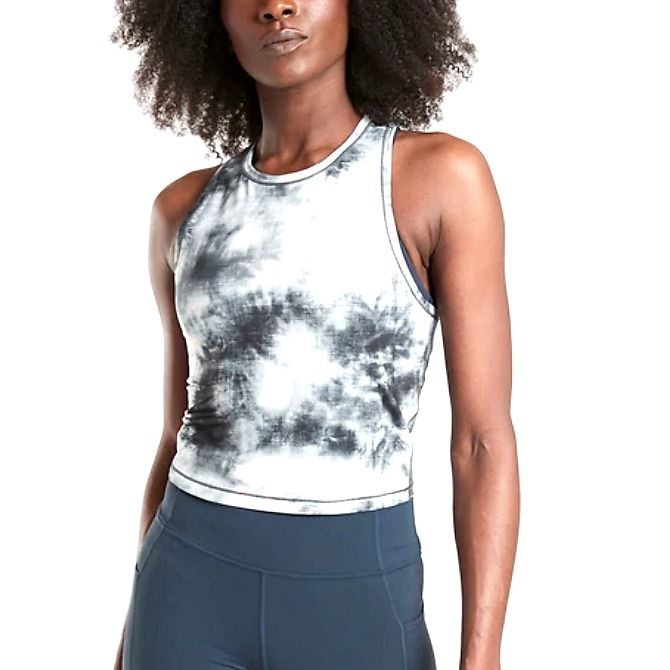 SHOP AT ATHLETA
Show This One Off!
If you don't like to show skin, Athleta's activewear crop top is the perfect length for you. The skin-hugging fabric, along with the thin straps, makes it extra supportive on the top, and the design is extra trendy to look at. You can wear it on a night out with a pair of dark leggings or to the gym. The fabric keeps the bust firm with zero spill. The company claims the feel of it is buttery-soft, and some of the customers agree on this statement. 
• Loved For: ★★★★| Polyester/Spandex, high neckline, machine washable
• User said: Just long enough for more modest people but short enough to be fashionable!
WHERE TO BUY: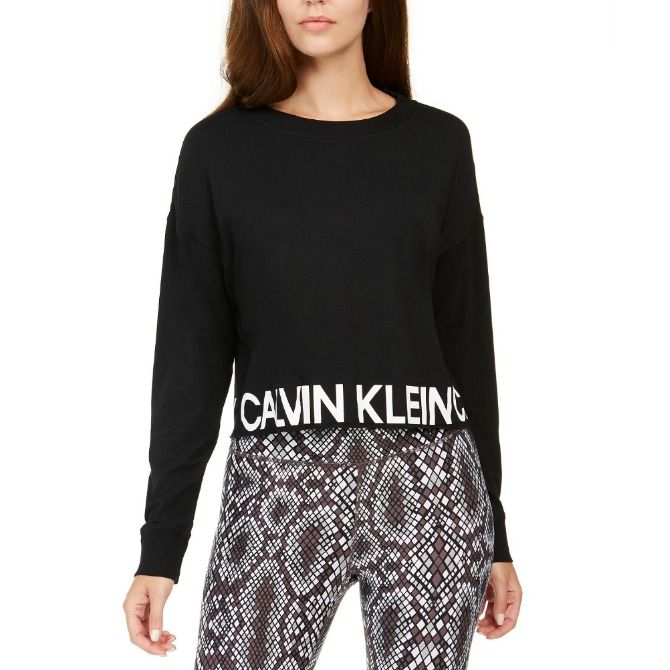 SHOP AT MACY'S
Be Conscious-Free
If you'd rather like a shirt covering you, instead of supporting you, Calvin's Klein makes some of the best fitness crop tops for this purpose. Made from cotton and polyester, the fabric feels real soft, airy, and non-itchy. The goodness of its long length lies in the fact that you wouldn't have to worry about the shirt riding up when you move or exercise. It stays in place, is quick-drying, and has the statement logo, which makes all the difference when you head to the gym!
• Loved For: ★★★★ | Cotton/Spandex, available in one color, long sleeves, crew neck, machine washable
• User said: The material is really nice and very cute! I love it!
WHERE TO BUY: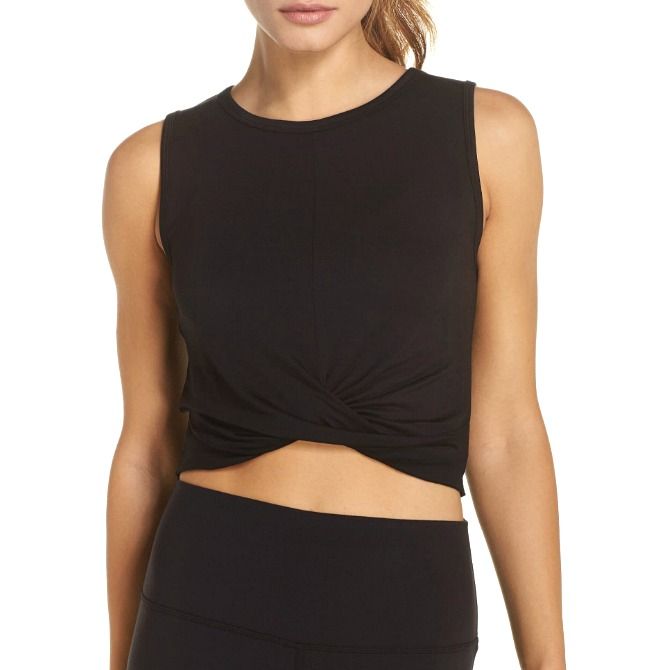 SHOP AT NORDSTROM
Show Little Skin!
Alo's offering is one of the softest crop tops for the gym. The super-soft tank is made from rayon and spandex, which you can put on for gym or even as streetwear with highrise bottoms, and no one would be able to tell you're wearing gym-wear. It's loose and highlights the hard work of your fit body. Once you get the feel of this thing, you wouldn't want to take this off. It shows just a thin line of your waist without being too revealing!
• Loved For: ★★★★ | Rayon/Spandex, available in three colors, crew neck, machine washable
• User said: It's flattering and super comfortable!
WHERE TO BUY:
SHOP AT AMAZON
Perfect For Outdoors!
Champion has introduced their sports crop tops, and their Life top has entered our good books. The fabric is a mood booster and a skin-saver thanks to the lightweight and ultra-soft cotton craftsmanship. You can wear this to the gym or whatever, with pants, trousers, leggings or anything you prefer. This doesn't ride up when you're moving and has enough wiggle room for the skin and body to breathe! This is an investment we can see you wear to death! 
• Loved For: ★★★★ | Cotton/Spandex, available in different colors, no closure, machine washable
• User said: I hate it when my shirts ride up when I'm working out, but this doesn't!
WHERE TO BUY: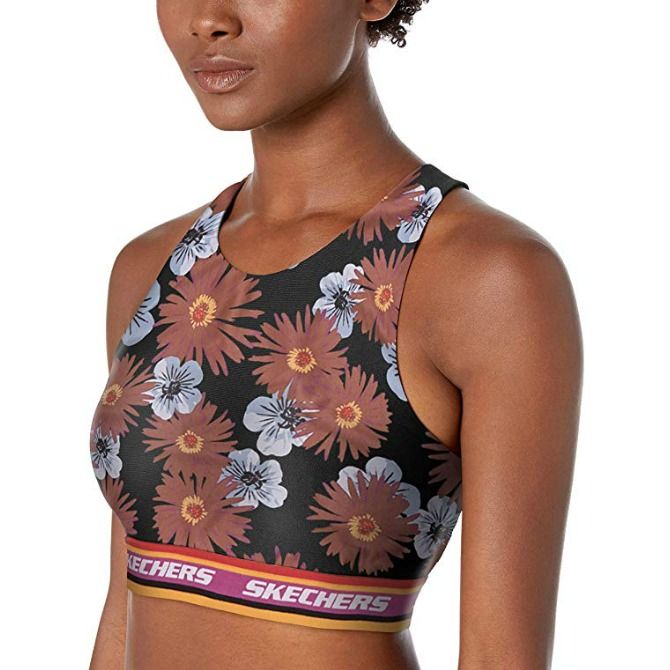 SHOP AT AMAZON
A New Go-to
Despite the innovation in athleisure, it can get boring, but not Skechers athletic crop top. It's made from polyester and spandex. Features mesh lining that improves breathability and allows air circulation to keep you dry during workouts. The floral design is nice, and with pretty outerwear on top, nobody can tell you're wearing gym clothes. Not to mention, the racerback design allows freedom of movement and a four-way stretch. The band keeps the bust intact and firm, without needing to adjust yourself again and again. 
• Loved For: ★★★★ | Polyester/Spandex, available in two colors, racer back design, mesh lining, machine washable
• User said: I didn't need to adjust or straighten this throughout the day! 
WHERE TO BUY:
Best 

Crop Workout Tops 

Overview
How To Wear Workout Crop Tops
Activewear has come a long way. There are designs and styles available that are not strictly subjected to hitting pilates classes or taking part in sports activities alone. Fortunately, you can combine those very crop tanks with different attires to create outfits that are perfect for more than just the gym. 
Wear Denim
Honestly, denim on top of gym crop tops looks fabulous. Either wear distressed, ripped, or normal blue jeans with such a top. Or add a denim jacket to spice things up. 
Denim skirts or denim shorts also make a fantastic combination with a yoga crop top and add a touch of edge to your look. Even cropped jeans could lend a girly, cute vibe with such tops. Finish off the look with either wedges or sneakers. These looks will quickly become your new go-to. 
Printed Bottoms
You can style a plain crop workout tank with printed bottoms. Floral high-waisted trousers or leggings look fabulous with plain shirts. Even plaid trousers with neutral or pastel-toned tops make an easy breezy look for every day. Complete the look with a hoodie or a jacket. Wearing trainers or sock booties could take your style a notch further!
The Trench Coat
When you feel nothing works for dressing up your gym clothes, throw on a classic trench coat over a gym crop top womens shirt. The long coat would conceal what you're wearing underneath and make for a modern combo. Add finishing touches with boots or ankle booties. This is the perfect pairing for running to the grocery store or hanging out with friends. 
The White Shirt With Leather Jacket
If you're wearing an active crop top with black leggings, nothing works the best than popping on a white button-down shirt (buttoned close) over it and putting on heels. Pair with a black statement bag and black sunglasses in the end! This leads to a rather ladylike combo, ideal for meetups or shopping with friends. 
To layer this look even further for a more professional approach, a leather jacket or blazer should go nicely and creates a beautiful monochrome appearance if you're into it. 
Biker Shorts
Yes, biker shorts look very stylish with sports crop tops, especially for a morning jog or walking the dog. Don't be afraid to show off your hard-earned abs in this attire. It's for good body days! Finish off with sports shoes or wedge sneakers!
A Side Note
Whatever combo you go for, stick with the rules of mixing and matching. Create a contrast or go matchy-matchy. If you're not really fond of the workout crop tops you have in your arsenal, cover them up with some stylish outerwear to get more use out of them when you head outdoors. 
Also, sometimes your gym clothes just need a teeny-tiny adjustment to make you look pulled-together for anything. For instance, in case of a slouchy, loose crop top activewear, add a knot or wear a belt to draw eyes away from their sporty appearance. 
The comfort and ease of wearing activewear are undeniable, so you must make amends to live in it throughout the day without looking dumb. 
Wearing crop workout tops provides great motivation for keeping fit and staying true to your wellness routine. You can see your real self in it, which is exactly what pushes you in the right direction!
Have you got any suggestions of your own for the best crop workout tops? Let us know in the comments!