Featured Image: Loft
Best Camisole Tops
A cami top is a workhorse! It can be layered under clothes for coverage, protection against the cold cabin air, going bra-free because several include built-in bras, as an elegant combination under a blazer or for seamless bra strap concealment. And last but not least, it makes a great pajama choice for staying cool and unbothered during sleep. No matter the kind of consumption, it goes the distance in ways possible that one can only imagine. 
Thankfully, there is no shortage of fantastic places to lay hands on a doable camisole top. Be it for clean lines, concealing unsightly straps, finding optimal comfort, layering under clothes, or wearing it on its own. Plus, it is one superb way to beat the summer heatwaves. Not only our compilation of best cami tops can be worn each and every day, but are also loved by thousands of women who wear them on repeat! 
If you love this list of the best cami tops for women, you might also want to check out our list of the best womens beach shorts to make the most of  your summer! 
What are the Best Womens Cami Tops?
Some people may not perceive camisole tops as a basic, or simply they are unknown to the power of one. It is and will always stay an all-season wardrobe staple, thanks to its ubiquitous uses. A breathable and lightweight option is your best choice that makes you feel instantly at ease without adding bulk. And makes you look proper outfit-wise without feeling hot. When you're too lazy for a clothes change, you must get you from home to desk with minimal additions without seeming you came right out of bed to work.
In that case, the strap style, adornments, and the fabric itself count as a major consideration. We have seen the reviews of the women who swear by cami's, have raved more than reviewed and who (like you) have an eye for perfection. We have laid out the picks in our list of best womens cami tops — there are no made-up verdicts, only raw and honest judgments. 
SHOP AT AMAZON
Over 3000 Fans!
Like men wear vests to prevent sweat marks from staining their shirts, women go by camisoles to remain dry and comfortable. This is especially under a see-through top to get more coverage. The Amazon's Essentials cami tank tops are a great bulk buy if you wear them daily. Made from cotton and elastane, the excellent stretch provides ease of wear. It promotes breathability to prevent the fabric from clinging to you while staying dry. This makes you appear put-together physically and mentally with adjustable straps to allow personal fixes whenever you wish. 
• Loved for: ★★★★ | Cotton/Elastane, available in different colors, adjustable elastic straps, scoop neck, machine washable
• User said: These are super stretchy, comfy, not too short, or too long!
WHERE TO BUY: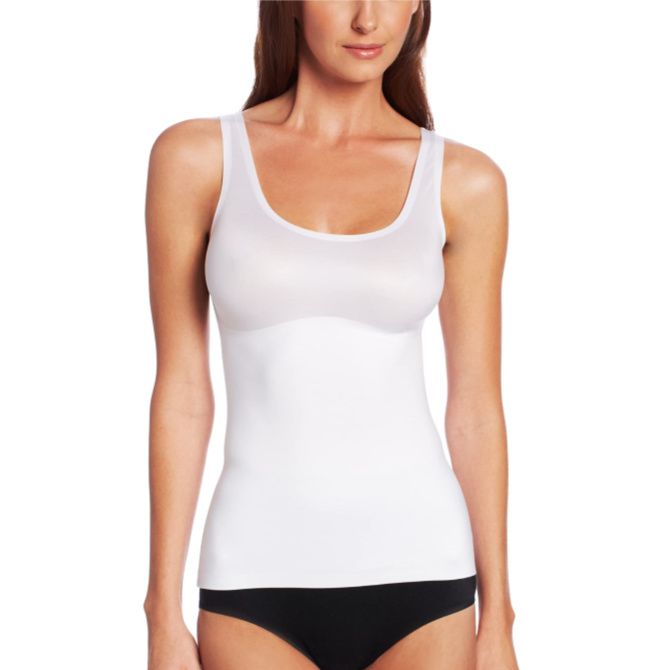 SHOP AT AMAZON
A Bestseller for a Strong Reason!
Womens Cami Tops that make you feel good about wearing them is worth investigating, such as this Maidenform offering. Over 2000 people sing its praises, and many happily vouch for its figure-flattering qualities. Made from polyamide and elastane, the fabric fits like a glove but without feeling itchy, uncomfortable or tight. Form-flattering and slimming, this goes on to smooth over pudgy areas and helps you achieve a polished look for your outfits. This is an ideal solution for figure-enhancing and works excellent under close-fitting clothes. 
• Loved for: ★★★★ | No.1 Bestseller, Polyamide/Elastane, available in three colors, targeted tummy shaping
• User said: There is no rolling up, and the material is the softest most comfortable shaper!
WHERE TO BUY: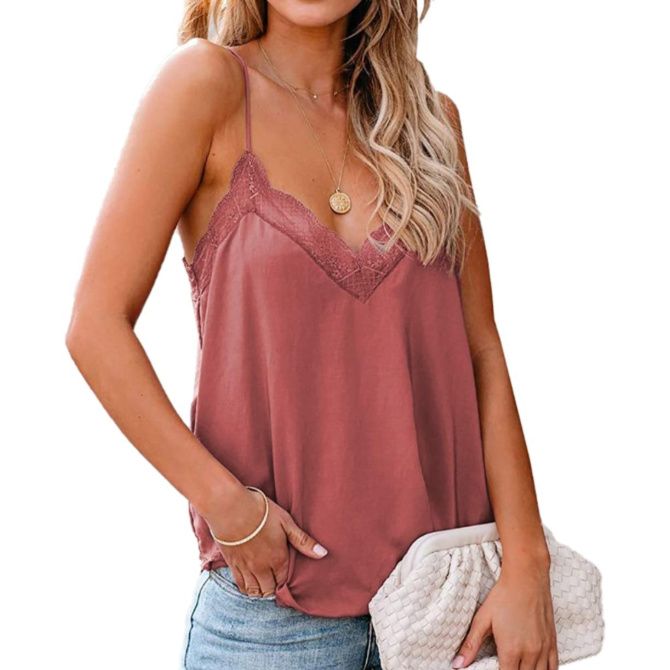 SHOP AT AMAZON
Anti-Wrinkle The Entire Time!
This is certainly one of the most versatile options on our list with a variety of styles and colors to choose from. Anyone looking for a sleek lace camisole top that makes you look good even when you're lounging, Lime Flare fits the bill right. Sporting a textured fabric, it feels nice and soft on the skin. Plus, it won't cause sweating, thanks to the cooling factor this claims to have. You can feel just as dressy and casual as you think with other favorite outfits in your wardrobe. 
• Loved for: ★★★★ | Polyester/Spandex, available in different colors, lace V neckline, anti-wrinkle 
• User said: It's the perfect date night or going out in a sexy top! 
WHERE TO BUY:
SHOP AT NORDSTROM
An Easy Choose!
Peplum looks good to an extent, especially if it's done right. Similar to our previous statement, the Chelsea cami tank top designed in a gentle ruffled style elegantly serves the purpose. The slippery smooth polyester fabric, combined with its delicate nature, will keep you comfy and relaxed all day long. Go dressed up and dressed down, it can be worn out to a casual night out or a day out with friends, even for the office. The muted palette, coupled with the easy-going vibe of this garment makes it a favorite for many people. 
• Loved for: ★★★★ | 100% Polyester, available in two colors, adjustable straps, wrap-style, machine washable 
• User said: This top is adorable and can dress up or down! 
WHERE TO BUY:
SHOP AT LOFT
Hoard or Not – You've Got the Shot!
Summer is sprinkled with sweat and awash with sunlight. The kindest thing you can do with yourself is to choose an outfit that helps you stay breathable and productive during the heat at all times. Such as this is Loft's white camisole top that brings instant relief in sweltering weather owing to its uber-soft cotton and stretchy spandex material. We love how basic yet can be spiffed up to get the look you're going for. Available in a neutral shade range, each hue tends to be extremely useful for a capsule wardrobe. 
• Loved for: ★★★★ | Cotton/Spandex, available in four colors, spaghetti straps, machine washable 
• User said: The V-neck is perfect for wearing under tops when I don't want the cami to show! 
WHERE TO BUY: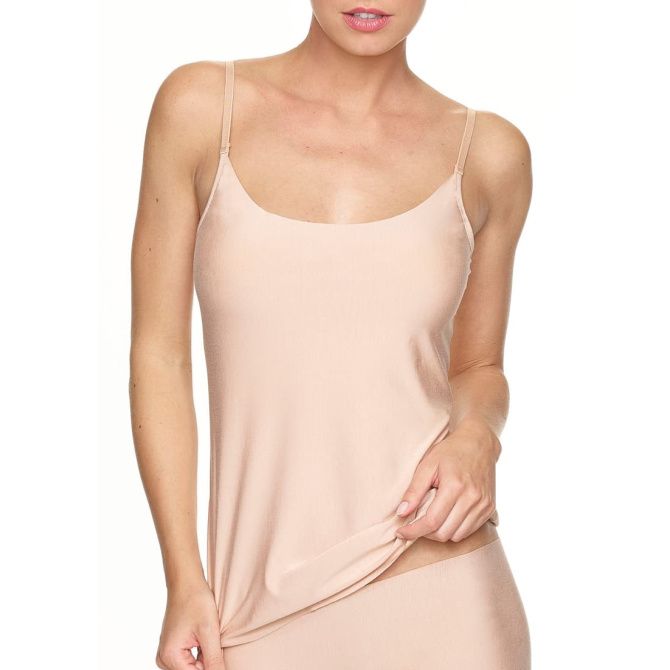 SHOP AT NORDSTROM
Butter Soft!
As its name suggests, one of these Commando's spandex camisole tops is made from modal and spandex to give the ultimate soft feeling while being moisture-wicking. If you're a fan of layering and true styling, you'd love to come up with a cute, fashionable combination with this number. It can go under a shirt for adding modesty, over a shirt for a nice visual twist or alone for an easier and breezier YOU! The adjustable straps and raw hem edges make for an aesthetic touch: helps with a trim appeal, too.
• Loved for: ★★★★ | Modal/Spandex, available in two colors, adjustable spaghetti straps, scooped neck, machine washable 
• User said: The feel of the fabric is sensual, natural, and just the thing under my tee shirts! 
WHERE TO BUY:
SHOP AT NORDSTROM
A Hidden Gem Alright!
Now this one's a gem, not only it looks wise but comfort wise as well. Made from 100 percent polyester, Topshop's slightly cropped cami top boasts serious comfort and style. Sexiness, combined with versatility, it can be worn out anywhere because of the effortless charm it exudes. The body-fitting design helps enhance your body and minimizes any loose bits. Many big-boobed customers appreciate the figure-flattering form that isn't revealing too much. For something quick and cute and matchable with anything, this fits the cause. 
• Loved for: ★★★★ | 100% Polyester, available in three colors, adjustable tie straps, square neck, machine washable 
• User said: Received several compliments, and it's great for the summer! 
WHERE TO BUY:
SHOP AT NORDSTROM
Need We Say More?
A black camisole top is one fashion-forward wardrobe staple that worth's not missing out on. Seamless and suitable with anything, the body-hugging style brings out your curves without settling into any and becoming an ugly sight. It could be used under, over, or on its own. It is created from stretchy ribbed material for being durable as well as simple to move in. Squareneck works great for accommodating your 'girls' and takes the layering strategy to next-level genius. Some customers find themselves picking this over a bra – you choose YOU!
• Loved for: ★★★★ | Nylon/Spandex, available in different color, square neck, machine washable 
• User said: It's a snug spandex-y basic that goes with everything! 
WHERE TO BUY:
SHOP AT NORDSTROM
A Base is the Biggest Case!
Cheap basics are a false economy, but well-made basics are your best bets. At the end of the day, that's all you really need for an impeccable get-up. BP camisole tank top is a super-useful garment you didn't know you were missing, and it'll totally change up your' getting dressed' game. Be it office, night out, day in, or lunch with friends, this is fabulous for layering, tucking under denim shorts, or kicking heat by wearing this itself. Breathable cotton keeps sweat at bay, and spandex adds valuable stretch for freedom of mobility. 
• Loved for: ★★★★ | Cotton/Spandex, available in one color, scoop neck, machine washable 
• User said: It stretches lengthwise a lot and doesn't ride up at all! 
WHERE TO BUY: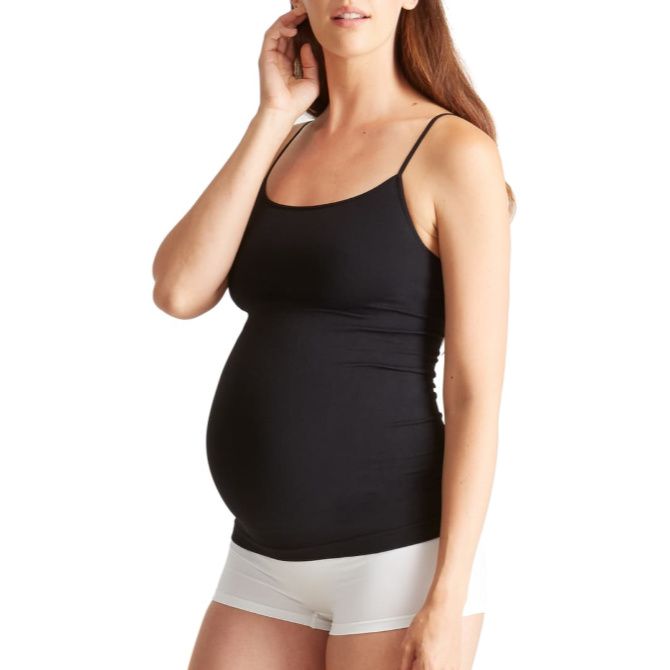 SHOP AT NORDSTROM
Our Love for This Makes Us Rhyme!
Another essential right here is Ingrid & Isabel's black camisole top. It paves the way for perfect coverage and flexible for pregnant women. It sits smoothly over the belly without falling prey to any bulges. Plus, it gives superior, breathable comfort to stay dry and make hay with any kind of situation in your way. Noticeable is the scoop neck for a mild breast lift and provides a neat appearance. You can team this up with many things in your wardrobe, plus the straps do not dig into your shoulders – they're the right balance. 
• Loved for: ★★★★ | Cotton/Spandex, available in two colors, long enough for belly coverage, machine washable 
• User said: Smooth material, nice quality, and long enough to cover my third-trimester belly! 
WHERE TO BUY: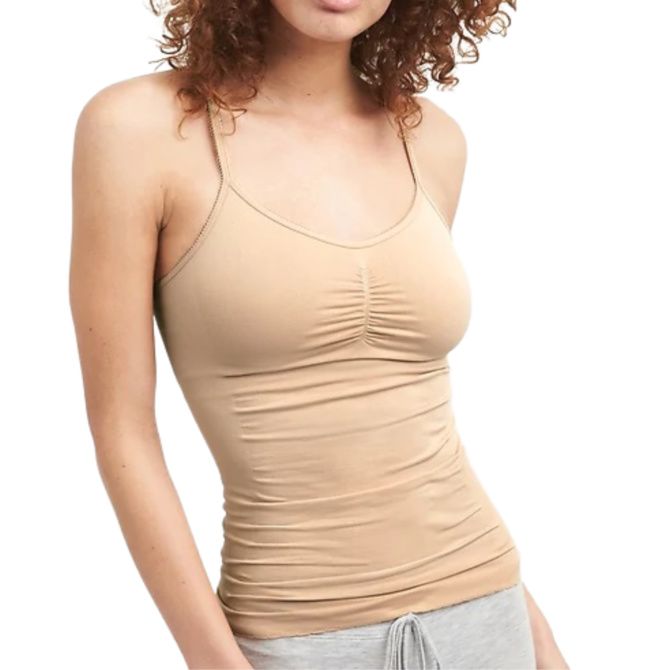 SHOP AT GAP
We Love This!
Now, it's what you can wear out and proud with a plethora of pants, trousers, jeans, and a never-ending list. Not that our other picks are any less compatible with different bottoms. This cami bra top dives deeper for fabulous outfit combinations, smoothing out your curves and adding a much needed lift thanks to the built-in bra. The wrinkling sides fit to make those fat and loose bits less obvious – love handles much? Yeah, this will take care! It's a child of nylon and polythurantane, and the stretch knows no bounds, but stays in shape after countless washes!
• Loved for: ★★★★ | Nylon/Polyurethane, available in three colors, adjustable spaghetti straps, built-in shelf bra, machine washable 
• User said: I had been looking for camis with a shelf bra to sleep in and I finally came across these. I love them!
WHERE TO BUY: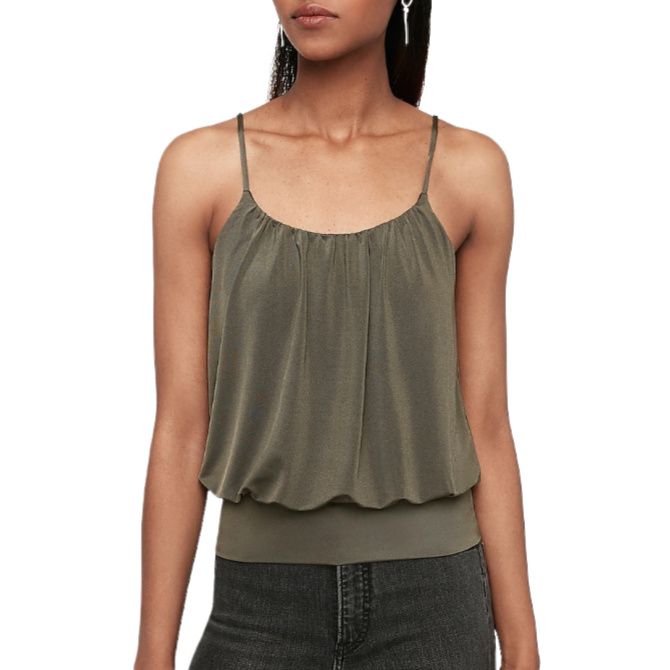 SHOP AT EXPRESS
Bring Out Your Flirty Side!
You may think sexy is an unattainable term, especially if your body does not fall under 'slim' and 'lean.' But no worries, because one of these Express satin camisole tops does make you look sexy, no matter your body shape. How? It is all the glory of the bubble design that provides an unstructured fit and carries a dominant sexy charm. It's not made to make you feel itchy, chaffed, or uncomfortable, besides being a super-fabulous choice for a night out. Consumers dig this staple piece!
• Loved for: ★★★★ | Polyester/Spandex, available in two colors, banded bottom, machine washable 
• User said: Adorable top for summer and could dress up or down!
WHERE TO BUY:
Best Cami Tops for Women Overview
What are Cami Tops?
Cami tops belong to the category of undergarments. They're usually loose-fitting and have noodle straps. They're utilized as innerwear, outerwear, or under deep necks or sheer tops for coverage. Some camisoles have built-in bras for support and free you from separate bras. They mostly come in cotton and polyester fabrics. Still, there are silk and satin versions available and used by the majority as sleepwear or loungewear. 
How to Style Cami Tops?
Styling cami tops is no big feat because of their versatile nature, which works well with almost anything. It doesn't mean you can wear a cami on its own to work or a formal event without second thoughts. Despite the versatility, cami's do need to be styled with care to make them suitable for different occasions. 
For Everyday
Styling camis for everyday wear presents limitless options. You can don it on as it is with denim shorts, jeans, flared trousers, skirts, and even wear ones with lace necks underneath for a feminine touch. 
For Night
Slinky and body-hugging versions are your best friends for a night look, and even cropped styles serve the purpose. You can team them up with high heels, skinny bottoms. Or jazz it up the entire look with sequined skirts like there's no tomorrow. 
For Formal
For serious occasions, cami tops are best suited under a blazer or a proper suit. Make sure to go for a slim-fitting silhouette for the unimaginable charm and complete the look with heels. Or you can completely wear a cami as a disguise under a sweet dress for even sweeter body enhancement and smoothness. 
Even a figure-flattering cami top tucked in a pencil skirt with a blazer as outerwear is precisely what you need to wear to a business meeting or any formal event. 
Turn Heads
When you're trying to make people swoon with a cami top, always consider the neckline, they can honestly make or break a look. No matter what you're wearing down on your legs, if a cami supports a beautiful neckline, all eyes will be on you. Necklines set the tone for the outfit, so pay heed when you shed money on a particular piece. 
Accessories
Yes, accessories add finishing touches. Particularly in the case of a cami, you need a stunning bag to get everything into place and flaunt fancy. 
Our best cami tops are great for restyling outfits around them and make a sensible pick for your normal routine, be it any weather or occasion. If you have any recommendations of your own, our comments box is open for you all!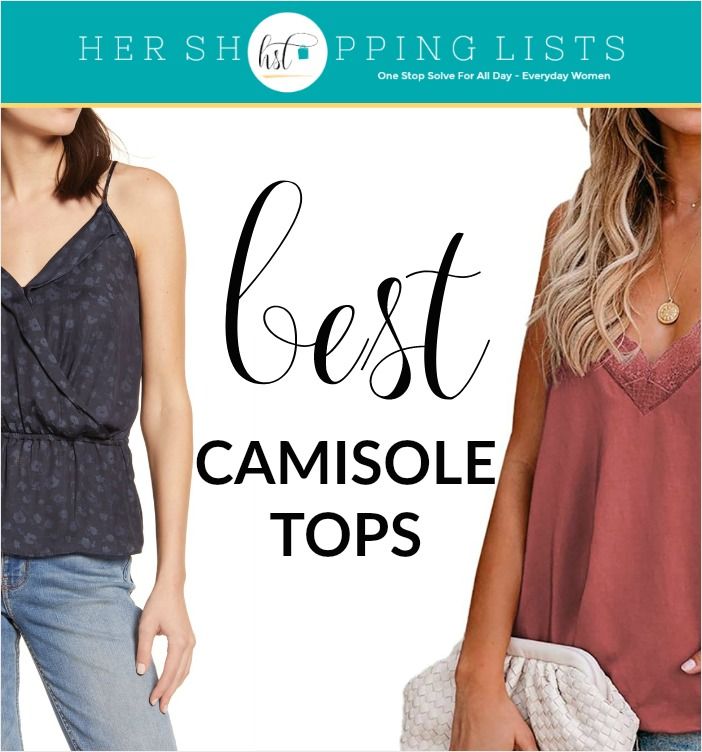 Have you got any suggestions of your own for the best cami tops for women? Let us know in the comments!