Featured Image: Free People
Best Boho Skirts
One of the latest trends in skirts that have taken the apparel market by the storm is the boho style that looks ravishing when paired with the perfect top. A casual yet enticing summer staple that is a must-have in any woman's closet, boho gypsy skirt like some of these options dictate elegance and style. Enhance your look by flaunting the unique designs, colors, patterns, and looks along with the comfort of ease and movement. 
Thinking about ditching the old plain dresses and pants to try out something quirkier and fanciful? We have just the perfect pieces for you. Our list of the best boho skirts composes some of the coolest and sassiest ones that are sure to make you the star of the show and give you the much-needed attention! Plus, they will fit perfectly with any occasion. Keep scrolling to revamp your look.
If you love this list of the boho style skirts, you might also want to check out our best boho sandals to embrace your inner hippie babe this summer! 
What are the best Bohemian Skirts?
The sun has just come out, and it's time you replace those jeans and pants with something lighter, breezier, more relaxed, and refreshing. Bohemian styles have been around for years, but it is high time we appreciate the beauty and creativity it brandishes. These bohemian hippie skirts are irresistibly cool and mesmerizing when paired with the correct tops. From unique solid colors to bold mosaic tribal patterns, they come with their own set of exceptional designs. Women who love wearing Bohemian clothes firmly dictate a personality that says "Boss" in the best way!
These types of skirts are usually adorned by women of strong personalities who love to assert individuality. If you are someone like them, you might want to get your hands on these hot and chic boho skirts that can definitely change the way people see you.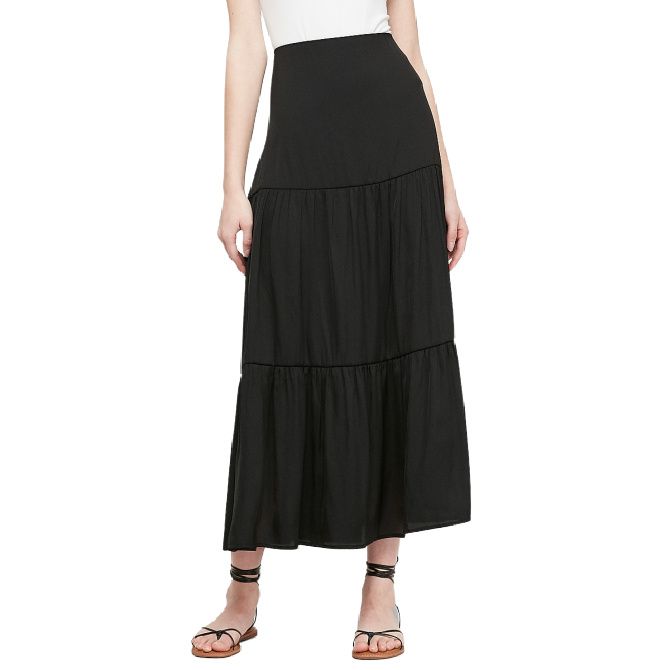 SHOP AT EXPRESS
Simplicity and Elegance at its Best!
If high-waisted long hippie skirts are something that you don't have in your wardrobe, add this to your shopping cart right now and get ready to rock that summer-time casual look with elegance. All your plain skirts and jeans will look faded and outdated in front of this stunning black, tiered, maxi style. The flow is perfect, and you can pair it with plain tops or even with printed light-colored ones to bring out its natural beauty. 
• Loved for: ★★★★ | Colors available, tiered design, zip closure, straight hem, high-waisted, maxi length, satin material
• User said: A high-waisted satin tiered maxi skirt that has a lovely summer look. I recommend this to my ladies!
WHERE TO BUY: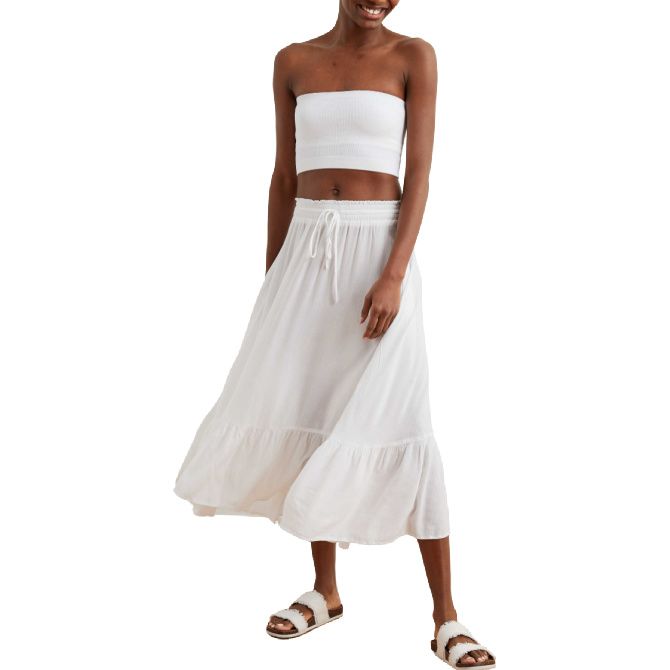 SHOP AT AMERICAN EAGLE
For your Beach-y Adventures!
Craving for some breezy, light, and gorgeous skirts that you can flaunt easily without worrying about looking too decked up? Here's the perfect maxi skirt boho that gives off a vibe of elegance, style, and natural beauty when you put it on. This flowy attire is ideal for a breezy beach day as the cotton material feels very lightweight.
• Loved for: ★★★★ | Available in prints, 100% cotton, elastic smocked waistband, lightweight and breezy
• User said: I love how flowy this white boho skirt is! The material is soft, and it hits me at about my ankles
WHERE TO BUY:
SHOP AT MODCLOTH
The Flower Shower!
Florals and summers go hand-in-hand. Find yourself flaunting the flow attitude that comes with these tiered, pocketed long boho skirts that just make your day! The beautiful hand-drawn floral print is sure to capture all the attention and make you feel beautiful inside out. Plus, the comfy and stretchy high-waist makes you want to wear it every day!
• Loved for: ★★★★ | Elastic waists, side pockets, light and breezy, hand-print florals, 100% polyester
• User said: Pretty Skirt! The background is a cream-white, not pink. It looks cute
WHERE TO BUY:
SHOP AT H&M
Cute and Elegant!
Bored of the traditional pieces that don't add any glam to your plain jane look? One of the best bohemian maxi skirts we found is this beauty from H&M. You can wrap over the creped fabric to make your own style statement. With a flounced, asymmetrical look, this bottom wear inspires you to stay different from the crowd by giving you an edge that most plain dresses lack. 
• Loved for: ★★★★ | Asymmetrical hem design, creped fabric, snap fastener
• User said: So cute! I would say it runs a little on the large side and would recommend sizing down
WHERE TO BUY: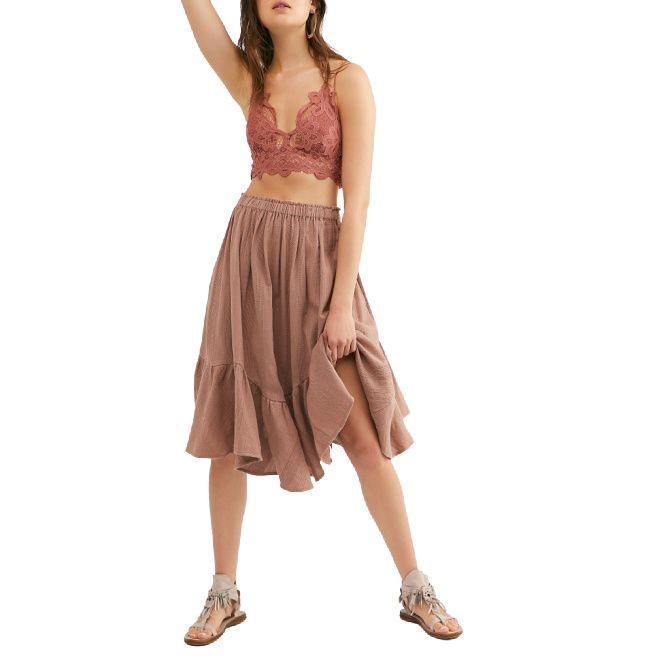 SHOP AT FREE PEOPLE
Quite Whimsical!
Convertible dresses are awesome for so many reasons. It takes up less closet space, looks cute, and unique, and you can literally change your look on the go. Boho midi skirts such as this one can charm you up instantly with the least efforts. The colorful, cute dress can be worn as a skirt or a dress and comes with a ruffled bottom hem with flares that look ravishing on a summer day!
• Loved for: ★★★★ | Convertible dress, ruffled hem, elastic top hem, button-attached shoulder straps, available in other colors
• User said: I love this dress. It's such an easy summer piece to throw on yet looks so cute on!
WHERE TO BUY: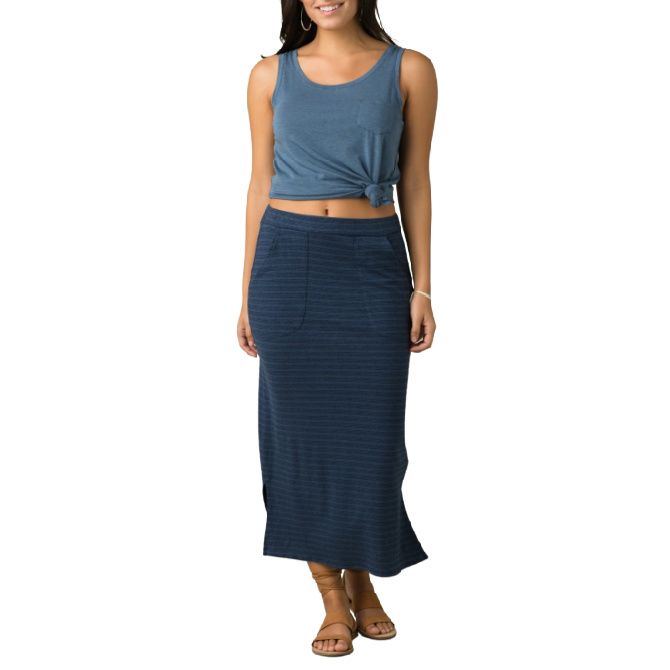 SHOP AT PRANA
Straight Up Gorgeous!
Straight skirts have been widely loved by women of all ages, thanks to their versatile appeal, comfortable texture, and fashion outlook. When you've had enough of the regular flared or tiered skirt, this straight hem, blue patterned boho maxi skirt, will definitely be your favorite pick this summer. The pockets are an excellent and much-needed add-on that makes this beauty extremely popular among working women who prefer wearing it to the office or a formal meet and greet.
• Loved for: ★★★★ | straight hem, available in multiple colors, organic cotton blend, elastic back waist, front patch pockets, ankle-length, side seam cut.
• User said: I love this skirt! The fabric is lightweight but not clingy
WHERE TO BUY: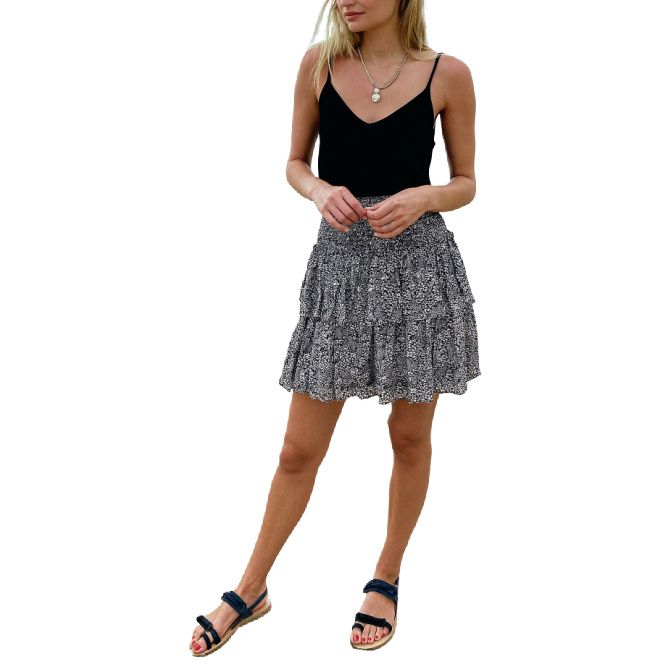 SHOP AT ANTHROPOLOGIE
Petite and Glamorous!
Every print-lover must have this mini style that looks elegant and effortless in its appeal and gives a more comfortable, casual, yet stylish vibe. Women of all sizes can try out this one of the Bohemian style skirts that look equally appealing on everyone. The reviewers "can't stop wearing this and love this fun and flirty skirt!"
• Loved for: ★★★★ | Viscose material, printed, smocked waist, available in other colors, tiered design
• User said:I couldn't be happier with my purchase. This short boho skirt fit is perfect and an excellent alternative to shorts!
WHERE TO BUY: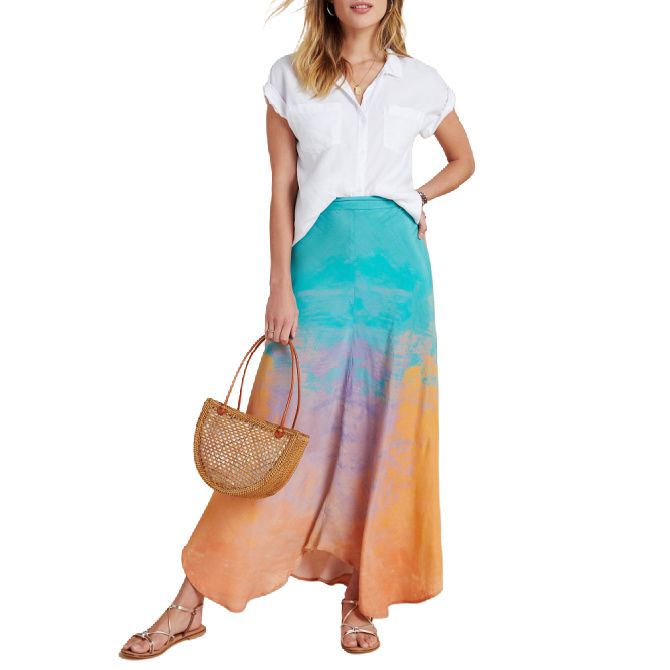 SHOP AT ANTHROPOLOGIE
Flaunt the Gorgeous Tropical Vibes!
Brandish the vogue hues that make boho long skirts look so vibrant and playful. With a unique design, cut and hemline, this option would be your perfect go-to attire this summer. All the reviewers love the comfortable fabric! They cannot stop praising the flamboyant tie-dye print that makes it an overall 'eye candy.'
• Loved for: ★★★★ | Tie-dye, Viscose material, side zip, lightweight and sheer fabric
• User said: Exactly like I thought it would be! The colors were spot on as they were pictured, as well as the fit
WHERE TO BUY: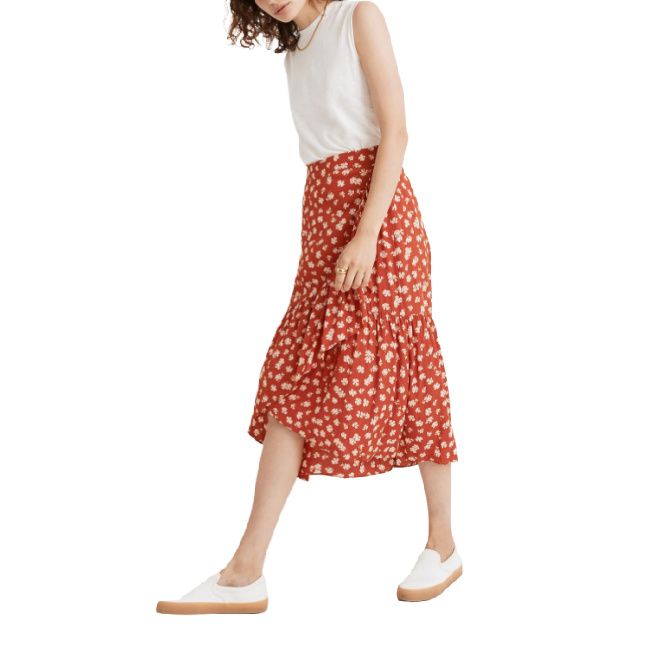 SHOP AT MADEWELL
Fun and Flowy!
This floral print long bohemian skirt is a vintage-looking ruffled outfit that will look superb when paired with t-shirts and tank tops of vibrant colors. Perfect fit for summers, you can wear it to your office and head for a party afterward without changing. It gives off such amazing summer vibes that people will find it difficult not to compliment you. Vibrant, lightweight, comfortable, versatile, and beautiful, this is a must-have in every woman's wardrobe.
• Loved for: ★★★★ | Wrap skirt, Viscose material, Floral print, lightweight
• User said: Perfect skirt for summer – lightweight, pretty. It can be dressed up or down!
WHERE TO BUY:
SHOP AT FREE PEOPLE
Aesthetic and Elegant!
Level up your skirt game by adding this beauty to your wardrobe. This style comes with a stretchy waist and looks perfect on hot summer days. Though the skirt might look heavy to wear, it is not; instead, it is very comfortable, lightweight, and easy to carry. The leg slit seems very fashionable, and we are sure you will get a lot of compliments when you wear this boho style maxi skirts.
• Loved for: ★★★★★ | Intricate design, elastic waistband, bottom slit, fitted style, available in other colors
• User said: I wore the skirt for the first time, and I kept getting compliments. A must buy, especially for those summer days!
WHERE TO BUY:
SHOP AT FREE PEOPLE
Flourish Your Sass!
The detailed crochet waistband and stunning pleating pattern make this convertible dress-cum-skirt a real steal deal among ladies! With a fresh, natural look, this style of boho skirts and dresses really feels light and comfortable for the summer or spring season, attracting every bit of attention that you deserve. Team it up with a fashionable top or wear it as a strapless midi dress, the final look will certainly mesmerize everyone you meet.
• Loved for: ★★★★ | Available in various colors, convertible style, high-rise design, raw bottom hemline
• User said: This has beautiful detailing in the bodice, I was impressed. Great dress and even better maxi!
WHERE TO BUY:
SHOP AT ATHLETA
Simplicity at its Best!
Looking for something casual yet sassy and stylish to expand your wardrobe and give yourself the much-needed makeover? This solid-colored, plain boho skirt will make you look petite and gorgeous. At the same time, you go about your day in a comfortable and cozy manner without worrying about your smartphone as it is in your pocket. Very versatile and convenient! 
• Loved for: ★★★★| Available in another color, side pockets, smooth fabric, Versafilm waistband, breathable, lightweight
• User said: Best Skirt Ever! This skirt is so versatile. You can wear it to the beach, pool or dress it up and wear it with a cute top and heels. It fits perfectly and is very flattering. 
WHERE TO BUY:
Best Boho Skirts For Women Overview
Every woman deserves bottom wear that is breezy, lightweight, easy to carry yet looks fantastic, and not too plain. These bohemian style skirts are some of the most versatile, gorgeous, and feminine-looking fashion pieces for all occasions. If you have some more options for us, leave them in the comment box below, we'll surely check them out! 
Have you got any suggestions of your own for the best boho skirts for women? Let us know in the comments!