Featured Image: Birkenstock
 
Best Ankle Strap Sandals
Ankle sandals are the perfect way to dress up a shoe without the hassle of putting on an anklet! You can find this type of shoe with heels plus footbeds that are designed for your comfort. If you want something lightweight, look to see if the insole is cork. For material that molds to your feet, try memory foam.
Heeled sandals with ankle strap are yet another way to give an everyday old shoe playful appeal. For buckles, they can be understated or embellished like a piece of jewelry. And even though we don't think of sandals as having much material, you will be surprised at all the fun patterns that make each pair stand out! From snakeskin to crock and elegant black, it's a real jungle out there, so put on your safari hat, and start exploring.
If you love this list of the best sandals with ankle strap, you might also want to check out the best womens black flat sandals to rock your summer Wardrobe!
What is the Best Ankle Strap Sandal?
When it comes to finding the right fit for you, ask yourself: do I want ankle strap sandals block heel, chunky, or classic and flat? Chunky heels are great for stomping on the dance floor and flats, well, you can't go wrong with flats. One option we list below even has a velcro buckle! There are so many creative options for women out there. When you scroll the list below, don't forget to check out the different color options of each shoe. We hope you like what you see!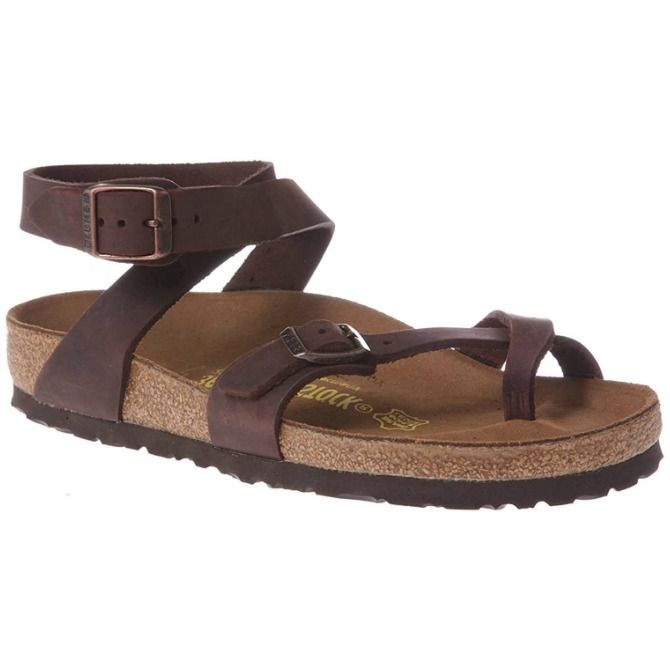 SHOP AT AMAZON
Gladiator Meets Elegance
The proto-type for most contemporary sandal designs, these fashionable Birkenstock ankle strap sandals are made for your comfort and durability with a fun flair of femininity! Made from 100% leather, it offers excellent arch support and footbed that molds to the comfort of your unique foot shape for exceptional shock absorption. When you buy something from a company like this, you just know the quality is superior. It's the shoe a female gladiator would choose both for battle and her wine and dine event afterward.
• Loved for: ★★★★ | 100% leather, arch support, shock absorbant, trusted company
•User said: These womens sandals ankle strap style are so cute and extremely comfortable!
WHERE TO BUY: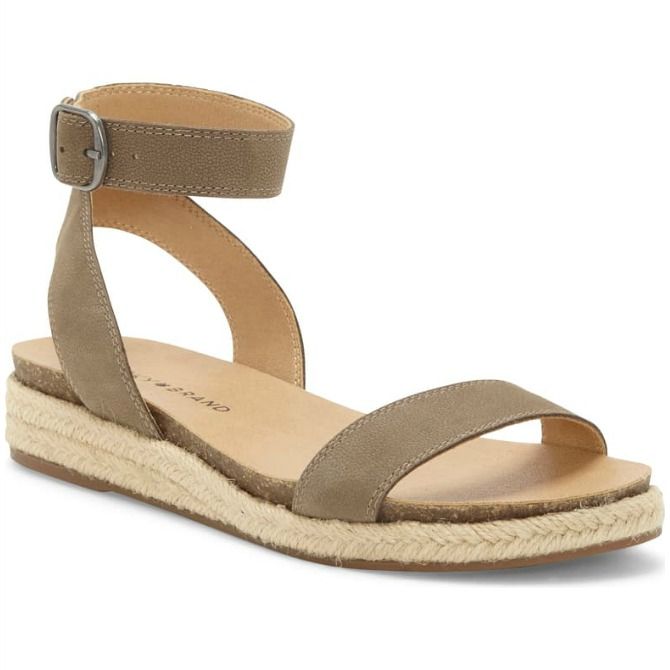 SHOP AT NORDSTROM
The "I Look Good With Everything" Shoe
This modest platform ankle wrap sandal has a memory foam insole for your ultimate foot relaxation! The sole is rubber with a leather strapping and wheat colored wedge for that European espadrille look that America so loves these days! If you are searching for a shoe to wear with your outfit, these ones go with everything. The leather is of the perfect quality for summer wearing, and they are available for you to flaunt in multiple colors!
• Loved for: ★★★★ | Leather straps, rubber sole, memory foam insole
•User said: I love these ankle strap espadrilles. It goes with everything in my closet!
WHERE TO BUY: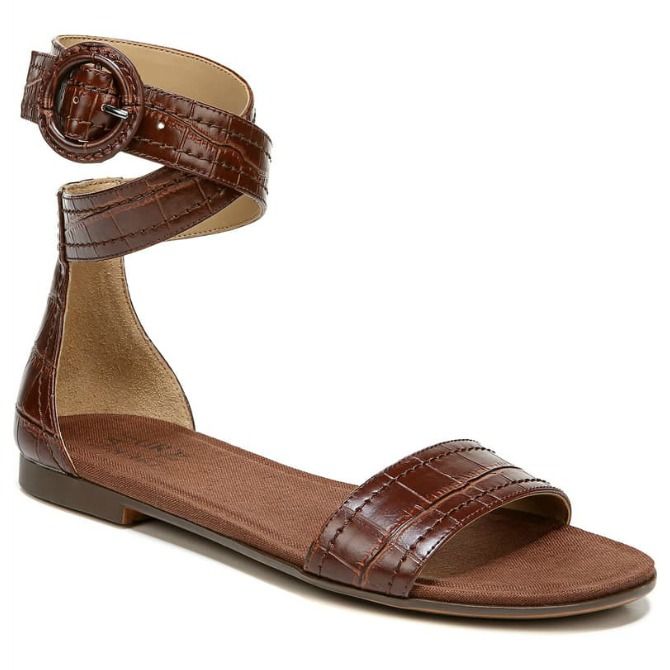 SHOP AT NORDSTROM
Embellish with a Buckle!
These are comfortable, high buckle ankle strap flat sandals. Sleek looking, you can enjoy the textile lining plus leather uppers. Play around in different colors like hibiscus suede, polished lodge brown crocodile, navy suede, or bamboo tan. The ankle strap can be adjusted to fit your ankle size, and you can also order them in wider sizing. When they arrive, you will be happily surprised by the great quality of the material and how they look on your feet!
• Loved for: ★★★★★ | Adjustable, true to size, comes in wide sizing, quality material
•User said: Very comfortable and versatile brown ankle strap sandals. I look forward to wearing them all summer!
WHERE TO BUY: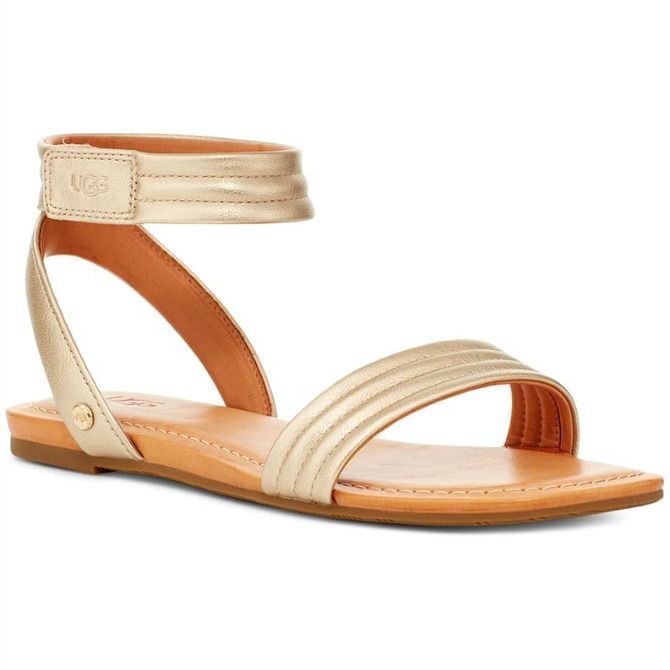 SHOP AT NORDSTROM
Your Feet Will Dazzle!
When you are ready to dazzle, look to these flat ankle strap sandals! In shimmering gold or silver leather, these metallics are quilted and breezy with cushioning insoles. The hook and loop strap is adjustable, and you will be able to wear these all day. Velcro strapping is a great addition for quick on and offs. Plus, if you ever need a jumpstart, you can always look down at your shiny metal feet for inspiration!
• Loved for: ★★★★ | Velcro strap, metallic, leather, comfortable insole
•User said: They look great on my feet! True to size.
WHERE TO BUY:
SHOP AT NORDSTROM
Shadow of a Heel
Asymmetrical ankle strap shoes with wide, smooth banding, this pair offers you lightweight summer relief plus modern allure! Also available in snake leather prints and camel leather, these have buckle closures and work with your loungey attire or for fancy occasions when you need to look mysterious and playful. True to size, these are rated five out of five stars because of versatility and wearability. The heel is lifted only the smallest bit to give you some sweet calf elongation!
• Loved for: ★★★★★ | Wide strapping, gentle heel height, adjustable buckle closure
•User said: I absolutely love how stylish and unique these ankle sandals are!
WHERE TO BUY: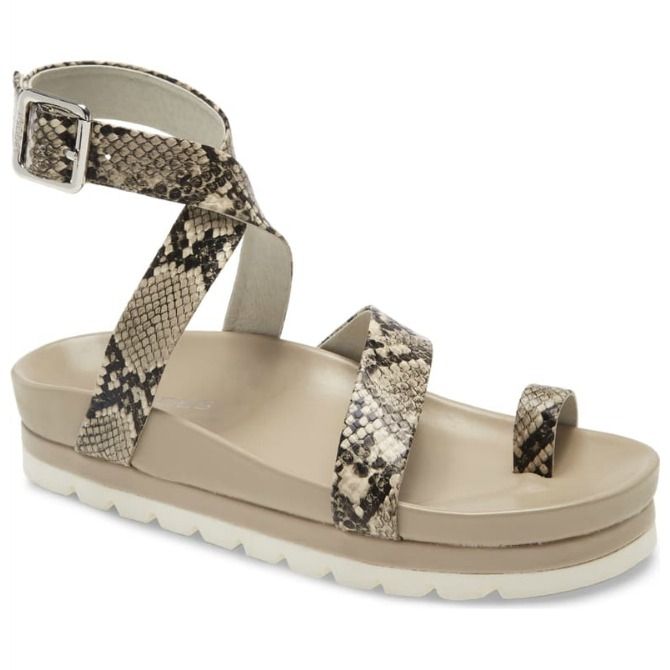 SHOP AT NORDSTROM
Sporty Spice Meets Sexy Spice
We are downright obsessed with these ankle wrap sandals in snakeskin, pure black, or tan leather. They combine a sporty appeal with elegance so you can pull these off with anything from a dress to your yoga pants! Absolutely comfortable, you won't want to take these off when you fall asleep in the lawn chair lounging poolside. Heck, you might even wear these in the pool because they are practically waterproof!
• Loved for: ★★★★★ | Toe loop, leather upper, arch support, come in wide sizes
•User said: These offer arch support and a roomy footbed!
WHERE TO BUY: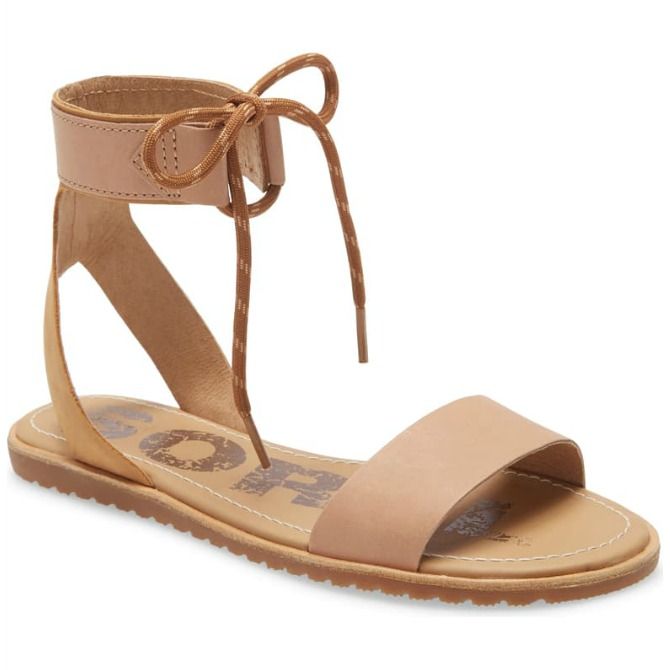 SHOP AT NORDSTROM
The Sneaker of Flats
Are you looking for sandals with ankle ties? This shoe is the perfect example of how to dress up a flat with a tie. Combining elegance, pragmatism, and what looks like the shoelace of a workman's boot, the Ella by Sorel is a real stunner! You can choose between honest beige leather or shiny black. As you can see from how it looks, it is sneaker-like and has that same sneaker knack for giving you comfort, too. Lightweight, you can wear these all day and in hot weather, no problem. It can be so hard to find a sandal you can actually walk in, but these will not let you down!
• Loved for: ★★★★ | Lace-up closure, sneaker style, leather upper
•User said: These are cute, and I could stand and walk in them all day!
WHERE TO BUY:
SHOP AT AMAZON
Shoes That Will Make Your Feet Sing
I can see you wearing these to a concert, in the audience or on stage. The ankle strap wedges have a musicality to them: elegant with supreme memory foam in the footbed and lightweight cork construction. Available in alluring black or red brick but also your relaxing options like amber and stone, these open toes are a date-night pick, for sure. Shock absorbent with arch support, you can also count on them for a day out window shopping with friends!
• Loved for: ★★★★★ | Shock absorbent, arch support, lightweight cork construction
•User said: I was thrilled to find these: so worth it!
WHERE TO BUY: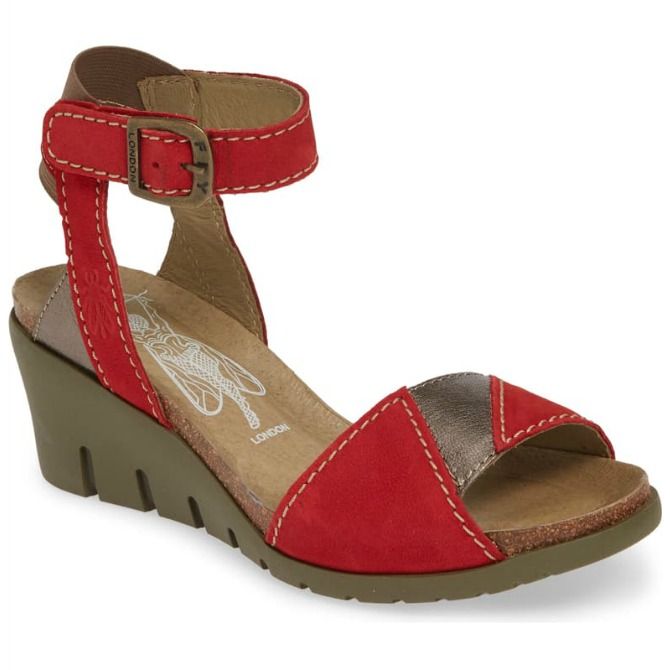 SHOP AT NORDSTROM
Bold and Bronze!
We call this the yes, yes, yes shoe because these ankle strap sandal heels are simply adorable in every way. The lipstick red, blue, and pale blue are each detailed with bronze at the toe. There is something streetwear about them while they remain uber classy and can be dressed up or down. The footbed on these kickers is all cork and cushioning, so when you wear them, you'll feel like you're still in slippers!
• Loved for: ★★★★★ | Bronze detail, cork cushioning, 2-inch heel
•User said: I bought these red wedges with ankle strap and loved them so much. I ordered the blue, too!
WHERE TO BUY:
SHOP AT NORDSTROM
Heels: The Chunkier, the Better
Available in gold with a cream heel or white with snakeskin, these flirtatious ankle strap sandals heels go well with your cha-cha or salsa! Great for dancing because of the light padding in the footbed, these are perfect for dressing to impress. The chunky two inch heels have just the kind of chunkiness to make other ladies envious!
• Loved for: ★★★★★ | Chunky heels, cushioned footbed
•User said: The round/rolled leather around the toes is a comfortable touch to these gorgeous sandals!
WHERE TO BUY:
SHOP AT NORDSTROM
Maddeningly Elegant
Everyone loves Steve Madden shoes, and these are no exception to the rule! The high, skinny buckle highlights delicate parts of your feet and plays against the more robust block style heel. There are so many colors to play with, like bone croc and gold snake print. This is the perfect shoe to wear when you strut into brunch!
• Loved for: ★★★★ | Two inch heel, modern finish, sleek, open toe
•User said: The heel height of this black ankle strap sandals is super comfortable and gives the perfect lift!
WHERE TO BUY:
Best Ankle Strap Sandals for Women Overview
What is Ankle Strap Sandal?
This kind of shoe comes heeled or flat but has a strap, tie, or sometimes velcro buckle around the ankle.
How to Wear Ankle Strap Sandals
You can wear these with pretty much anything! Heels make things extra classy while a flat might be better for window shopping.
Did you decide on block heel ankle strap sandals or chunky ones, velcro buckles, or memory foam footbed? Let us know how you style your pick in the comments below. We can't wait to dress up with you!
Have you got any suggestions of your own for the best ankle strap sandals for women? Let us know in the comments!